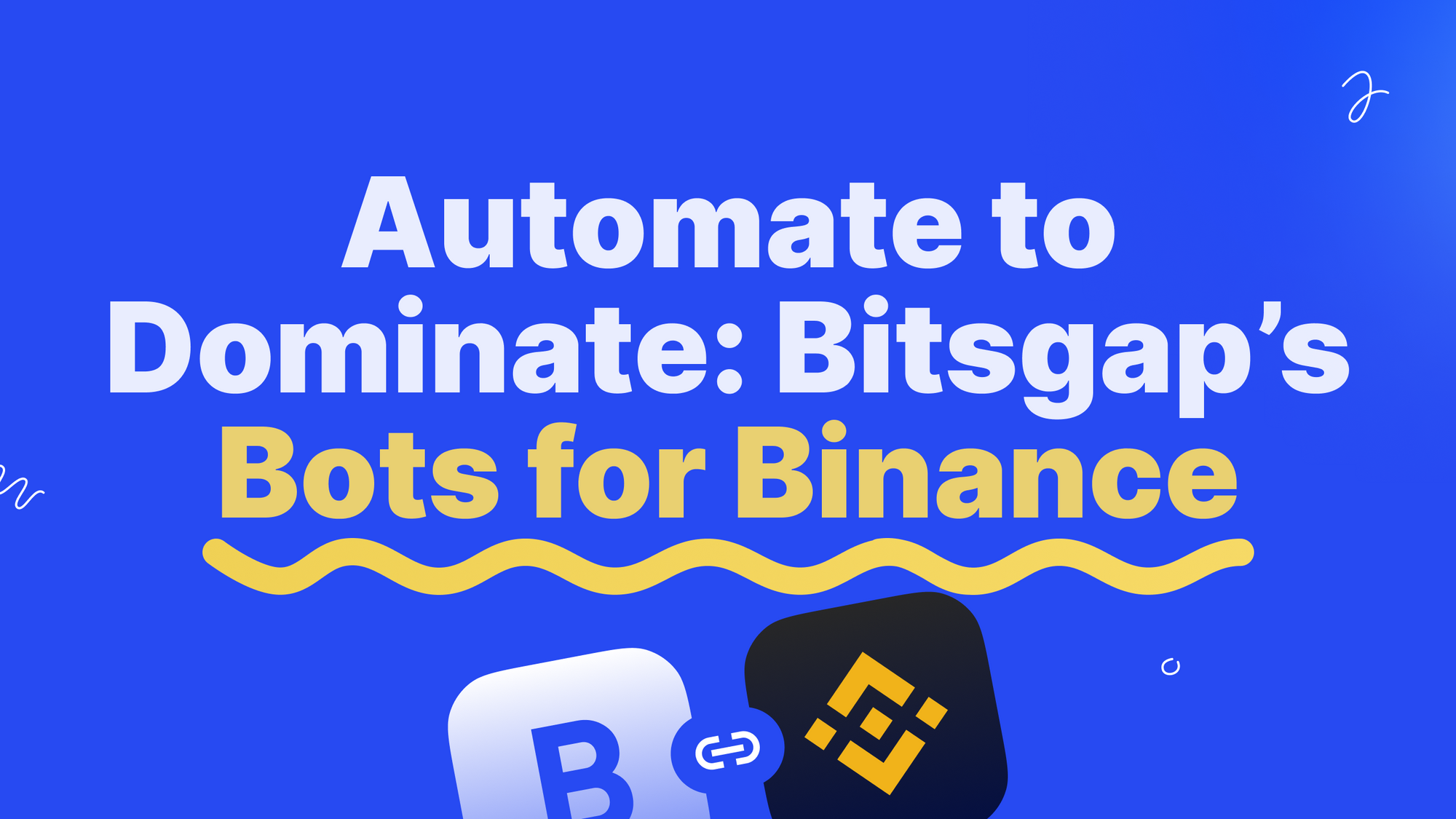 Trade Smarter with Bitsgap's Binance Trading Bot
Dive deep into the realm of Binance's automated trading options and Bitsgap's innovative offerings.
Read the full article to unlock the secrets of automated trading on Binance and explore Bitsgap's advanced bot options.
Automated trading platforms like Bitsgap have revolutionized the landscape of cryptocurrency trading, sparking a wave of excitement among a new generation of investors. This ground-breaking change prompted cryptocurrency exchanges to follow suit and develop their own cutting-edge trading solutions. Yet, it's Bitsgap and platforms of its ilk that made terms such as 'auto trade bot', 'exchange bot', and 'automated trading' less of alien concepts and more of everyday tools empowering traders, whether seasoned pros or eager beginners.
Today, Binance offers traders native automated options. But to fully automate Binance and unlock its API's potential, traders still turn to solutions like Bitsgap. In this article, we'll explore Binance's built-in automation features and dive deeper into next-level Binance API trading and Binance trade automation with Bitsgap.
👉 TL;DR: Bitsgap's Binance Trading Bot aims to enhance profits and reduce risks in bitcoin and altcoin trading. Bitsgap provides four superior Binance bots: DCA and GRID for spot trading, and COMBO and DCA Futures for futures trading. Register with Bitsgap and connect your Binance account today to fully leverage all the benefits!
What Is Binance Crypto Exchange?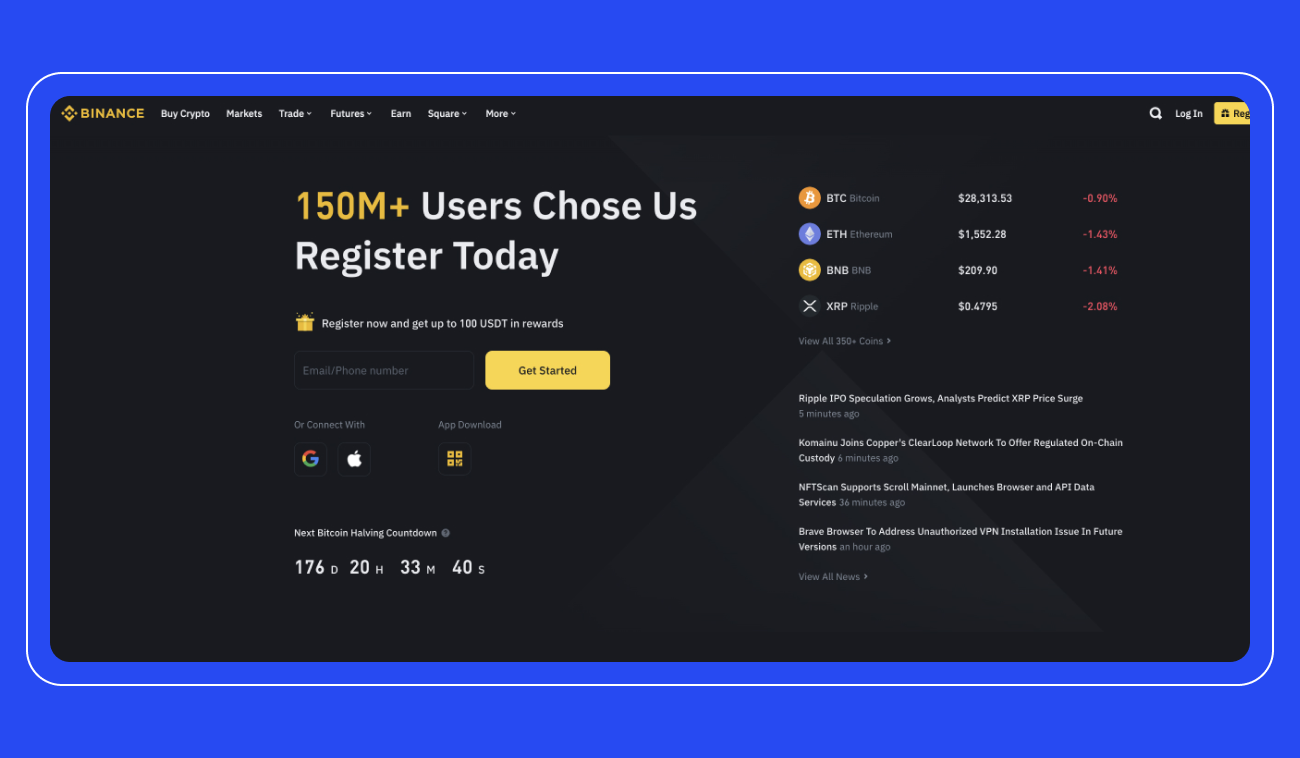 Binance, a global frontrunner in the crypto exchange arena, offers low-cost transactions, myriad cryptocurrency options, and sophisticated tools for seasoned traders. Ideal for advanced traders unconcerned with regulatory hurdles, it offers access to a host of advanced features, a multitude of tokens and trading pairs. As per CoinMarketCap data, Binance leads the pack globally in cryptocurrency exchanges based on daily trading volume. Hence, if your priorities are a wide variety of cryptocurrencies, robust liquidity, and minimal fees, Binance is a solid choice.
👉 Keen on delving deeper into what the exchange has to offer? Feel free to explore our in-depth review here: Why Choose Binance?
What Crypto Trading Bots Does Binance Have?
Binance accommodates an array of trading preferences, providing a variety of automated trading bots. Whether you prefer to mirror successful strategies via copy trading or construct your own crypto trading bot, Binance has you covered. Available strategies (Pic. 2) for manual setup or copy trading include Spot and Futures Grid, Rebalancing Bot, Spot DCA, Auto-Invest, Futures TWAP, Futures VP, and Spot Algo Orders. For those eager to expand their understanding of these strategies, Binance also features a Strategy Academy. Here, you can grasp bot basics, delve into their operational principles, and learn safety best practices.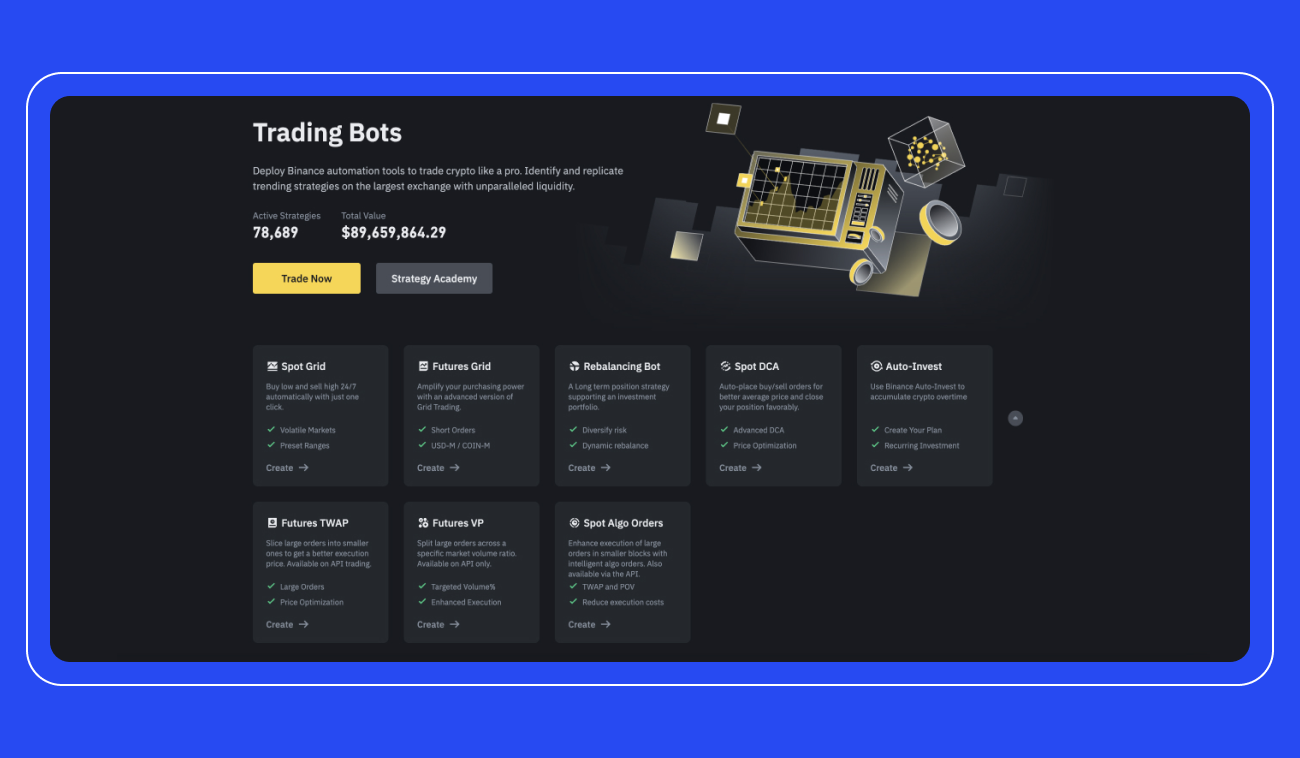 What Is Bitsgap Trading Bot for Binance?
The Binance Trading Bot by Bitsgap embodies the outstanding combination of powerful trading signals, professional risk management principles and the latest achievements of artificial intelligence science. It was developed and tested by professional investment managers in collaboration with IT specialists with thorough fin tech background. This trading EA is specifically tailored for Binance API trading and has a proven track of records in various tournaments supported by Binance exchange.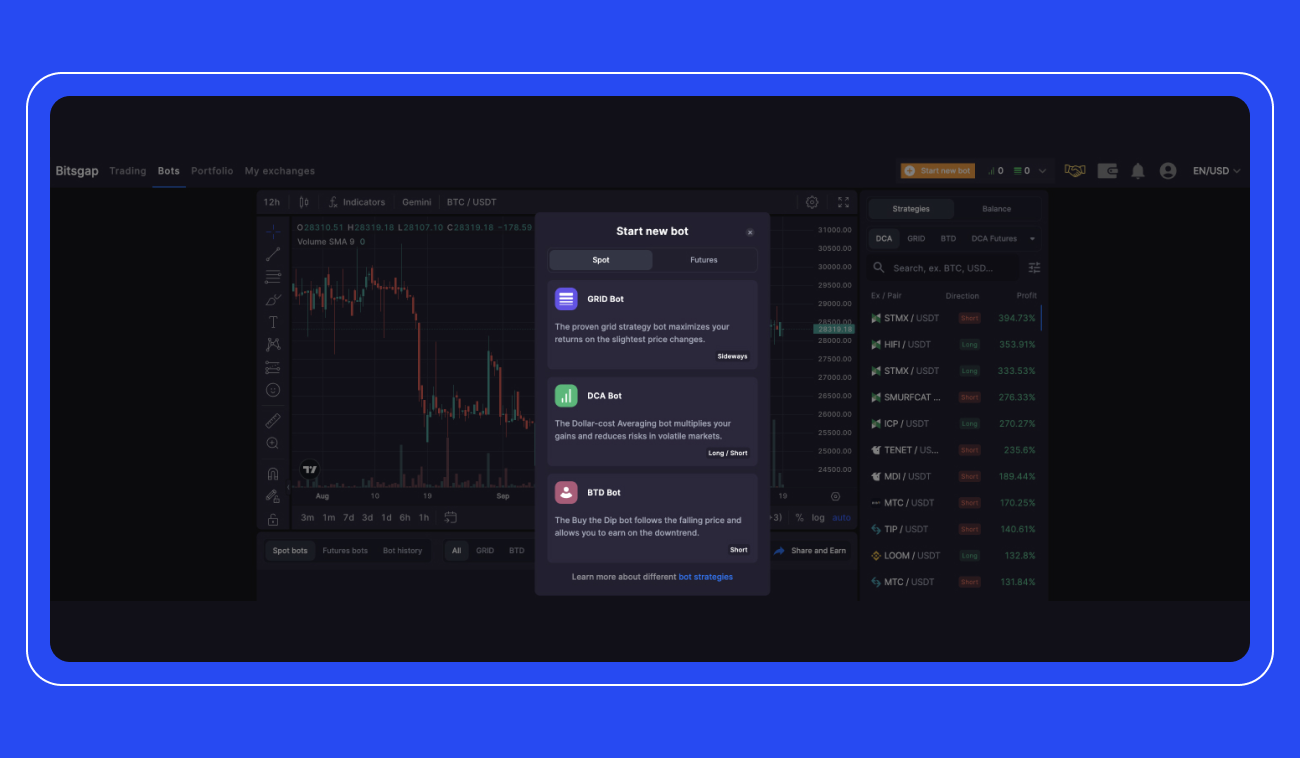 For Binance exchange, Bitsgap has a few options: GRID, DCA, and BTD for the spot market and COMBO and DCA Futures for the Futures market.
Here's a brief lowdown on all bots with links to further reading:
Binance API Connection
Binance APIs (Application Programming Interfaces) are a collection of guidelines and protocols furnished by Binance. Leveraging these APIs, developers can design their own apps, bots, or services capable of pulling information from Binance. This information can range from market data and account details to executing trading operations.
Your task is simply to connect the platform to Binance exchange using an API key. An API enables the Bitsgap trading platform to exchange data with Binance and execute trading bot orders.
Here's how to connect your Binance account to Bitsgap in a few simple steps: How to create and set up Binance API key
What Are Advantages of the Bitsgap Platform?
Apart from the world-class trading bots, Bitsgap offers:
An exceptionally secure trading environment, fortified with regularly updated safety features.
An engaging community of over 500,000 satisfied traders, and a wide array of social media channels.
An excellent affiliate program, complete with unique benefits and competitions.
Regular promotional campaigns and complimentary offerings.
Here are some key figures that highlight Bitsgap's performance:
83% of users have reported earnings with Bitsgap.
In 2022, the total bot profit from all closed bots amounted to $148 million.
The average daily bot profit stood at 1.23%.
Each day, the platform processes 18 million transactions.
Impressed?
Subscribe now and connect your Binance account with Bitsgap to elevate your trading to new heights.
Bottom Line
The Bitsgap Binance Trading Bot is a tool designed to automate your trading on Binance, buying and selling cryptocurrencies at optimal times and prices. This bot aims to boost your profits while minimizing risks and losses in bitcoin and altcoin trading. Bitsgap offers four top-tier Binance trading bots: DCA and GRID for the spot market, and COMBO and DCA Futures for automated futures trading on Binance. With Bitsgap's automated trading bots, navigating the crypto markets becomes significantly simpler! Sign up with Bitsgap today and connect your Binance exchange account to the platform to take full advantage of all its benefits!
FAQs
What Is Binance Trade Automation?
Binance trade automation unleashes pre-programmed bots to trade on your behalf. These tireless allies execute strategies encoded in their algorithms, buying and selling cryptos per your customized rules. They enable 24/7 high-speed trading free of human limitations, seizing opportunities instantly based on market conditions. Whereas manual trading demands your constant presence, automation deputizes bots to trade when optimal without direct oversight.
Does Binance Offer Automated Crypto Trading?
Yes, it does! Binance caters to a wide range of trading styles by offering an assortment of automated trading bots. Whether you're keen on adopting successful strategies through copy trading or building your own customized crypto trading bot, Binance offers the tools you need. You have the option to manually set up or copy trade various strategies, including Spot and Futures Grid, Spot DCA, Futures TWAP and VP, among others.
Can You Recommend Some Successful Binance Trading Strategies?
You'd be surprised to learn that most bots replicate the most effective trading strategies, which have been tried and tested over years by traders of all kinds. These strategies include Grid, DCA, Scalping, Swing Trading, Arbitrage, and Trend Following. It's crucial to note, however, that while these strategies can yield success, they also carry inherent risks. It's essential to comprehensively research and fully comprehend each strategy before implementing it. Furthermore, always employ sound risk management tactics and avoid investing more than you can comfortably lose. You might find this resource valuable if you're considering the risks involved in Binance spot vs. futures trading: Binance Spot vs. Futures: Risk Management