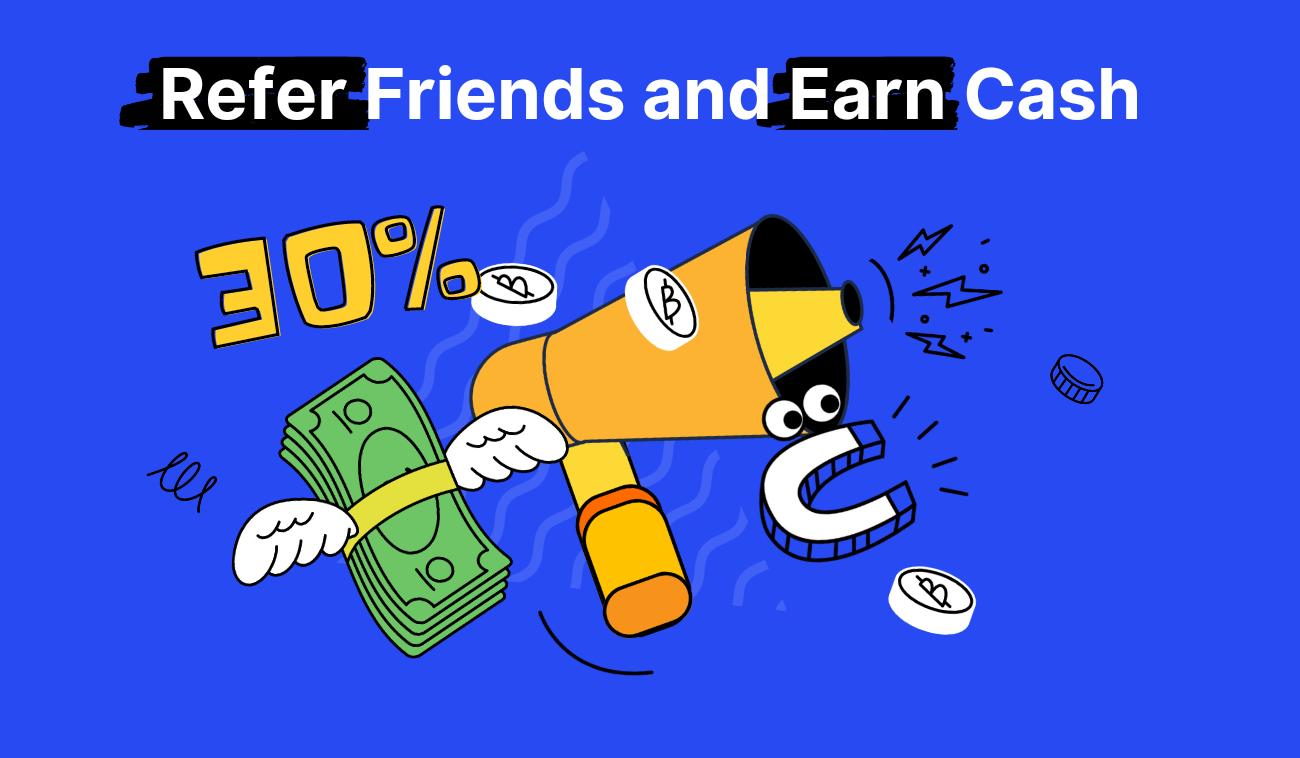 Earn 30% With Bitsgap's Affiliate Program
Learn how to monetize your passion for crypto with the Bitsgap Crypto Affiliate Program. Become a Bitsgap partner and start to earn your passive income permanently.
Bitsgap's Affiliate Program is an easy way to monetize your crypto audience and turn your favorite hobby into a profitable business. Learn how you can become a Bitsgap partner today.
If you love crypto and Bitsgap, you'd want to use your voice and inspire fellow traders to follow in your footsteps. To encourage you on this rewarding journey, we'd like to offer you an amazing opportunity — to participate in Bitsgap's affiliate program and earn passive income!
In this article, you'll learn how Bitsgap's affiliate program works and how you can benefit.
What Is Bitsgap's Affiliate Program and How Does It Work
Bitsgap's Affiliate Program is a referral program that offers a way to make money by sharing your affiliate link and encouraging people to visit the Bitsgap website and join the platform.
It's pretty straightforward: you attract new users to Bitsgap by using any online marketing channel, and once they subscribe and become paying customers, you receive a commission of 30%!
What are the Benefits of Bitsgap's Affiliate Program?
Bitsgap's Affiliate Program offers multiple benefits:
It's very easy to start with – just copy your affiliate link and share it with your friends, acquaintances, or strangers who want to make money in crypto;
Bitsgap's Affiliate Program offers one of the highest commission percentages online! While the standard industry average percentage is 15-20%, Bitsgap allows you to earn as much as 30% for every payment your referred users make!
By joining Bitsgap's Affiliate Program, you participate in monthly affiliate competitions with a chance to win even more money! Every new paid referral automatically increases the prize pool, which is shared among the top 25 affiliates.
Bitsgap's Affiliate Program is not only an opportunity to earn passive income but also start your own proactive crypto business. You can start your crypto blog, share your trading results, and attract traffic from social media! Every user who follows your links and subscribes to Bitsgap becomes an additional source for your growing income.
Finally, to start earning with Bitsgap, you don't have to be a trader! It's enough to have a blog, a YouTube channel, a social media account, or any other traffic source to start attracting users and making money.
How Can I Become a Partner?
Becoming a partner is easy!
If you don't have an account with Bitsgap yet, you'll need to sign up first. You may do so by clicking on the [Get Your Affiliate Link] button at https://bitsgap.com/affiliate-program
Log into the Bitsgap platform at https://app.bitsgap.com/, click on the [My Account] icon in the top right, and select [Affliate Program] from the drop-down menu (Pic. 1):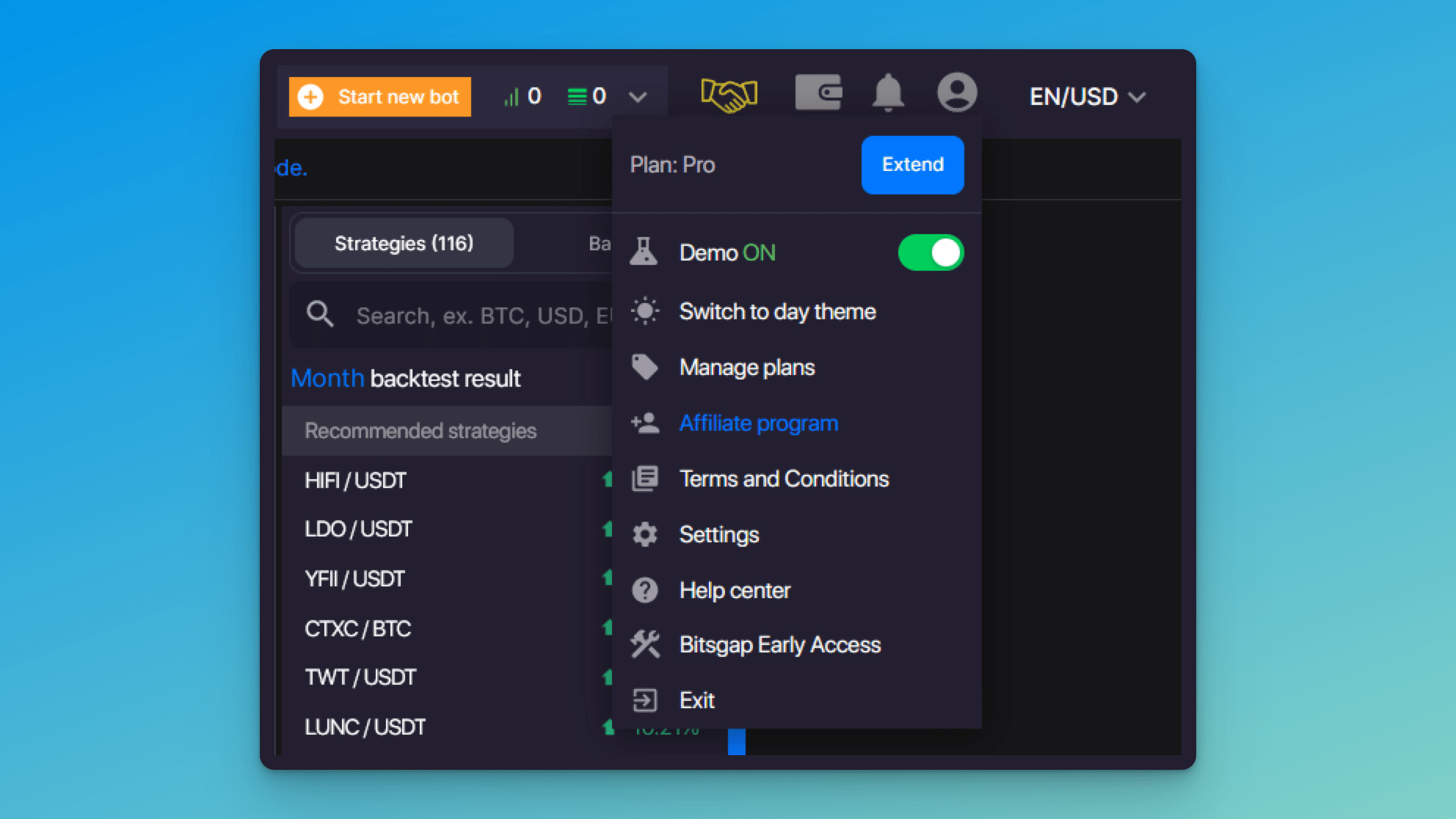 On your affiliate page (Pic. 2), you can copy your affiliate links, view affiliate statistics, and see the information concerning ongoing referral competitions.
👉 If you want to share any particular page on Bitsgap, you may do so by adding your affiliate ID to the end of any URL or product page on the Bitsgap website, for example, http://bitsgap.com/trading-bot/?ref=123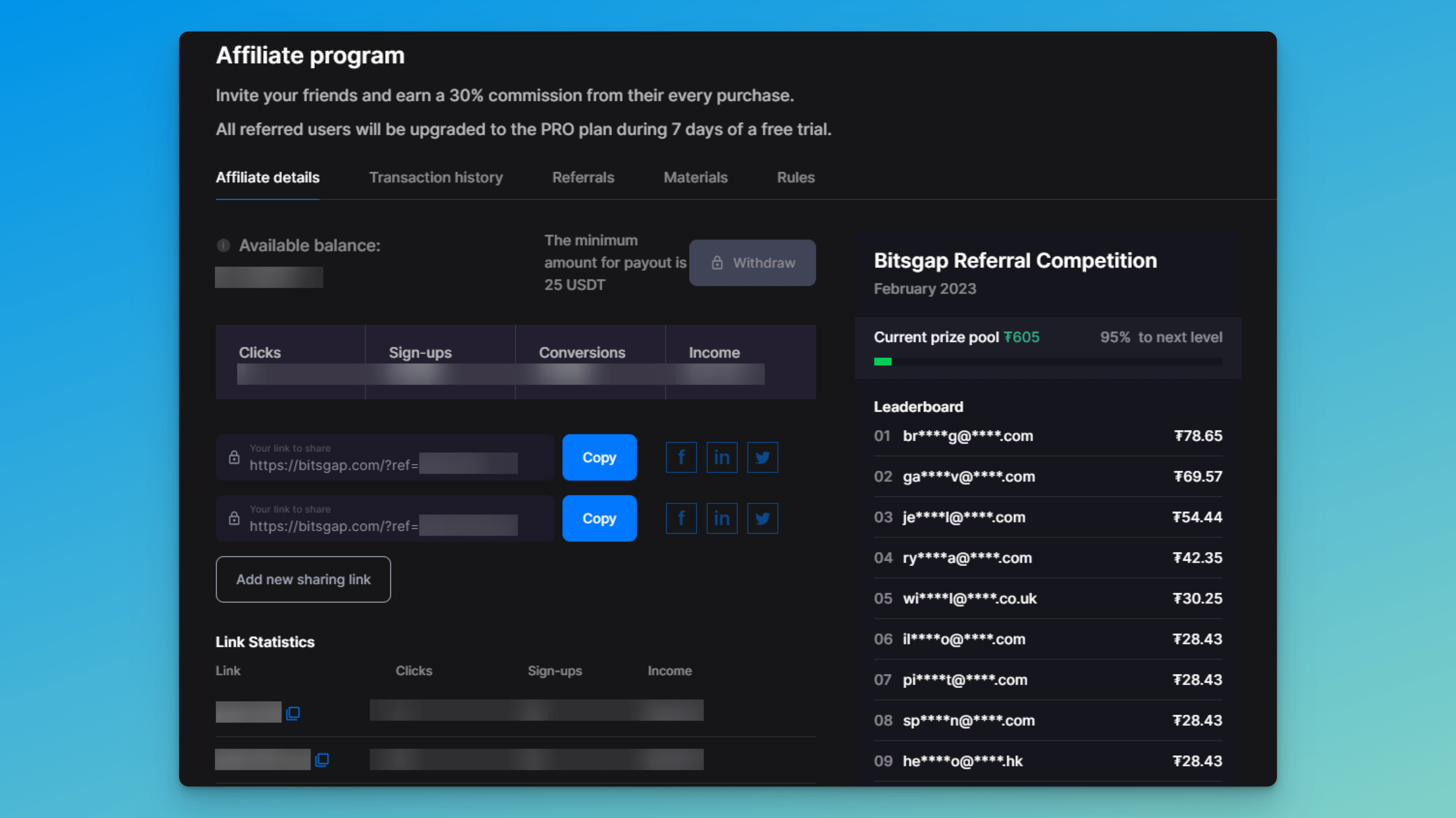 Share & Earn Feature
If you're a trader, we have another cool feature that allows you to simultaneously attract new users and share the trading results of your bots.
You can find the [Share & Earn] button on the [Bots] page under the chart (Pic. 3):

Click on the [Share & Earn] button, select the bots which result you'd like to share, copy the referral link, and post it on your blog or anywhere else you use to attract new followers (Pic. 4).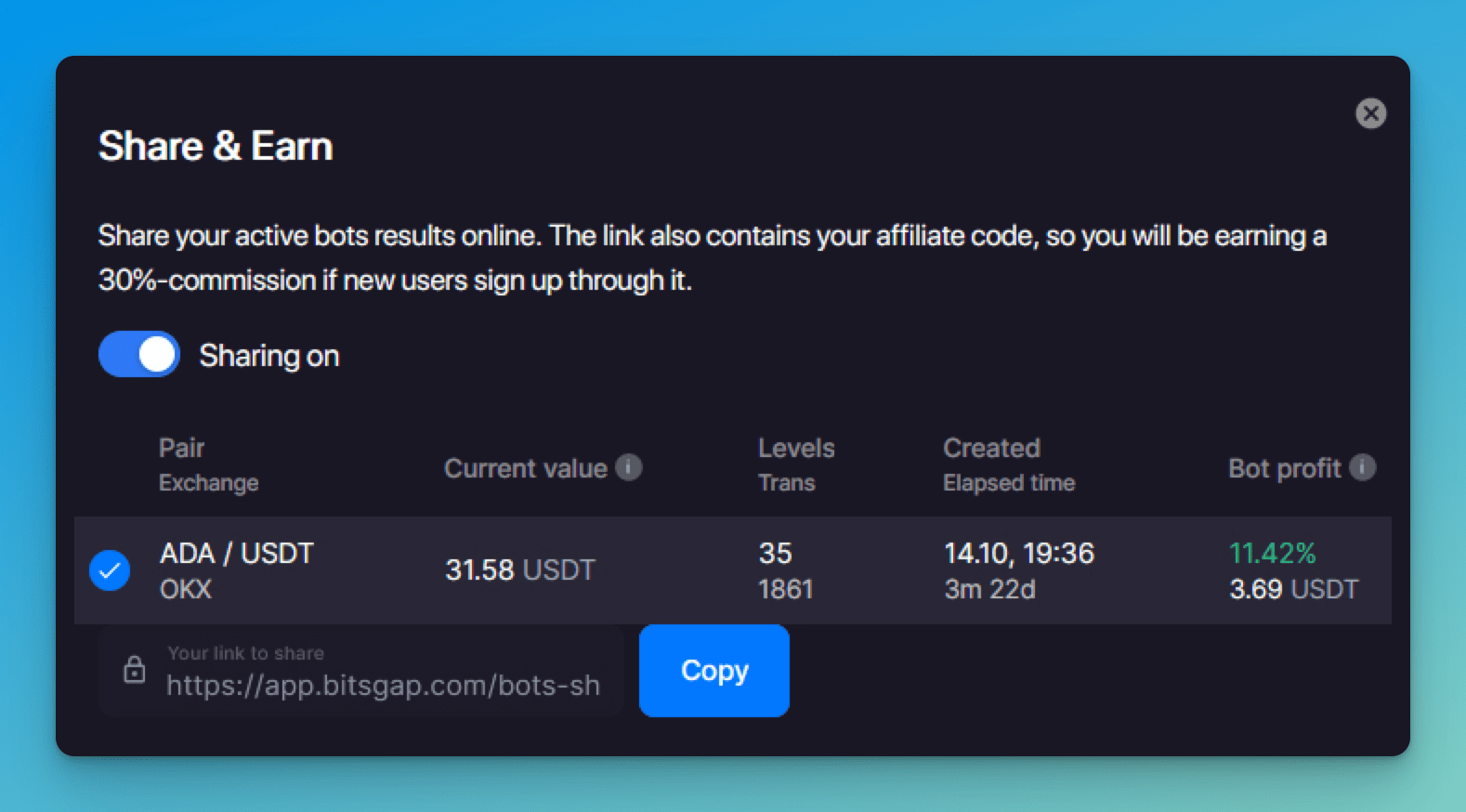 The link already has your affiliate code, so any user who signs up by following it will be automatically attached to your affiliate account.
FAQs: Are There Any Other Rules I Should Know?
So, how do you know that I have attracted new users?
It's pretty simple — whenever someone follows your referral link, we put a tracking cookie into their browser that automatically assigns them to your affiliate account. Even if they don't sign up immediately but return to the site in a few days, we'll know they've come from you.
How can I check users who have signed up by following my referral link?
Once users sign up by following your link, they will be automatically assigned to your affiliate account.
On the platform, you can check the list of those users with registration dates, IDs, referral links, and partially revealed email addresses. You'll also see their statuses — Free, Trial, or Converted. The Converted status means the user paid for services at least once.
If a user becomes a paying customer, you'll receive a one-time payment of 10 USDT and 30% of that user's subscription fees as long as they continue to use Bitsgap.
How can I get paid?
Affiliate payouts are calculated in EUR but paid out in USDT ERC-20 based on the exchange rate at the time of payment.
While the commission for monthly payments is credited to your balance in full, the commission for a six or 12-month subscription is paid out in equal installments over that period.
You can request to withdraw money at any time once it reaches the minimum amount of €25.
We do our best to process payouts as quickly as possible, but please note that it can take up to some weeks to receive your payment. If this is your first withdrawal, it might take a little longer as we need to verify your referrals first.
Is there anything I am not allowed to do?
You may only use one Bitsgap account to participate in our affiliate program. Please, note that if you have several accounts and use them for your affiliate activity, the system may consider it an abuse and block them.
You also can't earn commission from affiliated accounts that use the same IP address or device or belong to the same household.
While you can virtually use any channel to attract new users, you can't spam users in emails, social media, chats, messengers, and so on. It's also strongly prohibited to purchase a domain name, search engine keyword, or PPC ads that use any Bitsgap keywords, trademarks, variations, or misspellings.
You can't mislead users or attempt any illegal activity. But that goes without saying.
👉 If you have any questions regarding the terms of the Bitsgap affiliate program, please refer to Affiliate Policy or contact our Support team at support@bitsgap.com.
Conclusion
Bitsgap's Affiliate Program is a fantastic opportunity to earn cash, participate in monthly competitions, and share your trading results with friends and family! It's easy to start with — just copy your referral link and share it on social media or other channels, and you're good to go! You'll receive a 30% commission for anyone who signs up and pays!
Ready to become a Bitsgap affiliate partner?