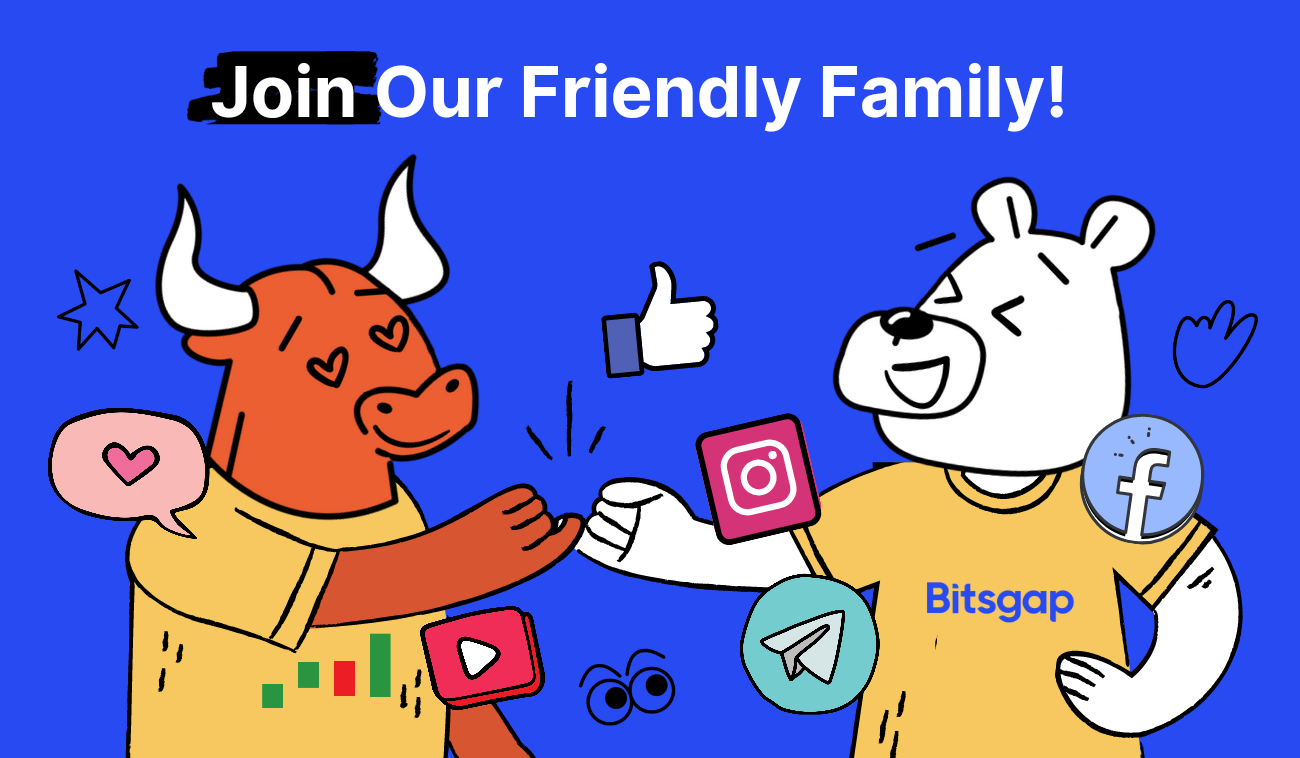 Join Bitsgap's Friendly Community of 500K+ Satisfied Traders
Discover Bitsgap's social media for crypto news, trader connections, and contests. Join 500K+ traders and enhance your trading experience today!
Bitsgap's social media channels are a great way to learn the latest news, connect with like-minded crypto traders, and participate in competitions. Learn about our friendly communities and join us today!
Since 2017, Bitsgap has been determined to make traders' experiences the best they can be. This involves continuous change and improvement in line with the crypto industry. But no matter what, users like you have always remained Bitsgap's top priority and the number one driver behind platform improvements.
One of the telling factors of growth is, of course, the number of satisfied users like you, and we're excited to say that today, Bitsgap is home to more than 500K traders!
Most of those traders have already joined us on our social channels because they know that social media is a great way to stay up-to-date with the latest platform news and updates, win competitions, and socialize with fellow traders.
Learn how and where you should join us too.
Social Media Overview
Bistgap has amassed a sizable social media following in its six years of business with a growing number of active followers. You're welcome to join, too, and become a full-time member of our huge Bitsgap family!
Below are the links where you can join:
Communities Overview

Telegram
On Telegram, we have several language-based communities and our official Telegram news blog in English, all available at the following links below:
👉 Telegram Chat 🇺🇸 https://t.me/bitsgap
👉 Telegram Chat 🇷🇺 https://t.me/bitsgap_ru
👉 Telegram Chat 🇪🇸 https://t.me/Bitsgap_es
👉 Telegram Chat 🇩🇪 https://t.me/Bitsgap_de
👉 Telegram Channel: https://t.me/Bitsgap_news
We chose Telegram as our main messaging platform for a few good reasons.
Firstly, Telegram is arguably the best messenger on the market.
Millions prefer it because of its integrity, safety, and security. The app uses exemplary encryption to keep your data safe and has a variety of intuitive and user-friendly features.
Finally, Telegram allows us to maintain several communities that are very easy to keep track of and manage.
Our Telegram chats are the best way to communicate with fellow traders, discuss the latest market developments, seek help from users like yourself, or reach out to one of our official representatives.

Twitter
For those who prefer to be brief, we have Twitter, where you can get bite-sized chunks of news and updates from Bitsgap in 280 characters or less.
👉 Twitter: https://twitter.com/Bitsgap/
Likewise, there's always someone ready to help you, be it a fellow trader or a legitimate support representative who checks Twitter daily to see if anyone needs help.
Also, Twitter is where we keep a close eye on all the whys and wherefores of the crypto community and industry, retweet the hottest news and gossip, and share other interesting market information that you'll appreciate.
Discord
In case you wondered, there's Discord, too. Our latest addition to Bitsgap's social media channels.
👉 Discord: https://discord.com/invite/PwdsEsp4j8
Discord is a fantastic way to connect, talk, hang out, and have fun with more advanced traders. Moreover, you'll never be alone there either — there's a fellow community manager in charge of Discord who's there to lend a helping hand to anyone in need.

Facebook
For those who are most comfortable with Facebook, we have a friendly community there too.
👉 Facebook: https://www.facebook.com/Bitsgap/
On Facebook, you can also reach out to fellow traders in the comments to posts or drop a message via Facebook Messenger to get help from a Bitsgap support representative.

Instagram
If you prefer pictures and short videos to text, then Instagram is the place for you.
👉 Instagram: https://www.instagram.com/bitsgap.official/
Bitsgap's Instagram is where you'll find everything you need to stay up-to-date about the company and platform in the format that's most convenient for you. Apart from regular posts with news flashes, we hold jolly good competitions where you can participate by commenting, posting a picture or video, or tagging Bitsgap. In short — it's a fun and easy way to stay in touch!

Youtube
Youtube is one of those social media channels that doesn't require a long introduction.
👉 Youtube: https://www.youtube.com/channel/UCPi-HyNRhwgjNhGMc7j0pPQ
Our Youtube channel is one of the best ways to learn about the company, the platform's functionality, the latest releases, and so forth.
We regularly hold live presentations, upload product and trading webinars, and post other helpful videos and amusing shorts.
There's also a live broadcast where we showcase our trading bots, so you can follow their results in real time, which is great fun!
Bottom Line
All our social media channels are a fantastic way to not only get help from someone else but also stay up-to-date with news and the latest releases, as well as participate in all sorts of fun competitions and promotions!
Remember that we are always there for you, wherever you happen to be — on the website, on social media, or by email. Just drop us a message, and we will be there to help you.
In the meantime, you can test-drive the platform if you have not yet!