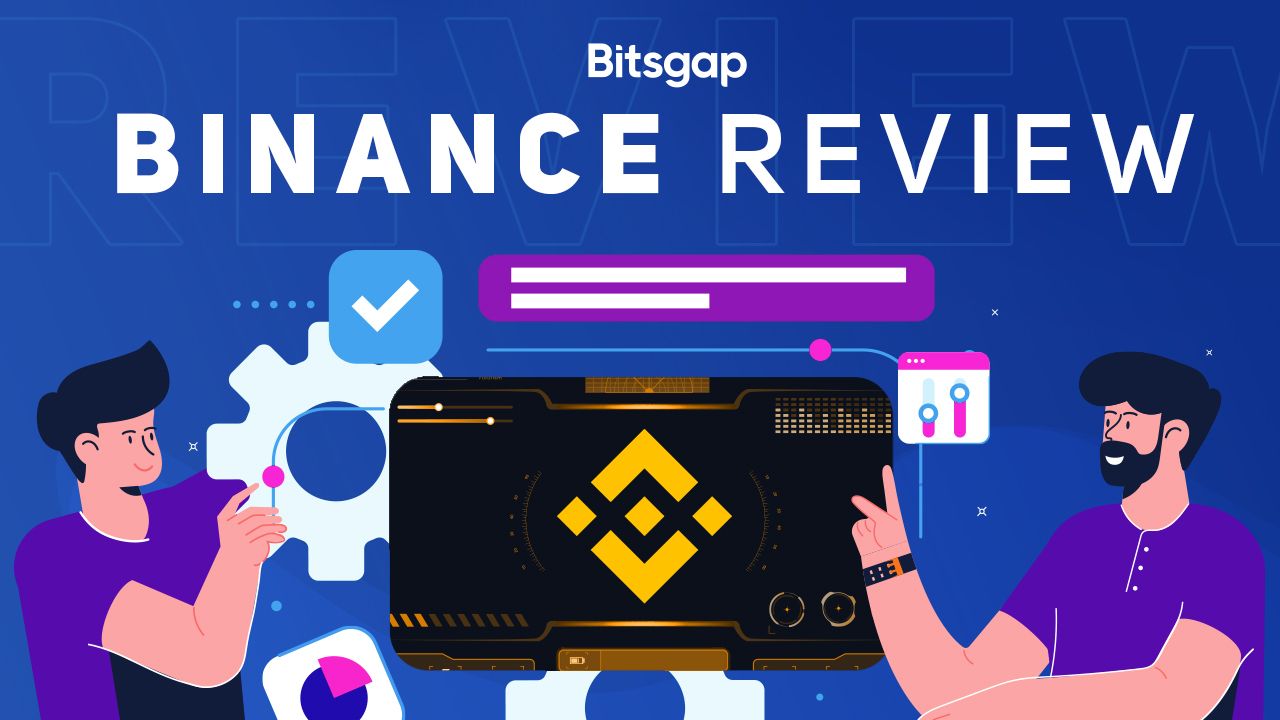 Automated Trading on Binance
Binance is the world's largest crypto exchange which offers more than 1300 crypto trading pairs, which has millions of users from 180 countries.
Binance crypto exchange is an online crypto trading platform. Its creation dates back to the cryptocurrency buzz of 2017. Binance was first set up in Hong Kong, before reportedly moving its headquarters to Malta in 2018. Today, the exchange offers a wide variety of cryptocurrencies and crypto-to-crypto trading pairs, which has endeared it to a plethora of users. Many of them do not rely much on buying and selling crypto manually and prefer to deploy automated trading tools via their Binance accounts.
Binance derived its name from the combination of two terms, Bitcoin and finance. It boasts of high transaction volume from the trading of over 1300 trading pairs, comprising crypto-to-crypto and crypto-to-fiat pairs.
Both manual and automated trading on Binance have a lot of advantages compared to other exchanges. The platform allows its users to trade cryptocurrencies, providing them with both simple and in-depth tools that aid their trading activities. Digital assets traded on the exchange include Binance's native token, Binance coin (BNB), which can be used to offset fees and boost trading bots' profit.
Trading cryptocurrencies in automatic mode can be made even by using freshly introduced Binance trading bots, however it would be far more profitable to stick with trusted trading platforms like Bitsgap since they offer more advanced algorithms for automated trading. Hundreds of crypto exchanges have been established around the globe to facilitate the trading of the top crypto asset, Bitcoin (BTC), and various altcoins.
While a few exchanges are only open to users within a country or provide a limited array of services, others pursue the idea of reaching as many traders as possible, which reasonably places them in a leading position among crypto exchanges. One such platform is Binance, an exchange with millions of users in over 180 countries globally which is supported by almost every trading bot on the market.
Why Binance Is a Good Fit for Automated Trading?
As earlier mentioned, hundreds of cryptocurrency exchanges exist globally, but Binance has set itself apart as a leading exchange due to distinguishing features.
Binance Trading Interface
Cryptocurrency trading attracts plenty of users, consisting of novice and veteran traders. As such, it is necessary for an exchange to acknowledge this divide or gap in expertise with its platform's features. Binance has been able to do this effectively by providing a user interface suitable for both parties. Thus, users who are new to crypto trading can take advantage of the simple and basic tools created to make their trading experience easy.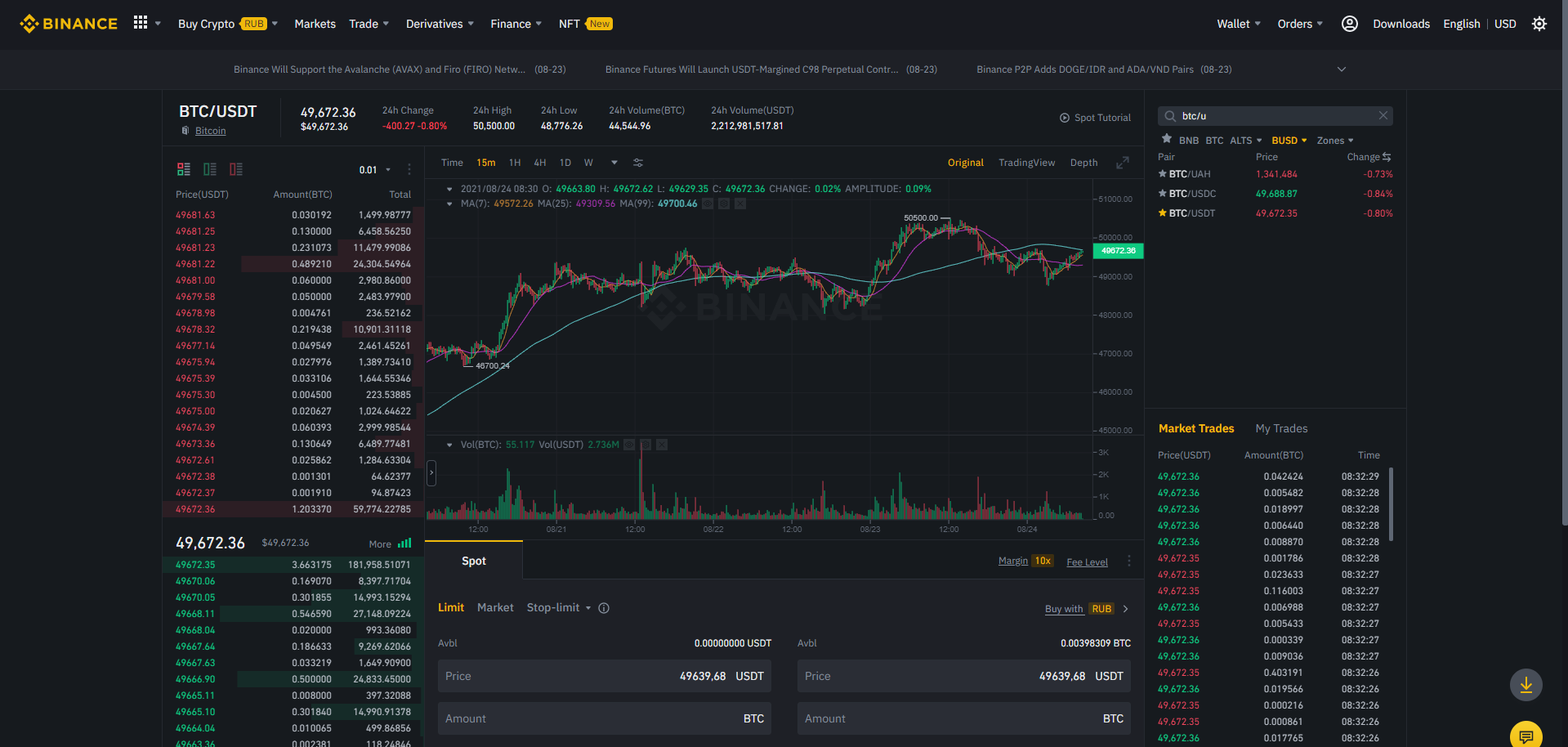 Binance trading interface is made up of charts and tools, with which traders can analyze, buy, store and sell cryptocurrency of their choice. Those tools include limit order, market order, stop-limit order, stop market order, trailing stop order, stop loss, automated trading instruments, and take profits.
Why Volumes Matter for Automated Crypto Trading
Due to the large number of users that have signed up on the platform and use it to trade crypto, Binance boasts of a massive trading volume, both in crypto and fiat (the US dollar).
According to crypto data aggregator Coinmarketcap, Binance trading records an average daily volume of $98 billion, $87 billion higher than $11 billion trading volume recorded on the second-largest crypto exchange, Huobi Exchange. Binance often registers a total trading volume of over $700 billion weekly.
Sometimes, it could be a herculean effort for traders and investors to liquidate whatever digital asset they are holding. In view of this, traders are drawn to crypto exchanges where there is high transaction volume which translates into high liquidity. This in turn boosts the transaction volume of the exchange and attracts more trading bots users who place more buy and sell orders.
There are more than 8,000 recognized cryptocurrencies globally and over 450 crypto exchanges. Only a few trading platforms offer more than 500 tokens, with Binance being one of them.
Considering Fees While Using Automated Trading
Traders usually consider this when they want to make a decision on the type of exchange to use. So crypto exchanges try to ensure they attract users with cheap and affordable trading fees.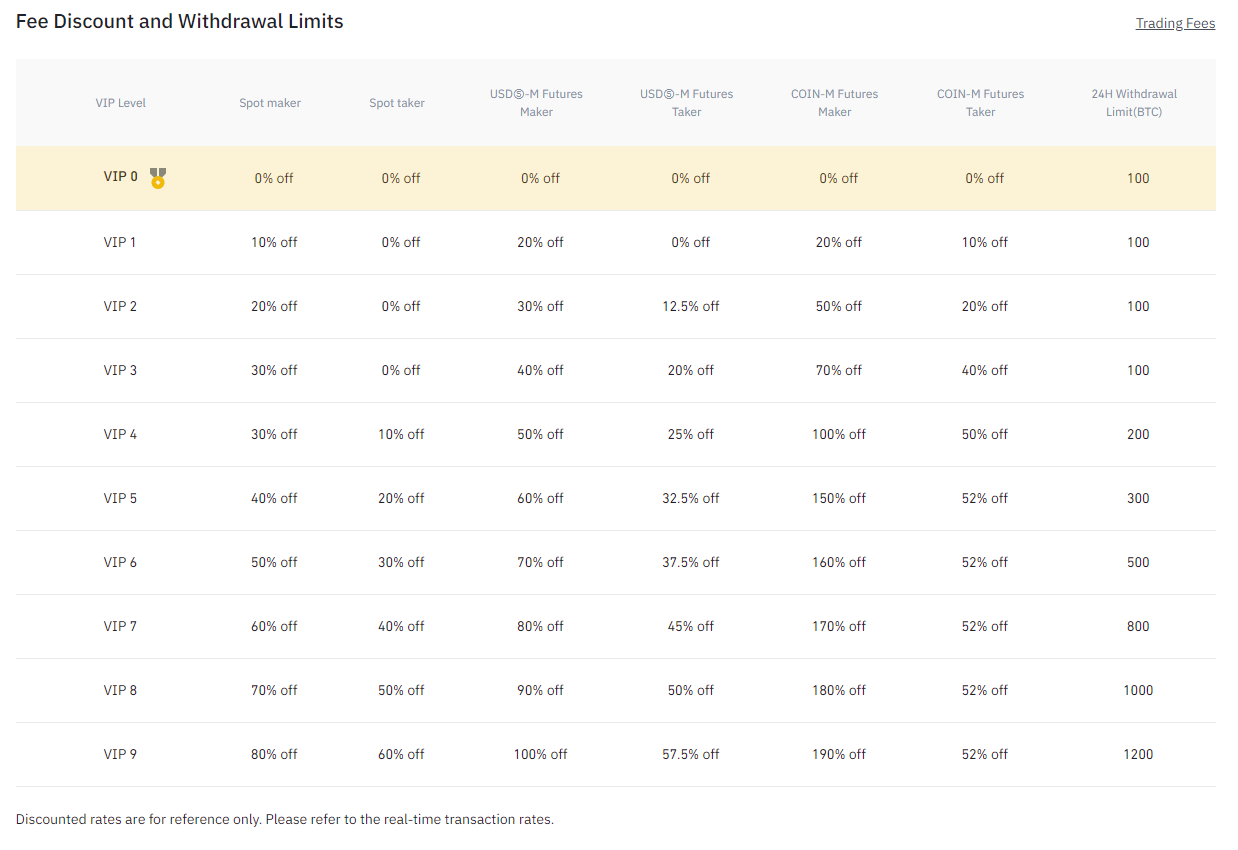 Binance trading fees look most friendly and keep attracting more users into its platform. At press time, Binance charges 0.1% on every trade at VIP0 level. However, there is an exception to this — traders who pay for their trading fees using BNB are given a 25% fee discount on every trade they execute on the exchange.
Some external automated trading tools on Binance do not consider this fee when calculating profit from trades which may be misleading for investors since while automated bot registers profit "on paper" investor is merely break-even. Happily, Bitsgap trading bots got this covered and simply won't allow placing sell orders that won't bring any profit to investors.
Withdrawal Fees
Binance withdrawal fees on each listed cryptocurrency differ. Some common withdrawal fees include the 0.001% fee for Bitcoin withdrawals, 1% for BNB withdrawals, 0.01% for withdrawals in Ethereum.
Interestingly, withdrawals in NEO and GAS do not incur any fee. Binance recently enabled Polygon (MATIC) withdrawals, which was initially impossible to do.
Customer Support
Crypto exchanges offer support to their users who report issues. Being able to do so efficiently increases the level of trust users repose in platforms where they have trading accounts.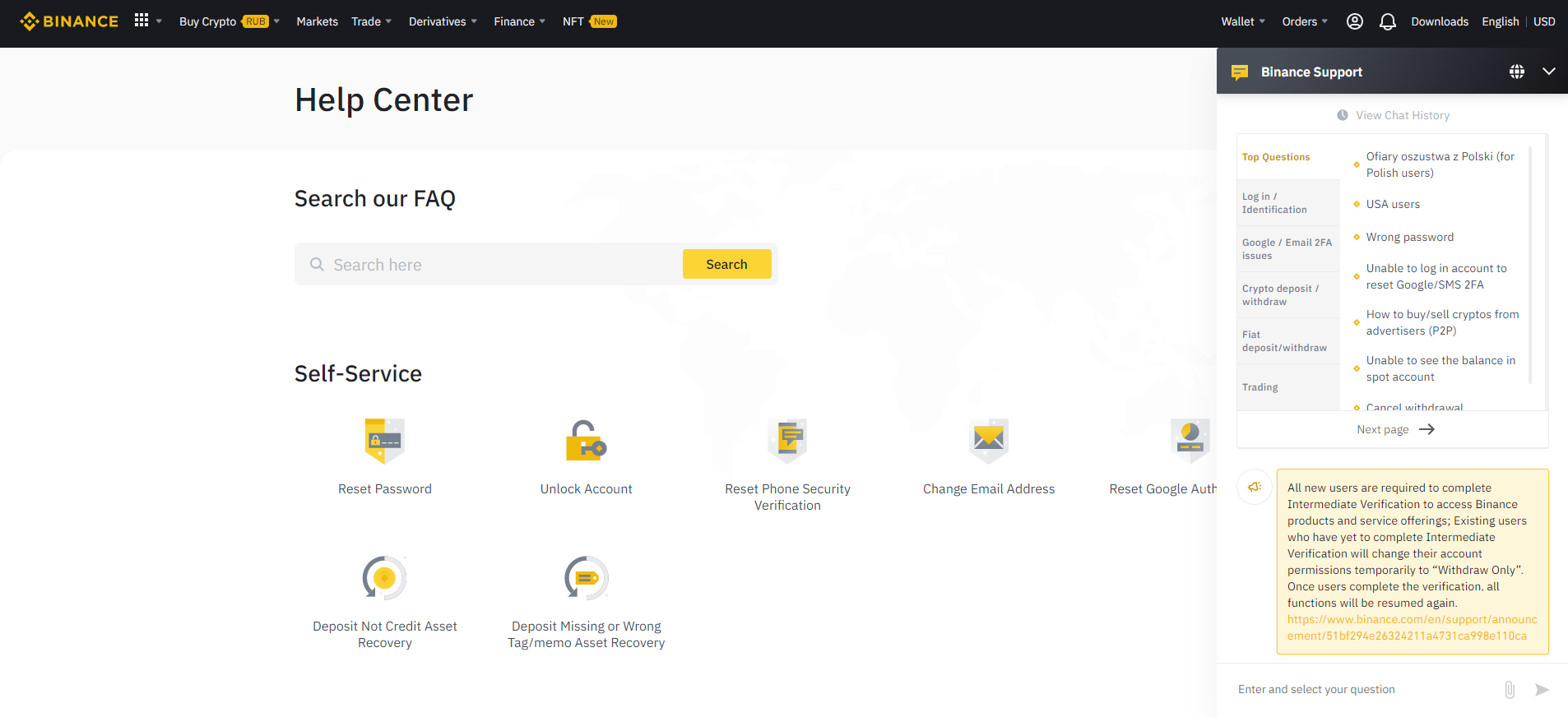 Live customer support on Binance may seem slow since it only provides support tickets via online forms accessible through its platform. Users can always fill these forms to report issues on their accounts.
Thousands of users lay complaints daily overwhelming Binance's customer support. Responses to issues reported are usually made via emails. Binance does not provide a medium for live chat support or a phone number dedicated to customers' complaints.
Alternatively, users can find answers to their issues in the Frequently Asked Questions section available on the exchange. Binance chat bot can help users to better navigate their way through this massive information stash. On the exchange's YouTube channel, Binance provides relevant videos that new users can watch to better understand how to use basic features, internal and external automated trading tools, smart orders, and more.
Security policy
Binance takes security very seriously as it strongly made provision for a double-layer security protocol otherwise known as Two-factor Authentication (2FA). The 2FA security protocol helps users protect their accounts from being compromised or hacked.
Whenever a withdrawal request is initiated by a user, they are asked to provide unique codes sent to their mobile number and email address linked to the account.
Binance has reportedly been able to prevent hackers from withdrawing user funds with the help of 2FA security protocol. Hackers cannot complete their exploits on a user's account unless they have access to their email address and mobile number. The 2FA protocol is optional, but Binance advises users to take advantage of an extra security layer to protect their accounts.
This may also come in handy when connecting third-party trading bots to Binance platform - no withdrawals can be made without your confirmation.
Know Your Customer (KYC) Policy
This is a normal security measure adopted by most exchanges. Users signing up to Binance for the first time usually have to verify their accounts with a personal document. As such, during account verification, they are required to submit any government-issued means of identification like a passport, driver's license, and a residential address.
When the verification process is completed by a user, their account attains a Level-2 status, with trading and withdrawal limits lifted. In contrast, a Level 1 account on Binance has some trading and withdrawal restrictions. So to enjoy a wide range of services, users must complete the verification process on their accounts.
Binance requires users to retain their mobile numbers used during signup. Whenever they want to change the number, following a stolen device, they will be required to start a verification process on their accounts afresh.
How to create an API key on Binance?
Automated trading with Binance has become a choice among investors, looking to fend off the stress involved in manual trading. They are able to automate their trading activities with the help of trading bots. However, not all crypto exchanges allow their users to integrate trading bots on their accounts.

Thus, a trader willing to adopt an automated method of trading has to resort to exchanges with support for trading bots. Fortunately, Binance trading platform allows users to access third-party platforms like Bitsgap with their accounts with APIs. Here is how to do it:
Login to the existing account on Binance or sign up if you are a newcomer.
Verify your identity. Intermediate verification is mandatory in case you want to use all exchange's features, including automated trading on Binance.
Create your first API by clicking on the user icon in the top right corner and hit [Create API]. Give it a name, something that makes it easy to identify like "Bitsgap trading bot for Binance".
Complete 2FA via your phone number, by email, or with Google authenticator app.
Modify API key preset so you could launch an external trading bot with the Binance exchange. Do not tick the "Enable withdrawals" box.
Reading on (active by default) must be enabled.
Spot & Margin Trading must be enabled.
Enable Futures if you want to use Combo bot for Binance Futures trading.
Hit the [Save] button when you are ready.
Integrating Bitsgap trading bots with Binance
After creating an API key, there are only few steps left between you and benefits from the market's best Binance trading bot trading:
Head to your Bitsgap account and login.
Go to the My Exchanges page and click "Add exchange".
Select Binance exchange.
Fill in your API and Secret keys.
Click Connect.
You are breathtaking! Your Binance is now linked to Bitsgap!