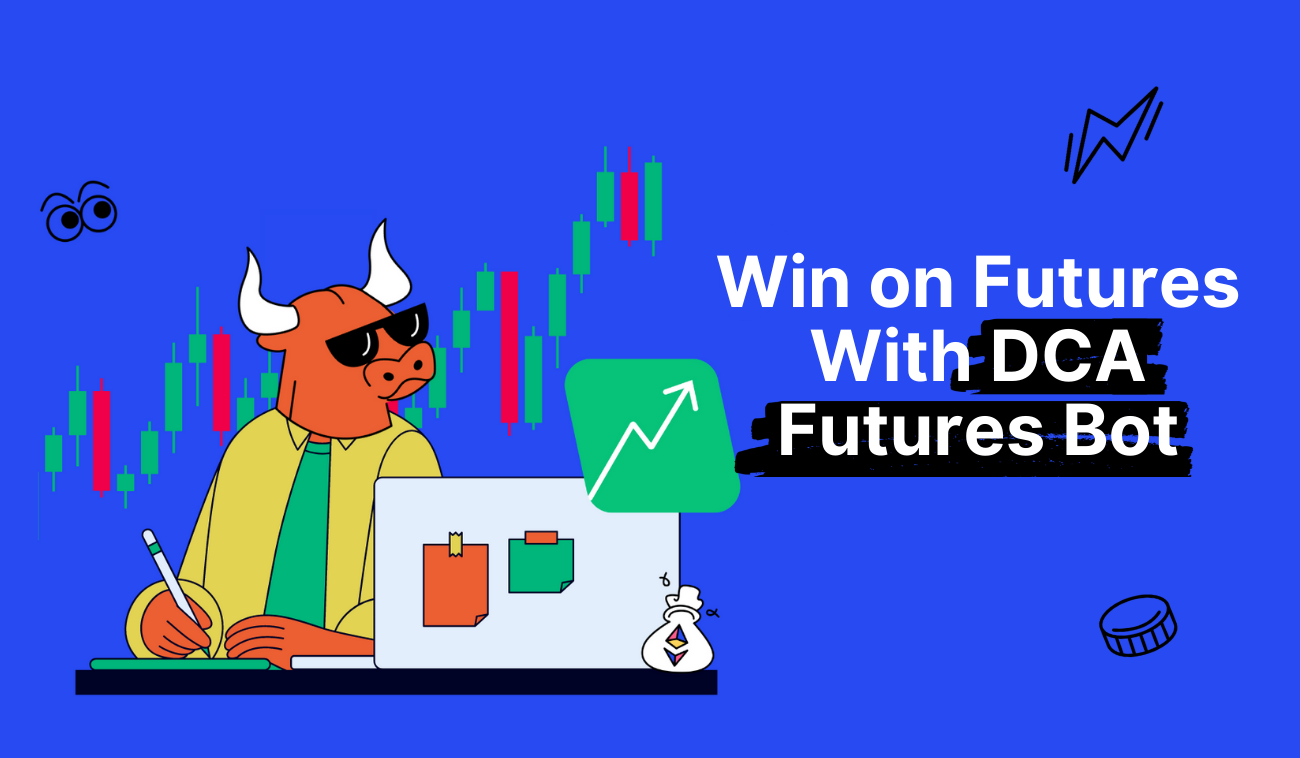 Welcome DCA Futures Bot: Your New Future$ Whiz
Tired of lackluster spot market gains? Bitsgap's new DCA Futures bot is about to change your trading game. Dive in and get started!
Spot trading is so last year. But futures? Scary, ain't it? Don't fret, dear trader — with Bitsgap's DCA Futures bot, you can kiss those futures worries goodbye.
For centuries, traders have dabbled in futures contracts to score big gains. But it's only in recent decades that futures have ventured into financial markets, and just a handful of years into the wild world of crypto. You're probably a spot market pro by now, right? Buy low, sell high — sounds simple. But we know it's easier said than done, especially when futures enter the mix.
Fear not, because Bitsgap's got your back!
Enter the DCA Futures bot — the first new bot to join the Bitsgap family in years, and it's nothing short of fantastic! It's tailor-made for futures, but without all that pesky complexity. Same look, same guts, but with a shiny new instrument and bigger opportunities. With leverage on your side, the rewards are limitless!
Dive into the article for all the juicy details on futures, the new DCA bot, and how you can jump in!
So, without further ado, let's get this party started!
P.S. Don't miss out: From June 29 to July 5, 2023, score a sweet 30% discount on your DCA Futures by subscribing to either the Advanced or PRO annual plan during the July 4 sale!
Brief Intro on Futures
When it comes to crypto futures, it's all about trading futures contracts, just like in other markets. You don't actually buy or sell assets, but instead bet on how their prices will fare in the future. And forget those old-school, time-bound contracts—crypto futures are perpetual, letting you open or close positions anytime.
The key difference between futures and spot trading? Leverage, baby! With leverage, you can play with more than what you've got, opening the door to potentially massive gains.
👉 Imagine using 10x leverage with $100. You'd effectively trade with $1,000 while also taking on ten times the liquidation risk. If the price moves against your bet, your position could be closed and funds lost. But if it goes your way, you could be rolling in double-digit returns!
Sure, futures trading has a reputation for risk and complexity, but it's not the big, bad wolf it's often made out to be. With a solid grasp of the market, a killer strategy, and Bitsgap's DCA Futures bot, you'll be well on your way to reaping the rewards!
What's DCA Futures Bot?
The DCA Futures bot is all about buying or selling coins in small, evenly spaced amounts, keeping your position steady amid market ups and downs.
👉 Think of DCA as a lifesaver in wild crypto trading. By spreading your investment across regular buy or sell trades, you score a better average entry price and keep volatility from rocking the boat too much.
Unlike its spot market sibling, the DCA Futures bot is primed for quick, impressive returns in the fast-paced futures market:
In a bullish market, launch the Long DCA Futures bot. As prices stampede upward, it automatically locks in gains. If there's a sudden reversal, it buys the dip for an even better entry before the next rally.
In a bearish market, go for the Short DCA Futures bot. As prices plunge, it generates profits from the fall. If a bounce occurs, it quickly rebalances to a lower average, primed to cash in again when the decline continues.
👉 Unlike its COMBO bot cousin, the DCA Futures bot works in cycles. It'll open a position and then average or close it with just one order, skipping the whole resetting-averaging-orders shenanigans of the COMBO bot.
Benefits of the DCA Futures Bots
The DCA Futures is packed with benefits like:
Up to 10x leverage: Amp up your trading power with increased leverage.
Long and Short strategies: Flexibility to play both sides of the market.
Demo or Binance Futures: Test the waters in Demo mode or dive straight into real Binance Futures trading.
Familiar settings: Tweak Take Profit, Stop Loss, Trailing Up/Down, and more to your heart's content.
Customization galore: Fine-tune your bot for peak performance with [Manual adjustment].
👉 Perhaps the best part of DCA on futures is that it offers a steady hand amid unpredictable market swings. It consistently buys or sells an asset at regular intervals, no matter how the market is behaving. This constant fine-tuning of the entry point means that even if you've misjudged the market's direction, your position will be averaged out, shifting the entry point to a more profitable spot. In the end, you'll find it easier to close the position with gains in your pockets.
Now, let's see how you can get started with DCA Futures to start benefiting today!
How to Get Started with DCA Futures
To start your DCA Futures bot, click [Start new bot], and in the window that opens, go to the [Futures] tab and select [DCA Futures Bot].
To configure your bot, follow these steps (Pic. 1):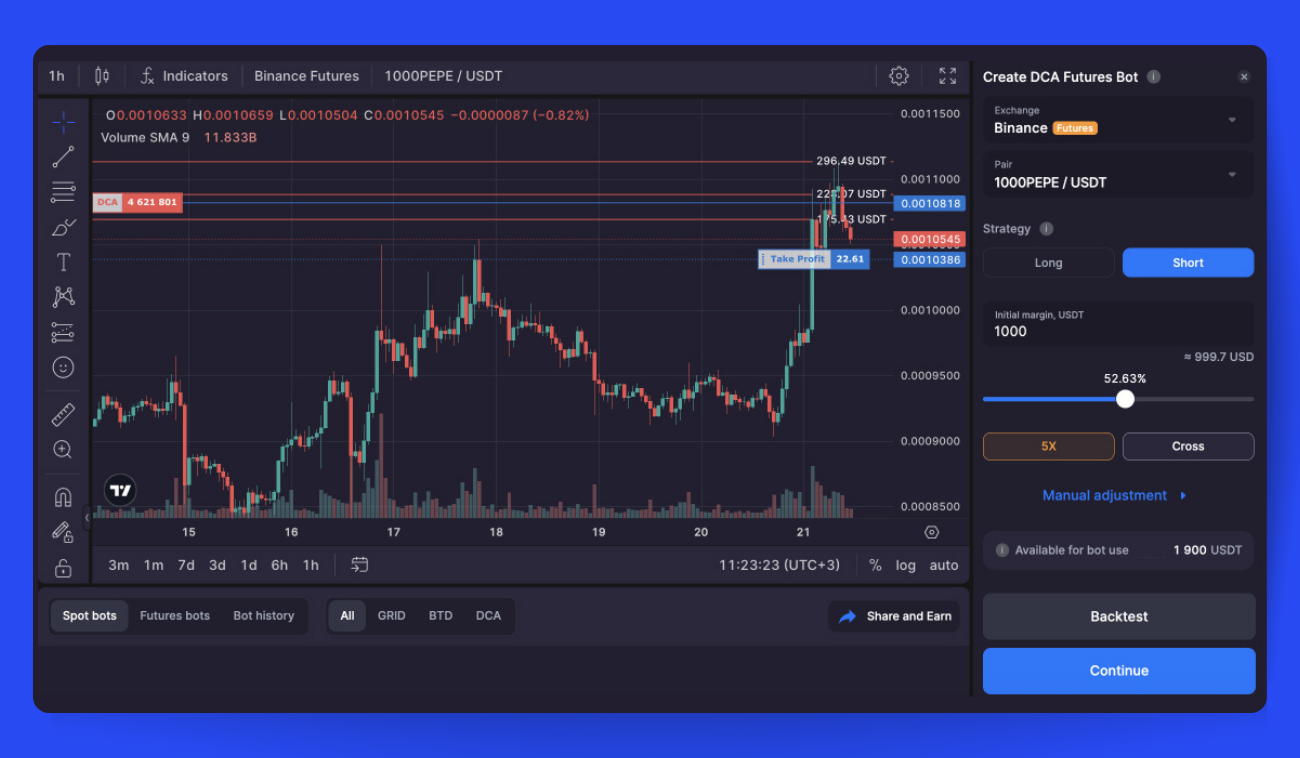 Since the bot is exclusive to Binance Futures, just pick a trading pair.
Choose your [Strategy] — Long or Short.
In Long, the bot buys the base currency first, then sells at a higher price for profit in quote currency.
In Short, the bot sells the base currency available at launch, generating quote currency. When the Take Profit level is reached, the bot buys back the base currency, leaving some in the account and selling the rest for profit in quote currency.
Set your [Initial margin] or investment size (excluding leverage), either manually or using the slider. This amount will move from 'Available' to 'In trades.'
Adjust the [Leverage], with the default value at 10x. Click the [10x] button to open the editing window. The minimum value is 1x, and the maximum is 10x. The [Max. position value] field shows the corresponding amount. Choose your desired leverage and confirm by clicking [Confirm].
Pick your margin mode: [Cross] or [Isolated] (default is Cross). Click [Cross] to open the mode editing window. Read the descriptions beneath each button and confirm your selection. Note that margin mode cannot be changed once the bot is launched.
For further customization, click 'Manual adjustment' (Pic. 2) and modify settings like [Bot settings], [Position TP&SL], and [Risk management].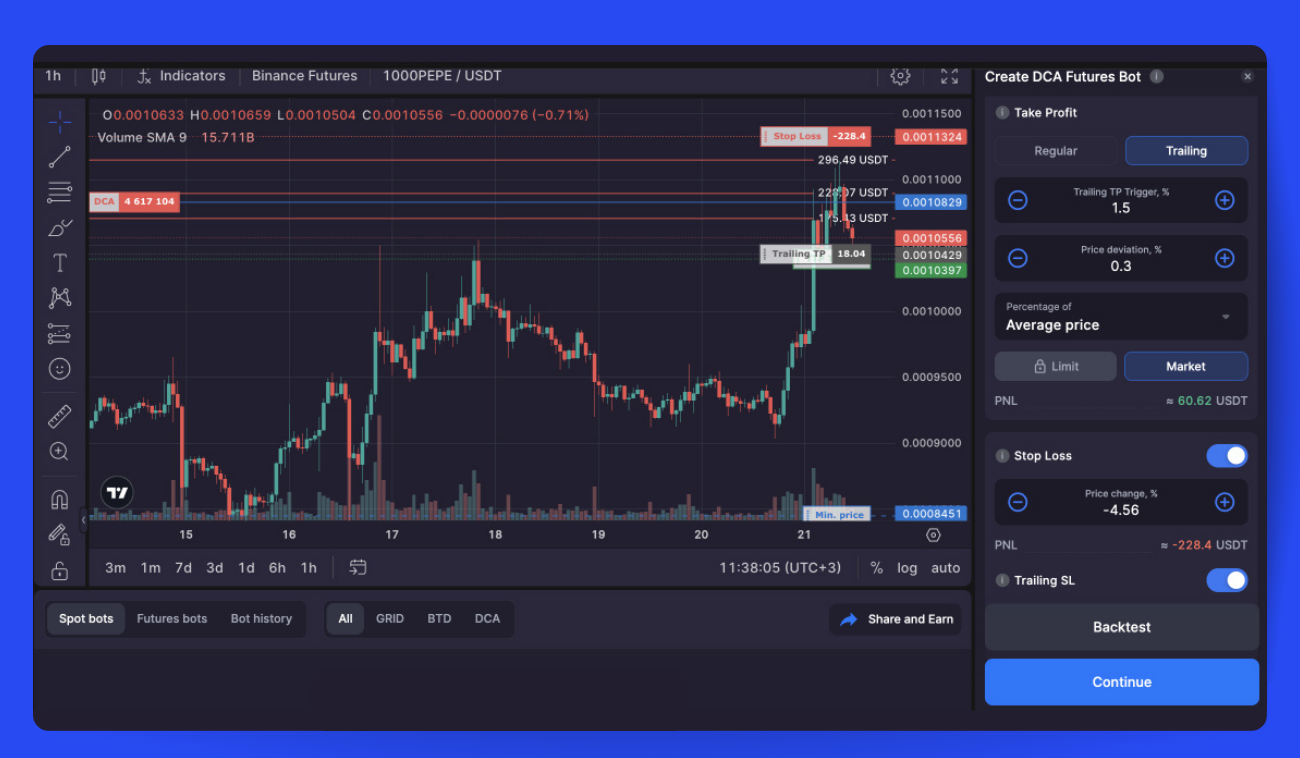 If you're satisfied with the default settings, click [Continue] to preview them. Verify everything is set according to your chosen strategy. Adjust by returning to the main window and using [Manual adjustment] if needed. If all looks good, click [Start Bot] and off you go!
Use Case: FLOW/USDT
Now, let's look at a particular use case and explain what particular bot profit metrics mean.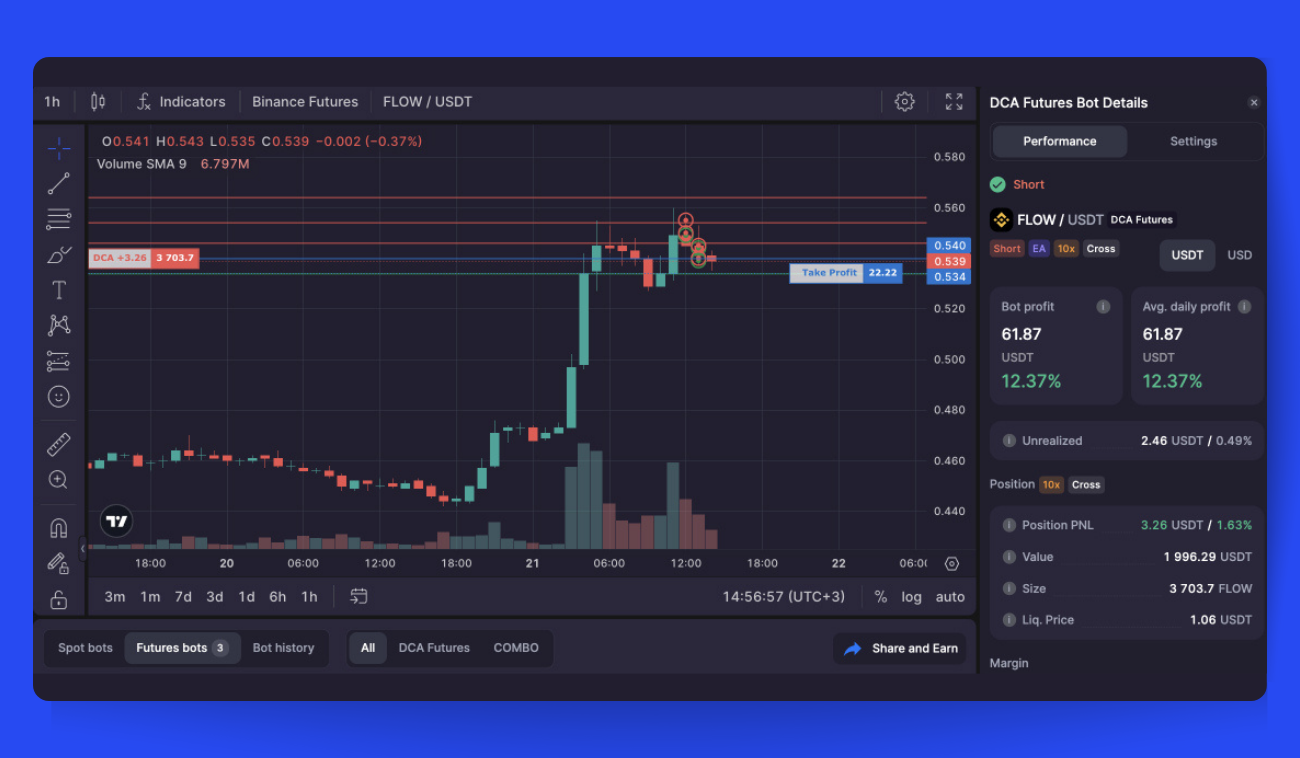 From the image (Pic. 3) above, you can see that the FLOW/USDT DCA Futures Bot has reaped 12.37% rewards in 'Bot profit.' Since it's been only running for slightly more than a couple of hours, you'll see the same figures in 'Avg. Daily Profit.' With the 'Unrealized' number settling somewhere around two tethers and a half, we arrive at 'Position PNL' being 3.26 USDT. Here's an explanation of these metrics:
'Bot Profit' — The profit accrued by the bot after finalizing transactions, which involve selling when prices increase and buying when prices dip (in this instance, the bot's strategy is Short).
'Position PNL' refers directly to the position's profit or loss, which depends on the asset's market price.
'Total PNL' — The final outcome, which represents what we would obtain if we closed both the bot and the position. It is calculated as 'Unrealized' PNL + 'Bot profit,' where 'Unrealized' PNL = 'Position PNL' + fee (the commission for opening and averaging orders in the current cycle). Here, on Pic. 4. is a slightly better outcome ('Position PNL' being 5.6% and 'Total PNL' — 15.25%) than in Pic. 3, as the bot continued to run for another 10-15 minutes.

'Avg. Daily Profit' represents the average daily earnings generated by the bot, calculated by dividing the 'Bot profit' by the number of days it has been running.
Impressive? We bet it is!
Bottom Line — DCA Futures Bot: Familiar Fun, Turbocharged!
Tired of getting burned by the crypto futures market?
The new DCA Futures bot on Bitsgap finally offers a solution. Its cutting-edge algorithm deploys a proven trading strategy that excels regardless of which way the market is moving. The bot buys and sells at steady intervals, automatically rebalancing your position to stay on the winning side. When prices go up, it locks in gains. When there's a reversal, it quickly reduces losses by averaging in. And when the market is in a sideways slog, it's primed to capitalize on any breakout!
Stop trying to outguess the futures market and let the DCA Futures bot do the work for you!
Oh, and before we let you go — Mark your calendars! From June 29 to July 5, score a massive 30% discount on the DCA Futures bot and other awesome tools when you purchase an annual Advanced or PRO subscription. Don't miss this amazing deal — your trading toolkit is about to get an upgrade!