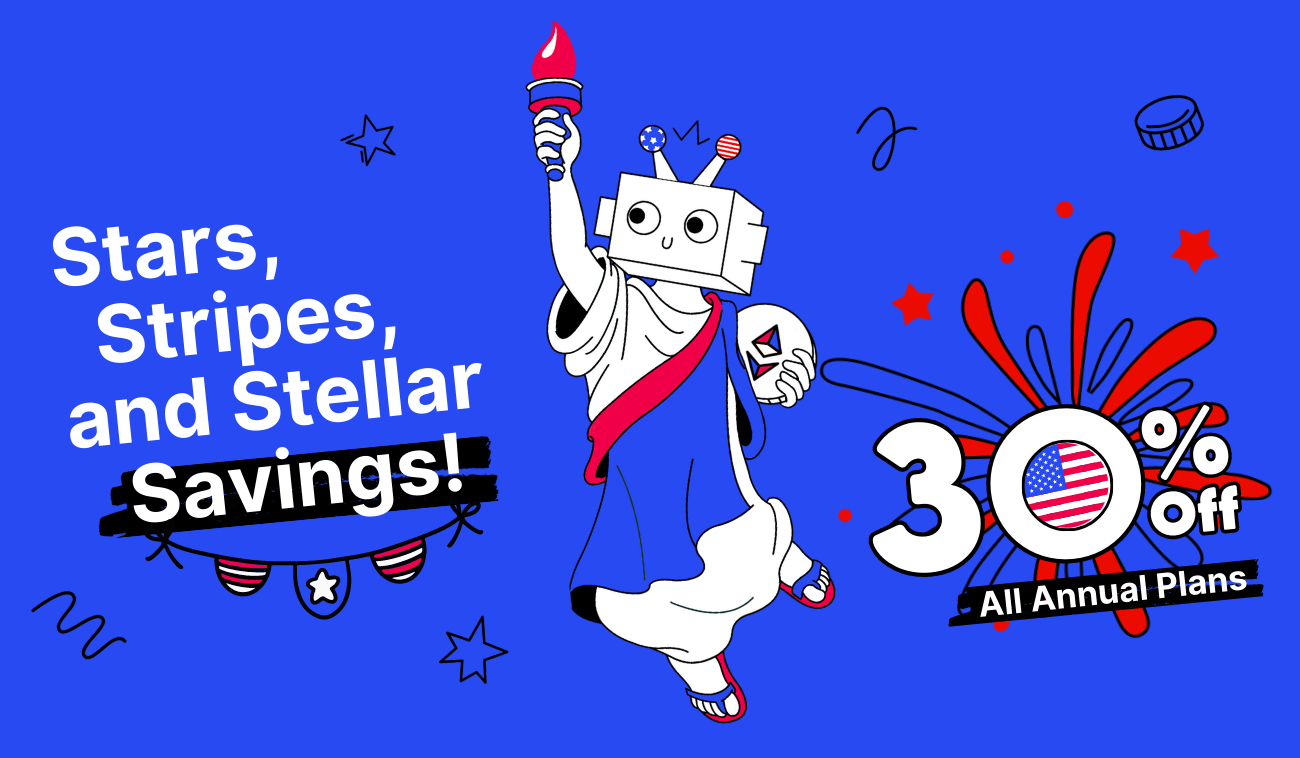 Stars, Stripes, and Stellar Savings: 30% Blowout Sale
Break out the sparklers and cue the fireworks — celebrate July 4 early with 30% off on all annual plans for a limited time only! Manual trading, you're fired!
The U.S. Independence Day comes early! For a limited time, you can save 30% on Bitsgap's futuristic tech and celebrate your freedom from manual trading!
Oh, the joys of Independence Day! The dazzling fireworks, mouthwatering BBQs, refreshing beers, and lively parties all come together to honor history. But let's not forget one more exciting aspect of this red, white, and blue extravaganza: sales!
We're proudly joining in the patriotic spirit by treating our American customers to an explosive deal this July 4: a spectacular 30% off all annual plans.
But our sale is open worldwide, so join us in celebrating true crypto autonomy wherever you live and trade!
Get your crypto game on point for the next year, and make the most of added perks like Bitsgap's DCA futures bot to amp up your trading experience with leverage and automation.
Want to know the details? Read the full article to learn all about our sale campaign, how to subscribe, and why now's the perfect time to join Bitsgap!
What Is Bitsgap's July 4 Sales Campaign?
Bitsgap's July 4 sales campaign is a great chance to take advantage of discounted prices!
From June 29 at 10:00 UTC to July 5 at 18:00 UTC, anyone who signs up for a Bitsgap annual subscription will instantly save 30%!
No more searching for the perfect deal, as Bitsgap brings the best bang for your buck with this limited-time offer.
Here's why you'll love this sale:
Unbeatable value: With 30% off all annual plans, now is the time to take advantage of this jaw-dropping offer and revolutionize your trading!
Skyrocket your profits: On the Bitsgap PRO plan, deploy up to 250 DCA and 25 GRID bots and access unlimited smart orders, futures bots, and trailing features. Imagine the potential profits with 250 bots at work!
Diversify and conquer: Power up your trading with DCA or GRID trading, or combine them in the COMBO bot for thrilling futures action. At 30% off, now is the perfect time to supersize your trading arsenal!
New DCA Futures bot: Recently launched, this bot lets you trade red-hot futures using the DCA strategy and leverage. The DCA strategy gives you a steady hand in chaotic markets, continuously honing the entry point to maximize your profits.
What are you waiting for? This blockbuster July 4 offer won't last long! Sign up now to start crushing it with the most advanced crypto tools!
How Do I Grab My Discounted Subscription?

Purchasing your discounted subscription has never been easier!
For newcomers: Begin your journey by visiting Bitsgap's pricing page and starting a seven-day free trial on the PRO plan. Make sure to extend your subscription by July 5 to enjoy a 30% discount on any annual plan.
For active subscribers: Simply click on the [My account] icon at the top right, choose [Manage plans] from the drop-down menu, and hit [Extend] to get an unbeatable 30% off your subscription!
Why Should I Join Bitsgap?
Bitsgap is one of the biggest crypto aggregators, bringing together over 15 exchanges, a team of 100 experts, and an awesome community of 500,000+ traders under one roof.
And guess what? You're invited to join the party!
Our flagship product is an automated crypto trading platform with the most powerful manual and automated tools you'll find anywhere.
But, of course, Bitsgap bots are what truly shine. Our world-class bots have shown jaw-dropping returns and attracted a huge following, with over 3.7 million bots started and $300B in trading volume in 2022 alone!
The sizzling lineup (now 30% off!) features GRID, DCA, BTD, COMBO, and DCA Futures!
The DCA Futures — the latest addition — is going to blow you away! Its exceptional ability to provide stability in volatile markets makes it a game-changer for futures trading. The bot consistently buys or sells assets at predetermined intervals, regardless of market fluctuations. This continuous adjustment of your entry point ensures that even if your initial market prediction is off, your position will average out, ultimately shifting the entry point to a more profitable level and making it easier to close the position with gains!
But Bitsgap is WAY MORE than just trading bots! It's also a super-safe trading environment with cutting-edge security and an unbeatable affiliate program with huge rewards and prizes!
Interested in more stats? Check these out:
83% of users earn a profit with Bitsgap!
$148M total profit from bots closed in 2022
8% average profit from bots closed in 2021-2022
1.23% average daily bot profit
15,000+ bots running each day
19M+ transactions processed daily!
How's that?
The 30% discount on all plans is only available from June 29 to July 5, so grab this chance now before the fireworks fizzle out!
Happy July 4!