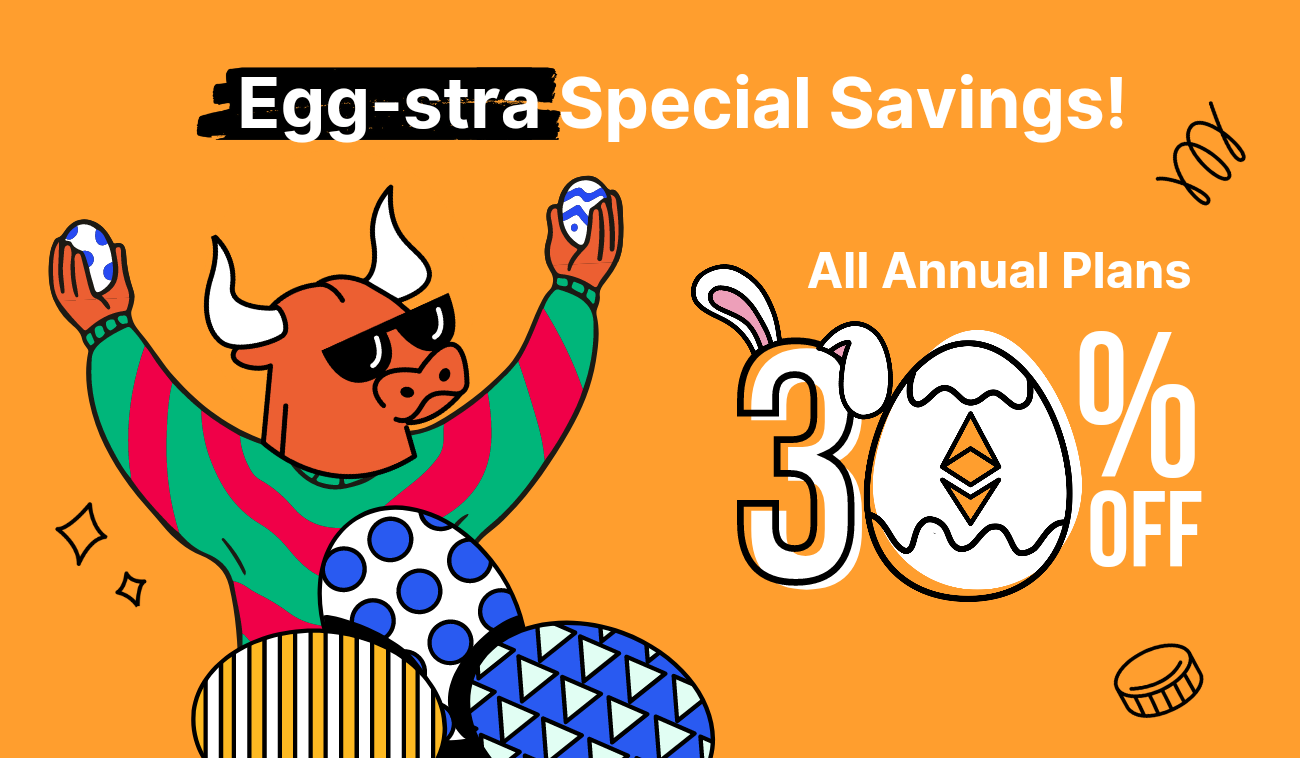 Egg-stra Special Savings: Save 30% on All Plans on Easter Sale
Save 30% on all annual plans by subscribing to Bitsgap during our special Egg-stra Sale Campaign from April 5 to April 12, 2023!
Seize an egg-straordinary opportunity to save 30% on all of Bitsgap's annual plans during the April 5–12 Easter Sale Campaign!
As Easter signals the beginning of the wonderful verdant season of spring, so do we take this exciting opportunity as an excuse to run another merry sale!
What could be more egg-siting than saving big on trading plans that put your money to work so you don't have to?!
In short — time to get Easter ready with a good-old annual trading plan from Bitsgap at 30%!
What Is Bitsgap's Egg-Stra Sale Campaign?
Bitsgap's Egg-Stra Savings Campaign is a wonderful opportunity to shop the sale! During April 5–12, anyone who subscribes to Bitsgap will instantly save 30% on all annual plans!
No need to go a-hunting: Bitsgap offers the best value for the money plus a 30% saving opportunity that's hard to miss. Finally, you don't have to shop around for a better deal, because there isn't any!
Elevate your earnings to new heights: On Bitsgap's PRO plan, you can set up to 250 DCA and 25 GRID bots, not to mention unlimited smart orders, futures bots, and trailing features! Just think how much more money you can earn by running 250 bots?! Amazing!
Complete the look: By subscribing to Bitsgap, you can diversify your trading strategy by adding GRID trading if you previously traded DCA and vice versa. Moreover, you can combine the two by trading futures with Bitsgap's COMBO bot! A complete look at 30% — egg-straudinary!
How Do I Buy a Discounted Subscription?
Buying is easy!
If you're a newbie, head to Bitsgap's pricing page to start your seven-day free trial on the PRO plan. Extend your subscription by April 12 to save 30% on any annual plan.
If you're an active subscriber, navigate to the [My account] icon on the top right, select [Manage plans] from the drop-down menu, and click [Extend].
Why Should I Subscribe to Bitsgap?
Bitsgap is one of the largest crypto aggregators that unites more than 15 exchanges, 100 team members, and a friendly community of over 500K+ traders under its welcoming roof.
You're more than welcome to join us too!
Our flagship product is a cloud-based, automated crypto trading platform with a complete suite of manual and automated trading tools.
Here's a brief overview of our much-vaunted crypto trading bots (that are currently on sale at 30% off!):
As the name implies, the GRID bot follows the GRID trading strategy, the most popular trading strategy in both forex and crypto markets. The bot creates a grid full of limit buy and sell orders within predefined price intervals. As the bot generates profits from movements up or down, it's best used in the swing market. Learn more about GRID here.
The DCA trading bot follows the Dollar Cost Averaging (DCA) strategy, whereby the bot divides your investment across periodic purchases (or sales). This allows the bot to get a better average price on your position and reduce the impact of volatility. If you want to supplement your trading with indicator signals and powerful risk management tools, then DCA is the bot to run! Learn more about DCA here.
BTD Trading Bot: Making the most of the falling price
The BTD bot follows the Buy the Dip trading strategy that accumulates a coin portfolio while a coin's price falls. As the name suggests, it works best on the downtrend market, which presents opportunities for stashing coins at discounted prices. Learn more about BTD here.
The COMBO bot from Bitsgap combines both DCA and GRID trading strategies to profit from the futures market. Thanks to its innovative design and leverage, the COMBO bot can generate profits 1,000% faster. Learn more about COMBO here.
Last but not least, all the bots have shown fantastic returns in the crypto market and attracted a large following, with 3.7M bots started and overall trading volumes exceeding $300B in 2022.
With that said, Bitsgap is much more than just trading bots!
Bitsgap is also —
Finally, here's a brief overview of Bitsgap in numbers:
83% of users earn with Bitsgap;
$148M — total bot profit of all closed bots in 2022;
8% — average PnL of all Bitsgap's bots closed for 2021-2022;
1.23% — average daily bot profit;
15,447 — number of bots run on the platform daily;
18,748,454 — number of transactions processed on the platform daily.
Convinced?
All of this goodness is now on sale!
Hop on the Egg-stra Sale Campaign to instantly save 30% on all annual plans!