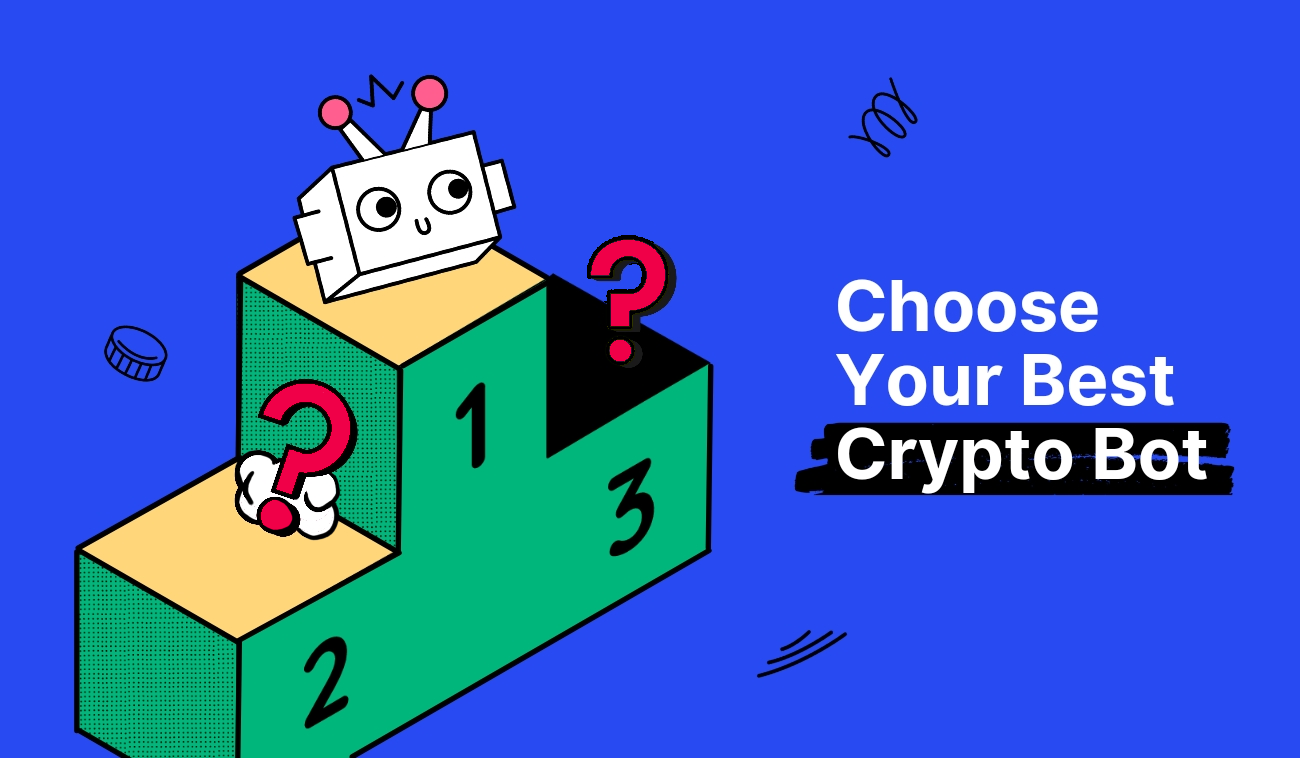 How to Choose the Best Automated Trading Software + Top 5 Crypto Trading Bots 2023
While there are plenty of trading bots on the market, how do you choose the best one? Here's your crash course — Plus, TOP 5 crypto trading platforms in 2023!
Choosing the best automated trading software is no easy task. Here's a guide to your rescue. Use it to learn about crypto trading bots and their many pros and cons. Select the best trading software from the top 5 that works for you!
For new investors, the learning curve in crypto is much steeper, and the possibility of losses is higher due to a variety of factors. Some of these include the daunting multiplicity of assets and the highly unpredictable nature of the crypto market. However, successful investing often comes down to timing, analysis, and strategy.
Fortunately, there are plenty of tools that can help you tame the market, improve your skills, and achieve better trading results. In fact, many traders already heavily rely on crypto trading algorithms and automated trading platforms because they make their lives much easier. You can do so too!
👉 Automated trading systems can help you develop and improve trading strategies, manage risks, and make more money. All of this while toiling round-the-clock, even if the computer shuts down.
In this article, we'll do a high-level summary of the many available algorithmic trading platforms and go over the features to be mindful of when choosing the best trading software for your needs. Lastly, we'll suggest the top five crypto trading bots so you don't have to shop around but can choose the best from the best.
What Is Automated Trading Software and How Does It Work?
Automated trading platforms are software that trades on your behalf. To use an algorithmic trading software app, you'll need to register on the platform, decide on your trading plan, connect to a crypto exchange, and finally, choose an automated trading tool you'd like to use to achieve your trading goals.
After you set up your trading bot, it will buy and sell cryptocurrency on your behalf by following a particular trading strategy based on specified rules and parameters.
👉 Most automated trading platforms work via APIs, meaning that they connect a trading bot to different exchanges via encrypted API keys with limited access to funds and data.
However, there are also new trading systems that are blockchain-based and referred to as "tokenized crypto trading." Instead of using APIs, these systems employ smart contracts on the blockchain. However, for the purposes of this piece, we'll settle on API-based systems.
Benefits and Risks of Using Automated Trading Systems
Everything has its pros and cons, and it's important to recognize both. Here's a list of benefits and downfalls associated with automated trading software.
Benefits and Advantages of Automated Trading Platforms

Saving time and minimizing emotions
It's virtually impossible to spend 24 hours in front of a computer. If you attempt such a feat, you'll find it extremely difficult to stay alert and attentive to price movements. As a result, you'll be prone to making bad or irrational decisions.
Automated trading software keeps both time and emotions in check. By operating 24/7, bots always keep an eye on market conditions and execute trades at the most favorable opportunities. By allowing the bot to trade, you have better chances of sticking with an original trading strategy, maintaining discipline, and keeping your emotions at bay.
Backtesting is a fantastic tool that allows you to evaluate the potential of a trading strategy by testing it on past data. Many automated trading systems offer backtesting features that help you test your trading strategy before going live and risking capital.
By backtesting, you can assess the viability of your current strategy and fine-tune it to achieve better results. Again, testing past data is extremely difficult when done manually.
Improving and diversifying trading
Since bots immediately respond to conditions that correspond to predetermined trade criteria, you have better chances of drastically improving your trading results. Cryptocurrency markets can move so quickly that it becomes practically impossible to respond manually. Automated trading systems eliminate trading's most demoralizing element — missing the right opportunity for exit or entry.
Finally, crypto trading bots allow you to trade across multiple exchanges and assets while simultaneously employing different trading strategies. This diversification is good for a few reasons — it spreads risks over various instruments and increases trading efficiency.
Disadvantages and Risks of Automated Trading Platforms

While automated trading systems can be highly sophisticated, they are not infallible. For example, a bot can submit a purchase request, but it won't reach the server because of the connection or a system error. So it's important to remember that mistakes can and do happen.
Automatic systems require supervision
Although automatic trading systems are designed to work independently, they still require monitoring and supervision. This is due to their inherent complexity and the possibility of mechanical failures mentioned above. However, if you consistently monitor the system, many of those mistakes can be avoided or corrected in a timely manner.
Although not unique to automatic systems, traders who employ backtesting can develop systems that perform admirably in simulations but poorly in reality. Over-optimization occurs when you over-tweak the strategy in an attempt to make it more profitable. Thus, by tinkering with the parameters, you can produce a "near perfect" plan that nonetheless totally falls apart when put into practice in a real market.
Things to Consider When Choosing the Best Automated Trading Software

There are multiple factors you should consider before settling on an automated trading solution. Below are a few suggestions to start with.
When searching for an automated trading platform, keep in mind that if something sounds too good to be true, it probably is. There are plenty of scams that promise high returns at a relatively low cost. However, if you do your research before buying, you can easily avoid them.
Do you really need a platform?
Before you automate, ask yourself a very simple question: Do you really need to invest in a platform, or are you better off trading manually? There are certainly opportunities to increase your returns, but it might require more time and investment than you anticipate.
You also need to be able to understand the market and the ins and outs of the system before you can benefit from it. Are you willing to invest time in learning the platform and its features? These are a few questions that you need to answer before buying.
It's very important to find out if the automated trading platform is sufficiently secure. Firstly, you need to research user testimonials and see if anyone reports problems with the platform and its security. Secondly, you need to find out what security measures the platform implements to protect your funds and personal data.
For example, Bitsgap takes special pride in its security features and doesn't hesitate to point out the measures the company undertook to make the platform one of the most secure trading systems online. Has the company you're currently considering implemented similar measures?
Are features customizable?
Customizable trading strategies are an important feature of good automated trading software. Why? Because customization allows you to tailor different trading approaches to meet your individual requirements and risk tolerance. So, see if there are options to use default strategies, customize existing, or develop your own. Suffice it to say that Take Profit and Stop Loss are mandatory, while different smart order types and trailing features are highly desirable.
Does the platform have the tools for advanced tech analysis?
Many automated trading platforms include sophisticated technical analysis tools, but many don't. And it's important to find out if the platform of your choice offers such tools as charting instruments and indicators. Technical analysis is crucial because it allows you to identify potential trading opportunities and market trends.
What exchanges does it support?
If you want to diversify your portfolio and increase your chances of profit, it's best to fish for opportunities at different exchanges. However, when you do have multiple exchange accounts, it becomes more and more difficult to keep tabs on all of them. An automated trading platform is one of the best solutions to the problem. If it supports multiple exchanges, it automatically makes trading much easier because it eliminates the hassle of logging in and out of different accounts.
Does the system offer technical support?
Finally, a good automated trading platform has to offer adequate customer service. That's especially true if you're new to crypto and require assistance in setting up and using the bot. Email and live chat, among other channels, should all be part of a company's round-the-clock support offering to customers.
👉 The company's website and help center should also provide extensive self-help information, including FAQs, technical documentation, and troubleshooting tips.
Top 5 Crypto Trading Bots in 2023
Bitsgap: The Best Automated Trading Software
Since its inception in 2016, Bitsgap has become one of the largest crypto aggregators, with more than 15 connected exchanges, over 100 team members, and a large community of 500K+ traders.
Bitsgap's flagship product is a cloud-based, automated crypto trading platform that provides users with a complete suite of manual and automated trading tools. Bitsgap especially takes pride in its trading bots — DCA and GRID — which have shown fantastic returns in the crypto market and attracted a large following.
Features:
A variety of trading bots for all market conditions: DCA, GRID, COMBO futures, and Buy the Dip. Both default and customizable strategies, backtesting, and more.
Smart orders and trailing features Up or Down.
15+ connected exchanges, including Binance, Coinbase Advanced Trade, KuCoin, OKX, ByBit, and more.
Advanced trading terminal with built-in TradingView features.
Sophisticated security suite, including encrypted API keys, 2048-bit RSA, 2FA, OAuth, fingerprinting, countertrade protection, and API Lock.
Mobile and desktop compatibility.
A panoply of social media channels and a friendly community.
Profitable affiliate program (30%).
Structured knowledge-base & blog.
Good multilingual customer support service.
Demo mode for the spot and futures markets.
Free 7-day free trial on a PRO plan.
Pricing:
TradeSanta Automated Trading Platform
TradeSanta is a cloud-based automated trading platform that helps traders automate their trading on eight major exchanges. The platform's most interesting feature is perhaps its social trading marketplace, where users can copy strategies and settings from experienced traders. Finally, you can test TradeSanta free of charge by signing up for a free plan.
Features:
Long and short bots (including DCA and GRID), spot and futures bots.
Copy trading & social trading marketplace that lets you buy working trading bots.
Smart orders and risk management features.
8 connected exchanges, including Binance, Kraken, HitBTC, and Huobi.
Built-in TradingView.
Demo trading.
Referral program (20%).
Mobile and desktop compatibility.
Localized website.
Structured FAQ and a handful of video tutorials.
Pricing:
Kryll.io Automated Trading Systems App
Kryll is a cloud-based, automated trading system that lets you rent strategies from experienced traders through the Kryll marketplace or build your own with the drag-and-drop builder. Since the platform is subscription-free, you'll need to pay per use. However, by owning the Kryll (KRL) token, you can significantly decrease your expenses.
Features:
Using the platform requires purchasing an ERC-20 token KRL.
Possibility to build personal strategies with UI tools or rent strategies of other traders via a social marketplace.
Possibility to earn by lending strategies to others.
TradingView integration.
Referral program based on KRL holdings (up to 45% commission).
Mobile and desktop compatibility.
Supports 6 exchanges, including Binance, Poloniex, Bitstamp, and Kraken.
Pricing:
Kryll's pricing is rather complicated and based on the amount of KRL token you're holding. For example, if you don't hold any KRL, then you'll pay $0.33 per day for using the platform, provided you trade at least 1,000 USD. Conversely, if you're holding 200K of KRL, you'll pay $0.02 for trading the same amount. Here's Kryll's pricing for more info.
HaasOnline Automated Trading System
HaasOnline is a powerful crypto trading platform that offers a variety of trading solutions, including TradeServer Cloud, TradeServer Enterprise, and HaasScript. As the platform is rather sophisticated, it might be difficult to use if you're a novice. Conversely, if you're a professional trader with many years of experience in traditional markets, then HaasOnline can be a good option.
Features:
Automated trading with the possibility of creating trading bots for scalping, arbitraging, grid-trading, and dollar cost averaging.
Drag-and-drop visual builder (HaasScript editor) for replicating historically proven trading strategies.
Backtesting and demo trading, risk and portfolio management.
Customizable dashboards.
Support for 28 exchanges, including Binance, Kraken, Huobi, KuCoin, Poloniex, and HitBTC.
7-day free trial on a premium subscription.
Affiliate (up to 25%) and bug bounty programs paid in bitcoin.
Extensive documentation & knowledge-base.
Mobile and desktop compatibility.
Pricing:
Cryptohopper Algorithmic Trading Software App
Founded by two Dutch brothers, Cryptohopper has become a social phenomenon thanks to its rapid growth, multiple social features, and extensive functionality. The platform has an easy and user-friendly interface, so it is suited for both experienced and novice traders.
Features:
Automated trading (including DCA strategy), exchange arbitrage, AI trading, social and copy trading.
Opportunities to earn money by creating and selling bots.
Backtesting and demo trading.
TradingView integration.
Trailing orders.
15 supported exchanges, including Binance and OKX.
Tournaments and competitions.
Comprehensive knowledge base and documentation.
A variety of website widgets.
Has an automated trading software free plan and a seven-day free trial on the Explorer plan.
Mobile and desktop compatibility.
Pricing:
Bottom Line: Level Up Your Trading But Beware of Risks
A cryptocurrency automated trading algorithm platform can be a helpful tool for anyone who wants to streamline operations and boost returns. A variety of bots, the availability of customizable trading strategies, in-depth tech analysis, support for multiple exchanges, and responsive customer service are just some of the features that traders should look for in a platform.
A well-designed crypto trading software can help you thrive in the world of crypto trading, whether you're an experienced trader or a novice. So, choose carefully, avoid scams, and do your own research before buying.
FAQ
What's the Best Automated Trading Software on the Market Right Now?
We're pretty confident that Bitsgap is currently the best automated trading platform on the market. Bitsgap's bitcoin automated trading software is good for a few reasons. Firstly, the platform is extremely secure, unlike many of its competitors. Second, it's good for both beginners and experts because it has both built-in and customizable features and a great variety of trading tools
And finally, there's a seven-day free trial on the PRO plan, a demo or paper trading option, an affiliate program, an amazing trader community, and veritably high ratings online. Finally, unlike many other similar platforms, it connects to more than 15 exchanges, and more partnerships are yet to come!
How Do I Choose the Best Automated Trading Software?
As has been noted, there's a possibility that you don't have to look for options — Bitsgap can be your optimal solution for crypto trading. However, should you wish to explore the market, then pay attention to the following features: security measures, number of connected exchanges, variety of default and customizable strategies, technical analysis tools, customer service, affordability, and online reviews.