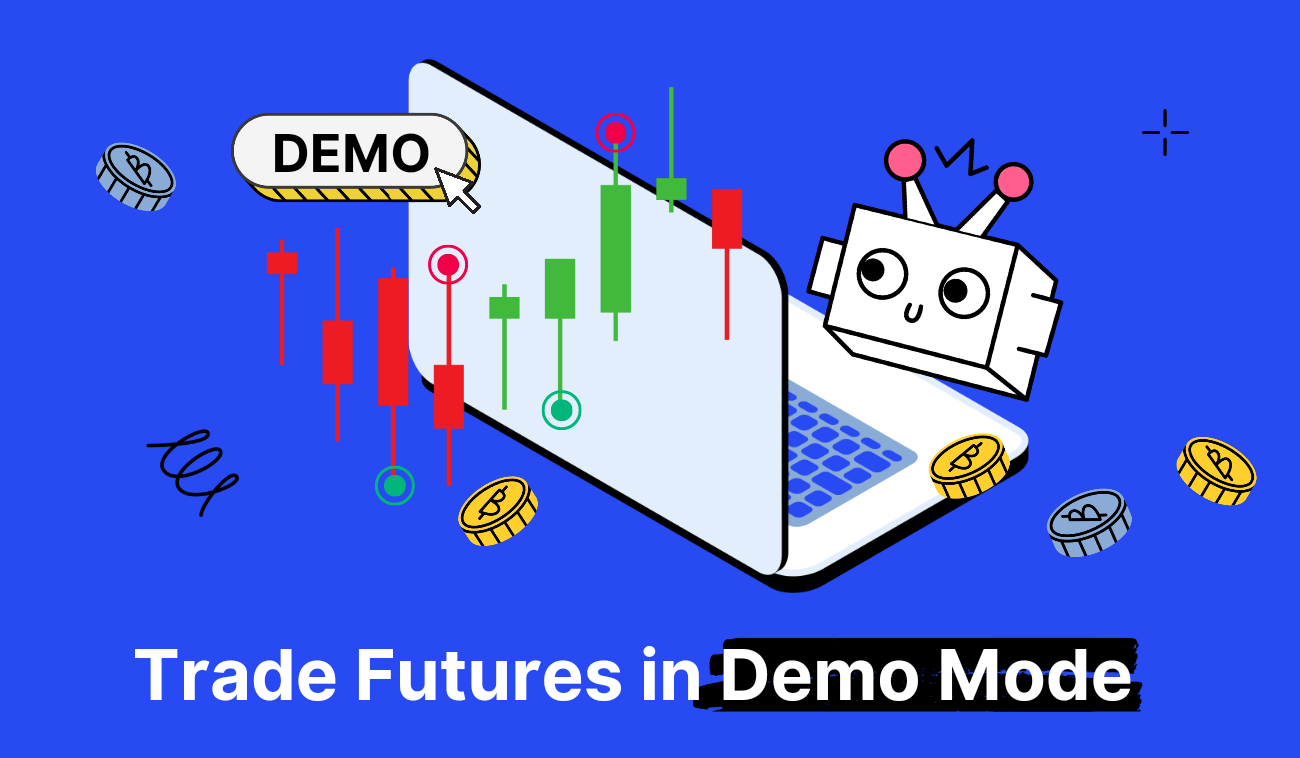 Trade Futures Risk-free With Bitsgap Demo
Learn how to trade crypto futures risk-free in Bitsgap's Binance Futures Demo mode with 2,000 USDT in virtual funds and leverage of up to x125.
If you ever wanted to try trading futures but were hesitant regarding risks and rewards, FUD no more! Now, you have a fantastic opportunity to trade futures risk-free on Binance with the Bitsgap Demo mode that offers you 2,000 virtual USDT and leverage of up to x125 to test your wildest strategies.
Moreover, you can also set up and test the Bitsgap COMBO bot, which has shown remarkable results on futures.
All in all, Bitsgap's Binance Futures Demo mode is an excellent way to try and learn trading futures before committing your capital. Let's break that down and see what's on offer.
Introduction to the Demo Mode and Its Benefits
Binance Futures Demo is designed to allow you to trade futures on the Binance exchange using virtual funds under actual market conditions.
The Demo mode has multiple benefits, as it allows you to:
See how both the Bitsgap and Binance platforms work;
Understand the futures trading and risks inherent in leverage;
Create and test various trading strategies and use different platform tools without risking a dime;
Try Bitsgap's automated trading COMBO bot risk-free;
Get some close-to real-life trading experience.
It's important to note that trading in the Demo mode may slightly differ from actual trading on the Binance platform, especially in individual instances like interaction speed and calculations of various coefficients, including liquidation price (which may insubstantially deviate by 1 or 2%).
Futures Demo Mode
Binance Futures Demo mode on Bitsgap is a simulation trading environment that allows you to sharpen your skills in trading cryptocurrency futures without risking capital.
If you've already traded Futures on Bitsgap or Binance, then you know how it works because the demo mode is not much different. For those of you who are not familiar with futures, here's a little intro.
What Is Futures Trading?
Crypto futures are a type of derivative contract that obligates two parties to buy or sell a particular cryptocurrency at a predetermined price on a specific date in the future. Most crypto futures are perpetual, meaning they don't expire.
Your investment multiplied by the leverage determines the futures contract volume. Leverage increases your position size by borrowing extra funds from the exchange. This allows you to earn significantly more than you would if you used your funds alone.
However, leverage also increases risks. If you can no longer meet the margin requirements of your leveraged position, you risk losing all your funds.
👉 Suppose you want to buy BTC. Since your only capital is 100 USDT, you use x15 leverage to open a long position worth 1,500 USDT. If the BTC price drops by as little as 10%, your balance of $100 could be wiped out in a process called liquidation, as you won't be able to fulfill the margin requirements.
To learn more about futures trading, please refer to this article on the blog.
How to Start With Futures Demo on Bitsgap?
Bitsgap's Demo mode trading is carried out at the actual rate of USDT currency pairs received from the Binance exchange. At the moment, only USDT currency pairs are available.
To start trading futures in the Demo mode, click on the [My account] icon on the top right of the Bitsgap interface and toggle [Demo] mode on.
Click on the [Trading] tab in the top left menu and choose Binance Futures from the available exchanges (Pic. 1)

By default, Bitsgap offers you 2,000 USDT in virtual funds for trading practice. If you've already tampered with the demo account and opened/closed a few positions, you may want to reset your balance to get back to 2,000 USDT.
To do so, go to [My exchanges] → [Binance Futures] → [Reset balance] (Pic. 2). This will not only restore your balance but also delete history, existing positions, orders, and automation.

Also, all currency pair settings, such as leverage and margin mode, are set to [10X] and [Cross] by default (Pic. 3).
A cross margin is shared between open positions. In contrast, an isolated margin is assigned to a single position without being shared.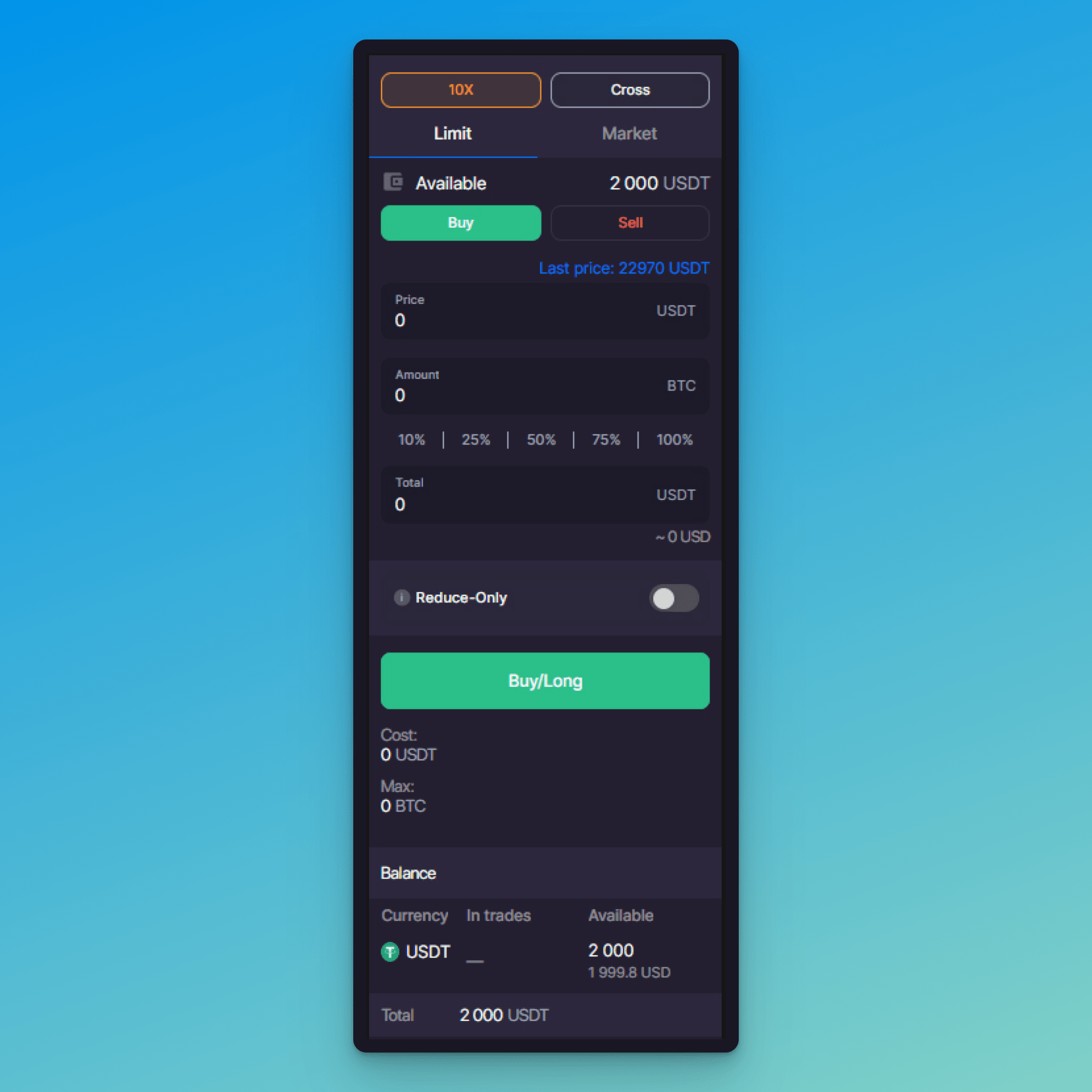 You can change the default settings by clicking on the buttons for leverage and margin (Pic. 3) at the top of the settings menu. This way, you can choose [Isolated] margin instead of [Cross] and change leverage from [10X] to a lower or higher number.
What Leverage Does Bitsgap Offer in Futures Demo?
The minimum leverage is 1x, wherein the margin amount in the order will equal your investment volume as in spot trading.
The maximum amount of leverage differs by a trading pair as prescribed by Binance and equals to:
BTC/USDT — 125x;
ETH/USDT — 100x;
ADA/USDT, BNB/USDT, DOT/USDT, EOS/USDT, ETC/USDT, LINK/USDT, LTC/USDT, TRX/USDT, XLM/USDT, XMR/USDT, XRP/USDT, XTZ/USDT, BCH/USDT — 75x;
Other pairs on USDT — 50x.
The general principles of placing Limit and Market orders on the futures exchange do not differ from spot. You can place an order by choosing its type, direction, volume, execution price, etc.
How to Calculate Fees?
Since the order volume is accounted for with leverage, you'll have to calculate the volume of your final investment and indicate it either in the quote [Total] or base currency [Amount].
👉 For example, if you want to place an order for a purchase of BTC worth 1999 USDT and use a leverage of x10, then the reserved funds on your balance will be 199 USDT.
Fees are calculated based on the order's total amount in the quote currency (USDT) and are immediately deducted from your total balance. For Limit orders, the fee is 0.02%, and for Market — 0.04%.
👉 For example, if you invest 100 USDT and use a leverage of x20, the fee will be withheld from 2000 USDT.
[Reduce-Only] option (Pic. 3) allows you to create a buy/sell order to reduce your existing position without opening an opposite long or short position worth more than the current value of your leveraged assets.
COMBO Bot Demo Mode
Binance Futures Demo Mode from Bitsgap also allows you to try and test the COMBO bot risk-free.
The Bitsgap COMBO bot is a unique combination of GRID and DCA algorithms that works remarkably well in the futures market. The bot uses GRID technology to take advantage of every market movement and DCA to optimize the position's entry price.
COMBO follows the trend in both directions and generates returns endlessly as the GRID and DCA levels are automatically placed with its built-in trailing function.
👉 The Demo mode of the COMBO bot allows you to test different trading pairs and strategy suggestions, play with its settings, and learn how the bot operates in different market conditions.
How to Start COMBO Bot in Demo Mode?
To start using the COMBO bot in the Demo mode, click on the [My account] icon on the top right of the Bitsgap interface and toggle [Demo] mode on. Click on the [Start new bot] button at the top of the interface, and choose COMBO.
The interface (Pic. 4) and operation of the COMBO bot do not differ from those in real trading.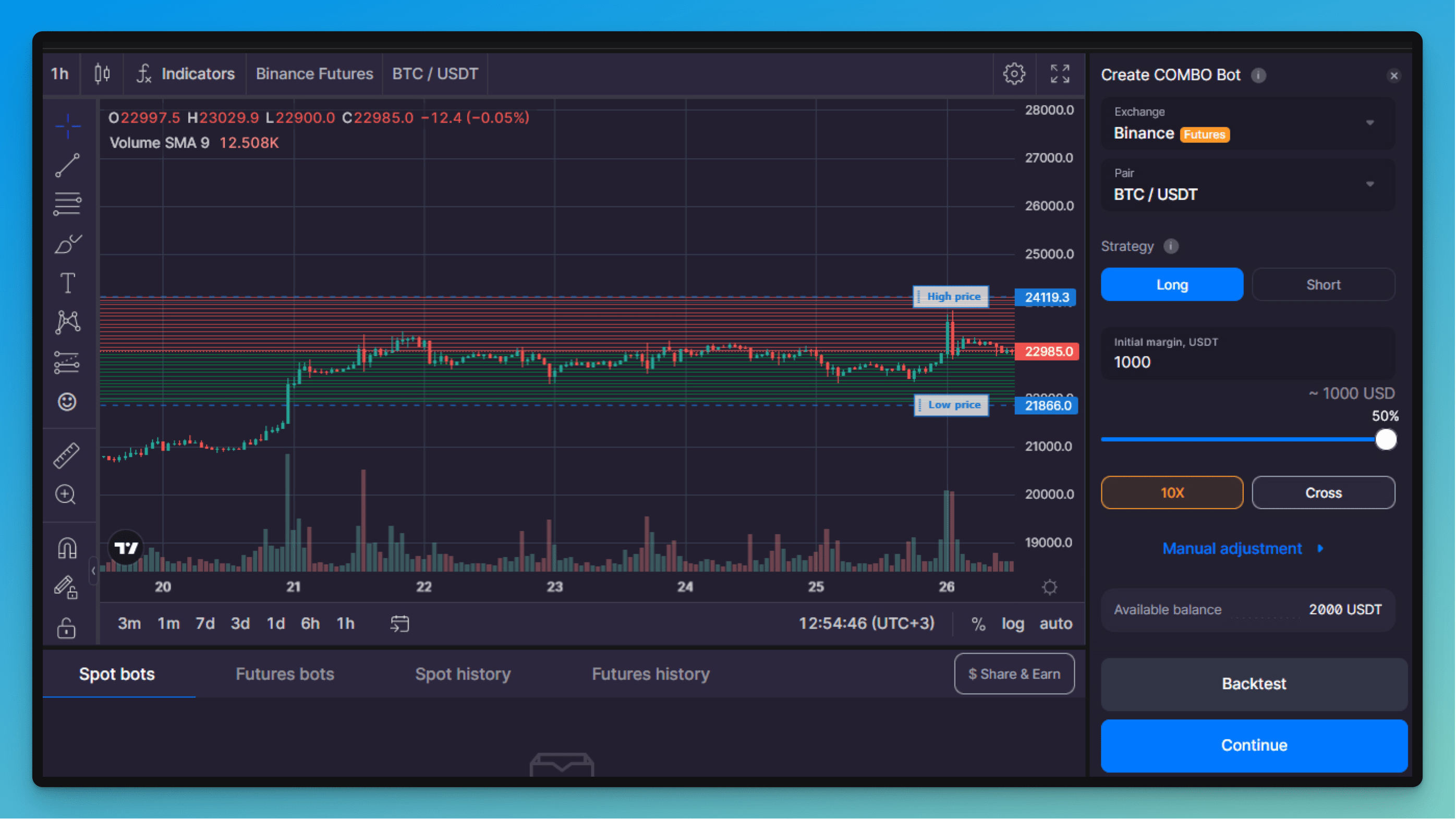 If you're not yet familiar with the COMBO bot, you may want to read these articles on the blog or Help Center.
Ready to test futures trading in Binance Futures Demo mode from Bitsgap? Head to the platform now!