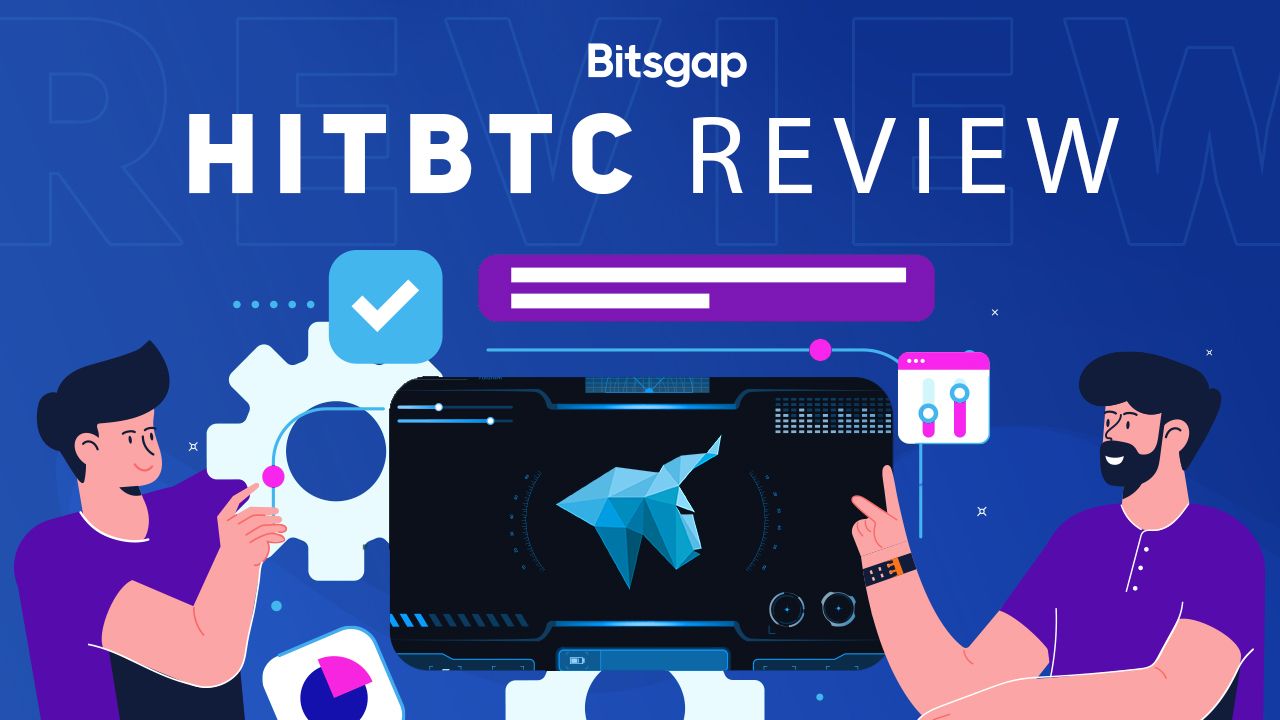 Things to Consider Before Launching Automated Bots on HitBTC
HitBTC is a crypto exchange that prides itself as the "most advanced Bitcoin exchange." It offers its users a quick and secure platform for trading the more popular crypto assets available. The exchange also allows bots for automated trading through a wide variety of APIs.
HitBTC is a crypto exchange that prides itself as the "most advanced Bitcoin exchange." It offers its users a quick and secure platform for trading the more popular crypto assets available. The exchange also allows bots for automated trading through a wide variety of APIs.
HitBTC was established in 2013 in Chile by a team of skilled system analysts and technological experts. It did, however, officially launch in 2014 with $6 million in seed capital from unnamed angel investors. This theme of anonymity has become a red flag for many users around the world, as the investors behind HitBTC remain unknown.
Despite all the anonymity surrounding HitBTC, it grew rapidly by providing its users a vast array of cryptocurrencies to trade backed by sufficient liquidity. The exchange lists popular crypto-assets like Bitcoin, Ethereum, Dash, as well as low-capped altcoins unavailable on other platforms.
This growth, however, was curtailed when reports emerged of a possible hack of the platform. The team's silence on the matter, along with increasing complaints about the inability to withdraw funds, and poor customer support, has led to reduced trust in the exchange.
Today, HitBTC continues expanding its technical capabilities. It offers its services to both individual and corporate clients across the globe, opening offices in cities like Rio de Janeiro, Santiago, Hong Kong, Beijing, and Singapore.
Crypto assets on offer
HitBTC offers an extensive array of cryptocurrencies to traders. Over 500 crypto assets are listed with over 1200 trading pairs, according to CoinGecko. Support for the deposit of fiat currencies is unavailable; traders can use third-party payment providers instead.
HitBTC's trading volumes
HitBTC is a top exchange when it comes to market liquidity. When compared with other platforms like Binance or Bitfinex, it performs admirably. Its data reporting is granted the highest score available on Cryptocompare.com, pointing to its liquidity validity.
At the time of writing, HitBTC is ranked 47th among crypto exchanges by Messari.io. It recorded a 24-hour trade volume of over $3 billion with a market share of 4.4%. The most liquid trading pairs are BTC/USD, ETH/USD, and ADA/USD, with 24-hour traded volumes of $1.1 billion, $461 million, and $220 million respectively.
HitBTC's services
HitBTC provides a number of most needed trading services that make it suitable for both retail and corporate investors alike. Among them are:
Trading Platform
The trading platform is HitBTC's primary offering. The exchange offers comprehensive trading features, a user-friendly interface, and a demo mode for cryptocurrency traders. The demo mode allows inexperienced traders to practice different strategies using test funds.
To enable full-scale automatic trading, however, users will have to rely on third-party services automated trading service providers like Bitsgap. The exchange enables only manual trading with a set of mart orders that allow to automate the process to some extent. HitBTC offers a vast array of market orders, including limit orders, market orders, good-til-canceled, good-til-date/time, day, immediate-or-cancel, fill-or-kill orders, and others.
Over The Counter (OTC) Trading
HitBTC provides tailor-made OTC trading for those who wish to execute high-volume transactions without the use of public order books. This service is suitable for transactions upwards of $100,000. A buffer and extra layer security are provided to shield traders from fluctuations in the price of assets when trades are occurring.
Token listing
HitBTC provides a simple process for listing coins. This makes it a hotbed for low-capped Alts and new cryptocurrencies. New crypto projects can find a request form on the website to enable integration into the platform. An application review is done, and feedback is given after ten working days.
Margin trading
HitBTC facilitates cryptocurrency margin trading using the MetaTrader 5 Terminal for traders who intend to leverage their trades. Despite the fact such trading bears increased risk, it may also bolster gains dramatically if a trader chose right trend direction.
Application Programming Interface (API)
Quick and reliable APIs provide real-time information to the robust trade engine. APIs available include programmatic access to their trading engine and the Financial Information Exchange (FIX) API.

Automated trading on HitBTC
According to HitBTC's website, the exchange was the market's first platform that offered reliable and fast REST, WebSocket, and FIX API for automated bots. The exchange itself, however, does not host any built-in trading automations and prefers providing a reliable connection with third-party algorithmic trading service providers rather than developing a solution of its own.
Some users may consider the lack of built-in automated trading features a flaw, but a trusted third-party trading software like Bitsgap bot paired with an exchange via stable API connection can provide users with better functionalities than any proprietary grid bot developed within an exchange.
Bitsgap users have an unprecedented ability to test this statement thanks to a generous 14-day trial which gives full access to all premium features the platform can offer including AI bitcoin trading, trading signals, arbitrage, and portfolio management.
Trading Interface
When using HitBTC's website, all trading-related information is displayed under the exchange tab. The price chart is prominent on the trading interface and is located at the top right corner of the page. Users have the option of using the native price chart or that of TradingView as they see fit.
Underneath the price charts are two boxes used to buy and sell the chosen crypto pair. Traders can select the available market orders here. To the extreme bottom left is a box showing a list of all orders placed. These orders are of three categories: active, closed, or filled. Active orders are editable from this tab, with the option to alter or cancel them.
Scrolling down further on the trading portal would reveal an order book for the chosen currency pair. A troll room or chat box is provided as well, with support provided in 10 languages. This can be seen below. It is important to note that the entire interface is customizable to enhance the user experience further.
HitBTC offers similar features with other exchanges; it, however, has a notable difference. Each HitBTC user has two accounts: the main account and a trading account. The primary account serves as a store for cryptocurrency assets, and users must move assets to be traded into the trading accounts.

HitBTC jurisdiction
HitBTC offers its services globally except for some countries. The United States of America, North Korea, Sudan, Crimea and Sevastopol, Cuba, Syria, Nigeria, Liberia, Iran, and Iraq are restricted on the platform.
HitBTC trading fees
HitBTC has a straightforward fee structure. No fee is charged on deposits; however, a cost is incurred for placing orders and making withdrawals. The withdrawal fee is a fixed amount, making it cheap for some crypto assets and expensive for smaller coins.
The trading fees offered are low in comparison with other platforms. A market maker-taker fee system is used, with unverified users charged 0.1% maker and 0.2% taker fee.
For verified users, HitBTC uses a tier fee system. The amount charged depends on the 30-day trading volume for each particular user.
Security features
Security is vital on the HitBTC platform, and users are required to complete 2-factor authentication upon registration before access is granted to trading features. A security section is provided and allows traders to monitor activities on their accounts, such as logins and devices connected.
At the click of a button, an account holder can safely terminate all sessions on their account if they notice any strange IP address or unauthorized access to their accounts. Automatic log-out is provided after specified intervals of inactivity as well as cold storage for crypto assets.

Know Your Customer (KYC) policy
The HitBTC exchange adheres to international anti-money laundering (AML) and KYC regulations. Verified personal information is collected from its users and stored according to the EU's General Data Protection Regulation (GDPR). GDPR ensures that no third party ever uses these credentials to perform any exchange on their behalf. In some cases, HitBTC users must verify their identity and prove that they received their assets legally.
Users who want to be verified are expected to provide necessary personal information and identification documents such as passports, driver's licenses, and utility bills. Verification allows access to the full range of services on offer.
Connecting Bitsgap to HitBTC
Linking your Bitsgap account with your HitBTC account involves an easy and seamless process. API keys would be generated on the HitBTC platform and then connected to Bitsgap. Get your HitBTC bot up and running.
To generate a new API:
Log into your HitBTC account.
Click on the settings icon in the top right corner of the interface.
Select the API key tab from the top of the resulting page, then create a new API key.
Choose the necessary permissions the API key would require (2 FA is essential).
Perfect! The API and Secret keys are then generated and ready for your use.
After creating and activating an API key, all that is left is integrating it with Bitsgap. Here is what you need to do:
Login to your Bitsgap account.
Click the My exchange tap and select Add Exchange.
Select HitBTC.
Input your API key and secret passphrase.
Click connect.