Essential Tips for Setting Up Automated Bots on Gemini Exchange
Gemini Trust Company LLC or the Gemini exchange is a leading privately owned cryptocurrency exchange that operates inside the US and provides individuals and corporate entities with an opportunity to legally store, trade, and exchange digital assets.
Gemini Trust Company LLC or the Gemini exchange is a leading privately owned cryptocurrency exchange that operates inside the US and provides individuals and corporate entities with an opportunity to legally store, trade, and exchange digital assets. Gemini does this by offering simple, balanced, and secure products. Users can buy, sell and store their crypto assets on a safe, licensed, and compliant platform.
Built upon a premise of enhanced security, Gemini has held a reputation as one of the most secure exchanges. It is subjected to frequent examinations and cybersecurity audits by the New York State Department of Financial Services (NYSDFS), allowing it to function as a New York Trust company. It is also the first SOC 1 Type 2 and SOC 2 Type 2 accredited cryptocurrency exchange and custodian.
Strict adherence to traditional banking rules means that substantial monetary reserves back any assets held on the platform. This has allowed a blossoming relationship with New York State-Chartered bank, which holds Gemini users' funds.
Gemini's History
Gemini is the brainchild of the Winklevoss twins, Tyler and Cameron, famous for the legal battle with Mark Zuckerberg over Facebook. The name pays homage to "Gemini," the astrological symbol representing "twins." It also points to the holding company in charge of the Winklevoss' assets Gemini Space Station.
The Gemini exchange was founded in 2014 and became fully operational in October 2015. Various financial services were added over the years, including API and FIX support. Shortly after its full commencement, it became the first Ethereum licensed exchange in the United States of America. Another flag was added to its cap when it secured a partnership with the Chicago board options exchange (CBOE), which used the platform to settle its Bitcoin futures contracts.
The Gemini Dollar, a stable coin offered on the platform with its value pegged to the US dollar, was launched in 2018. After this, Gemini secured digital asset insurance to cover all crypto assets held on its exchange and users' risk. London-based risk consulting company AON brokered the insurance deal, underwritten by a group of global underwriters.
Not to be left out of the NFT rave that swept the world in 2019, Gemini Trust Co. purchased Nifty gateway to provide a marketplace for NFTs and allow seamless interaction between both platforms. Before this, it was awarded the best crypto exchange in 2019 by the Market choice award.
On May 28th, Gemini announced a partnership with Samsung. Users of the Samsung blockchain can now connect to the Gemini mobile app to carry out transactions. This integration is, however, only available in the US and Canada.
Since its inception, Gemini has grown tremendously. It boasts over 300 employees in offices across the globe and over $30 Billion in transactions annually. Initially restricted to the 50 states in the US, Gemini started going international with forays into Canada and the United Kingdom. Subsequently, it expanded to Hong Kong, Singapore, South Korea, and Japan, catering to an enthusiastic Asian community. It currently operates in 50 countries worldwide.
Trading Volume
At press time, the Gemini exchange recorded a 24-hour trade volume of over $400 million with a market share of 0.26 %, according to Coinmarketcap.
Gemini ranked 16th amongst crypto exchanges with more than 50% of the exchange's liquidity spread between BTC/USD, ETH/USD, FTM/USD trading pairs, with recorded volumes of $82 million, $40 million, and $18.5 million respectively.
Available Crypto Assets
The list of supported coins on the Gemini exchange pales compared to major exchanges like Coinbase and Binance. It, however, has 51 cryptocurrencies available in over 72 trade pairs, according to CoinGecko.
Apart from Bitcoin (BTC) and Ethereum (ETH), you may find Zcash(ZEC), Litecoin (LTC), Uniswap (UNI), Gold Pax (PAXG), Bitcoin Cash (BCH), popular DeFi tokens like Bancor (BNT), 1inch (1INCH), and Loopring (LRC). On top of that, there is a pair of NFT tokens, Enjin (ENJ), and The Sandbox (SAND), as well as two infrastructure tokens, Skale (SKL) and The Graph (GRT).
Trading platform Interface
Gemini offers two versions of its trading platform. The Basic Gemini exchange has a modern design, it will be a good fit for beginners and those traders who prefer to HODL thanks to its simple and easy-to-use interface. Traders can set up regular buys and price alerts and see their 24-hour portfolio value and percentage change at a glance.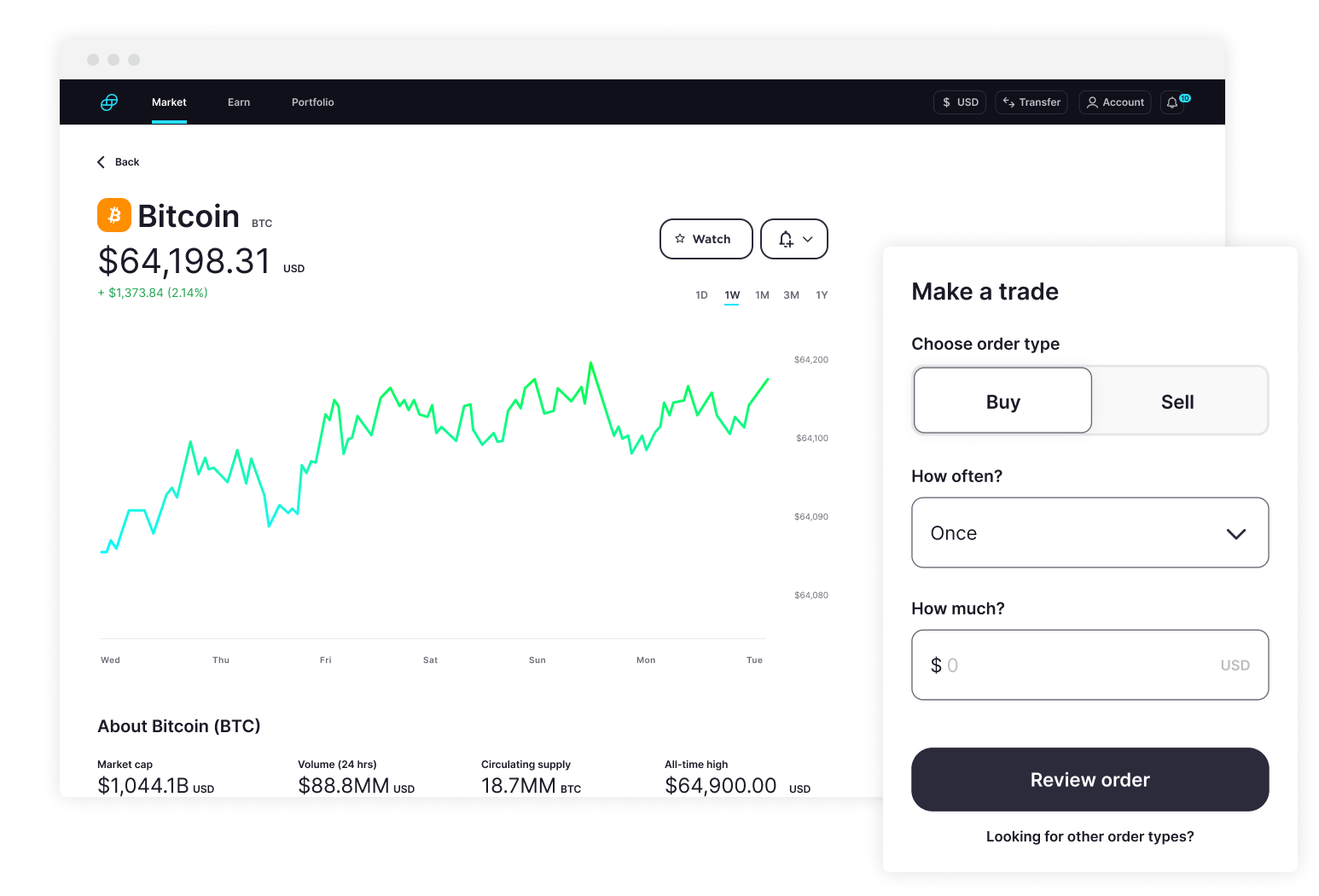 More active crypto traders will find the ActiveTrader interface more to their taste. It is a high-performance platform developed to provide an exceptional trading experience. Users can discover block trading, auctions, various order types, and complex charting tools, among its features. Central limit order books, dynamic maker-taker fees, and auctions for specific trading pairs are also possible. The most common order types are, buy/sell limits, buy/sell stops, OCOs, market buy/sell, GTDs.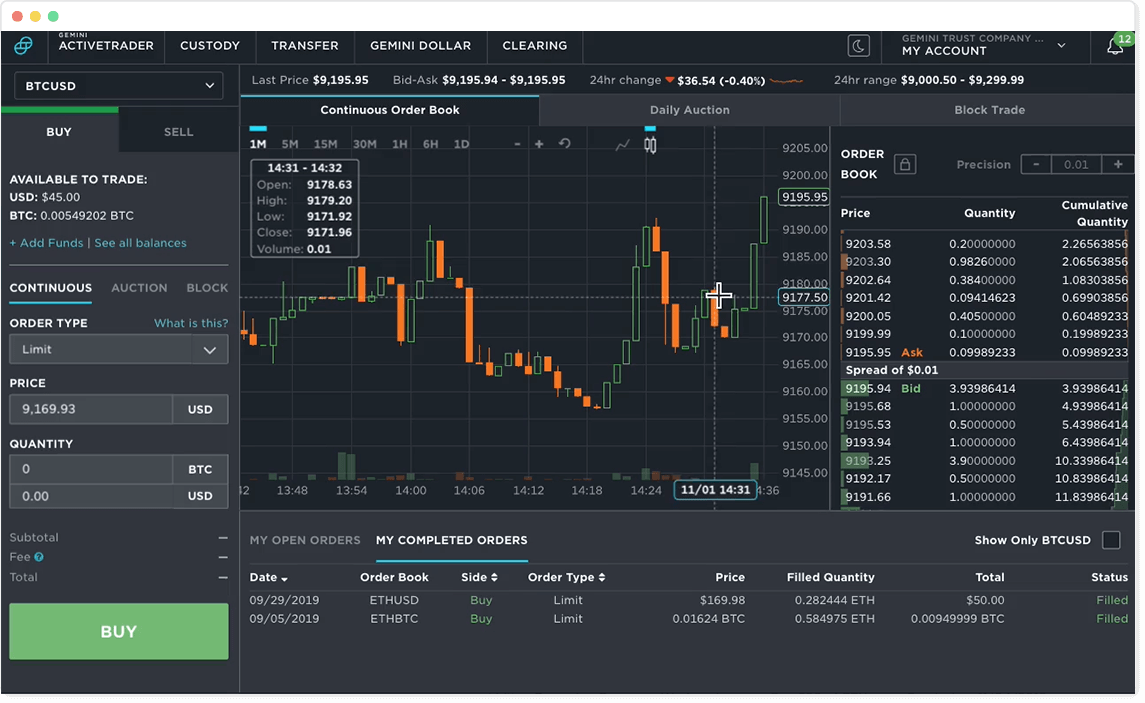 Other services available on Gemini
The Winklevoss twins started Gemini as an exchange for institutional traders rather than private investors, and it was also mostly a bitcoin marketplace. That is one of the reasons why there is no built-in bot trader for Gemini - most institutional investors are using proprietary software. That is no longer the case, and Gemini has metamorphosed into a platform with a wide range of services suitable for all categories of traders.
Gemini Pay allows its clients to use their crypto to make in-store purchases at thousands of partner shops. Without converting them into fiat currency, they may use Bitcoin, Ethereum, Litecoin, Zcash, Bitcoin Cash, or Gemini Dollar.
Gemini Wallet offers a cryptocurrency hot wallet or institutional-grade cold storage system to conveniently store digital assets and protect them from theft, hacks, and scam.
Gemini Custody is an institutional-grade crypto storage system with insurance coverage of $200 million. On the Gemini exchange, liquidity is instant.
Gemini Earn allows lending cryptocurrency to institutional borrowers and earning interest from it. Unlike other lending businesses, the money is completely liquid and can be paid back at any time.
Unlike other exchanges, Gemini does not offer margin trading services.
Gemini trading fees
When compared vis-a-vis other similar crypto exchanges, Gemini uses a more complicated fee schedule. A flat-rate fee of 0.5% is charged on all transactions using the web or mobile application, and users may incur an additional surcharge depending on the volume traded using fiat.
Gemini adopts the classic maker and taker fee model is for the more active traders with 0.35% and 0.25% charged, respectively. The discounts are applied based on the 30-day trading volume of the user. This makes the charges on Gemini unsuited to short-term speculators.
On the exchange's website, there is a special section called API fee schedule which indicates the fee structure for everyone who wants to use a trading bot for Gemini.
Fiat and crypto deposits and bank transfers are free. Debit card purchases, however, cost 3.5% on all purchase amounts.
Gemini's Security features
Gemini toes the line of compliance with regulatory bodies to get all necessary licenses for its smooth operation. Federal Deposit Insurance Corporation (FDIC) insurance available on the exchange does not cover cryptocurrencies but fiat. Nonetheless, Gemini offers security to its users' digital assets through multi-layered measures.
The bulk of all cryptocurrencies are held offline in cold storage and scattered in safe locations across the globe. A small portion is, however, left to provide needed liquidity on the exchange at all times. Two-factor authentication is mandatory for all new accounts, with multi-signature schemes incorporated to prevent single points of failure. The platform has Multi-Factor authentication to coordinate the actions of its employees, and Encryption of its users' login and information is made available.
Know your customer policy
Gemini requires verification to open a personal account. There are three steps to proving your identification: connecting a mobile phone number for two-factor authentication, connecting a bank account, and finally, submitting documentation to verify your address and identity.
The verification procedure is an essential step in setting up and using a personal account on Gemini since the exchange does not support anonymous trading. This includes using any third-party trading bot for Gemini - although platforms like Bitsgap do not require any ID verification from its users, the exchange's KYC policy will simply block any attempt to connect any API solution for unverified users.
Automated trading on Gemini
Cryptocurrency trading bot Gemini users would utilize must be suitable for both retail and institutional investors and, ideally, go hand-in-hand with the ability to place a wide range of smart orders, to compensate for the lack of trading automations on the exchange. Apart from that, Gemini automated trading services can't be called vast.
A built-in crypto trading bot for Gemini is not a priority for the exchange's development at the present moment. That is why anyone who desires to set up an auto trader must look towards one of the third-party solutions.
Bitsgap is an automated trading platform that offers its users a one-stop shop for cryptocurrency trading. It enables users to reap the benefits of automated trading combined with a clean interface, the ability to place a wide range of smart orders, and manage crypto assets across 25 exchanges. All these factors combined make Bitsgap the best trading bot for Gemini in terms of speed, reliability, and the amount of generated returns.
Traders can use API keys to set up a connection between Bitsgap trading bot for Gemini exchange and enjoy all advantages of the market's best crypto trading tool. This enables customers to use Bitsgap's proprietary trading bots or build bespoke bots to execute automated trades on their behalf.
On top of that, Bitsgap provides a significant trial period to test the trading robot on the Gemini exchange. After the Gemini bot free trial period is over, users will have to purchase one of three subscription plans in order to continue trading.
Connecting Gemini to Bitsgap
You can generate API keys on Gemini by doing the following;
Go to the API settings page.
Click the "Create a new API Key" button.
Choose the designated key's scope.
A prompt display with your new keys would be seen.
After creating your API key, all that is left is integrating it with Bitsgap. The steps to do so are as follows:
Login to your Bitsgap account.
Click the My exchange tab and select Add Exchange.
Select Gemini.
Input your API key and secret passphrase.
Click connect and link Bitsgap automated trading bot with Gemini.