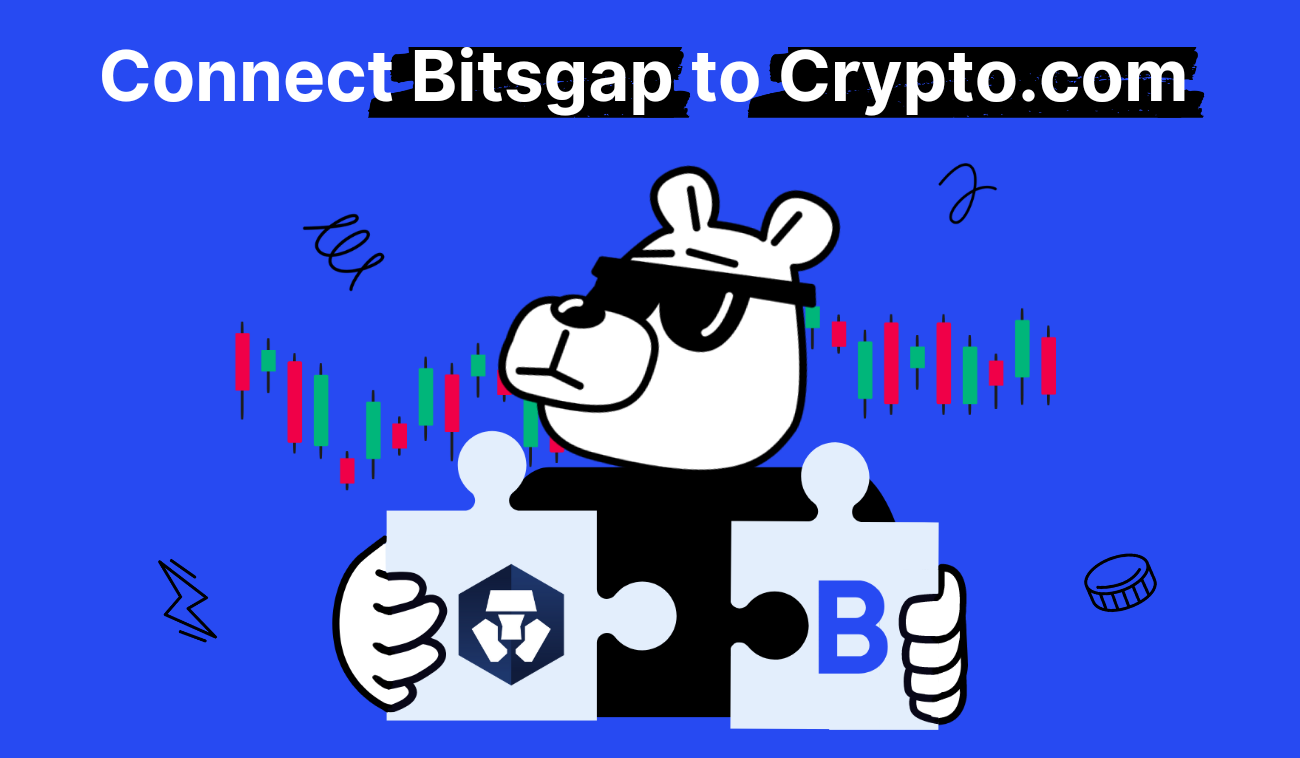 Bitsgap Teams Up with Crypto.com: Connect Two Platforms Today!
Unleash the power of synergy as Bitsgap partners with Crypto.com! Dive in to learn more about Crypto.com, the advantages of linking your exchange account with Bitsgap, and the simple steps to connect the platforms today!
Hooray! Bitsgap has just launched support for the Crypto.com exchange! Now, you can seamlessly connect your Crypto.com account to Bitsgap and unleash a world of possibilities.
Guess what? Our engineers have been burning the midnight oil to add support for the mighty Crypto.com exchange. This means you can now harness the full power of Bitsgap's cutting-edge trading tools across 17 of the top crypto exchanges, including the fan-favorite Crypto.com.
So what are you waiting for? Follow these simple steps to link your Crypto.com account with Bitsgap today and unlock your potential as a master crypto trader.
What Is Crypto.com?
Crypto.com stands out as a leading player in the world of cryptocurrency exchanges! Just look at the plethora of exciting opportunities spread out before you! 👇
With support for an ever-expanding universe of 280+ crypto assets, you can go on an intergalactic trading adventure and shoot for the moon! You can trade, buy, and sell all the heavy-hitting currencies with lightning fast speed and stellar low fees starting at just 0.0750%. Awesome, right?
But wait, there's more! Crypto.com is not just an exchange — it's a complete crypto ecosystem! From cryptocurrency credit cards for your digital transactions to a decentralized exchange for peer-to-peer trading, it's got all your crypto needs covered. It even caters to NFT lovers with its own marketplace and offers a standalone crypto wallet for secure asset management. How cool is that?
Ever dreamed of earning interest on your crypto? Crypto.com makes it happen too! You can stake your crypto, locking it in a Crypto.com wallet for a set period, to yield up to a whopping 14.5% interest.
Last but not least, for bitcoin and ether die-hards looking to buy and hold, Crypto.com is a supernova choice to make your portfolio blast off into hyperdrive. With fees as low as 0.0750%, which shrink even further with high trades or substantial holdings of the CRO currency, it's a deal you can't ignore.
Feeling excited? Let's dive into the impressive stats that make Crypto.com a top-tier platform:
A bustling community of 80 million users, spanning across 90 diverse countries.
A broad spectrum of 511 trading pairs to choose from.
A whopping 280+ currencies available for spot trading, with a select subset ripe for staking.
Multiple trading modes at your disposal: spot, margin, and derivatives trading.
A choice of seven fiat currencies for flexible trading.
A dynamic trading environment with an average daily trading volume of $60.82 million.
The unique CRO Coin, laden with exciting benefits such as reduced trading fees, amplified staking interest rates, and enhanced credit card rewards.
User-friendly Android and iOS applications for on-the-go trading.
Multiple security mechanisms and rigorous compliance monitoring to ensure a safe trading experience.
Extra protection for your deposits with offline storage in cold wallets, reducing the risk of hacks and losses.
Collaborations with local U.S. banks to provide a substantial $250,000 FDIC insurance on U.S. dollar balances.
Now that's what we call a first-rate crypto trading platform!
Why Connect Crypto.com to Bitsgap?
Bitsgap, a revered titan in crypto aggregation, offers you the golden key to connect with up to 17 exchanges, now featuring the shining star, Crypto.com. Trading through a single, seamless interface not only simplifies your crypto journey but also equips you with groundbreaking trading tools, the likes of which most exchanges lack.
Explore the benefits below to learn more, or start your week-long trial journey with Bitsgap today to see those benefits for yourself!
Simplicity Meets Security
With just a simple, super secure encrypted API key, you'll unlock warp speed trading on Crypto.com through Bitsgap's supercharged exchange hub. Your precious funds are safe as can be with Bitsgap's military-grade 2048-bit encryption, counter-trade protection, fingerprinting, and more!
The real treasure, however, is Bitsgap's arsenal of cutting-edge automated trading bots.
DCA, GRID, you name it — Bitsgap's got a bot matching every strategy under the sun so you can sit back and watch your portfolio sore higher!
Friendly Community and Extra Affiliate Income
Bitsgap is not only a thriving community of over 500K passionate traders, but also a whole nebula of social channels bursting with supernova cash prizes and weekly competitions that'll have your trading skills shining brighter than a diamond.
But that's not all — Bitsgap's affiliate program is a simple and efficient way to get a tad bit richer too, both socially and financially! All you have to do is light speed share your unique referral link across the crypto space and beam up a 30% commission on subscriptions from every new starry-eyed trader that joins!
Support That Never Sleeps
And if you ever need help exploring the crypto cosmos, Bitsgap's stellar multilingual 24/7 customer support has your back. We're always ready to guide you on your journey to trading supremacy!
Thrilled by the endless possibilities? Then blast off and let's get you connected to Bitsgap and Crypto.com!
How to Connect Crypto.com to Bitsgap
Connecting Crypto.com is an absolute piece of cake with Bitsgap. We've worked our magic to make the process incredibly simple, allowing you to dive into Bitsgap's fantastic features in no time at all. Just follow this step-by-step guide, and you'll be up and running:
Start your journey by heading over to your Crypto.com account, find your way to [Settings], and give the [API Keys] tab a click (Pic. 1). Remember, it's critical to turn on 2FA before you hit [Create a new API key].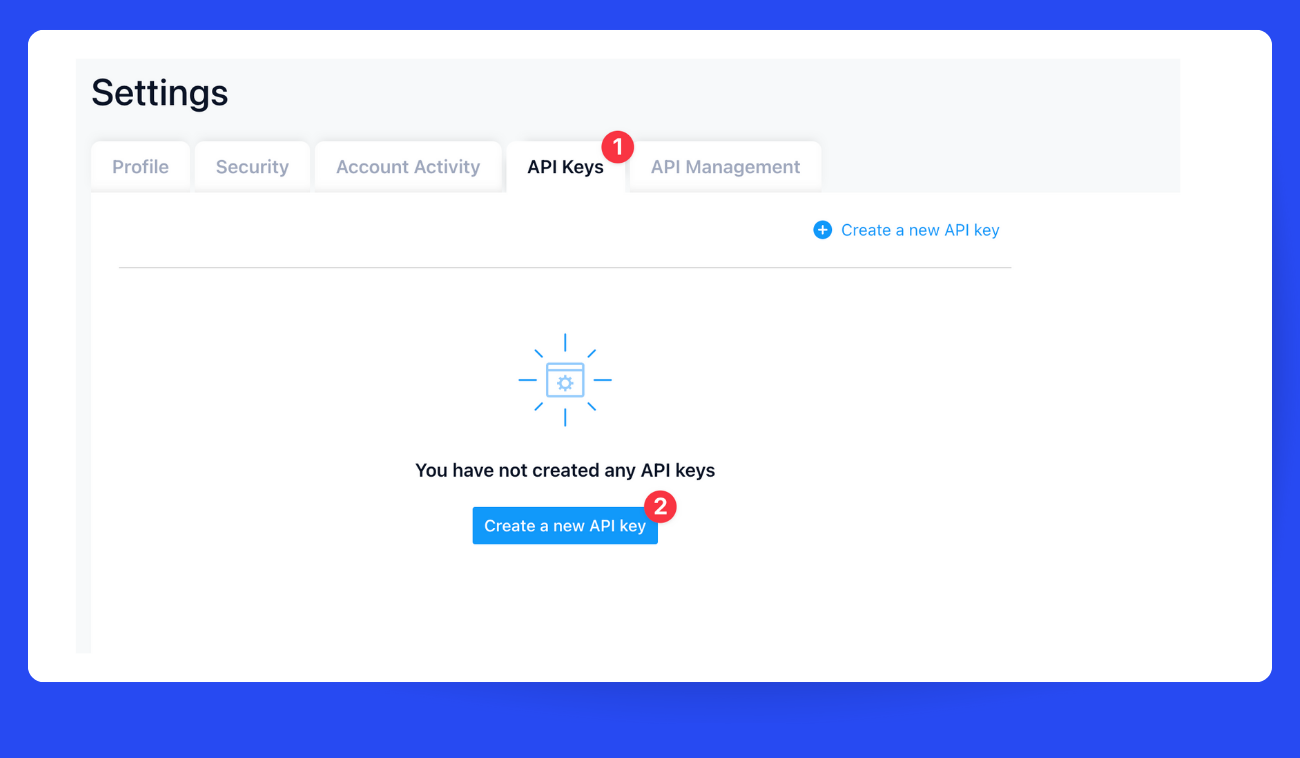 Now it's time to name your key! (Pic. 2) Type in your 2FA codes when prompted. A window will then pop up with a friendly heads-up that the exchange will present the key after it's been crafted, so be ready to save it on the spot.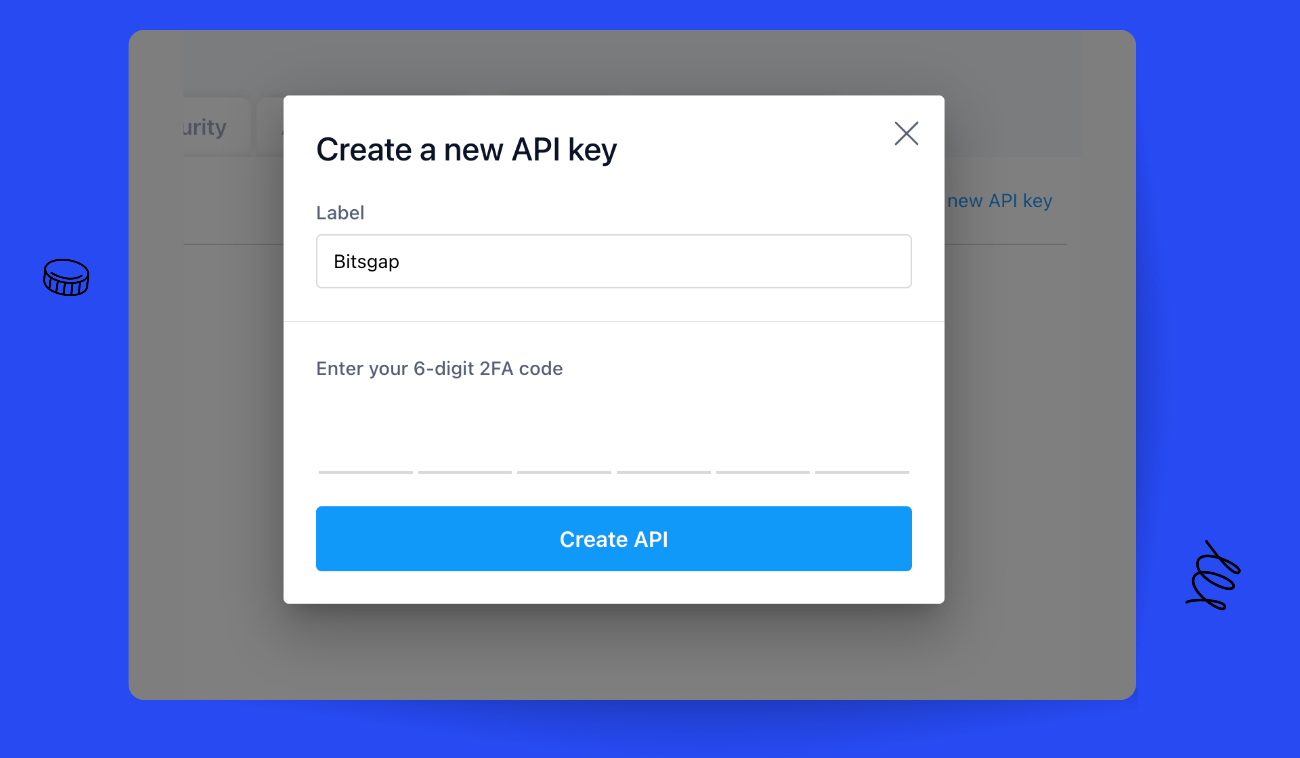 Next, tick the [Enable Trading] option, pick [Unrestricted], and voila, copy your keys (Pic. 3)!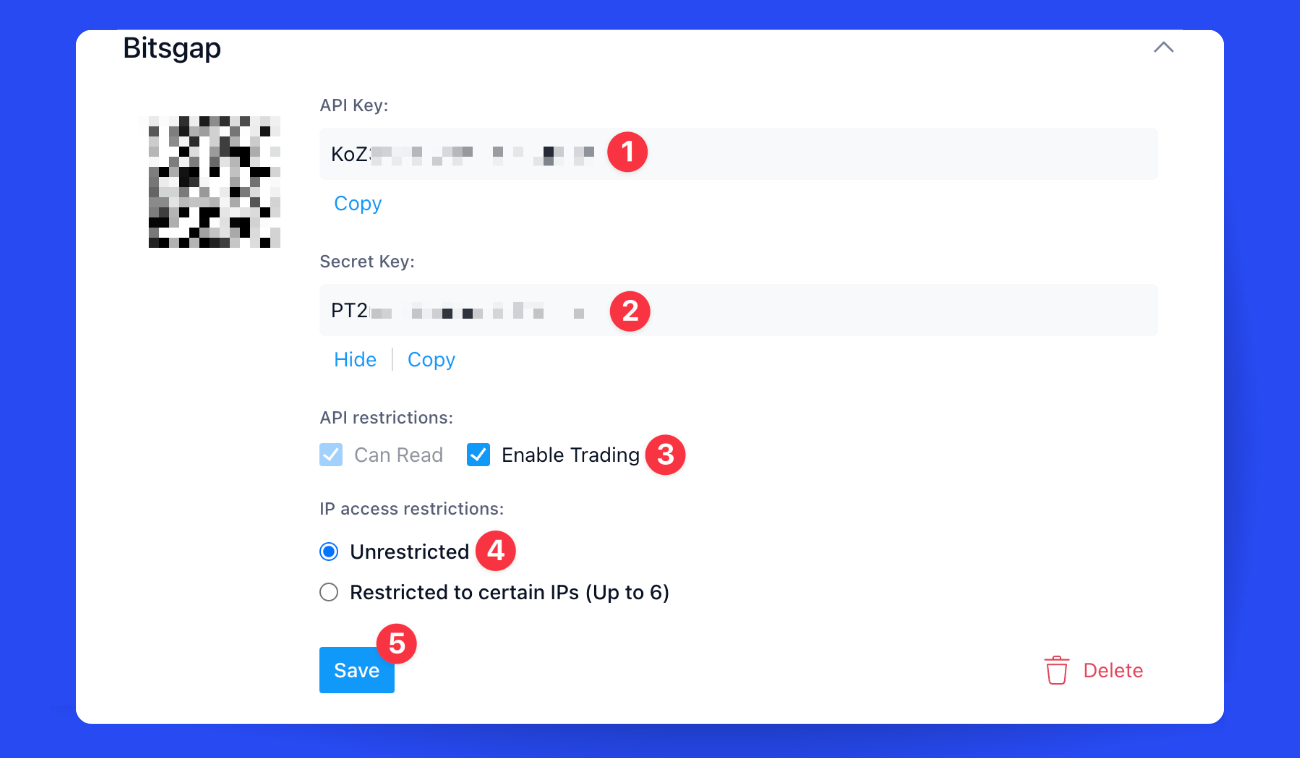 Once you've crossed these steps off your list, hit [Save].
Now, the spotlight's on Bitsgap. Make your way to the [My Exchanges] page and click [Add new exchange]. Skim through the list of available exchanges and select Crypto.com, key in your API information (the API key and Secret key), and give 'Connect' a click.
If the details are spot-on, Crypto.com will make a grand appearance on the [My exchanges] page with the [Connected] status.
And there you have it! You're all set, ready, and raring to go!
Bottom Line:
Bitsgap is absolutely thrilled to team up with Crypto.com!
So why wait a moment longer? Leap into action, hit that link to swiftly connect Crypto.com with Bitsgap, and start harvesting profits with our trading bots.