Why Launch Crypto Trading Bot for LBank?
LBank is a centralized digital asset trading platform based in Hong Kong that focuses primarily on the Asian market. The company was founded in 2015 by Eric He and several co-founders. The exchange is governed by a Chinese company Superchains Network Technology Co. Ltd.
LBank is a centralized digital asset trading platform based in Hong Kong that focuses primarily on the Asian market. The company was founded in 2015 by Eric He and several co-founders. The exchange is governed by a Chinese company Superchains Network Technology Co. Ltd.
LBank is an example of a platform that managed to exceed the competition on several levels and become one of the TOP-10 crypto exchanges 6 months after it was founded. The platform's major objective is to provide a world-class integrated cryptocurrency platform and professional asset management services to its consumers while maintaining a high level of security. LBank has made up its name thanks to a large number of tradable assets, reliable API allowing to connect any trading bot for LBank, and low trading fees. Furthermore, in comparison to its competitors, the organization claims to give the greatest staking payouts.
LBank trading volume
This exchange is one of the industry's powerhouses, with a 24-hour trading volume above USD 1 billion. The 24-hour trade volume dropped from USD 2.16 billion on July 17, 2019, to USD 1.92 billion on March 23, 2020. According to Coinmarketcap, this figure exceeds USD 1.4 billion as of Oct 28, 2021.
LBank tradable products
Investors with multi-currency portfolios typically choose LBank because it supports a variety of altcoins. The platform also has a voting system for new coins that may be listed following community approval.
Available trading pairs
The platform gained strong liquidity and a high ranking in terms of daily transactions due to 159 different cryptocurrencies tradable across 181 markets.
The vast majority of assets are traded against Tether (USDT), which is a dollar substitute. Cardano (ADA), Bitcoin (BTC), and Ethereum (ETH) are currently the most popular digital currency on the market.
P2P trading
The LBank exchange does not feature fiat-to-crypto trading. However, the customer-to-customer service, which allows digital assets to be exchanged directly between customers without intermediaries, was introduced in 2017 as an alternative. It uses a concept similar to that of decentralized exchanges. USD and CYN are the only fiat currencies accessible for the exchange.
Crypto derivatives on LBank
Apart from spot trading, Lbank offers its users an opportunity to trade a decent range of crypto derivatives, starting from crypto futures with up to 125X leverage. LBank futures trading is available with both cross and isolated margins on the following pairs: BTCUSDT, ETHUSDT, FILUSDT, CTKUSDT, LINAUSDT, DENTUSDT, ONEUSDT, and TLMUSDT.
LBank users can trade long and short to bet on prices to decline in the future and attempt to profit from market volatility. hedge mode, where users can hold long and short positions under the same contract is also available.
The exchange offers an American-style option trading for BTC and ETH. Crypto options are similar to stock options and based on the value of an underlying asset. Options trading allows the user (not obligation) to buy or sell the asset 9depending on the type of contract).
Leveraged ETF is a relatively new instrument in crypto trading that migrated from the traditional financial market. This derivative product tracks the yield rate of an underlying asset with a multiplier. For example, if DOGE gains 1%, the net value of the ETF product DOGE5L will increase 5%, but if the asset loses 1%, the DOGE5L will lose 5% respectively.
Leveraged ETF has no settlement day and, theoretically, they are immune to liquidation since there is no margin involved. Using this financial instrument, however, bears higher risks than regular spot trading.
Trading interface overview
LBank, like many other cryptocurrency exchanges, offers its users a proprietary web-based trading platform with an attractive, straightforward, and well-designed interface. The exchange's trading window features a market depth and volume window. The arrangement of all features seems natural and well-balanced.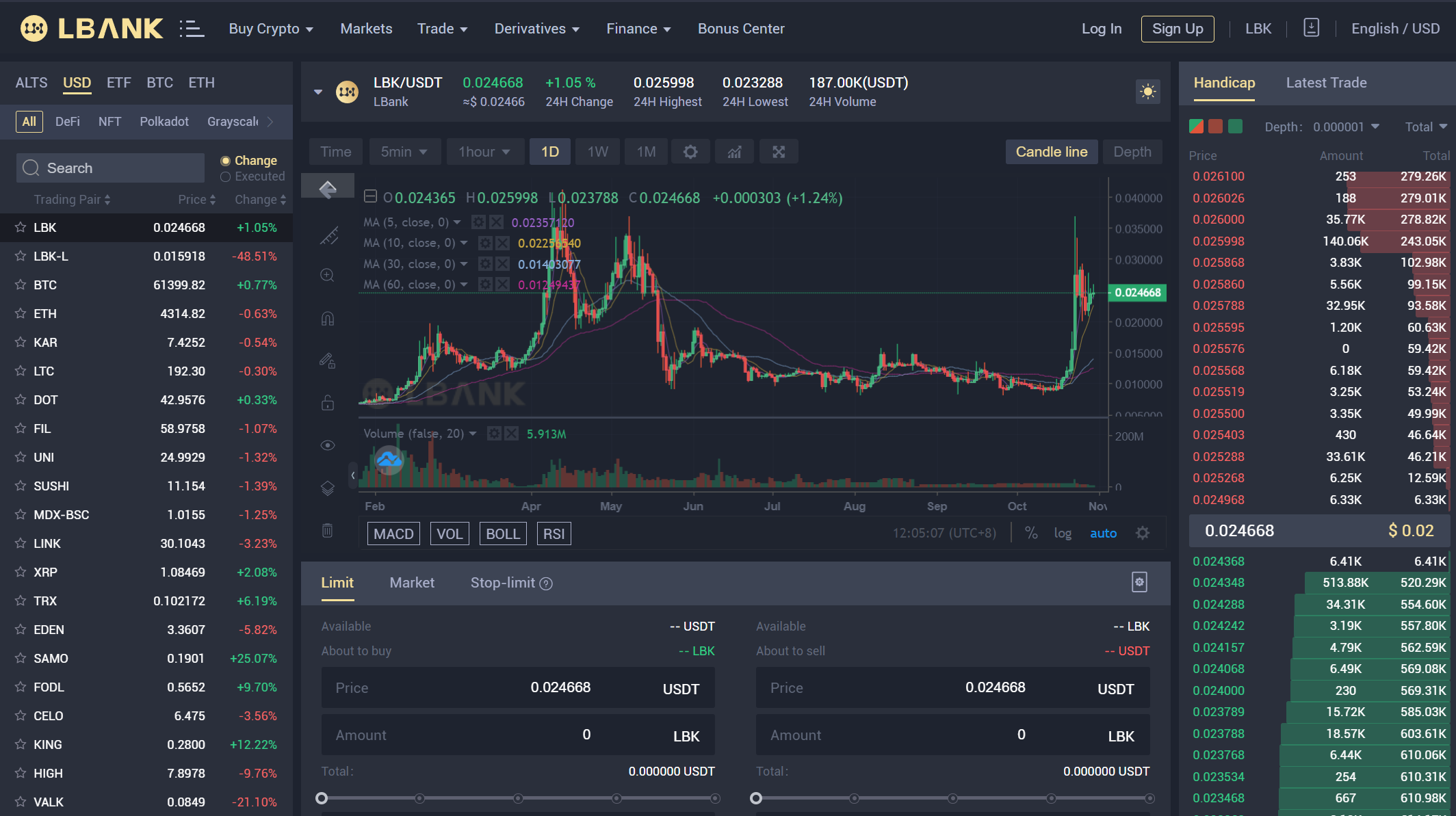 LBank, like the majority of crypto exchanges, has a mobile app. The software is available for download for both Android and iOS users.
Although the LBank trading interface includes certain sophisticated tools, and technical indicators, such as MACD, KDJ, RSI, and others, some charting analysis features such as drawing tools are not available. On the other hand, the exchange platform is pretty comfortable to use for both experienced and beginner traders.
There are only market and limit order types available on the exchange. For some traders who wish to trade via the exchange's web interface, this might be a red flag. However, users who want to take full advantage of trading on LBank with low fees while using the full spectrum of advanced trading tools may look towards Bitsgap smart trading terminal which offers plenty of ways to benefit from trading automations like OCO, scaled orders, SL/TP, trailing, and other features, not mentioning best trading bots for LBank.
LBank trading fee schedule
Lbank makes no difference between takers and makers in terms of fees. Instead, they use a charging system known as a "flat fee model." They charge a 0.10% fixed trading fee for each market or limit order executed. This trading cost approach may appeal to investors who wish to pick up existing orders from the order book.
Compared to the majority of other leading crypto exchanges on the market, this exchange's fees provide a significant competitive edge since it is significantly lower than the industry average of 0.25 percent. The absence of a complex fee structure is both lucrative for beginners and retail investors who can't generate significant monthly trading volume.
Deposit and withdrawal fees on LBank
Users can directly deposit crypto to LBank or purchase digital assets via eWallets, MasterCard, and bank wire transfers. LBank does not charge any fees for depositing or withdrawing crypto. However, while the exchange itself does not charge any commissions for withdrawal, there are network fees to consider and minimal withdrawal amounts.
Withdrawals from Ethereum, for example, cost 0.015 ETH with the minimum available amount for withdrawal of 0.03 ETH. This gives a huge competitive advantage to LBank and sets it apart from the majority of other prominent crypto exchanges which usually don't shun to cut extra from the top before letting users rejoin with their funds.
You may always find the relevant LBank fee schedule by visiting the dedicated section on the exchange's website.
KYC on LBank
The platform allows depositing/withdrawing as well as trading without KYC, but only to a certain extent.
Before making any trades, you should identify yourself, just as you would on any other exchange. This improves confidentiality and reduces the risk of fraudulent actions, making it easier for you to execute large-scale transactions.
Name, date of birth, and ID number are required for verification (for any government-issued ID). After that, some uploads are required, and a photo of the given identification document (both front and backside).
To complete the KYC procedure, users must upload a selfie with a handheld ID document with the word "LBank" and the current date, with a face visible. To put it another way, the exchange provides a decent level of anonymity unless users opt to complete the full KYC process.A comprehensive guide on completing the KYC procedure on LBank can be found on the exchange's website in the FAQ section.
Privacy and security
With technologies like SSL underpinning its website, the exchange thrives in terms of security. It combines the C1 and C2 authentication methods, as well as the 2FA verification mechanism.
To secure customers' assets, LBank employs both cold and hot storage wallets. Because the LBank exchange is located in Hong Kong, users raise queries such as "Is LBank exchange safe?" and whether the Chinese crackdown on the crypto industry affected this exchange.
However, even after all operations with cryptocurrencies were proclaimed illegal in mainland China, the LBank exchange continues to operate seamlessly and offer its services to clients from dozens of countries from all over the world. LBank also has a track record of 5+ years in the market with no breaches.
LBank Jurisdiction
Users can access the platform from anywhere globally, although LBank prefers to avoid areas with stringent regulations. In countries like India, the United States, Australia, Canada, China, North Korea, Germany, New Zealand, Egypt, Portugal, Turkey, Qatar, France, and Denmark, the exchange continues to deliver high-quality services.
Given the enormous demand for cryptocurrency across the country, "LBank Exchange US" is a popular search term among traders.
Is there a bot trader for LBank?
The exchange has an integrated automated trading bot Lblank users can utilize. Lbank automated trading bot works well when traders require to decrease human involvement in the trading process. and make it more effective even for those investors who are new to crypto.
Lbank robot trading solutions allow users to implement the basics of grid trading without leaving the exchange's website. This free trading bot LBank offers to its users utilizes the quantitative trading method that may help generate additional semi-passive income when the price of an asset is locked within a tight corridor.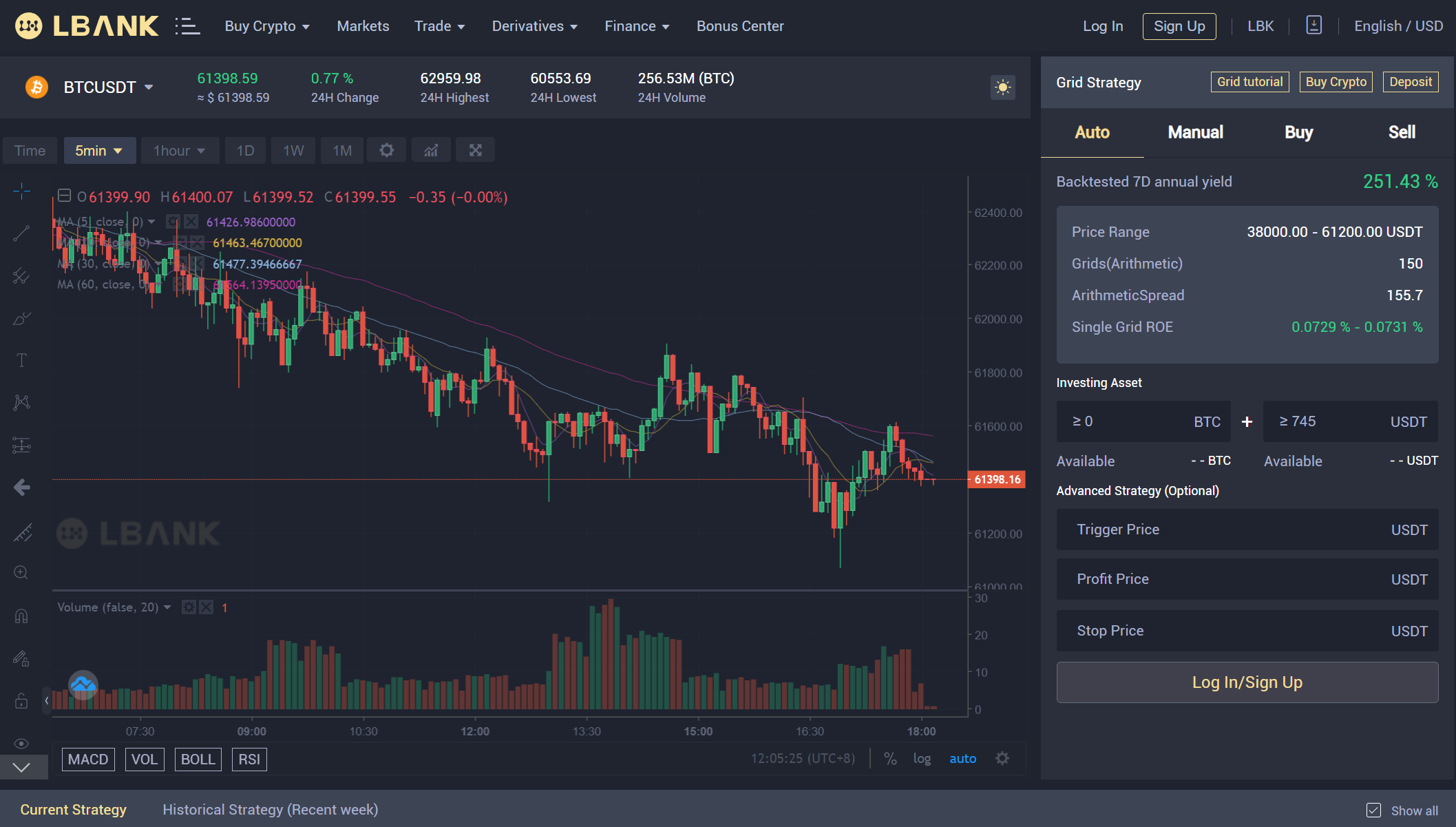 To start an LBank trading bot you need to perform the following steps:
Log in to your LBank account;
Go to the "Trade" section and click "Grid Trading";
Pick a trading pair in the top left corner of the screen (it is BTC/USDT by default);
LBank bot trading menu will appear on the right side of the interface;
There, you will have to choose whether you want to go fully automatic or configure your LBank auto trader manually;
Input the number of funds you want to invest in LBank automated trading strategy and hit "Create strategy";
It is all set! You are ready to start getting your first LBank auto trading experience.
You also may find all the required information on how to launch a proprietary cryptocurrency trading bot on the LBank Support page.
Although free crypto trading bot Lbank provides for grid trading is good for those who only get acknowledged to the world of automated trading, it provides only basic features. The best way to automate LBank trading with digital assets is by using specialized trading bots that include a number of important professional features.
LBank API features
Alternatively, LBank has an application programming interface (API) allowing traders to activate third-party automated trading bots on their accounts.
LBank API features are separated into three groups: account, trading, and market trends. Authentication using an API key is required for the account and trading APIs, which enable you to open and close orders as well as observe account information. The market data API is open to the public and includes information such as historical trading pair prices.
The team is continually updating the API versions. At the time of writing, there were more than 27 community nodes. LBank's delegate nodes include Skenlian Finance, Bolian Finance, JLAB, and ARPA, among others.
The process of creating an API key on LBank is simple and pretty straightforward and described in the company's API paper. Note that each user can create up to 5 active API keys.
How to link an LBank account to Bitsgap trading bots?
To take full advantage of LBank's advanced API features, users may turn their exchange's account to Bitsgap, which is the best trading bot for LBank, a popular automated trading platform, with hundreds of thousands of users worldwide. When you have your API key ready, all that is left is integrating it with Bitsgap. To complete the integration process, follow these steps:
Login to your Bitsgap account;
Click on the "My exchanges" section and select "Add Exchange";
Select LBank exchange;
Copy and paste your API key;
Hit "Connect";
Enjoy state-of-the-art automated trading solutions from Bitsgap!