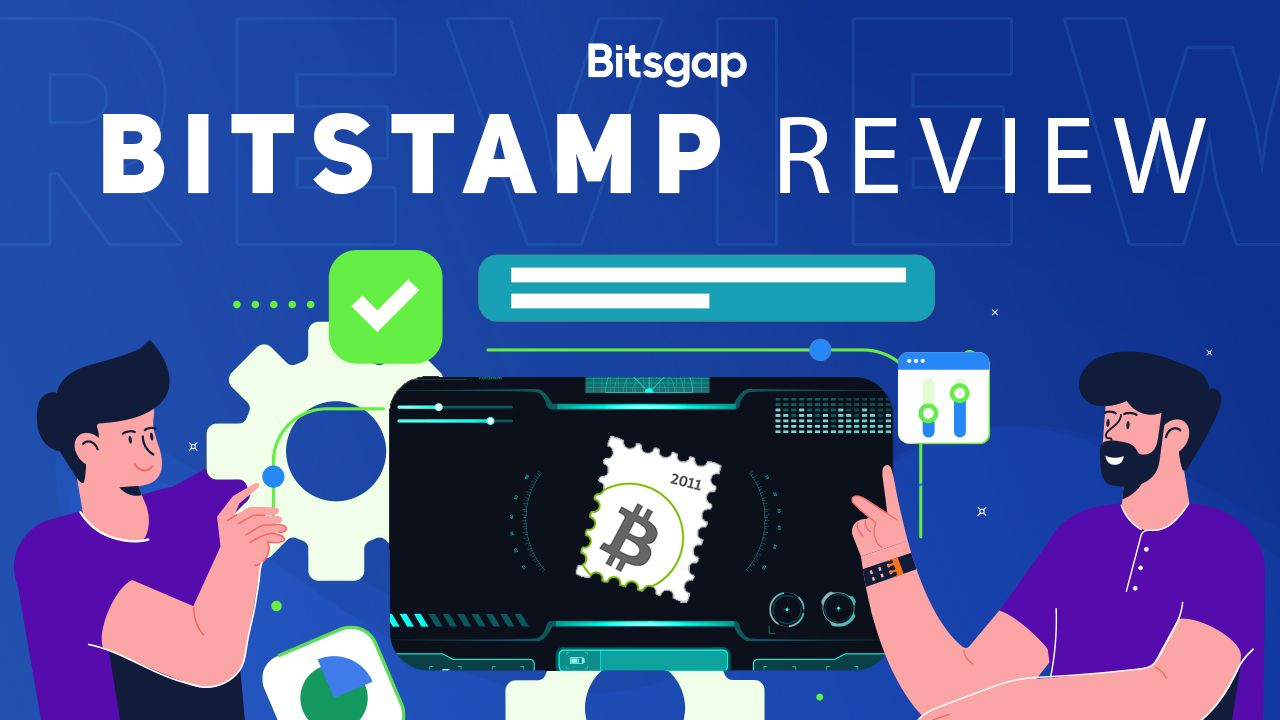 What is Bitstamp Exchange and Why Use It With Automated Bots?
Bitstamp was a major competitor to Mt. Gox back in 2011. Today Bitstamp is not that popular among crypto traders and investors due to the few cryptocurrencies it listed on its platform. Despite the few crypto assets offered, the exchange offers deep liquidity for all listed tradable products.
Bitstamp is the longest-standing cryptocurrency exchange founded in 2011 by Nejc Kodric and Damijan Merlak. At the time, Bitstamp was funded with only €1000 and operated between a single server and two laptops in a garage. Bitstamp's headquarters was located in Slovenia at the time of its founding. In 2013, Bitstamp moved its headquarters to the UK before settling its HQ in Luxembourg in 2016 with additional offices in London and New York.
Bitstamp History

Bitstamp was a major competitor to Mt. Gox exchange when it was first established in 2011. Bitstamp used to generate a daily trading volume of $700 million but this has significantly declined as more crypto exchanges came into the scene and divided the market share.
In the second quarter of 2018, Bitstamp was #22 in trading volume generating, according to estimates, $90 million daily. More than half of its trading volume then was from trades on BTC/USD pairs. Roughly 10% out of the trading volume was gotten from ETH/ USD and BTC/EUR trading pairs.
Between 2014 and 2015, Bitstamp was a victim of hacks. The 2015 hack that saw hackers cart away 19,000 BTC is one of the biggest crypto exchange hacks of all time. After sending out notices to all users and shutting down its systems, Bitstamp made efforts to improve its security in terms of wallet security, user security and communication security.
Today Bitstamp is not that popular among crypto traders and investors due to the few cryptocurrencies it listed on its platform. Despite being in the crypto scene longer than most exchanges, Bitstamp has decided not to feature too many digital currencies on its platform. This has pushed traders with preferences for numerous trading options to other exchanges.
Tradable products offered by Bitstamp
Bitstamp provides crypto-to-crypto and crypto-to-fiat pairs for trading. The exchange features just a few tradable products available only for spot trading. The exchange does not feature any margin or perpetual contracts trading options. This might be a red flag for traders who tend to use a riskier approach to maximize profits from their investments.
The fiat currencies available on Bitstamp include USD, EUR, AUD, CAD, CHF, DKK, GBP, HRK, JPY, NOK, SEK. All these currencies can be deposited via various means such as bank transfer, credit/debit cards, SEPA transfer, wire transfer, and others.
Digital tokens listed on the exchange include Bitcoin (BTC), Ethereum (ETH), Litecoin (LTC), Ripple (XRP), Bitcoin Cash (BCH), Chainlink (LINK), Aave (AAVE), Algorand (ALGO), Axie Infinity (AXS), OMG Network (OMG), Stellar (XLM), Compound (COMP), Synthetix (SNX). These coins or tokens are paired against fiat currencies, as well as other cryptocurrencies and stablecoins. The stablecoins listed on Bitstamp include Tether (USDT), USD Coin (USDC). In total, there are 37 listed cryptocurrencies and 105 trading pairs on Bitstamp. The platform itself has no native token.
Despite the few crypto assets offered on Bitstamp, the exchange offers deep liquidity for all listed tradable products. Thus, users are not affected by negative slippage which is common for trading pairs with low liquidity. Bitstamp also provides API services for its users. As such, they can enjoy services such as trading bots, portfolio tracking and tax reporting, research and data reporting on third-party platforms and programming software.
Bitstamp Trading Volume
Trading volume is a sine qua non for any crypto exchange. A high trading volume attracts myriads of users to a crypto exchange. On the other hand, a low trading volume is a turn-off for any exchange. Another factor that contributes to trading volume is liquidity. If there is deep liquidity for the cryptocurrencies listed on an exchange, traders will be attracted thereby leading to a high trading volume.
As mentioned earlier, over the years, Bitstamp's trading volume has decreased far from $700 million daily. According to crypto data aggregator, Coinmarketcap, Bitstamp generates a total of $520 million as an average daily trading volume. This is much less of the exchange's average daily trading volume back in 2018. Few listed cryptocurrencies and a modest list of tradable products are also responsible for its low trading volume which represents 0.5% of the entire market.
Bitstamp trading interface
While other exchanges may have trading interfaces difficult for users to navigate, Bitstamp features a simple and intuitive interface. This makes Bitstamp one of the best exchanges for beginners. The trading features on the exchange are beautifully arranged and designed with simplicity in mind.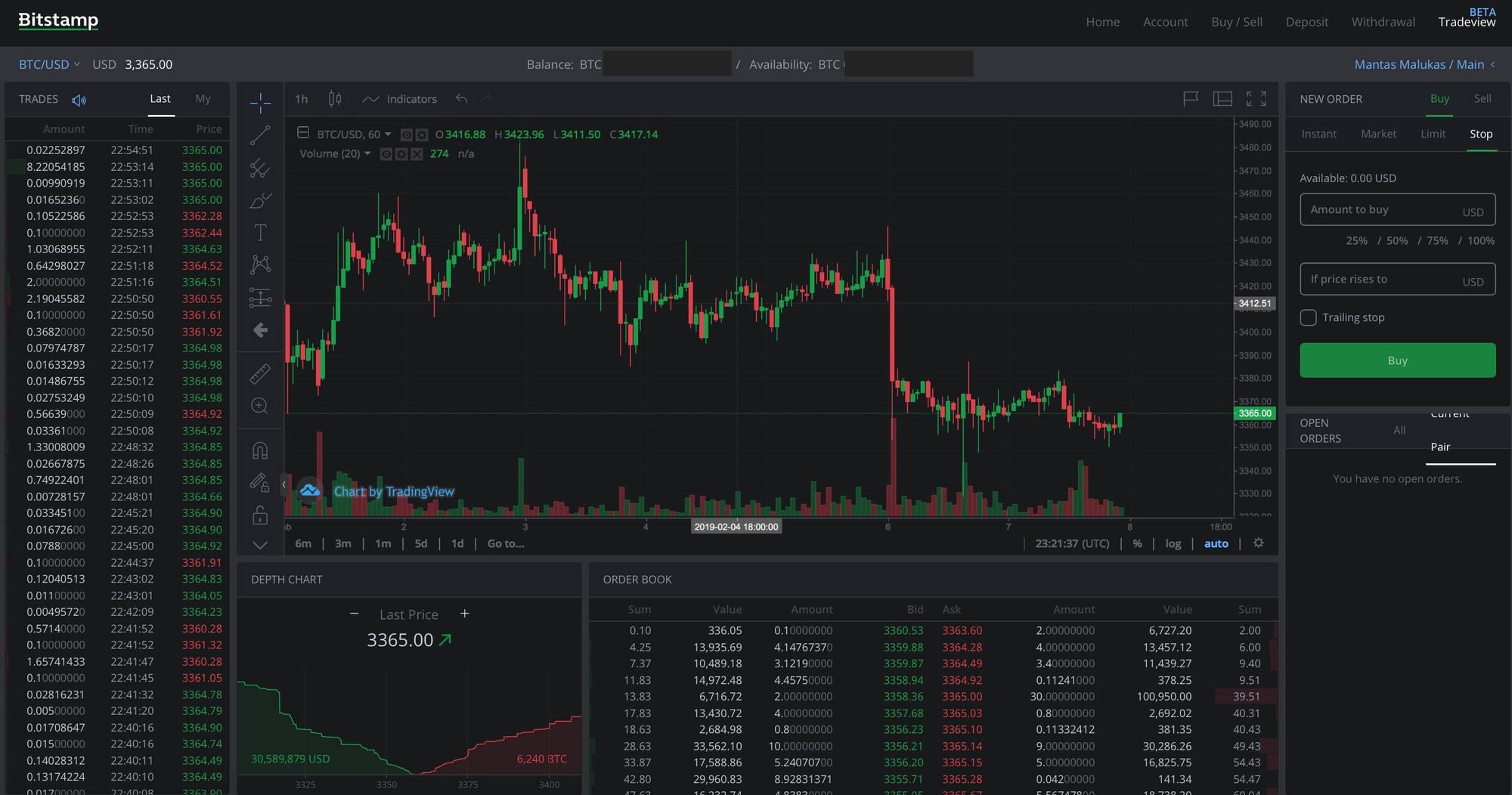 Charts and indicators on the to analyze the market and any cryptocurrency of their choice. This helps them keep track of the movements in the market and locate the best opportunities.
The order types on Bitstamp assist users in making trading decisions, whether buy or sell. There are no smart orders or any means to automate or semi-automate the trading process on Bitstamp. The exchange's trading interface includes instant orders, limit orders, market orders, stop orders, trailing stop orders.
With the instant orders, investors can deposit funds from your bank accounts or through other acceptable means to your Bitstamp account. In this case, you are buying your preferred cryptocurrency directly rather than going through the normal trading interface.
With limit orders, a trader can buy a specific cryptocurrency at a preferred price. As such, you wait for the order to get filled before going ahead to do anything.
Market orders are useful when traders intend to buy a crypto coin or token at the best available price. Sometimes, the prices in this order type are better than what is available through the instant order type.
Stop orders help traders set an entry or exit price point for their trades to hedge against likely losses that may result from sudden market volatility. Trailing orders operate to set an entry or exit price point for users' trades according to a predetermined bottom which is adjusted when the current price of the selected crypto moves up.
Bitstamp Fee Structure
The trading fees Bitstamp charges its users some may call considerably high. While most exchanges try to create a disparity between makers and takers in terms of trading fees, Bitstamp is one of the few exceptions. Makers and takers both play important roles by leveraging supply and demand, but generally, makers are considered more significant since they provide liquidity for the market. Exchanges like Bitstamp usually reward makers for providing liquidity. This results in a tighter market spread as they try to outbid one another.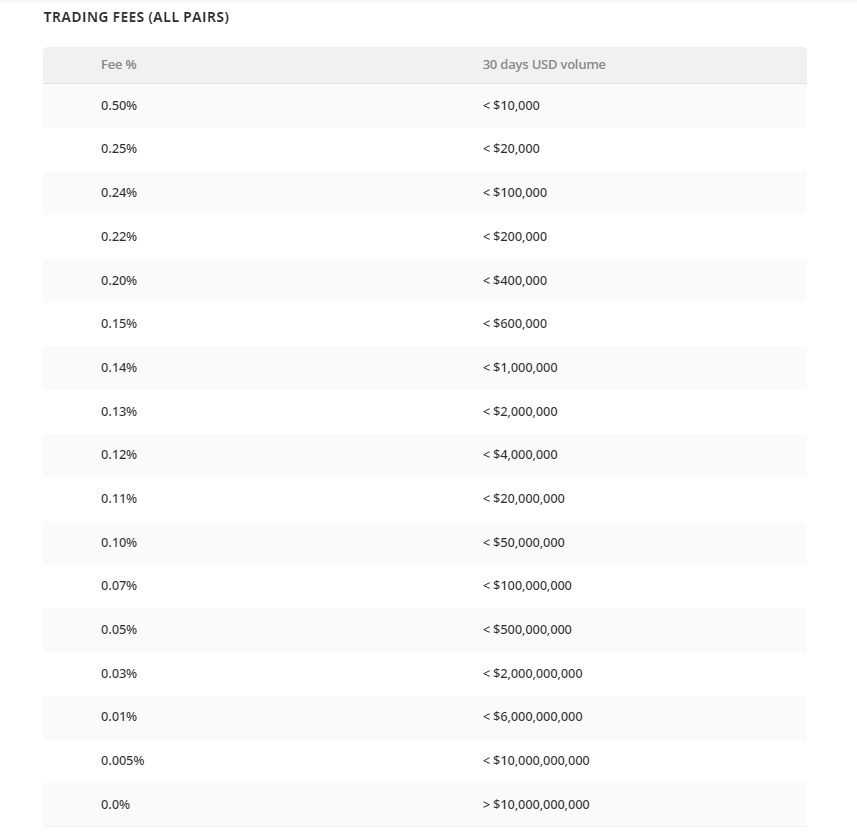 Bitstamp charges a flat fee of 0.5% for all trades under $10,000. No separate fee for takers or makers. Fees also range based on a user's trading volume over the last 30 days. Trading volume is estimated across all trading pairs and is expressed in USD. As a user keeps crossing each trading volume, he moves into a new fee tier.
On Bitstamp, crypto deposits are free while fiat deposits come with charges. Withdrawals under $1,000 are charged with a flat fee of $10. All amounts above $1,000 are charged with 2% fee. Bank wire transfers charged as high as 0.05% on depositing and 0.09% on withdrawals. Deposits with SEPA transactions are free while withdrawals are subjected to a EUR 0.9 and usually take up to three business days.
KYC on Bitstamp
KYC on Bitstamp is 100% mandatory. There are two stages of identity verification on Bitstamp. After signing up, you'll be required to initiate the verification process before making any deposits or trades. Bitstamp provides different requirements for personal and corporate accounts.
The verification process may be called meticulous and usually takes a couple of days to be reviewed. KYC requirements include clear photos of your current and valid identity document (e.g international passport, national identity card, driver's license) and proof of residency document such as utility bill, bank account statement, a government-issued document.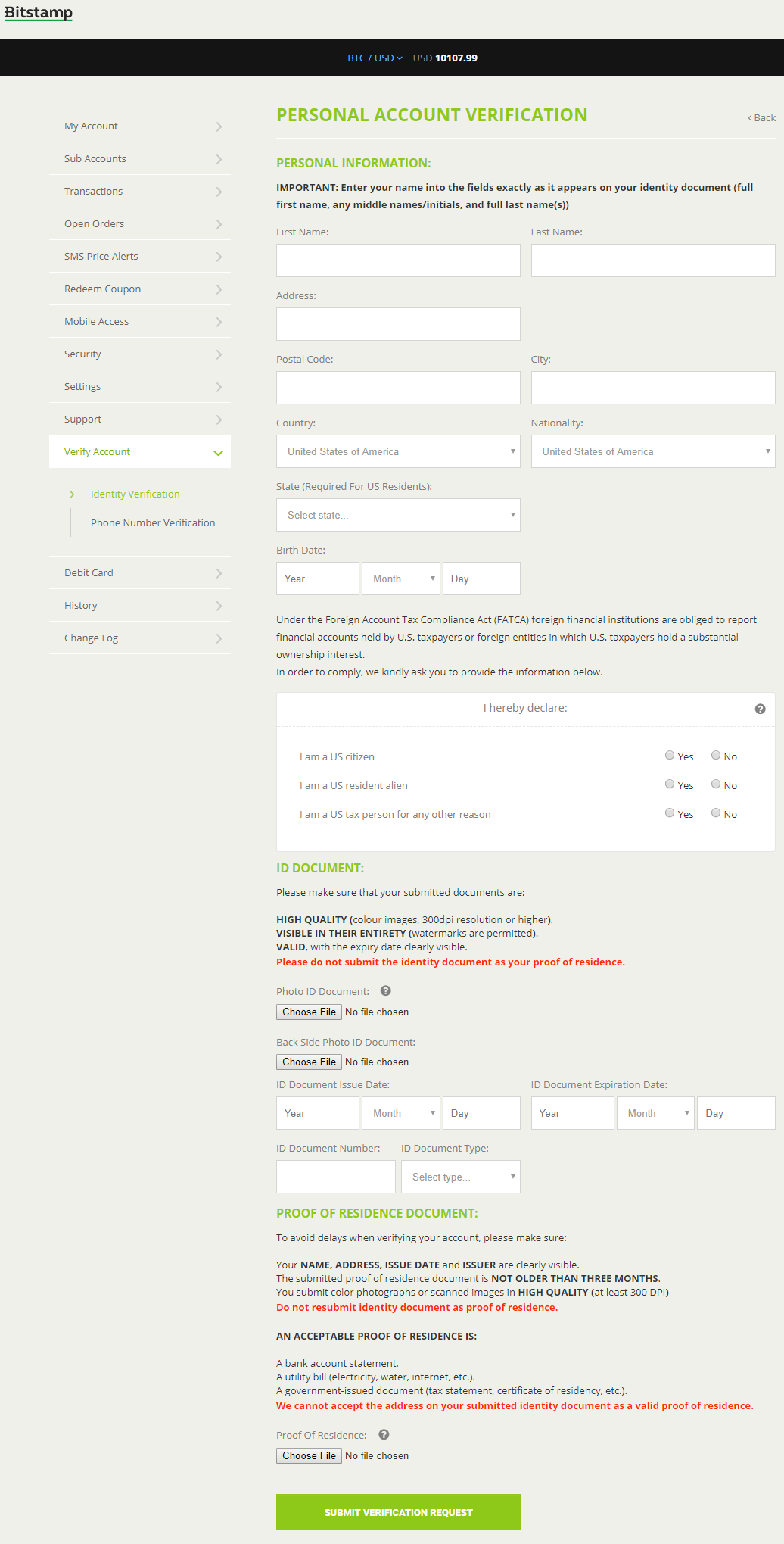 Starting from January 15, 2021 Bitstamp also introduced an obligatory KYC requirement for all withdrawal address for traders from the Netherlands The exchange does not provide any options for anonymous crypto trading.
Bitstamp Jurisdiction
Bitstamp supports 28 EU member states. The exchange also offers its services to citizens of almost 50 different countries outside the EU, including Australia, Brazil, South Africa, and the USA.
Automated Trading on Bitstamp
Deploying Bitstamp automated trading solutions might be a good idea for investors in need of using advanced trading instruments. The exchange provides several types of API for users who wish to connect to Bitstamp auto trading algorithms of various types. Even the most sophisticated ones.
Despite the fact the is no proprietary bitcoin Bitstamp bot on the exchange itself, the platform has all the necessary tools to connect any third-party algorithmic bot trader for Bitstamp. The platform supports WebSocket, FIX, and HTTP APIs which gives users great opportunities to fully benefit from Bitstamp bot trading.
When asking about the best trading bot for Bitstamp, it is hard not to mention Bitsgap. This automated bot for Bitstamp is a monolith when it comes to stability and working under peak loads. The platform's hardware has prooven capability of processing up to 15,000 orders per second which makes Bitsgap the most reliable trading robot Bitstamp users can get.
Bitsgap offers free trading bot Bitstamp users can utilize during the trial period without any limitations on trading volume or revenue they can generate. After the trial period, they are offered to choose one of three subscription plans to continue using their Btstamp robot.
How to link Bitsgap bot for Bitstamp
Open your Bitstamp account on the web or app version.
Click the top-right corner on your Bitstamp dashboard. Then tap on the API icon and fill in the necessary details.
Activate the permissions that will give you access to certain features on Bitsgap. It is advisable not to activate withdrawal permission due to security reasons.
Now open your Bitsgap account, Click on the "My Exchanges" directory.
Click "Add Exchange" and choose Bitstamp from the list.
Input the API key in the column provided.
Tap the "Connect" button.
Done. Now, your exchange account is connected and you can use your Bitstamp robot at full power!