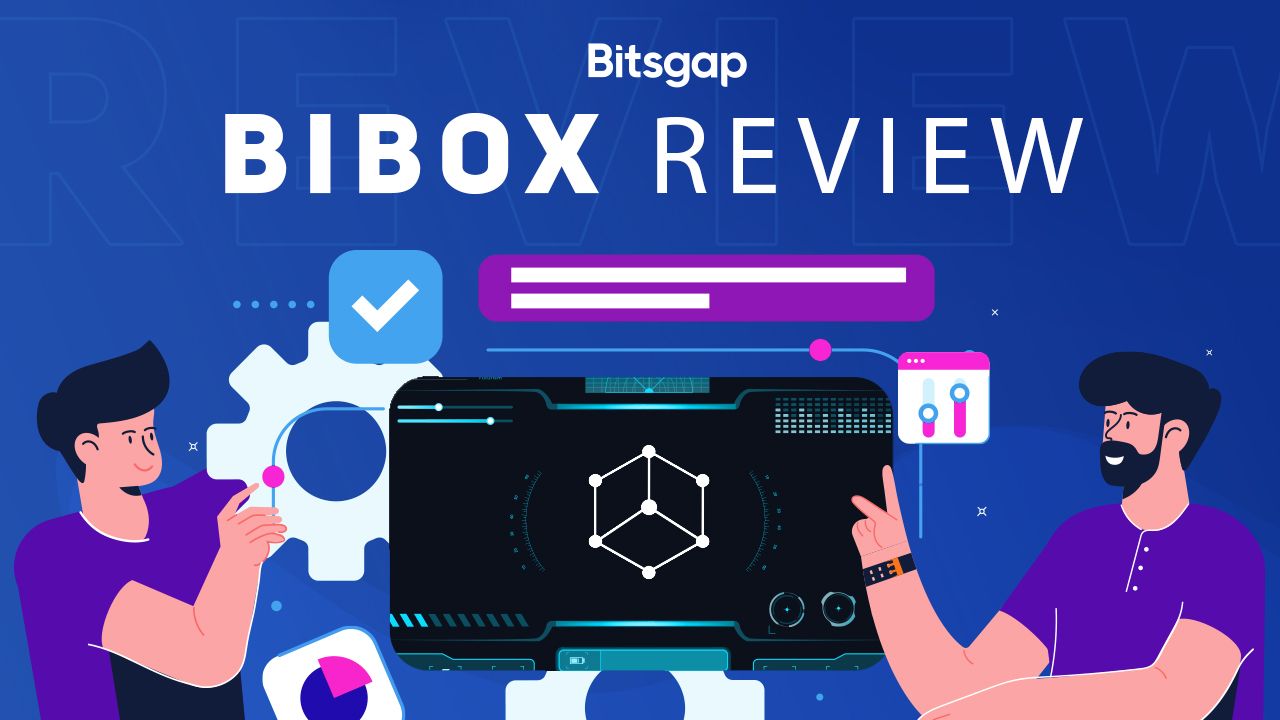 Trading on Bibox Exchange With Bots: General Features
Bibox is a global exchange, with markets in the US, Switzerland, Canada, South Korea, and Singapore, among others. It provides traders with access to more than 100 digital currencies and over 200 trading pairs. As of the second quarter of 2019, Bibox acquired over 2 million registered users.
Bibox Exchange was established in 2017 as a Chinese cryptocurrency exchange. The exchange is run and managed by a team of Chinese blockchain and crypto experts, including Jeffrey Lei, Kevin Ma, Liu Guojie, and Wanlin Wang.
This team comprises a co-founder of OKCoin and pioneers of another Chinese crypto trading platform, Huobi. OKCoin and Huobi are some leading exchanges in Asia and the rest of the world. Still, there have been certain reports alleging exchange of inflating its trading volume. However, some features have attracted traders to Bibox contributing to its liquidity even more.
Bibox is a global exchange, with markets in the US, Switzerland, Canada, South Korea, and Singapore, among others. It provides traders with access to more than 100 digital currencies and over 200 trading pairs. As of the second quarter of 2019, Bibox acquired over 2 million registered users.
Bibox trading volume and liquidity
High trading volume is a great attraction for traders any day, any time. This helps traders determine if they would sign up on any exchange as a low trading volume may mean less liquidity for the crypto assets listed on the platform.
On the one hand, low liquidity on some tradable pairs means stronger price fluctuations, which allow users to benefit more from retail operations using, for instance, bot trader for Bibox provided by Bitsgap. On the other hand, however, low liquidity may turn into a problem when higher supply outweighs demand and leads to an inability to fill an open order simply because there are no buyers for a certain token for a certain price.
Since the beginning of September 2021, the trading volume of the Bibox exchange was fluctuating between $253 million and $1.5 billion spending most of its time around $500 million mark. This places it somewhere between Binance US and Bitstamp and may be considered good. Such daily trading volume is sufficient to attract crypto whales or institutional investors who prefer to trade big.
Bibox tradable products
Bibox offers a wide range of trading products. Aside from spot trading, the exchange allows derivatives trading, such as margin trading and perpetual contracts across a number of trading pairs.
Depositing fiat to Bibox
Long story short, users cannot deposit fiat currencies to Bibox. It belongs to those crypto exchanges which do not support depositing or trading against fiat currencies.
Traders will only find crypto-to-crypto and crypto-to-stablecoins trading pairs on Bibox. Stablecoins, including USDT, DAI, and GUSD. This compensates for the absence of fiat currencies on the exchange, since they are mostly pegged to the US dollar.
Bibox trading pairs
The available cryptocurrencies on Bibox include Bitcoin (BTC), Ether (ETH), TRON (TRX), Bitcoin Cash (BCH), Ripple (XRP), and Bibox token (BIX). Most of the tradable assets are paired against BTC, ETH, USDT, and BIX, the exchange's native token.
The exchange provides enough liquidity for all cryptocurrencies listed on the platform and there is no dramatic shift toward most popular trading pairs like BTC/USDT and ETH/USDT. The volume of transactions with the aforementioned pairs accounts for about 13% and 11% respectively, at press time. This allows a wide range of options for Bibox bot trading with various external solutions.
Margin trading on Bibox
With Bibox's margin trading, users have access to leverage as high as 10x. This helps them open positions up to ten times larger than their deposits. However, the risks involved in margin trading are high and users are advised to use leverages that align with their risk appetite.
Other financial products available on Bibox
There is also a financial product that Bibox features known as CunBi Bao which allows traders to lock up their assets for a certain period while they earn interest on these assets. Despite the fancy naming, this is just another way to call staking offered by several other exchanges supported by Bitsgap.
Bibox trading interface overview
For investors with different level of experience, Bibox provides both simple and sophisticated trading tools to help amateur traders as well as professionals in accessing the platform.
Bibox's trading interface is designed and enhanced for the benefit of both amateur and expert traders. Traders can switch between the basic platform mode or the full-screen platform mode.
While the former is best suitable for new traders, since they may lack the necessary expertise, the latter can be used by traders who have more sophisticated needs. The full-screen platform mode is more advanced and contains technical analysis tools. These tools come in handy to analyze the market or any particular cryptocurrency.
Bibox has also provided a wide range of order types that traders can utilize, depending on their trading strategies. These order types are useful for both buy and sell orders. Order types on Bibox include market orders, advanced limit orders, iceberg orders, follow orders, stop profit, stop loss.
Bibox trading fees
Bibox features some of the lowest trading fees among crypto exchanges. It charges fees for spot trading, margin trading, and withdrawals except for deposits. On the spot market, trading fees are different for Normal and Pro users, while the futures market has a single progressive bar for all traders.

Just like most crypto exchanges, trading fees between takers and makers usually differ, due to the roles they play in the market. While takers take liquidity from the market, makers are the ones who provide liquidity since they have their orders on the order books. Bibox charges a fee of 0.20% for takers. On their part, makers have to pay 0.10% on every order.

However, using the Bibox Token (BIX), the exchange's native cryptocurrency, to pay trading fees, entitles a trader to a 25% discount on every trading operation. This means that takers will pay 0.15% and makers will pay 0.075% whenever they use BIX to pay. This places Bibox among the exchanges with the lowest trading fees.
Bibox also has three VIP levels which allow different bonuses for high-volume traders. The list includes preferential trading fees, higher withdrawal limits, investment consulting, industry reports, etc.

Depositing and withdrawal rules
Bibox only supports depositing and withdrawal in crypto and stablecoins. This potentially may become a red flag for some new crypto investors who wish to take a jump-start on this particular exchange. To do so, they would have to purchase crypto somewhere else before depositing it to Bibox.
Despite the fact it can be easily done via dozens of platforms, there are some traders who would refuse to trade on platforms forcing users to make this extra step before placing the first order. Deposits, be it crypto or stablecoins, are free on Bibox while withdrawal fees vary for each coin.
KYC on Bibox
Know Your Customer (KYC) requirement on Bibox is compulsory. Without it, traders cannot deposit or withdraw funds or perform other transactions. KYC can either be done on the web or app version of the exchange.
You have to provide some information and documents before you can verify your account. They include the nationality, name, ID card information, and front and back pictures of your ID card. Bibox also requires every user to take a handheld picture of their ID.
It is advisable to complete the verification process on the mobile version of the Bibox because it is more convenient and faster. There is only one level of KYC verification on Bibox.
Automated trading on Bibox
To make the experience more enjoyable, the exchange has integrated artificial intelligence (AI) modules and other smart tools on the platform including free trading bot Bibox users can utilize. These tools are designed to decrease human interaction in the trading process and make it more effective even for those investors who are new to crypto. Bibox also has an application programming interface (API) traders can use to activate automated trading on their accounts.
Bibox robot allows traders to use the grid trading strategy which is a quantitative trading method that helps traders in fluctuating markets. Despite the fact this Bibox auto trader is free to use, the exchange's support does not recommend leaving it on full auto. Bibox trading bot is free to use but lacks some crucial risk management features like Stop-Loss, Take-Profit, and others.
Alternatively, traders can take advantage of Bibox's API to activate Bibox auto trading bots for spot and futures trading. The platform's API also allows users to connect to Bitsgap, which is the best trading bot for Bibox, a popular automated trading platform, with hundreds of thousands of users worldwide.
Linking Bibox account to Bitsgap via API
Open your Bibox account on the web or app version.
Click on the top-right corner of your Bibox dashboard. Then tap on the API icon and fill in the necessary details.
Activate the permissions that will give you access to the features on Bitsgap. It is advisable not to activate withdrawal permission due to security reasons.
Now open your Bitsgap account, Click on the "My Exchanges" directory.
Click "Add Exchange" and choose Bibox from the list.
Input the API key in the column provided.
Tap the "Connect" button.
Done. Now, your Bibox account is connected to Bitsgap.