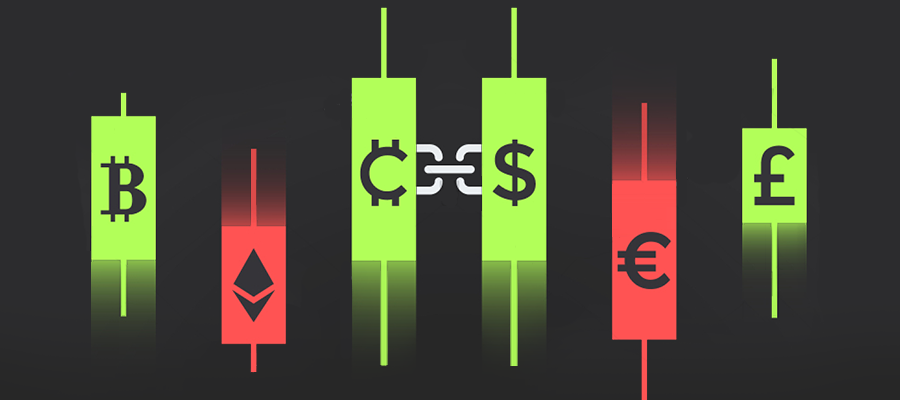 Top 3 Stablecoins in Crypto
Make yourself familiar with a variety of stablecoins for diversification purposes. Each stablecoin has its unique pros and cons and depending on your risk management you can always find an optimal one.
Cryptocurrencies are highly volatile. As a result, they are deemed fit for speculative investments rather than common usage. To combat this issue of volatility, stablecoins were created.
Put simply, Stablecoin is a cryptocurrency backed by less volatile assets like fiat currencies, precious metals, etc. The collateral backing makes such crypto coins immune to price fluctuations and hence 'stable'.
There are three main types of stablecoins:
Fiat-backed
Crypto-backed
Algorithmic Stablecoins
Among the above-mentioned types, fiat-collateralized stablecoins are vastly preferred as they are mostly dollar-backed and have accreditation from concerned authorities.
In short, stablecoins are the best-of-both-world scenario. So, if you are looking for security and stability in the crypto universe, stablecoin is for you. Whether you are a beginner or an institutional investor, stablecoins has you covered without fail. In this article, we have listed the top three stablecoins. Here's a quick overview:
---
Tether (USDT)
Tether (USDT) is a dollar-backed stablecoin. It is backed by USD in a 1:1 ratio. That means each USDT unit is equivalent to 1 USD. Tether is built upon the Bitcoin blockchain using the Omni Layer Protocol. Launched in October 2014, Tether became the first stablecoin in the crypto space.
Currently, USDT is the world's largest stablecoin and it ranks 4th in the cryptocurrency charts. Tether is available on several blockchain networks such as Bitcoin, Ethereum (ETH), Tron, and EOSIO (EOS).
Tether Limited (the company behind Tether) claims that each USDT unit is 100% backed by Tether Reserves. The reserves include fiat currencies, cash equivalents, other assets earned by giving loans, etc.
Pros
Largest stablecoin: USDT is the largest stablecoin in terms of liquidity. It is traded on almost every cryptocurrency exchange.
Credibility: USDT has proven to be credible in the cryptocurrency world throughout the past 6 years and still remains the 1st priority stablecoin as new cryptocurrency pairs are being added.
Multiple Cryptocurrencies: Tether has other supported stablecoins such as EURT, CNHT, and XAUT.
Transparent Audits: Recently, Tether limited publicly released its accounts to boost transparency.
Cons
Price Manipulation - Tether has always been under scrutiny for manipulating BTC prices.
Regulatory Risk - Tether Limited (a joint venture of Bitfinex and Tether) has always been under the lens of the New York Attorney General's office. Recently, NYAG ordered Bitfinex and Tether to produce financial information.
Redemption Requirements - To redeem USDT for USD, you must have a retail minimum of $100,000 in USDT.

---
USD Coin (USDC)
Launched in September 2018, USDC is a dollar-backed stablecoin. Each USDC is pegged with USD in a 1:1 ratio. USDC is an ERC-20 token. As a result, anyone can monitor USDC transactions on the blockchain.
Circle Consortium, a joint venture of Circle and the cryptocurrency exchange Coinbase, manages USD coin. With the efforts of Coinbase, USDC is available worldwide in 100 countries.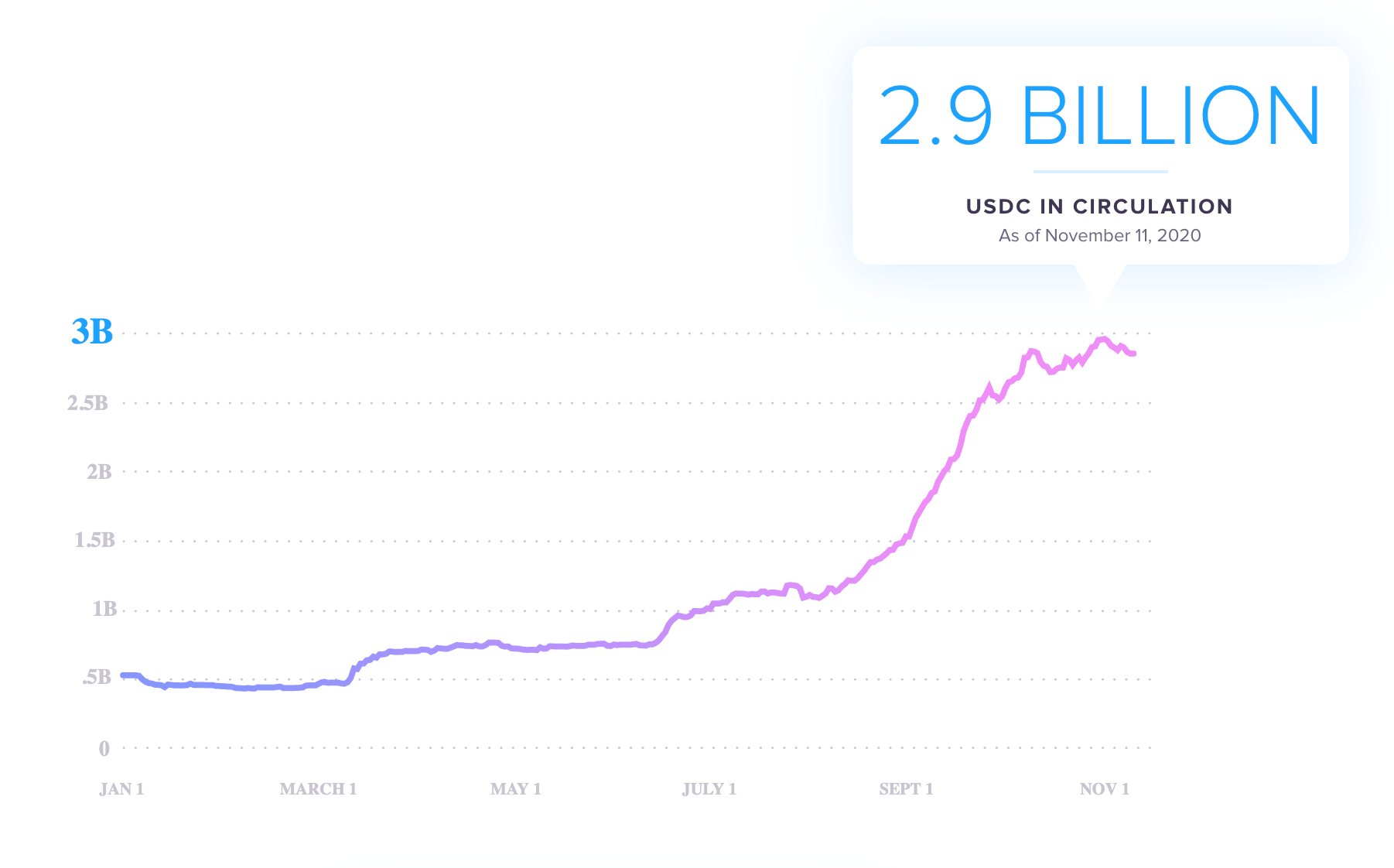 Pros
Liquidity: USDC has the second-largest liquidity behind USDT and it is available on a majority of cryptocurrency exchanges.
Coinbase Featured Stablecoin: Coinbase, a regulated and licensed cryptocurrency exchange in the USA, has chosen USDC as it's featured stablecoin. This guarantees that you can redeem USDC for USD at an exchange rate of 1:1 (USDC:USD).
Transparent: USDC has a transparent reserve, audited monthly by one of the top accounting services firms--Grant Thornton LLP. Customer funds are held in segregated FDIC insured bank accounts.
Regulated & Compliant: Circle, Ltd. is fully regulated and has received the accreditation of the United States's toughest financial regulator--NYDFS (New York State Department of Financial Services).
---
Binance USD (BUSD)
Launched on 5 September 2019, BUSD is a dollar-backed stablecoin. It was issued as an ERC-20 token by Binance in partnership with Paxos Trust Company. The Binance Coin is backed by USD in a 1:1 ratio. That means for each BUSD unit there is kept a dollar worth of asset in reserves.
The BUSD reserves are held by Paxos, this company also holds reserves for its Paxos Standard stablecoin and Huobi's HUSD token. You can trade BUSD for bitcoin, binance coin, or XRP. BUSD has seen rapid growth; within a year of its launch, it ranks amongst the top 5 stablecoins.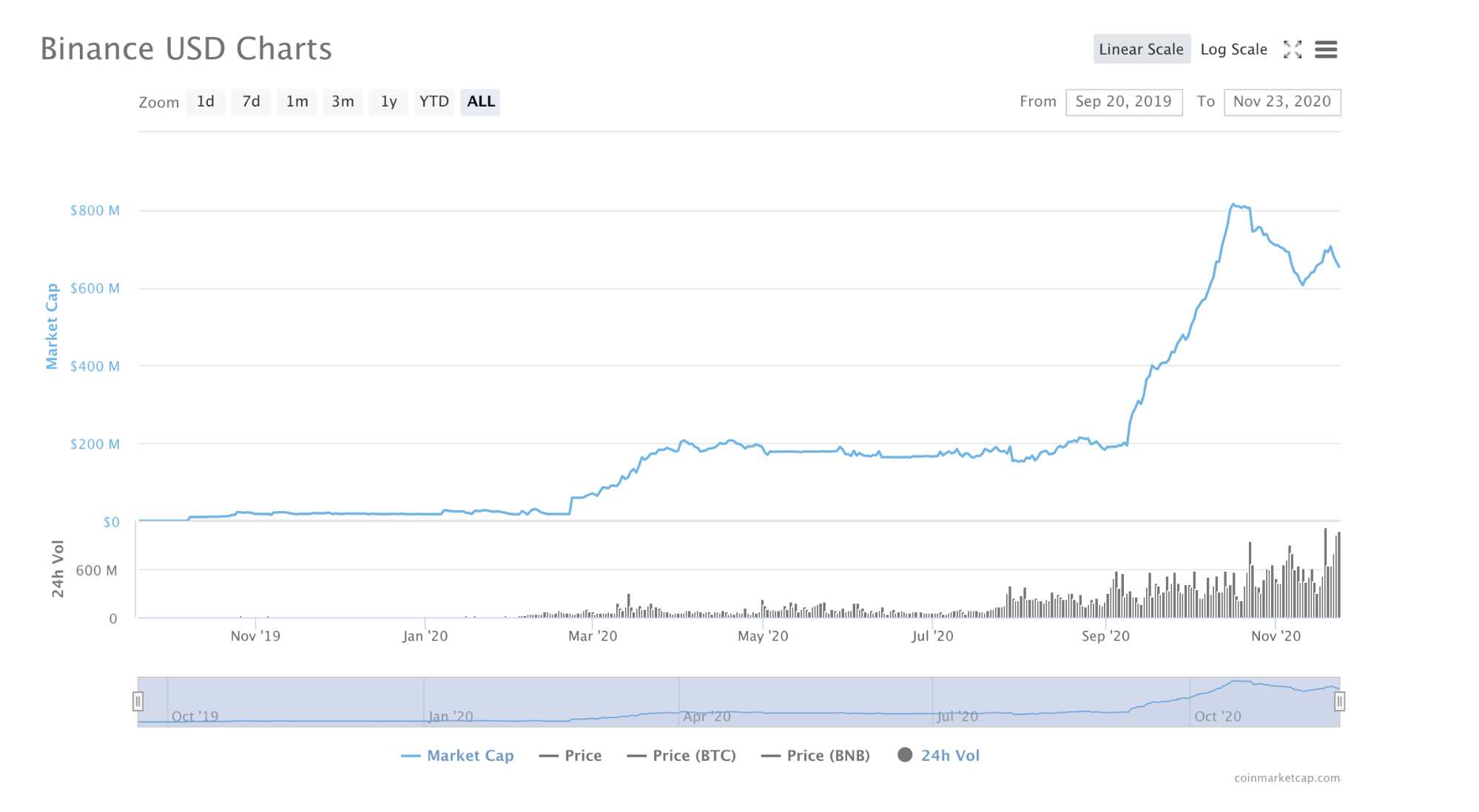 Pros
Regulated and Compliant: BUSD has received the accreditation of NYDFS. Meaning it is a fully regulated and licensed stablecoin.
Transparent: Binance Coin reserve is audited monthly by the accounting firm Withum as required by the NYDFS.
Credibility: BUSD's reputation is backed by the Binance cryptocurrency exchange.
Cons
Limited Exchanges: you can buy this on Binance and Paxos. Other exchanges have limited liquidity.
---
Final Thoughts
Stablecoins have boomed into a well-established crypto implementation. Such crypto coins are bridging the gap between the volatile world of cryptocurrencies and the stable fiat universe. Stablecoins have made cryptocurrency trading, investing, lending, etc. a less volatile effort. Nevertheless, while buying a stablecoin, you must check for factors like accreditation, availability, and reserve transparency.
In portfolio management, it is essential to have cash reserves on balance for allocation and diversification purposes. Having broad access to a variety of stablecoins significantly diminishes the risk of insolvency. Professional traders and investors can even profit from arbitrage opportunities rarely arising on stablecoin pairs, like USDC/USDT, TUSD/USDT.
---
Tips for Bitsgap automated strategies
Consider spreading investments over a line of stablecoins in which you get returns. For example, you can simultaneously hold 4 active bots with different trading configurations on a cryptocurrency like BTC (BTC/BUSD, BTC/TUSD, BTC/USDC, BTC/USDT). This is a strategy diversification, as we call it. This allows you to experiment with different configuration setups and earn in 4 different stablecoins at the same time.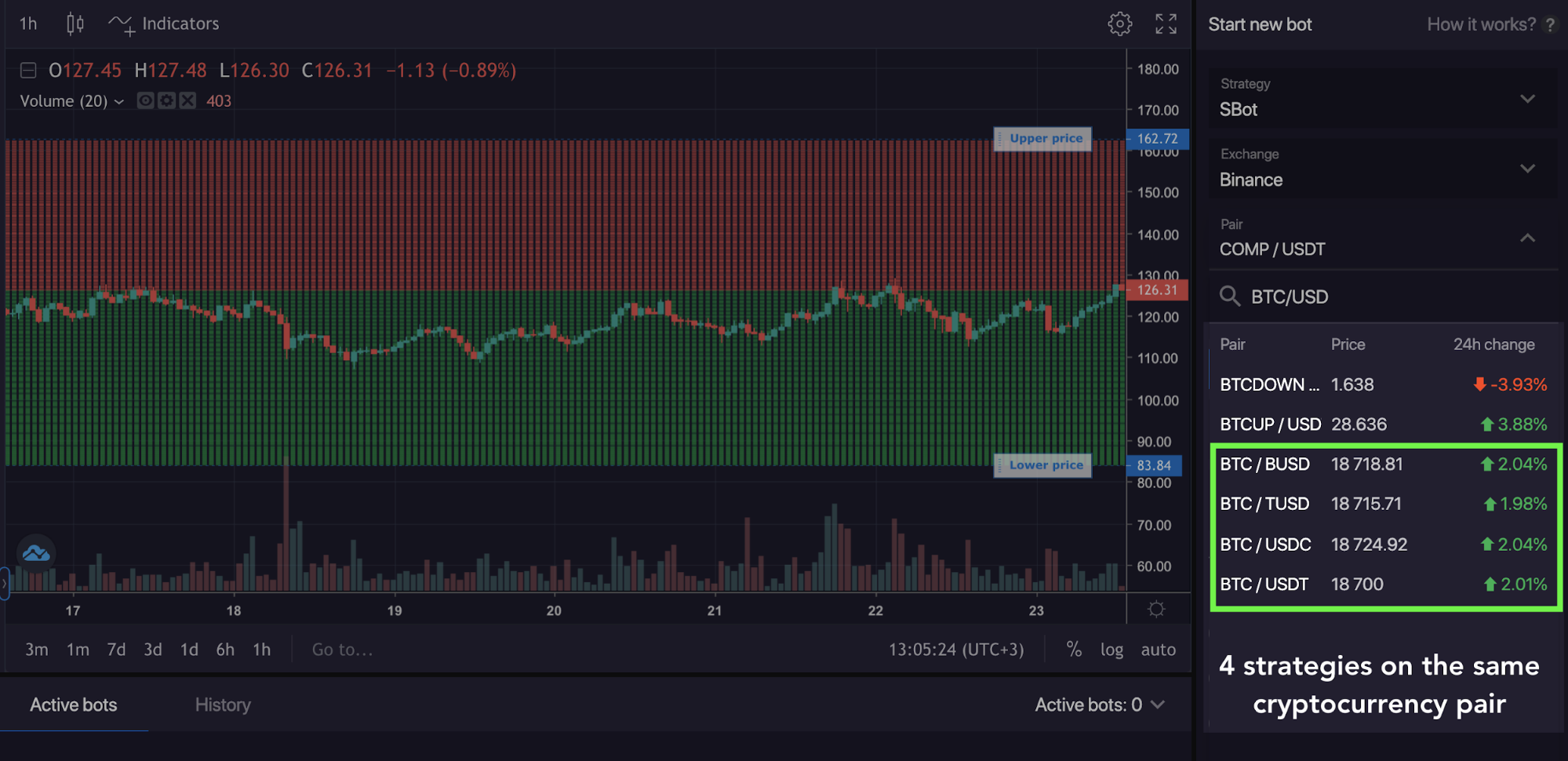 You can also backtest any configuration before the launch. Do you wonder what could be the potential return on BTC trading to BUSD with 50 grid levels in the last 2 weeks? - Not a problem, here is the outcome: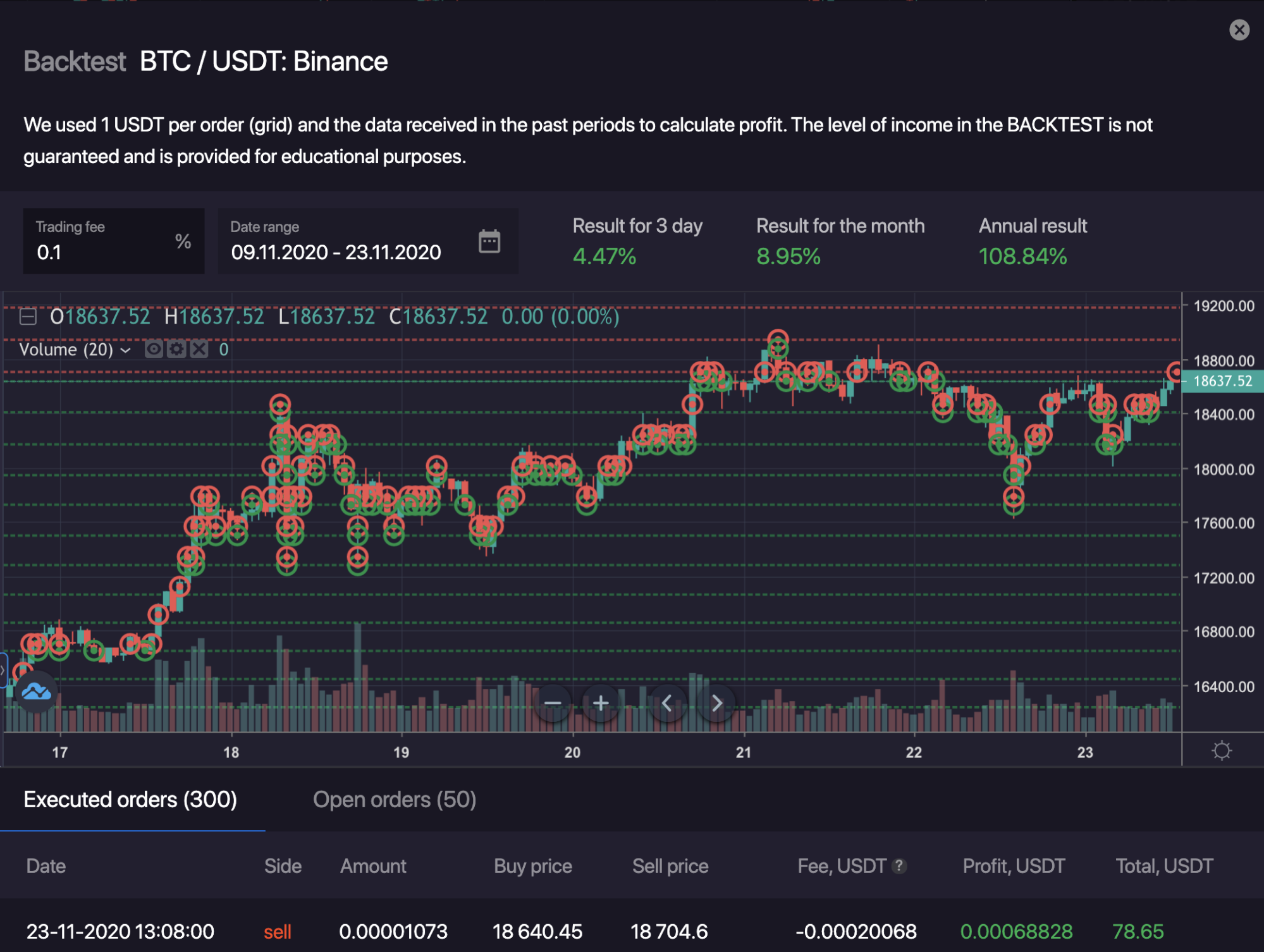 Written by Dmitri Perepelkin