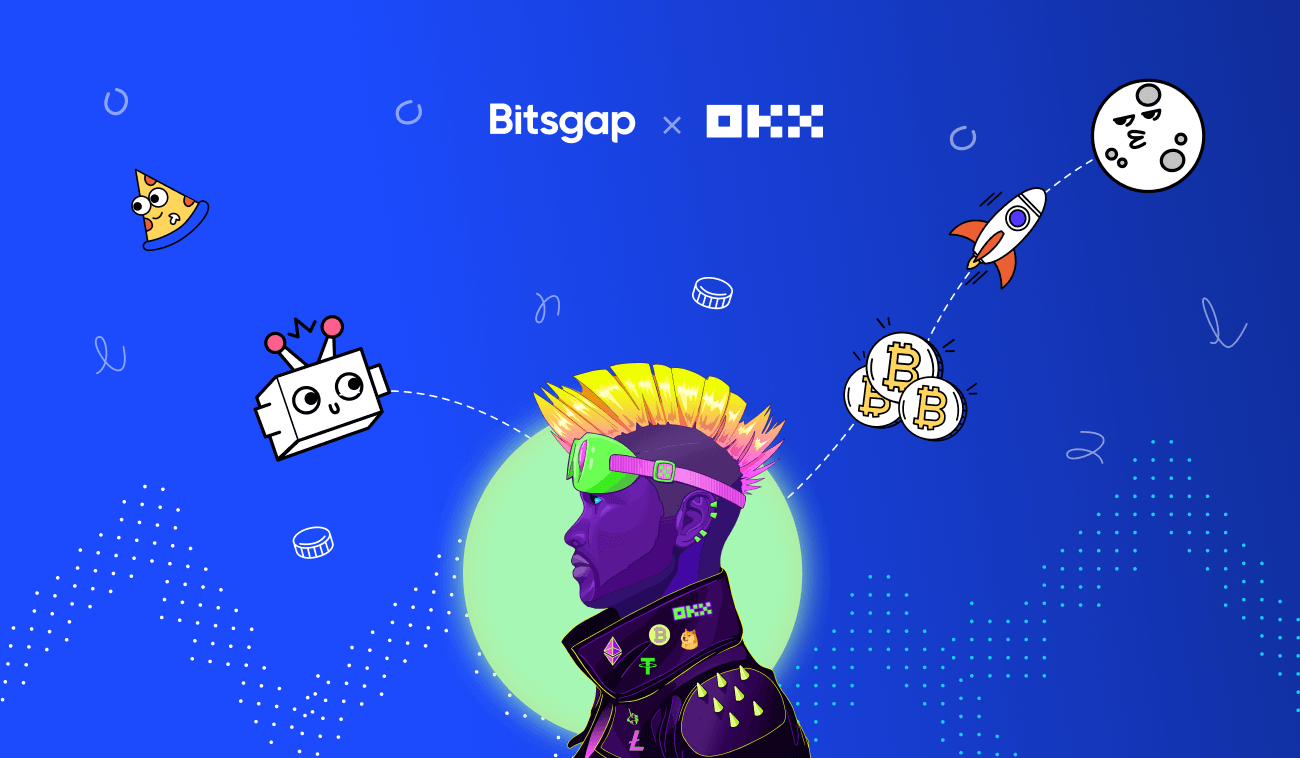 Win a Share of 5,000 USDT in the OKX Exchange Trading Competition
The OKX Exchange Trading Competition. To Participate: Join Bitsgap - Join and Connect OKX Exchange - Trade Without Limits! 5,000 USDT prize pool!
Deep dive into a tournament that welcomes you with a 5,000 USDT prize pool. All accounts are welcome - including FREE ones.

📣 Bitsgap is pleased to announce that the exclusive 5,000 USDT OKX Exchange trading competition will be held from May 16, 2022 1PM (CET), until May 30 1PM (CET), 2022. This is a competition that is available to all users. The way to get your share of the 5,000 USDT is easy.

The more you trade manually or automatically, the higher you get on the tournament's prize table - even if you're using a free or trial account.
Benefit from the uniquely designed Bitsgap trading bot and jump into an endless amount of automated trading possibilities!

🎖 The OKX Exchange Trading Competition

Until May 30, 2022, at 1PM (CET), all Bitsgap users can compete in the OKX exchange tournament. The performances will be rated according to the total trading volume calculation which will be based on the Live Performance on OKX.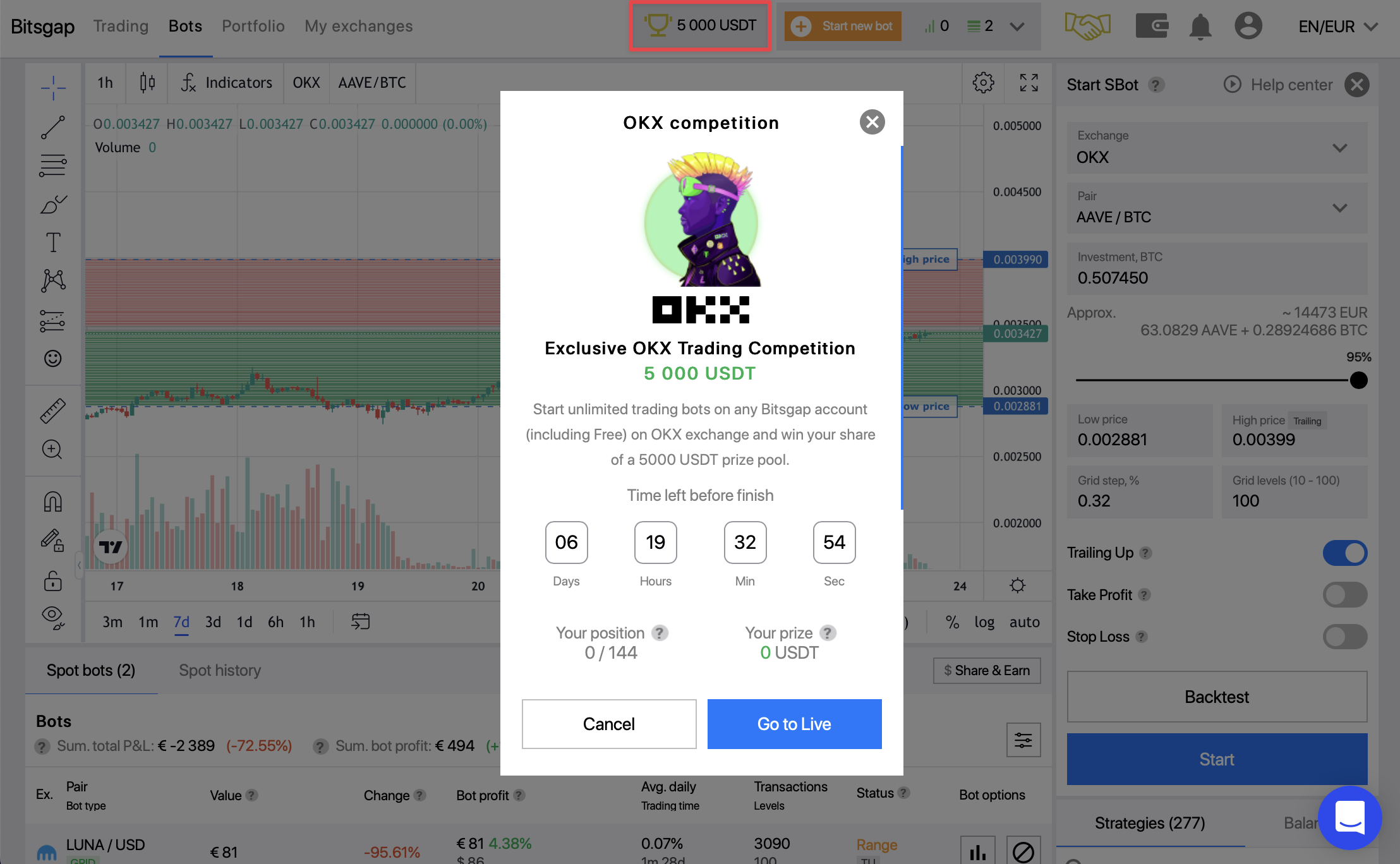 The statistics and performances of the users will be updated every hour during the whole competition.
Full Competition Terms and Conditions.
OKX is happy to announce Bitsgap as an official Broker partner.
🏆 What Each Account Can Win

The OKX prize pool invites the top 100 traders participating in the tournament to split the 5,000 USDT. There are 13 different prizes, with the winner taking home 1,000 USDT.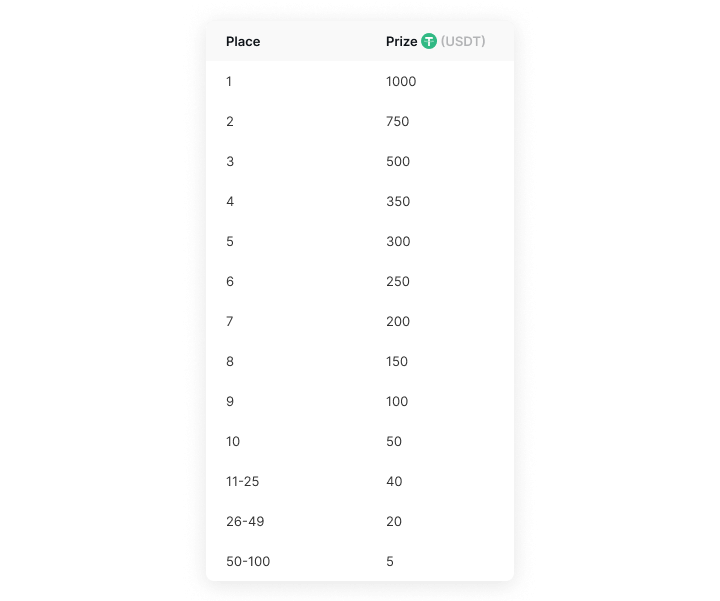 📄 How To Participate?

There are only three steps to participate. All you have to do is follow these 1-2-3, and in no time, you will be able to position yourself among the best:
1. Join Bitsgap
Register an account on Bitsgap (either paid or free) and make sure it is before May 16th to be able to use our automatic bots. The more you use it for your trades, the higher you will be placed in the rank table.
2. Connect OKX Exchange or Create a New Account
Once you are already on Bitsgap, simply open a free account on the OKX exchange or connect your existing account to Bitsgap.
3. Trade Without Limits
Use our trading bots or trade the way you like through Bitsgap on OKX. Any account can participate, including Trial and Free accounts!
📈 Give Your Trades a Boost

Position yourself among the best, using Bitsgap's automatic tools. The platform offers you automatic OKX trading bots, which you can use both during the competition and afterwards to continue to trigger the best trades according to your strategy.
Any type of trade is valid on the OKX exchange, although users who use the automatic bots will be more likely to create more significant trades, which will propel them to the top of the prize pool.
❗️Risk Warning

Be aware that you are participating in an event involving real money. To participate you must be of legal age (18 or older) and a minimum of 500 USD must be traded.
Every trade you make is your own responsibility, which leaves any significant profit or loss on the OKX exchange in your hands.
It is only with proper knowledge of the risks that we recommend our users to participate, so that they can take a share of the 5,000 USDT.
Full Competition Terms and Conditions.