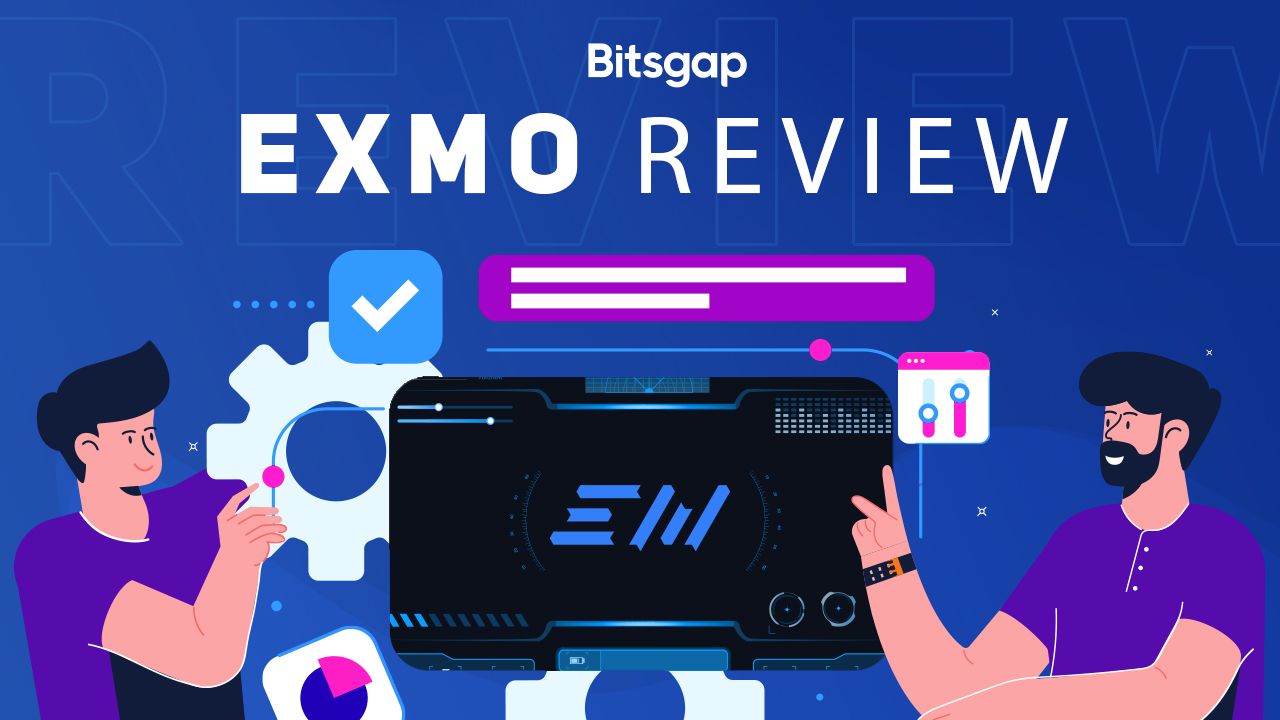 EXMO Exchange Review: Who Should Consider It for Automated Trading in 2021?
EXMO is a United Kingdom-based cryptocurrency exchange operating on a global scale. Despite rendering its services worldwide, the exchange is more popular in the UK and Eastern Europe.
EXMO is a United Kingdom-based cryptocurrency exchange operating on a global scale. Despite rendering its services worldwide, the exchange is more popular in the UK and Eastern Europe.
Founded in 2014, EXMO has its headquarters in London but has grown to have offices in Moscow and Kyiv with a staff size of over 150 employees. In its existence, the exchange has constantly developed its features, added new assets to its listing, and, most importantly, grown its customer base. Approximately 1.8 million crypto traders in 170 countries use EXMO.
The platform's ethos to make crypto trading simple has seen an intuitive and aesthetic interface developed. Traders can begin their trading journey conveniently as security on the platform is assured, and no data leaks or hacks have occurred. Flexible fees and quick technical support are provided. Listing major fiat currencies and coins makes the platform a good choice for crypto traders.
At the tail end of 2019, the EXMO exchange released its native token EXMO coin (EXM). The token enables users to enjoy discounted trading fees, cashback rewards, and other bonuses on the platform.
Supported crypto and fiat assets
EXMO supports over 60 coins and has over 192 trading pairs available for trading. Users can trade listed coins against a wide range of fiat currencies which includes USD, EUR, GBP, RUB, PLN, KZT, and UAH.
EXMO's list of crypto assets available for trading include Bitcoin (BTC), Ethereum (ETH), Bitcoin Cash (BCH), Ripple (XRP), Litecoin (LTC), Zcash (ZEC), Waves (WAVES), Monero (XMR), Ethereum Classic (ETC), Stellar (XLM), and others.

Liquidity and trading volumes
According to Coinmarketcap, Exmo is the 56th largest cryptocurrency exchange in traffic, liquidity, trading volumes, and trust in the legitimacy of reported trading volumes. The exchange processes approximately $100 million in daily transactions with a trading volume comparable to Bithumb, OKcoin, and Luno.
In terms of the most liquid trading pairs on the platform, BTC/USD, ETH/USD, and BTC/ETH come out tops with $15.73 million, $13.95 million, and $8.11 million, respectively accounting for almost 40% of the daily trading volume.
Depositing funds to EXMO
EXMO provides a variety of deposit and withdrawal options with both crypto and fiat. Fiat deposits are available via bank transfer, Payeer, BanContact, QiWi, Perfect Money, ​OKPay, AdvCash, MoneyPol and other accepted payment options which may vary from one fiat currency to another.
EXMO may charge fees for all transactions, depending on the payment method. In general, they range from 0% to 8%. While all other funding methods incur a transaction fee, making deposits with cryptocurrencies is mostly free.
EXMO's interface review: Pros and Cons
Exmo has a straightforward but powerful interface, which makes it very accessible to first-time users. It is categorized into the following sections: trade, exchange, and news. An active mobile application is also available for all IOS and Android devices.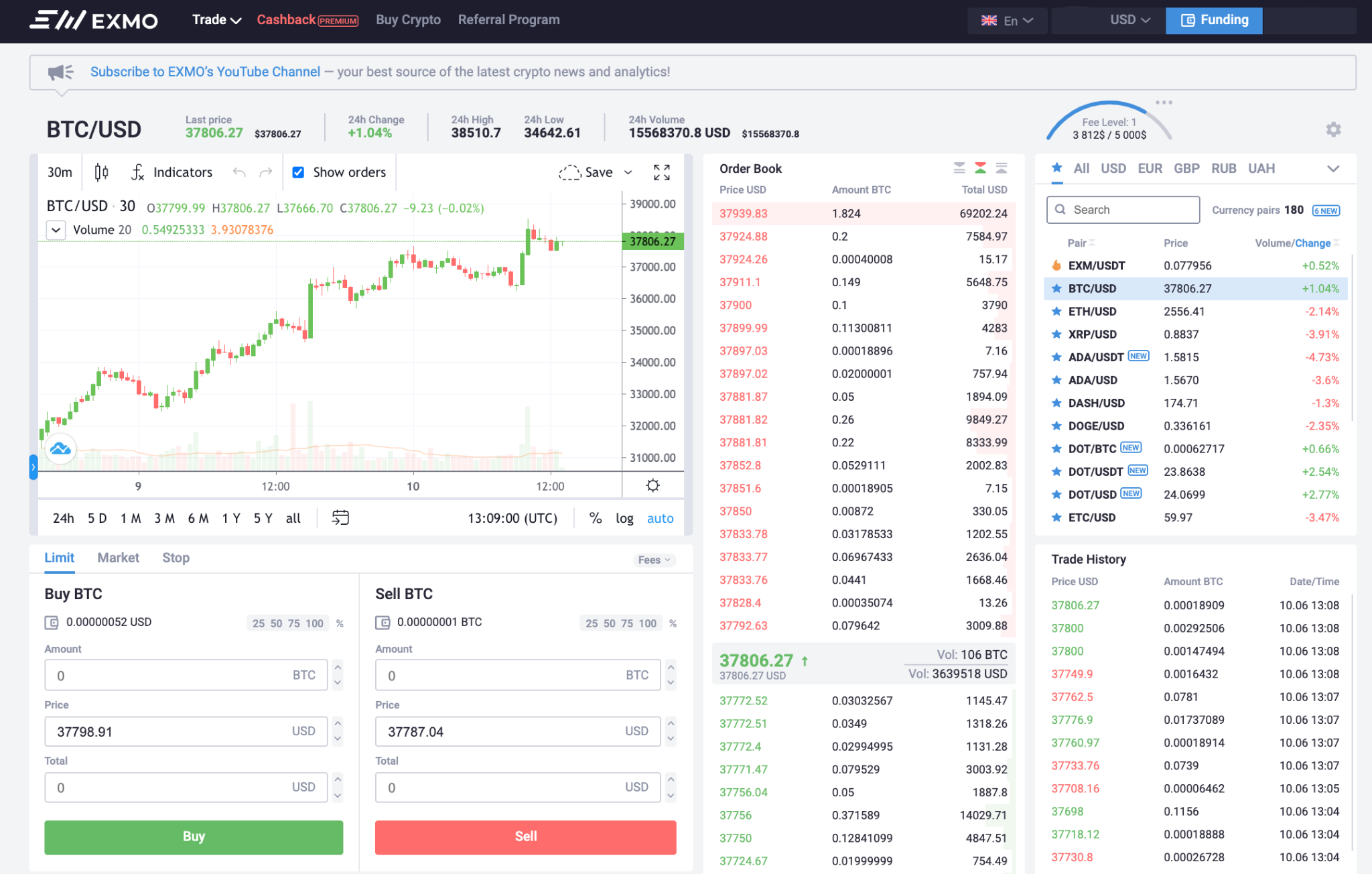 Pros
EXMO offers its users two trading modes: simple and advanced. Novices would find the simple trade mode suitable for purchasing and selling crypto assets. A list of the trading pairs together with a beginner-friendly dialogue box provided helps with transactions.
Using the advanced trading mode, intermediate and advanced traders will find a highly adaptable and fully customizable interface with light and dark themes. The layout has the price charts to the left and a list of trading pairs on the right.
Trading pairs are listed alphabetically and are filtered based on volume changes and price to narrow the options. The price chart has integration with TradingView, known for its professional suite of indicators and charting tools. Traders can quickly deploy needed tools that complement their trading strategies.
The trading experience on EXMO is appropriate for new traders and investors who want to trade a variety of cryptocurrencies. The charts are exceptional and very responsive, and they provide all of the tools needed to perform technical analysis.
The order entry window, order book, and recent trade history are beneath the charts. The order entry window is quite simple, with only limit and market orders available. The methods chosen do not suit breakout traders who rely on stop-limit orders.
The platform also provides a web-based wallet and an Over The Counter (OTC) trading service in which a qualified broker makes transactions. Sales made must be over $100,000 to apply for this service, making it particularly exclusive.
Cons
The exchange does not provide any demo trading mode or backtesting options pushing users straight into action without any built-in ability to test their strategies.
EXMO also don't have any section with educational materials. Inexperienced traders may find challenging searching of trustworthy information about crypto trading on the web.
Furthermore, EXMO does not support smart orders, including One-Cancel-the-Other (OCO) conditional links, which is beneficial for beginners and intermediate traders who want to simultaneously place a stop-limit order and a limit order. The inadequate number of order types is a challenge.
Automated trading using API
Luckly, traders can easily bypass these flaws by using Bitsgap smart trading terminal in addition to AI trading solutions. Bitsgap software includes both backtesting for trading bots, demo-mode for both manual and automated trading, a wide range of order types, signals, indicators, and conditional links.
Users can use third-party trading bots to execute automated trades on their behalf via the API service provided by the exchange. Traders can create custom trading strategies and implement them on EXMO using Bitsgap and get all the benefits from trading on this exchange without the necessity of facing EXMO's flaws.
EXMO fee structure
EXMO employs a maker and taker fee structure. Trading fees begin at 0.3 percent for makers and takers and decrease as volume increases over a 30-day period. This system rewards individuals with lower trading fees for providing liquidity to the exchange. The trading fees may be considered high for retail investors who trades without taking into account the EXMO cashback bonuses for holding EXM tokens.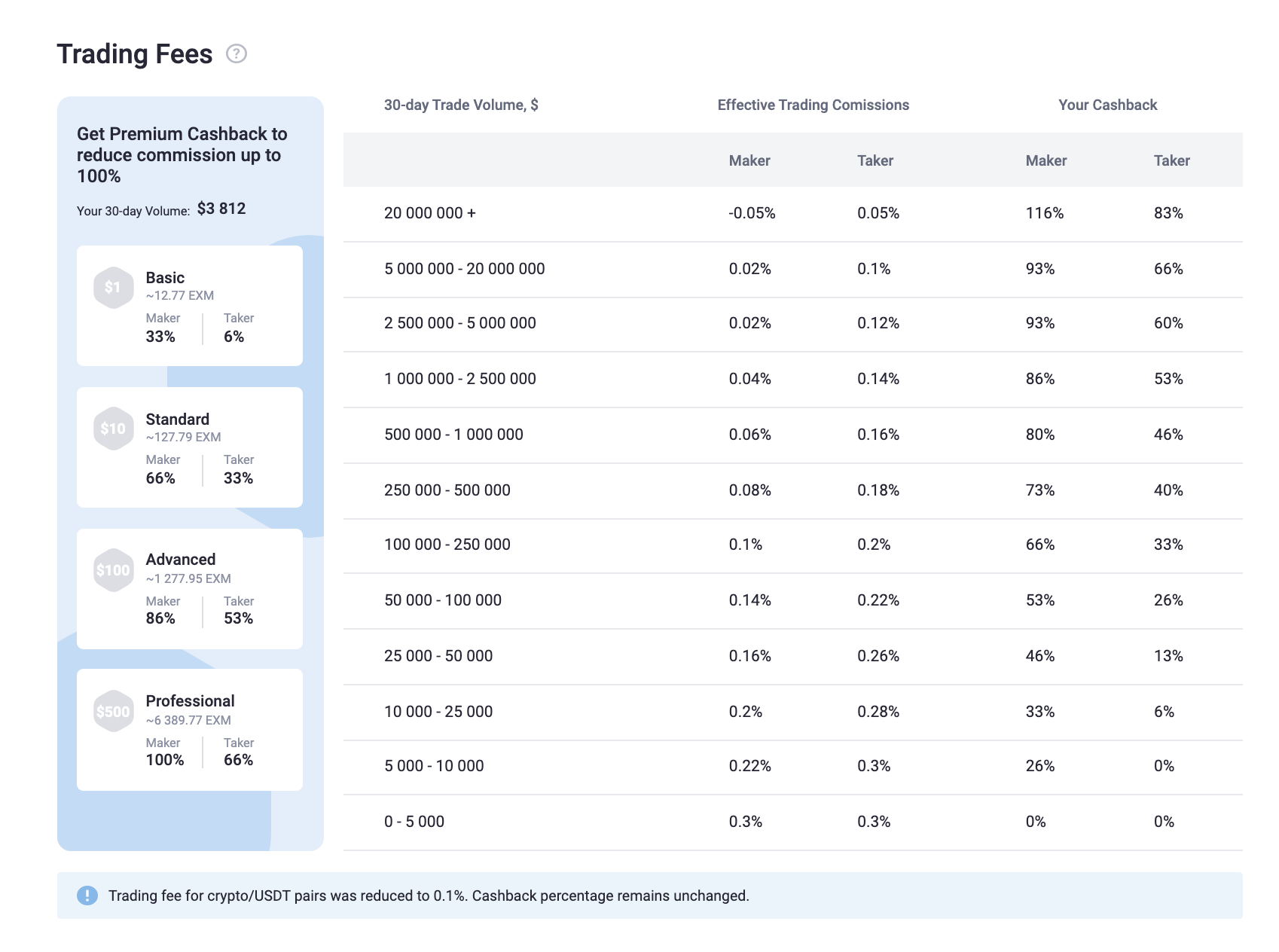 EXMO provides a particular cashback incentive program to reduce its trading fees. The system is divided into four tiers, with market makers receiving up to a 66% discount and takers receiving a 100% discount. Cashback bonuses increase by purchasing EXMO coins.
EXMO also provides Premium Cashback, which reduces fees regardless of the trading volume. The cashback packages are available for purchase for EXM (the exchange's native token).
Is EXMO safe?
EXMO is a Money Service Business and is thus associated with the Financial Crimes Enforcement Network (FinCEN). It also recently received a temporary FCA regulation before the implementation of a permanent UK regulation.
The exchange claims to offer top-of-the-line security features including cold storage wallets and two-factor authentication (2FA) for all customer accounts. IP recognition and verification procedures are among the enhanced security options available to reduce unauthorized login from unfamiliar locations.
These security measures, however, did not help to stop a distributed denial-of-service (DDoS) attack in 2020 which resulted in 6% of all exchanges' crypto assets being lost to hackers. According to the information provided by the exchange, hackers managed to access hot wallets' private keys and withdraw funds while the exchange was recovering after the DDoS attack.

This resulted in a drop in terms of trust and reliability towards the exchange. Despite that incident, EXMO managed to retain the reputation of a reliable crypto trading platform and even grow its user base.
EXMO KYC policy
Before you can trade cryptocurrencies on EXMO, you must first create an account, which will require basic personal information such as your email address, username, and mobile phone number. Based in the United Kingdom, EXMO is subject to local and international KYC/AML regulations. This means that all new users must verify their identity to trade, deposit, or withdraw funds on EXMO.
Depending on the country of residence, users may be asked to provide different types of documents to verify their identities. There are also several stages of ID verification on EXMO that may include:
Identity Verification
Address Verification
Card Verification
Bank Account Verification
Corporate Account Verification.
Each new account will have varying requirements based on the payment method and whether the person is trading as an individual, sole trader, or company.
EXMO's jurisdiction
EXMO is available for trading in 170 countries across the globe. This crypto exchange has a large user base in Russia, Ukraine, and Azerbaijan. There are a few restricted countries where EXMO cannot operate which include the United States, Japan, China, Syria, North Korea and a number of countries in the Middle East.
Despite the fact Bitsgap is a cloud-base platform and allows accessing all 25 supported exchanges from anywhere in the world, US-based traders have to comply with the regulatory requirements and choose an exchange authorized to operate on American soil. To enjoy Bitsgap's trading automations, users from the United States may set sights on any of the following exchanges: Coinbase Pro, Binance US, FTX.US, CEX.IO, Kraken, Gemini.
Linking Bitsgap bots with EXMO
An API pair is required to carry out automated trading on EXMO using Bitsgap. The pair consists of a key and another secret key generated on EXMO before connecting it with Bitsgap.
To create an API pair, do the following:
In the upper right-hand corner of the user interface, click on my account and select settings from the dropdown options.
In the profiles settings page displayed, select the API keys configuration.
Add your IP address or CIDR to the "List of trusted IP addresses/CIDR" in the API Keys configuration section. (This is an optional but highly recommended step for security reasons).
Click the "Generate API key" button to generate your API key pair.
In the popup window that appears, choose a name for the API key pair.
In the next popup window, you will see your API key pair data. Write them down 9n a safe place.
To link your API key with Bitsgap, follow these steps:
Login to your Bitsgap account.
Click the My exchange tap and select Add Exchange.
Select EXMO.
Input your API key and secret passphrase.
Click connect.