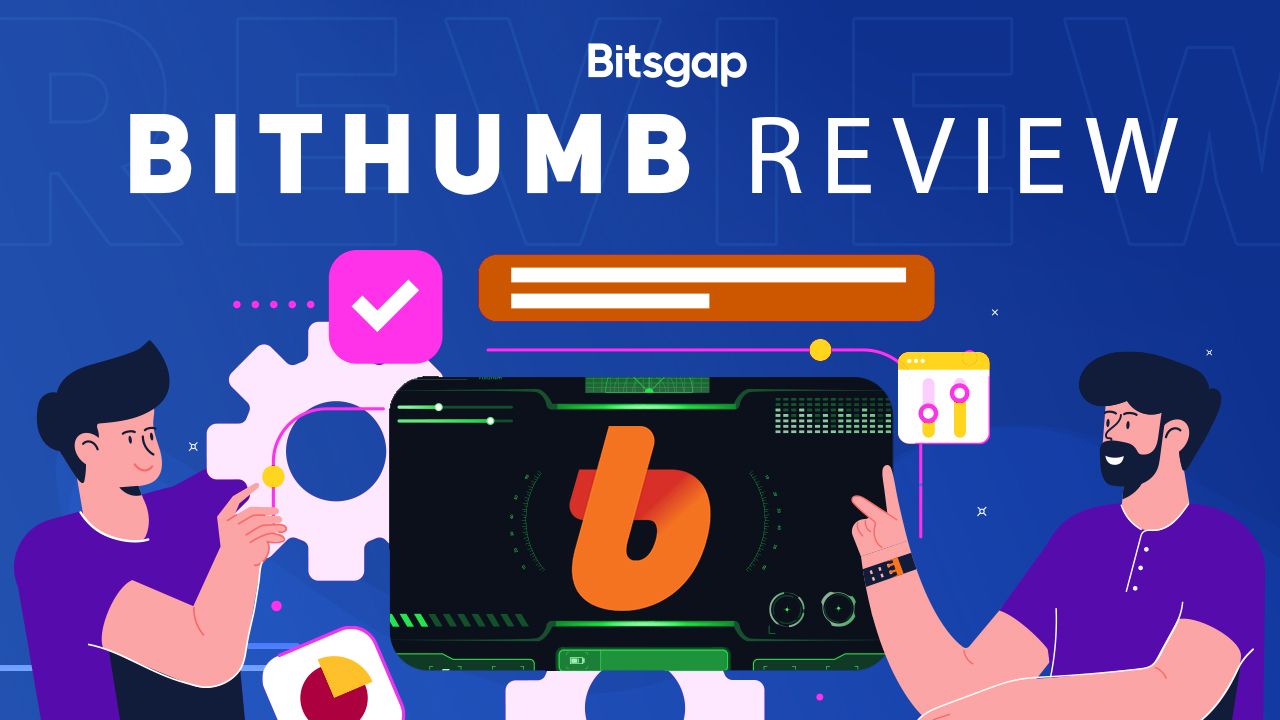 Bithumb Exchange - Number One in Korea for Automated Trading
Bithumb is a leading cryptocurrency exchange, with most of its operations based in South Korea. It was established in 2014 by Javier Sim alongside BTC Korea.com Co Ltd, which is currently managing the exchange.
Bithumb is a leading cryptocurrency exchange, with most of its operations based in South Korea. It was established in 2014 by Javier Sim alongside BTC Korea.com Co Ltd, which is currently managing the exchange.
Before adopting the name Bithumb, the exchange used to be known as Xcoin exchange BTC. In 2015, the company changed its name to Bithumb Exchange.
Since its market focus is the South Korean region, Bithumb only offers the South Korean won (KRW) as the fiat currency along with several cryptocurrencies that are paired with it.
The Bithumb exchange is open to the US market via its Bithumb Pro version, where US traders are allowed to trade crypto against Tether stablecoin USDT, which is backed by the US dollar.
Overall, Bithumb is one of the top exchanges in South Korea alongside other exchanges such as Coinone, Korbit, and Upbit.
The thriving regulatory ground in the South Korean region has helped crypto exchanges grow beyond expectations since their year of creation. Bithumb is no exception. The exchange has received several awards and nominations for its contributions to the digital asset sector within the region.
Still, Bithumb's past is mired in a series of hacking incidents and regulatory crackdowns coming from the Financial Conduct Authority. At some point, Bithumb's offices in South Korea were raided. Despite this, Bithumb has managed to stay afloat providing premium trading services to millions of users in South Korea.
Bithumb also offers a slew of languages apart from Korean. These languages include English, Chinese, Hindu, Japanese, and Spanish. Bithumb Pro supports only English since it was designed for US-based traders and investors.
Bithumb Trading Volume
Bithumb's trading services are highly sought-after in Korea due to its trading volume and high liquidity.
Bithumb's only fiat currency option is what distinguishes it from other exchanges, which is why a large percentage of its user base is in South Korea. However, this means its trading volume will not be as high as that of other exchanges which parade more than one fiat currency, putting them on the global map.
The trading volume of a crypto exchange derives from how much trading activity goes on there daily. It is this that eventually adds up to either a low or high weekly, monthly, or even yearly trading volume. As already mentioned, Bithumb is not exactly a global crypto exchange, most of its users come from South Korea. However, the exchange has managed to pool a fair trading volume compared to other exchanges.
According to CoinMarketCap, Bithumb's average daily trading volume is valued at $1.63 billion. Such trading volume owes to the high frequency of crypto trading in South Korea. Bithumb's auto trading or any other automated trading services can be activated since the exchange boasts a significant daily trading volume.
Bithumb Trading Pairs
The exchange offers trading services that include spot trading, margin trading, peer-to-peer trading, automated trading, and staking. There is no provision for futures trading on Bithumb. There are more than 250 cryptocurrencies, with over 300 trading pairs available on the platform providing investors and traders with a wide range of options to choose from.
The exchange features cryptocurrencies that you would most likely find on other crypto exchanges. They include Bitcoin (BTC), Ethereum (ETH), Ripple (XRP), Polkadot (DOT), Solana (SOL), and a host of others.
Most of these cryptocurrencies are traded against the Korean won (KRW), with only a few paired against bitcoin. However, these crypto assets can all be traded across the existing markets on the platform including margin trading and automated trading bots.
On Bithumb, users can deposit in various crypto assets but when it comes to fiat depositing, the options are limited to the KRW. The limit on fiat deposits has been a source of concern to traders who utilize the trading platform. However, Bithumb has made up for it in the aspect of free deposits on both the KRW and certain cryptocurrencies. Where deposits are below the minimum amount, it attracts stipulated fees.
Bithumb ensures that there is enough liquidity for every cryptocurrency listed on its platform. This helps traders complete trades at their preferred prices and to avoid negative slippage.
Bithumb's Trading Interface
Bithumb's trading interface has been touted to be one of the best in the cryptocurrency space. The trading interface was designed to suit the interests of both beginner and experienced traders, with basic and advanced sections between which traders can switch.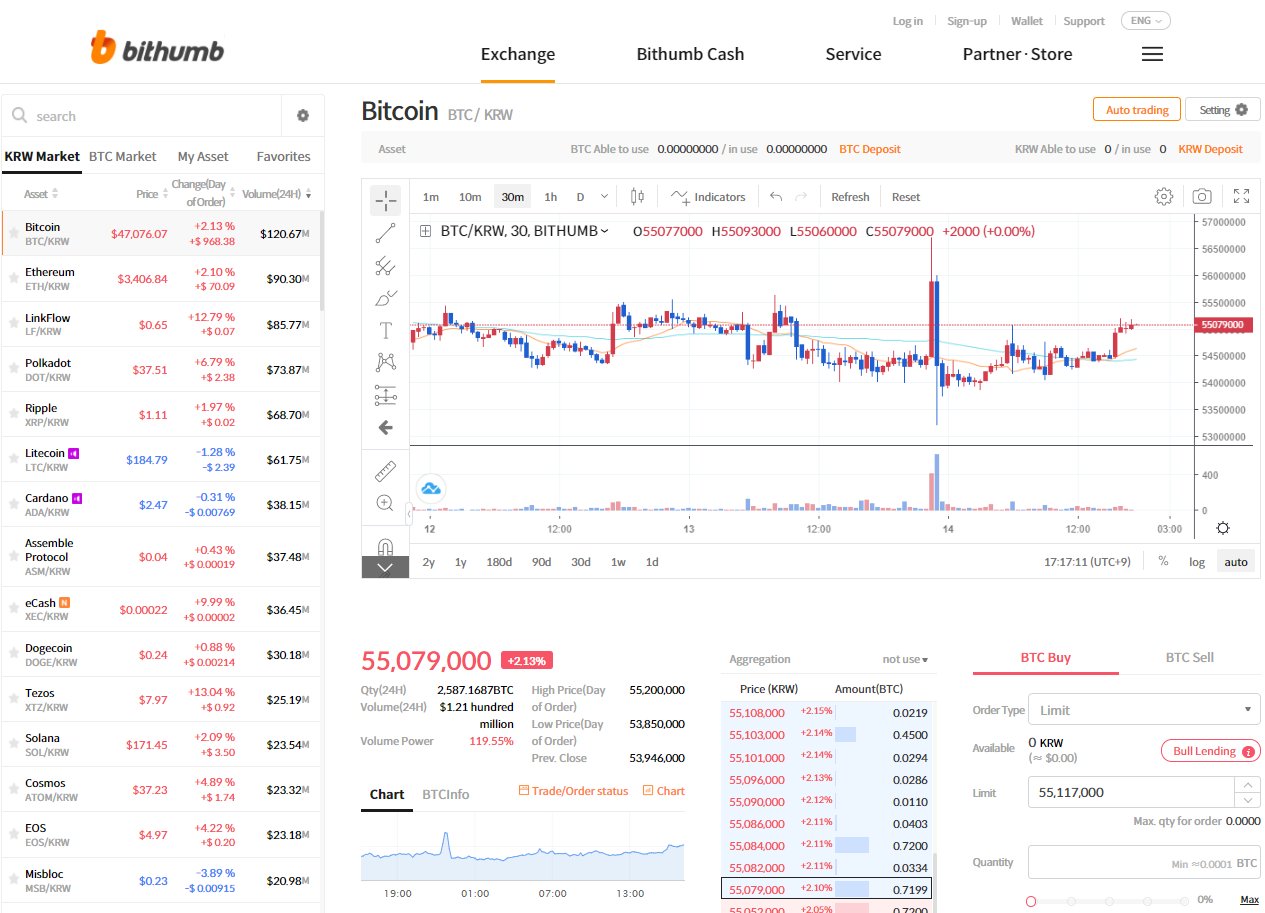 Users can always decide which interface they prefer. As such, amateur traders can easily navigate their way around the interface using the basic section.
There is also provision for accessing real-time charts which can be helpful to traders, as they try to study market movements for profitable opportunities. The order types on Bithumb are limited, traders can only alternate between limit and market orders. OCO, trailing stops, and other sophisticated order types are not available.
Traders can always check the state of their orders via the open orders, canceled orders, or history sections.
Bithumb's Tradable Products
Bithumb's popular tradable products include spots trading, margin trading, auto trading. The less popular are Bithumb Cash, Bithumb Prime, and free coupon vouchers. Spots trading on the exchange involves merely buying and selling crypto assets, using any of the available order types.
For margin trading, traders have access to leverage as high as 10x, which allows them to open a wider position than their capital or margin can allow. Compared to other exchanges that offer leverages as high as 125x, Bithumb's 10x leverage is low. The exchange is ostensibly trying to lower the risk threshold for its users.
The Bithumb Cash product is a feature that allows traders to make both online and offline payments with the available fiat on their portfolios. Users can also make free transfers between themselves using this feature. Bithumb Prime is a product directed at institutional traders which allows them access to large trading volumes.
First-time users of Bithumb exchange are given free coupon codes for their first trades and transactions. As earlier mentioned, Bithumb also provides auto trading, staking, and API services. If you cannot use the auto trading feature, you can connect your account to a third-party automated service like Bitsgap, via Bithumb's API.
Bithumb's Trading Fees
On Bithumb, market makers and takers are charged differently. The role of market makers is more important than takers. For every trading activity, be it spot or margin, if you are a market maker, a fee of 0.04% is taken. While a fee of 0.25% is taken from takers.

Bithumb's trading fees do not depend on users trading volumes or the amount of their holdings in crypto or fiat. Instead, the exchange utilizes a peculiar system of coupons which allows traders to reduce the percentage of fees they pay by purchasing trading fees coupons in advance.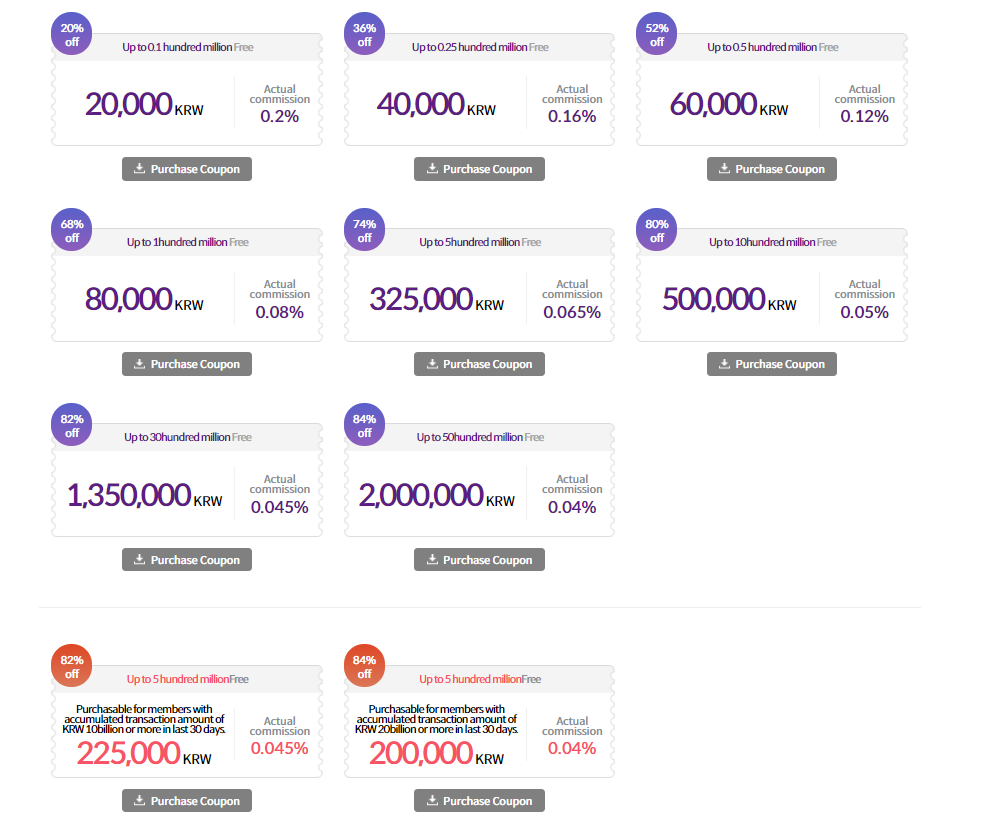 The exchange does not have a native token, unlike Binance, Huobi, or other major exchanges, so traders are most likely to pay trading fees either in KRW or BTC. All the coupons offered by the exchange, however, are priced in KRW.
KYC on Bithumb
Know Your Customer (KYC) policies are considered the best way to address challenges like money laundering and terrorism financing. Although almost all exchanges have KYC as part of their policies, not all of them make it compulsory. Bithumb is not any different. Its KYC verification process is divided into three levels, with each stipulating different requirements.
Opening an account for the first time on Bithumb places you at Level 1. At this level, you do not have access to all the services on the platform. Accounts at Level 1 only have access to the 5 BTC daily withdrawal limits.
The Level 2 KYC requirements require that a user provides the front and back picture of a valid certificate and passport photograph. Other requirements are specifying the country of residence, gender, ID type, real name, and date of birth. Accounts at Level 2 have access to 100 BTC daily withdrawal limits.
For Level 3, there are different requirements, as well as higher withdrawal limits. The requirements also differ between individual accounts and corporate accounts.
Bithumb Jurisdiction
While Bithumb is very suitable for South Korean investors, Bithumb Pro offers its services to traders in over 100 countries. Some of them include Australia, the US, Thailand, Canada, United Kingdom, South Africa, Singapore, Hong Kong, India, France, Germany, Norway, Sweden, Italy, Denmark, United Arab Emirates, Saudi Arabia, Kuwait, Luxembourg, Qatar, and most other countries.
Automated Trading on Bithumb
Certain traders do not enjoy trading manually because of the efforts involved. Thankfully, Bithumb has a built-in automated trading feature that users can utilize directly from the exchange platforms.
This automated tradin solution provides basic features of grid trading and allows traders to sit back and enjoy small profits from hundreds of buy and sell deals conducted by the crypto trading algorithm on their behalf.
Buthumb trading bot is but apart from that, however, is a basic solution that cannot provide many sophisticated features like those implemented in advanced third-party solutions.
Bithumb automated trading feature can help users make their first steps in algorithmic trading, but when it comes to choosing the best cryptocurrency trading bot, Bitsgap can hardly be outmatched.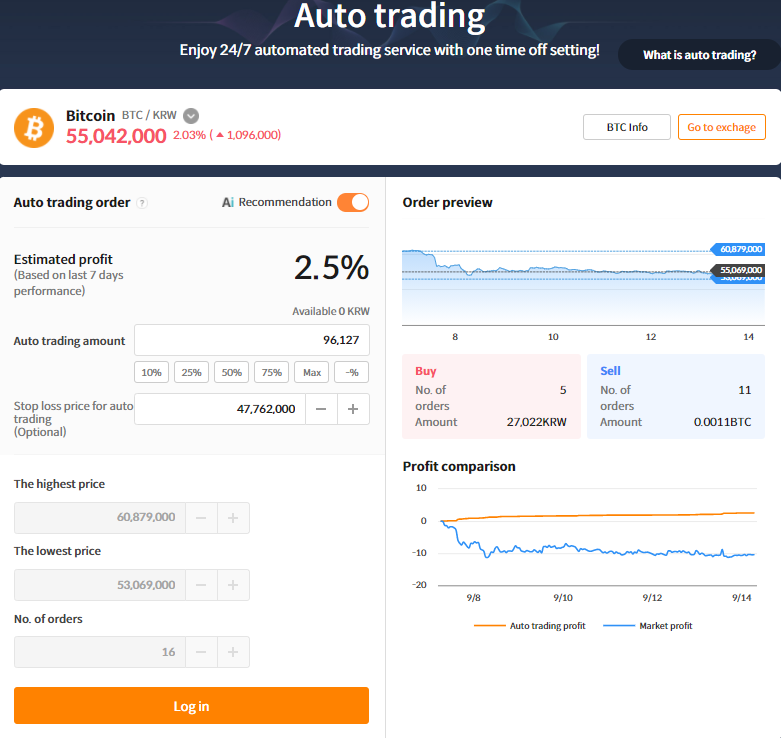 Interestingly, you can utilize Bitsgap trading bots on your Bithumb account to gain complete access to automated trading services. Bitsgap also allows you to access several opportunities, including arbitrage, demo trading, portfolio management, trailing up, trailing down, and take profit. Bitsgap supports over 25 crypto exchanges including Bithumb.
Bithumb collects fees for its auto trading service as if you were trading manually (0.04% - 0.045%). However, the platform charges no fee for automated trading on Bitsgap.
Bitsgap charges a subscription fee if you want to access its premium services. Without subscribing, traders can use a demo account to access Bitsgap's trading bots.
How Do I Connect My Trading Bots to Bitsgap?
To use your Bitsgap trading bots with your Bithumb account follow the simple steps provided below.
Open your Bithumb account on the web or app version.
Click the top-right corner on your Bithumb dashboard. Then tap on the API icon and fill in the necessary details.
Activate the permissions that will give you access to certain features on Bitsgap. It is advisable not to activate withdrawal permission due to security reasons.
Now open your Bitsgap account. Click on the "My Exchanges" directory.
Click "Add Exchange" and choose Bithumb from the list.
Input the API key in the column provided.
Tap the "Connect" button.
Done. Now, your Bithumb account is connected to Bitsgap.