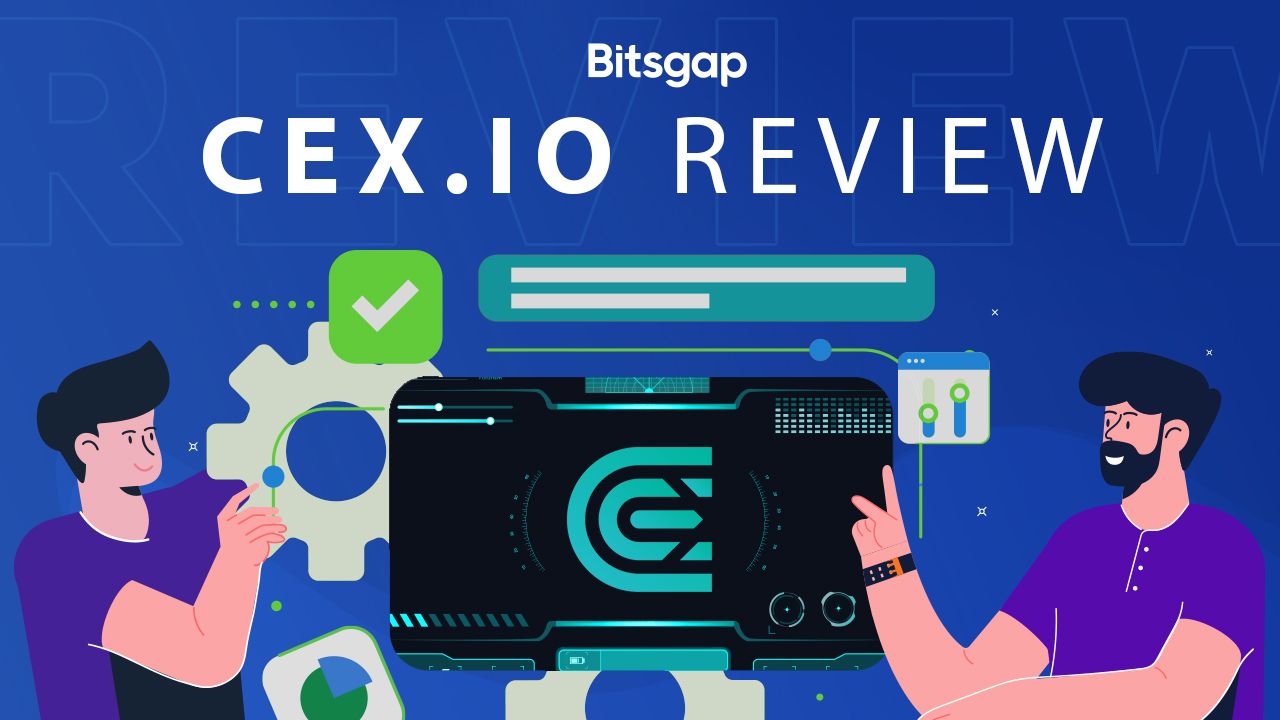 Automated Trading on CEX.IO for Retail Investors
CEX.IO allows its users to purchase bitcoin and other digital currencies in a few simple steps through various payment options. It further provides brokerage services that facilitate cryptocurrency margin trading, allowing traders to maximize their prospective gains and losses.
CEX.IO is a crypto exchange that prides itself on being one of the earliest platforms to support fiat-crypto transactions through card payments and bank transfers. CEX.IO allows its users to purchase bitcoin and other digital currencies in a few simple steps through various payment options. It further provides brokerage services that facilitate cryptocurrency margin trading, allowing traders to maximize their prospective gains and losses.
CEX.IO's drive has seen the platform prioritize building an effective and trustworthy relationship with regulators. Throughout its existence, it has been registered with the Financial Crimes Enforcement Network (FinCEN), a division of the US treasury department, as a Money Services Business (MSB). Also the exchange received Money Transmitter Licenses (MTLs) in 31 states have been secured with plans on the ground for more coverage. This has allowed the exchange to get licensed and regulated in all the countries it operates within. It has also been granted a Distributed Ledger Technology (DLT) license by the Gibraltar Financial Services Commission (GFSC).
CEX.IO provides a trouble-free service, with strong security protocols, protected cold cryptocurrency storage, financial viability, and extensive legal compliance. Since its inception, it has recommended itself as a reliable crypto exchange, with no episodes of massive hacker attacks or scam listings.
Brief History
CEX.IO was founded in 2013 in London by Oleksandr Lutskevych, Dmytro Kalynovskyi, Victoria Polyakova and Peter Ivanov. It has grown into a global team of over 200 professionals with offices across the UK, the USA, Ukraine, Cyprus, and Gibraltar.
Initially, CEX.IO was established as a cloud mining provider formerly known as GHash.IO. However, in 2015 all mining services were suspended and completely shut down later in 2016. This event occurred due to lowering Bitcoin prices at the time and the fact that the company did not own any mining hardware. CEX.IO continued as a crypto exchange platform growing into the sustainable business it is today with over 3 million users worldwide.
Currently, the CEX.IO crypto exchange is jointly operated by CEX.IO Ltd and CEX.IO Corp. The latter provides crypto exchange services to the United States residents in states where the platform is licensed, while the first is responsible for global operations.
What CEX.IO offers to its users
CEX.IO is known for a wide range of accepted payment methods available for deposit and withdrawals. Users can choose between direct depositing in crypto, or use ore traditional means of payment like credit cards, wire transfers, single Euro payment area (SEPA) transfers for residents of the EU, and automated clearing house (ACH) transfers for US residents.
A wide range of other services provided by the exchange makes the platform attractive for crypto traders and investors of all kinds. It includes:
Brokerage Service
For those who make their first steps in crypto, brokerage might be an ideal option. The service allows the purchase of cryptocurrency with a credit card or wire transfer. Fill-or-Kill orders (FOK) are used in brokerage transactions. Orders filled instantly and completely are referred to as FOK. The sole disadvantage is that higher exchange rates and premiums are imposed.
Trading Services
Trading services are appropriate for more experienced traders. CEX.IO offers a fairly advanced platform with all the expected features such as market, limit orders, and automated trading with third-party instruments via API. Adequate liquidity is provided together with cross-platform trading alongside sophisticated market reporting.
Margin Trading
CEX.IO offers an innovative margin trading platform called CEX Broker for CFD contracts with up to 100x leverage. It features several order types, technical analysis instruments, trading tools, and leveraged trading. Margin trading is best suited for experienced traders since it involves a significant level of risks which may be considered high even for crypto.
Staking
This service allows investors to benefit from crypto without getting involved into actual trading. Users earn an interest daily reward for stacking digital assets in their CEX.IO wallet. Returns vary based on the digital currency being invested. Staking bonus is promptly credited to the user's account with no further actions required.
Aside from the aforementioned services, CEX.IO also provides both a mobile and web platform for its users.
Available currencies and trading pairs
CEX.IO offers a wide range of cryptocurrencies. These include; Bitcoin (BTC), Ethereum (ETH), Ripple (XRP), and a host of 86 other popular coins/tokens. All the available digital currencies can be purchased using USD, while some can be purchased with GBP, EUR, and RUB. The tokens can be traded not only with BTC and ETH, but between each other as well, since the exchange currently supports more than 200 trading pairs.
User Interface
Given the variety of services available, CEX.IO's interface is intuitive, visually pleasing, and easy to navigate. The default trade interface has the supported crypto trading pairs displayed on the left-hand side of the screen.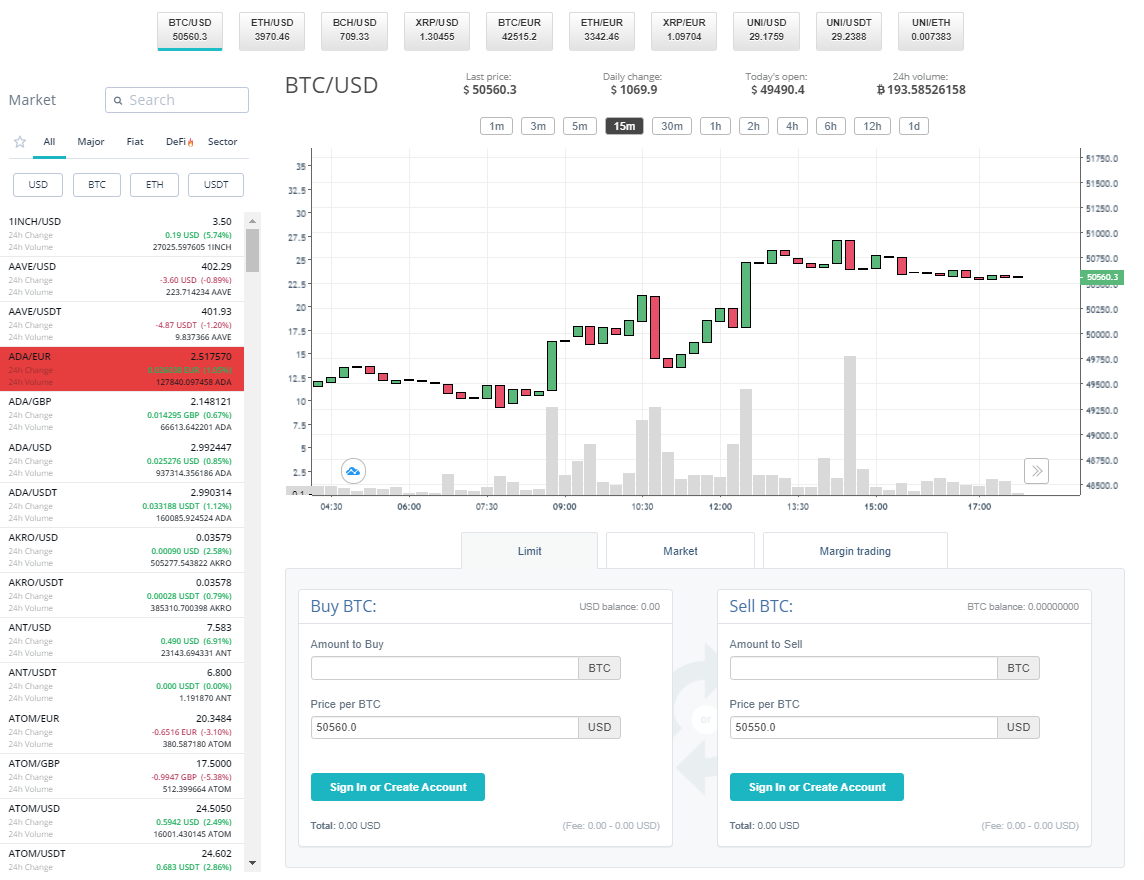 The rest of the interface contains a price chart that provides a quick overview of candlestick price actions. Beneath it, users can purchase and sell any amount of crypto assets they want, using the various markets and limit orders available to them.
Aside from its ease of use, the interface also has a dark-mode theme. This ensures that users can spend long hours trading without fear of damaging their eyes.
Trading Volumes
CEX.IO is ranked 17th among crypto exchanges in terms of real spot volume on Messari.io. The daily trading volume of CEX.IO hovers around $75 million with BTC/USD and ETH/USD are the most liquid pairs and accounting for more than 35% of the entire volume on the exchange.
While Coinbase reports $5.3 billion in daily trading volumes, CEX.IO' $75 million per day might cause concerns among traders operating with positions large enough to impact the market. This may be the main reason why CEX.IO might not be a proper exchange for whales unless they want to become a liquidity providers. For retail traders, however, CEX.IO's liquidity may be considered sufficient.
Trading fees
CEX.IO charges different fees for trading, depositing, and withdrawing funds. The trading fees on the platform employ the maker-taker fee schedule. A maker is a market participant who provides liquidity by servicing bids and offers at the same time. A taker, on the other hand, accepts the prices set by makers.
Transaction fees are based on a 30-day trade volume of each particular user and may vary from 0.25% and 0.16% to as low as 0.10% and 0% for Taker and Maker respectively. The chart below shows how the trading fees correlate with trading volumes for users.
Depositing and withdrawing crypto is free on CEX.IO, users only pay the blockchain transaction cost. At the same time, depositing and withdrawing fees fiat currencies may significantly vary based on the type of currency and payment method.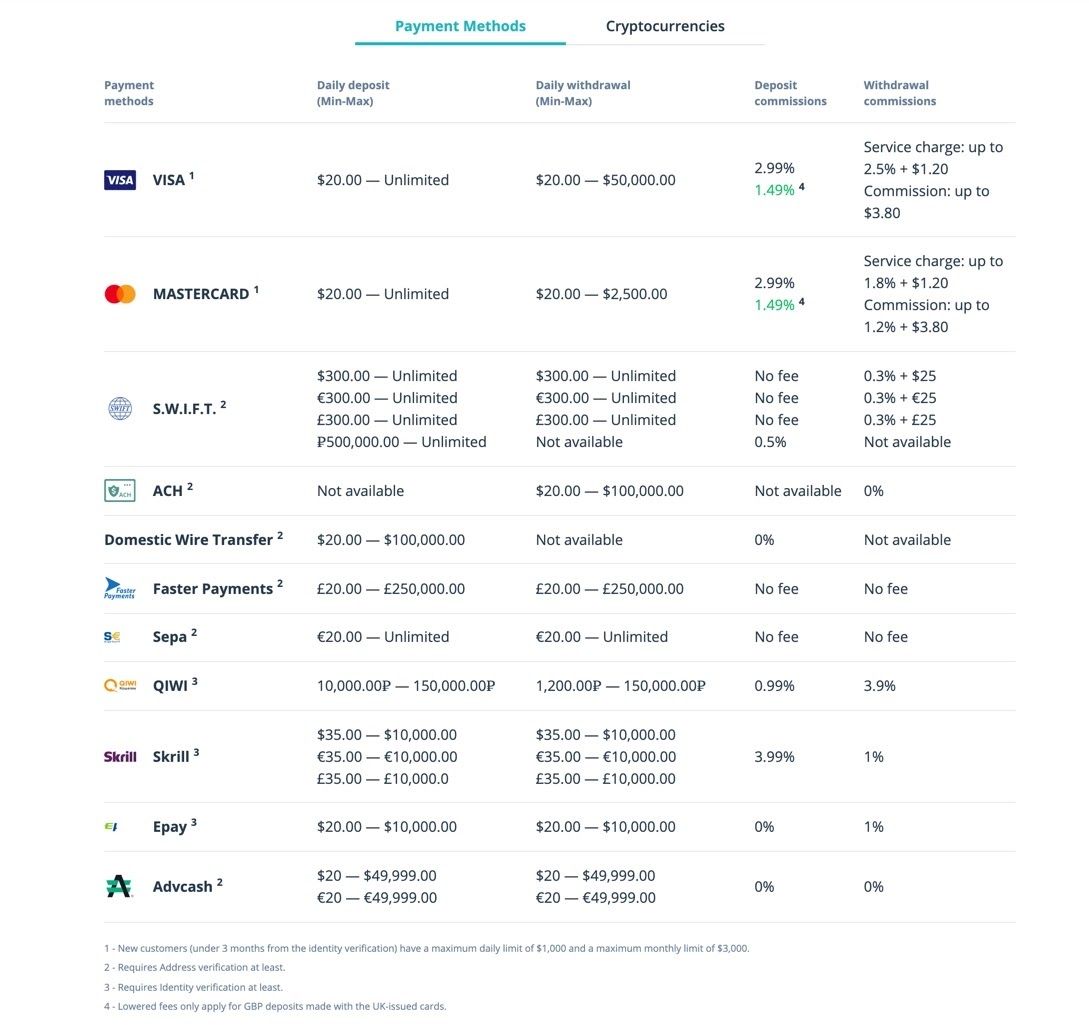 A major complaint about CEX.IO is the hidden fees that may reach up to 7% of the transaction amount, so it wouldn't be excessive to pay extra attention before withdrawing fiat money. The fees charged can be seen below.
Security
CEX.IO is registered as a money transmitter in several countries throughout the world. It also has payment Card Industry Data Security Standard (PCIDSS) compliance, indicating its ability to handle its users' credit card details.
Two-factor authentication is optional but highly advised to ensure that accounts are secure. US currency deposits up to $250,000 per individual are covered by the Federal Deposit Insurance Company (FDIC). Also, most of its cash holdings are kept in cold wallets sealed in vaults guarded by armed security personnel and video surveillance.
The exchange is known for its strict security protocols with zero tolerance to any forms of suspicious activity. The opposite side of high security, however, is a complicated and lasting procedure of account verification topped with a low withdrawal speed.
KYC Policy
New CEX.IO users can deposit or withdraw up to $100 per day without having to go through the Know Your Customer (KYC) verification process. To increase these limits, all users must provide personal details and identification documents such as passports, driver's licenses, and utility bills.
CEX.IO offers four stages of account verification, namely, Identity, Address, Enhanced, and Corporate. Each of these account types has a different buying and selling limit, as seen below.
Automated trading on CEX.IO
Based on the needs of individuals and institutions, CEX.IO offers a variety of API options for automated trading.
Rest API - Basic option for instant access to market data and automated trade management.
Websocket API - For skilled traders, this is a great tool with full trading functionality.
Fix API - The best option for connecting trading systems to a source of Bitcoin liquidity for institutional traders.

With these available APIs, users can connect their CEX.IO account with a trusted automated trading platform like Bitsgap. It enables individuals to reap the benefits of automated trading when managing their cryptocurrency portfolio. Fully integrated with CEX.IO's API and security measures, Bitsgap allows launching proprietary trading bots to ensure that traders stay ahead of the market and remain profitable.

Creating APIs on CEX.IO
Creating an API on CEX.IO is divided into several steps.
Creating API Key
Go to "Profile settings" on the CEX.IO interface
Select key permissions that you need
Press the "Generate Key" button
Activating API Key
Save your Secret Key
Press the "Activate" button
Enter 2FA security code
Integrating Bitsgap trading bot with CEX.IO
The use of Bitsgap on a CEX.IO account would require creating an API key on CEX.IO before linking both platforms. When you hav your API key, all that is left is integrating it with Bitsgap. Follow these steps:
Login to your Bitsgap account;
Click the My exchange tap and select "Add Exchange";
Select CEX.IO;
Input your API keys;
Click "Connect";
Enjoy state-of-the-art automated trading solutions from Bitsgap!