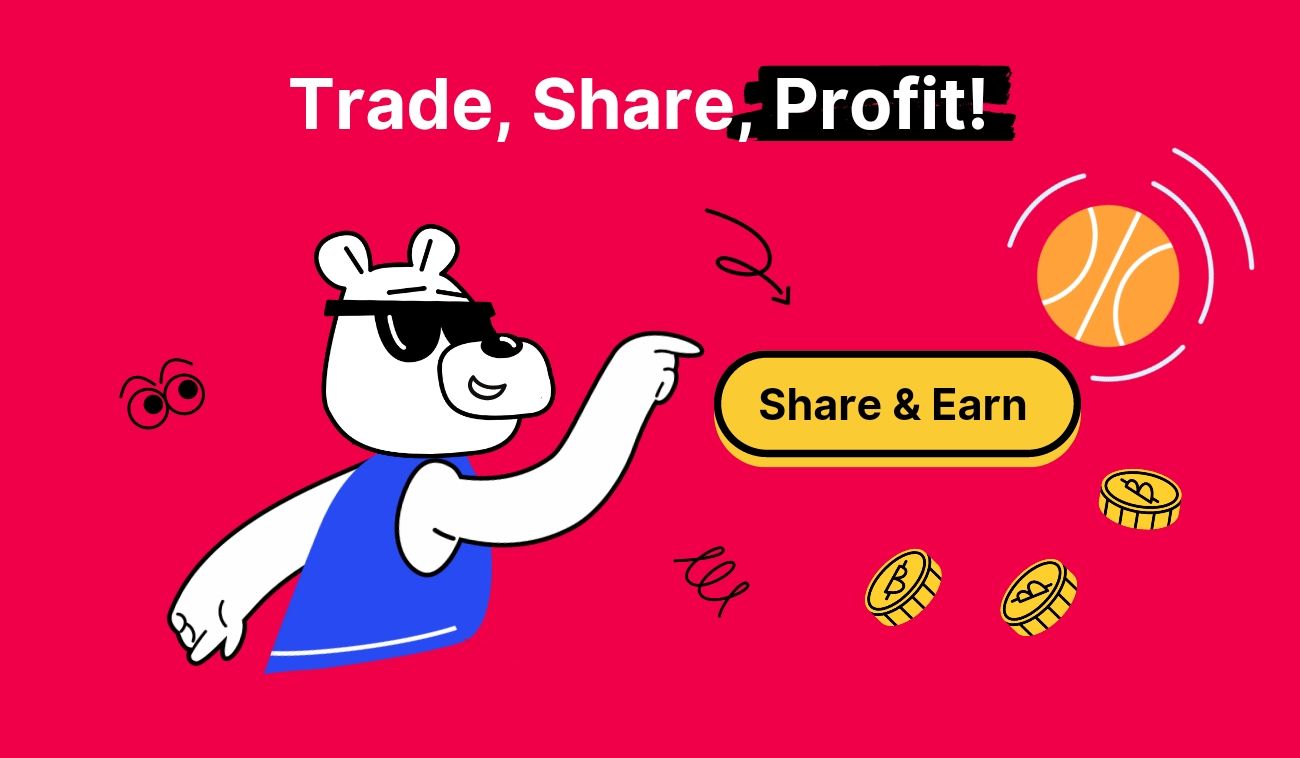 Share Your Awesome Trading Results on Bitsgap with Share & Earn
Maximize your crypto gains by earning from sharing your bot's trading results on Bitsgap!
Bitsgap has just released an updated feature [Share & Earn] that will help you not only level up your crypto trading game but also earn some cash!
Have you created a beast of a bot that's racking up gains? Want to prove to your crypto frens that you're a trading wizard with a magic touch? Well, what are you waiting for? Show off what you've got! Bitsgap's newly updated [Share & Earn] feature lets you prominently display your top bots and encourage others to join the Bitsgap community.
As they say, sharing is caring, and with [Share & Earn], you can show off your trading skills while earning some sweet referral rewards.
So, if you're ready to share the love and make some cash, read on to learn more about this awesome feature, where to find it, how to use it, and how to share your bots' results on social media.
What Is [Share & Earn]?
The [Share & Earn] feature lets you show off your active bots and attract new users to the platform.
In the [Share & Earn] modal window, you can select the bots you want to share, copy your referral link, and share it with your friends. Your referrals can then check out the bots you've selected and sign up for the platform with ease.
Here are a few examples of how and where you can share your link and attract new referrals:
Social media platforms: Twitter, Facebook, Instagram, Reddit, YouTube, Quora, Twitch, TikTok, Discord, etc.
Your blog (on Medium, Squarespace, Ghost, WordPress, etc.) or your website.
Email to friends and family (no spam, however!).
How Does [Share & Earn] Work?
You can find the [Share & Earn] feature on the [Bot] page under the chart (Pic. 1):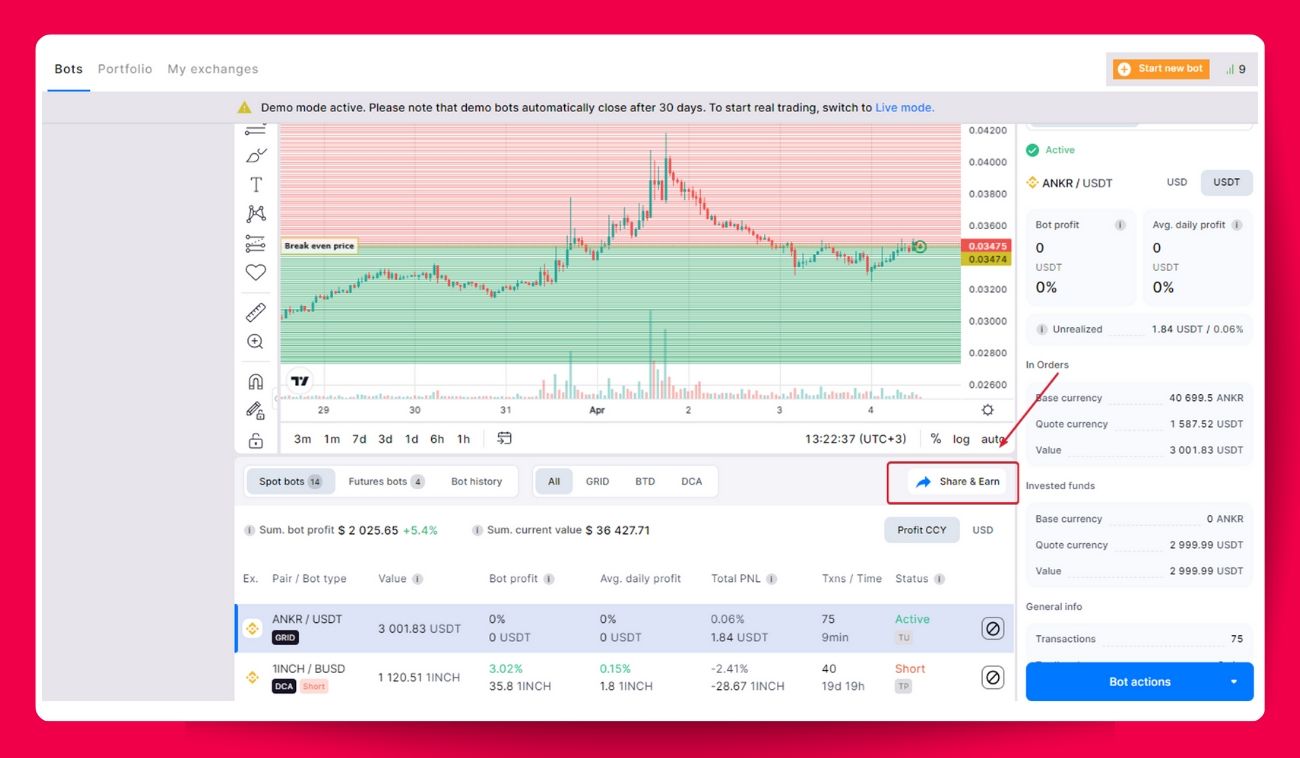 By clicking on [Share & Earn], you'll see a modal window where you can sort and choose the bots to share. Sorting is available by exchange, trading pair, current funds used by the bot, launch date, and bot profit (Pic. 2):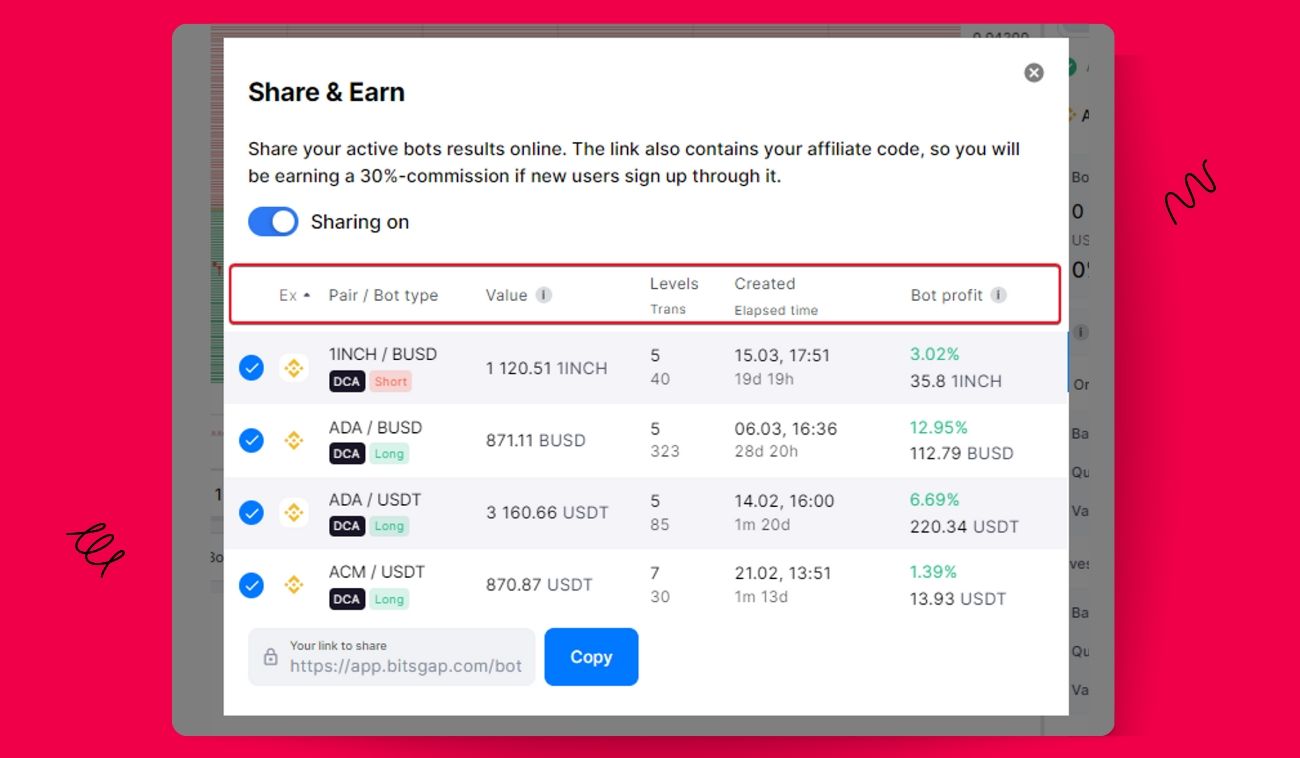 Even though you choose your demo and live trading bots separately, your referrals will see them together without any division into demo or real bots when they follow your referral link (Pic. 3).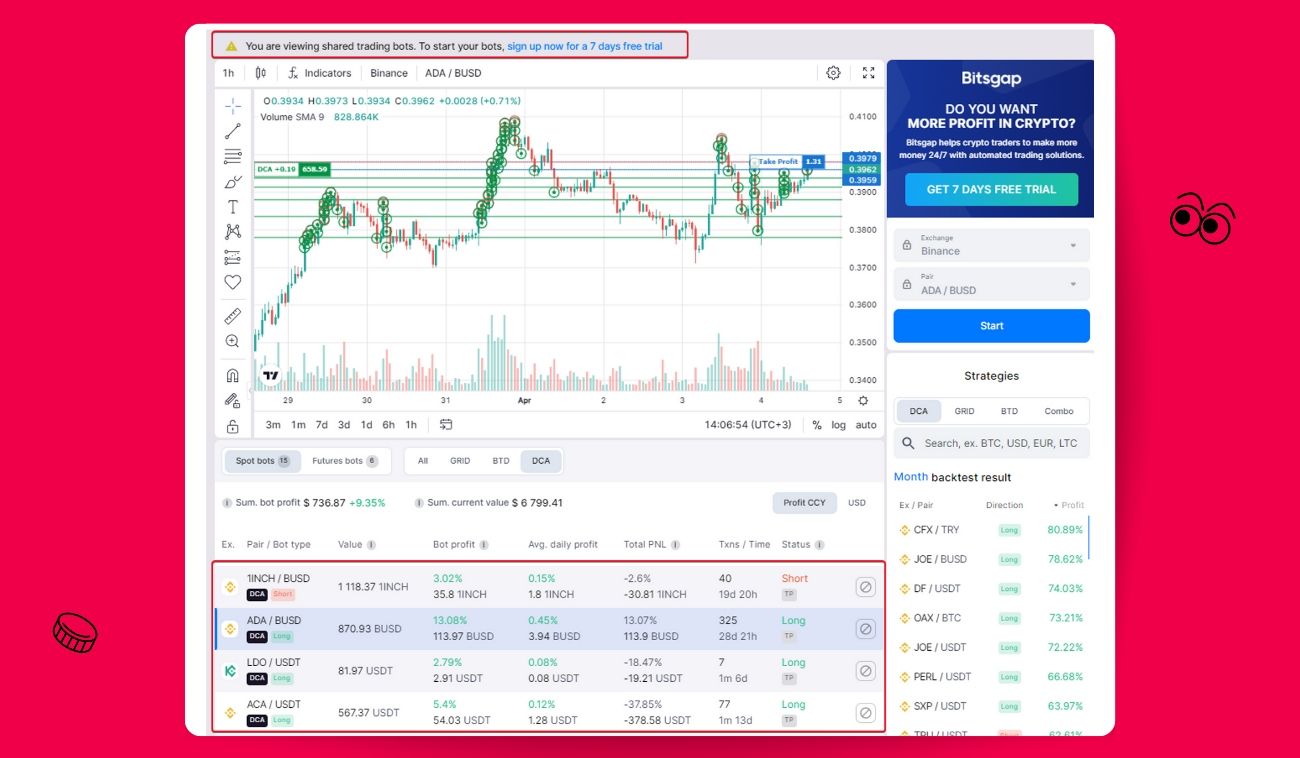 After you activate bot sharing (even if for one bot), all subsequently created bots are automatically added to that sharing (Pic. 4).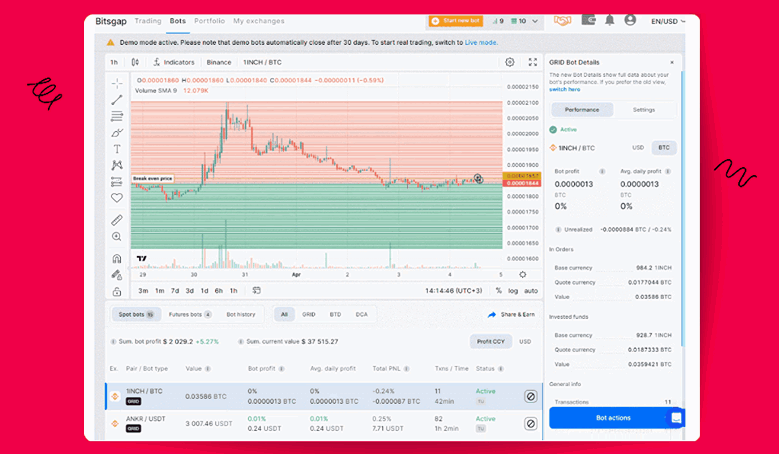 👉 The latest update allows you to share your DCA bots, which is great news! However, please keep in mind that if you switch to the old view and open the [Share & Earn] window, there won't be an option to enable or disable DCA bots. If you disable sharing through the old view while having active DCA bots, they will still be displayed on the sharing page in the new window. But don't worry, you can always disable sharing them in the new window instead.
On the sharing page, your referrals will also see a widget with strategies on the right side of the platform. When they click on any bot, the platform will show strategies for the selected type of bot (Pic. 5):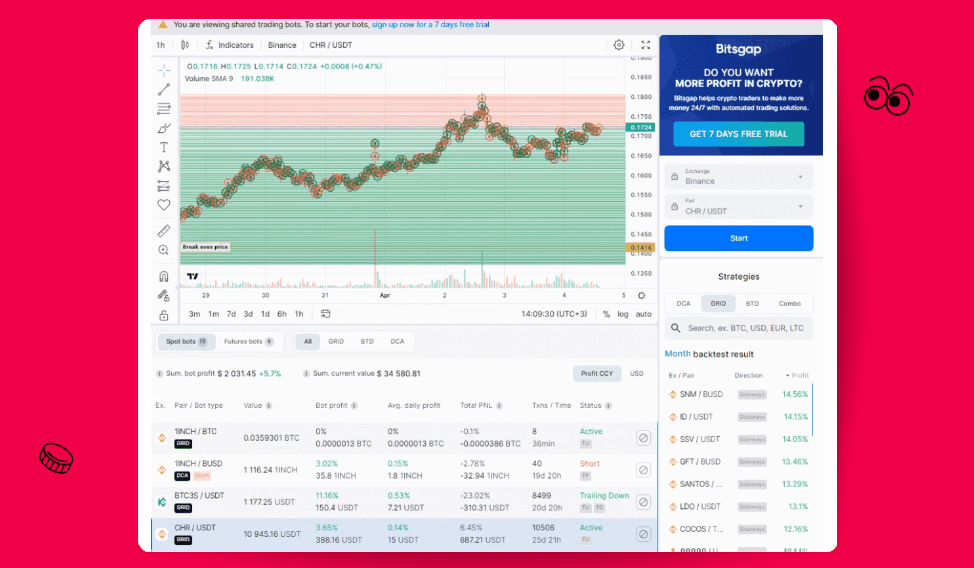 So, as you can see, [Share & Earn] allows you to conveniently share your trading results with friends and the community, attract referrals through the affiliate program, and monitor the performance of your bots without having to log in to the platform.
Bottom Line: Sharing Is Caring
Whether you're giving tips, inspiring your fellow traders with big wins, or attracting referrals with your bot-building skills, Bitsgap's [Share & Earn] helps you strut your stuff. The era of bot bragging is here, so get in on the fun—after all, sharing is caring!
It's like showing off your new kicks and getting a bonus for every friend who buys a pair! So what are you waiting for? Start sharing and earning today!