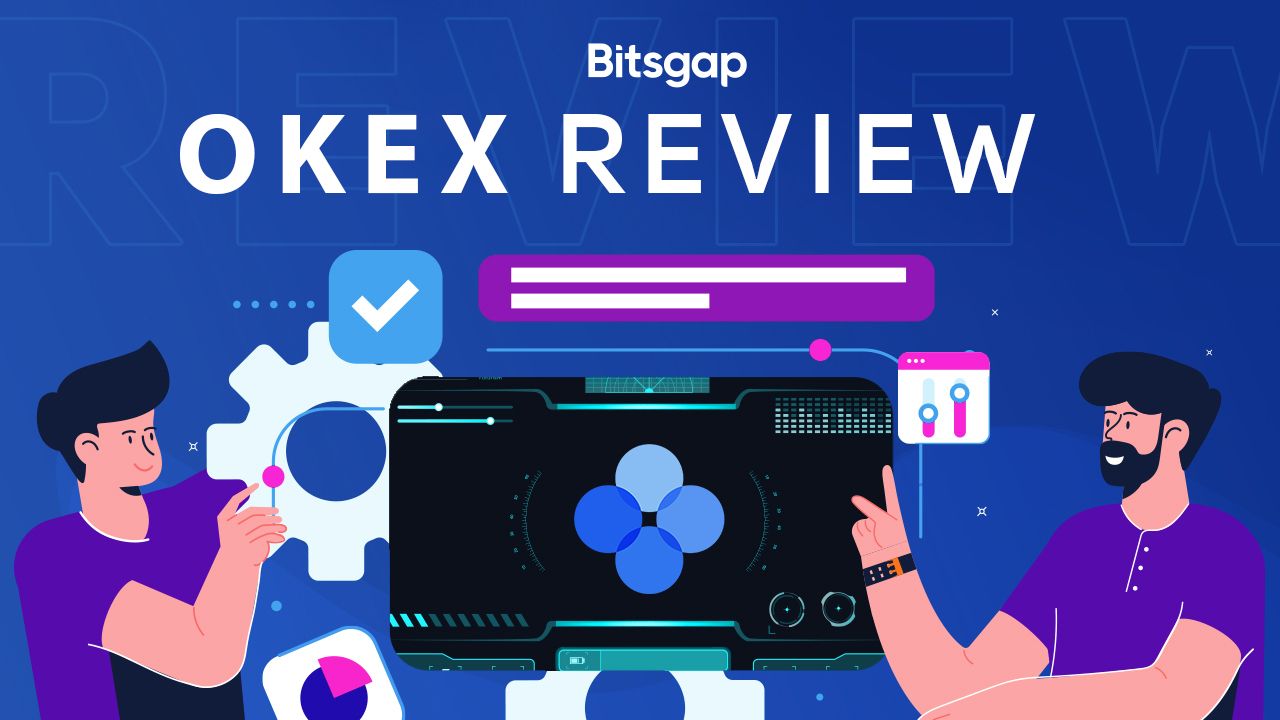 OKEx Crypto Exchange Review
OKEx is a Seychelles-based cryptocurrency exchange established in 2017 by Okgroup to provide a wide variety of services not limited to buying and selling of crypto, but including other features like derivatives and margin trading. These products are available for both manual and automated trading.
OKEx is a Seychelles-based cryptocurrency exchange established in 2017 by Okgroup to provide a wide variety of services not limited to buying and selling of cryptocurrencies, but including other features like derivatives trading, and margin trading. These products are available for both manual and automated trading.
In 2020 OKEx rolled out a proprietary blockchain, the Okchain, which has become a new focal point of the exchange's ecosystem, giving OKEx users access to such products like smart contracts, DeFi services, and cross-chain applications utilizing BTC.
Trading Volumes
The trading volume of any crypto exchange is determined by the number of transactions that occur on the platform. Thus, a low trading volume means low trading activity, which can become a problem when closing a massive position - traders can find themselves unable to sell an asset at a market price because an exchange cannot provide enough demand.
Fortunately, millions of users visiting OKEx on a daily basis generate enough liquidity. According to crypto data aggregator, CoinMarketCap, OKEx pools an average daily trading volume of $13 billion, a weekly volume of $119 billion, and a monthly volume of $265 billion. OKEx's yearly trading volume has increased by a whopping 320% since the last year, securing its position among the most trusted crypto exchanges in the world.
Trading Pairs
Listed crypto assets on the OKEx platform include flagship cryptocurrency, Bitcoin (BTC), largest altcoin by market cap, Ethereum (ETH), its closest rival Ripple (XRP), and a range of niche digital currencies like Dogecoin (DOGE), Polkadot (DOT), Cosmos (ATOM), etc. All of them can be traded across all the instruments available on the platform.
The OKEx exchange features more than 400 trading pairs and allows not only exchanging digital coins between each other, but also buying and selling them for 30 different fiat currencies, including USD, EUR, and JPY. The exchange supports purchasing digital assets with credit/debit cards, PayPal, Mercuryo, UPI, IMPS, or bank transfer.
OKEx Tradable Products
There are plenty of tradable products available for OKEx users. The list includes not only spot trading, but also futures, margin trading, perpetual swaps, and options. These products can be easily accessible via different types of trading automations including Bitsgap trading bots connected to OKEx via API.
OKEx allows both manual and automatic trading with futures and perpetual swaps with up to 100x leverage. While trading on the spot market is as simple as the "buy the dip - sell the tip" strategy, futures trading might seem confusing for inexperienced newcomers.
The exchange allows margin trading on spot and derivative trading products, enabling short-selling BTC, ETH, and other digital assets. OKEx enables up to 10x margin for the spot market and up to 100x margin for the futures market.
This can become a powerful tool to maximize profit from trading, however, users must always remember that using margin also increases the risk of losing up to 100% of the initial investments.
OKEx Trading Interface
You can access basic trading features by clicking "Basic Trading" on the homepage. There you will find all instruments you need to trade crypto from your portfolio, including charts, order book, and all the information you need to exchange digital assets within the OKEx ecosystem.

The massive window with charts located in the very center of the screen can be very informative offering dozens of indicators and analytical tools. The list of available trading pairs is hidden in the drop-down menu in the left part of the screen, while on the right, you may find the trade order window. All open positions are neatly located at the bottom of the screen.
There is also an opportunity to switch between the OKEx charts that are set as default and Trading View charts, famous for their clean and informative look. Just like those used with Bitsgap trading bots.
OKEx is famous for the wide range of orders available for placement. Among them are:
Limit and Advanced Limit (Fill Or Kill, Post Only, and others)
Market
Stop Limit
Trail
TWAP
Iceberg
The Iceberg order might be called the OKEx exclusive. It was made to benefit those who trade big. To reduce the slippage effect, the Iceberg order cuts a user's large position into multiple orders and places them according to the preset parameters.
OKEx Trading Fees
The OKEx exchange utilizes a complicated fee system divided into two different tiers for regular and VIP users. Each tier has five and seven levels respectively.
Fees for regular OKEx users entirely depend on the OKB, the exchange's native token. holdings. The more OKB users hold on their balance, the fewer fees they are charged.
OKEx Fees for the Spot Market
OKEx fees model is divided into maker and taker fees. They start at 0.1% and 0.15% respectively for users with under 500 OKB tokens on their exchange balance. These fees can be reduced to as low as 0.06% and 0.09% if users claim and hold at least 2,000 OKB tokens in their OKEx wallet.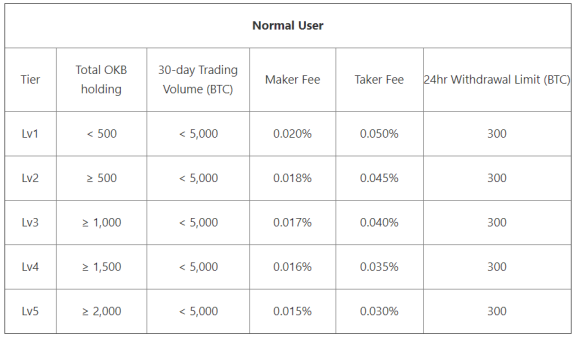 Fee policy for VIP clients is generally determined by a sum of different criteria with focus on their 30-day trading volume.
OKEx Fees for the Futures and Perpetual Market
OKEx trading fees for the crypto derivatives market start at 0.02% for maker orders and 0.05% for taker. For the users who hold more OKB tokens, these fees can be reduced to 0.015% and 0.03% respectfully.
Compared to other popular exchanges offering margin trading such as FTX and Bybit, OKEx offers lower fees, which may become essential for those who trade high volumes.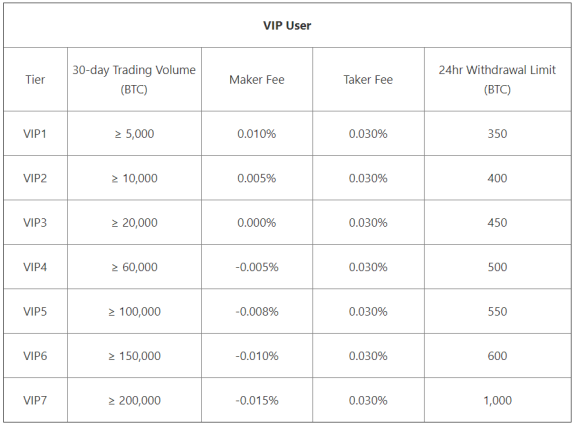 KYC on OKEx
While Know Your Customer policies of crypto exchanges become tougher, there are many among them who don't make identity verification a compulsory task before you can start trading crypto. OKEx is one of them. Not meeting identity verification requirements doesn't prevent you from trading or depositing your crypto exchange account. However, it reduces your withdrawal limit.
There are three levels for identity verification on OKEx. The identity verification process on individual and corporate accounts is totally different.
On individual accounts, Level 1 requires traders to submit their nationalities, names, and ID numbers. For Level 2, a user's photo with an ID scan should both be submitted via Netverify. To reach Level 3, a user must complete both Level 1 and Level 2 verification and after that access the webpage with the disclaimer containing further instructions.
The daily withdrawal limits for these levels including the unverified phase differ on the OKex platform.
Unverified - 10 BTC
Level 1 - 200 BTC
Level 2 - 500 BTC
Level 3 - 500 BTC
There is no need to submit proof of funds or tax reports on individual accounts; For corporate accounts, however, this requirement still stands.
OKEx Jurisdiction
OKEx has established a wide presence across more than 100 countries all over the world. Thanks to a user-friendly interface, competitive fees, and a list of unique features, OKEx managed to attract millions of users and secure one of the leading positions among other crypto exchanges.
However, there are countries and territories where the exchange does not provide services due to legislative, financial, or other reasons. The list includes Hong Kong, Cuba, Iran, North Korea, Crimea, Sudan (both North and South), Malaysia, Syria, United States of America — including all U.S. territories, such as Puerto Rico, American Samoa, Guam, Northern Mariana Island and the US Virgin Islands, Bangladesh, Bolivia, Ecuador, Kyrgyzstan and Malta.
Automated Trading on OKEx
Since there are no built-in trading automations such as grid-trading bots or smart orders, how can you connect your OKEx account to an automated trading software as a trader that does not enjoy trading manually?
Bitsgap not only allows you to activate trading bots, but you can also check your OKEx portfolio, both spot or futures, on Bitsgap trading terminal. Aside from that, Bitsgap supports more than 25 crypto exchanges including OKEx.
As such, you can take advantage of arbitrage opportunities on Bitsgap, where you get to buy on OKEx and sell on another exchange. Traders can always activate third-party trading bots via the application programming interface, commonly known as API.
Does OKEx Charge Any Fee For Automated Trading?
OKEx doesn't charge any additional commission for automated trading. The only commission you need to pay is the trading fee, which is applicable in manual trading. Some third-party automated trading solutions for OKEx may require additional fees but OKex does not receive any commission from these payments.
Trading automations for OKEx provided by Bitsgap also charge no extra commissions from traders, users only pay a regular monthly fee according to their subscription plan.
How Do I Connect My Trading Bots to OKEx?
First, head to OKEx exchange and create an account if you don't have one.
After creating, click the top-right corner on your OKEx dashboard. Then tap on the API icon and fill in the details. Remember to copy your API key.
Activate the necessary permissions such as read and trade. Ensure that the withdrawal permission is not activated as this exposes your OKEx trading account.
Head to your Bitsgap account, Click on the "My Exchanges" icon.
Click "Add Exchange" and choose OKEx from the list, then input the API key in the column provided.
Tap the "Connect" button.
Fascinating! Now, your OKEx account is connected to Bitsgap.