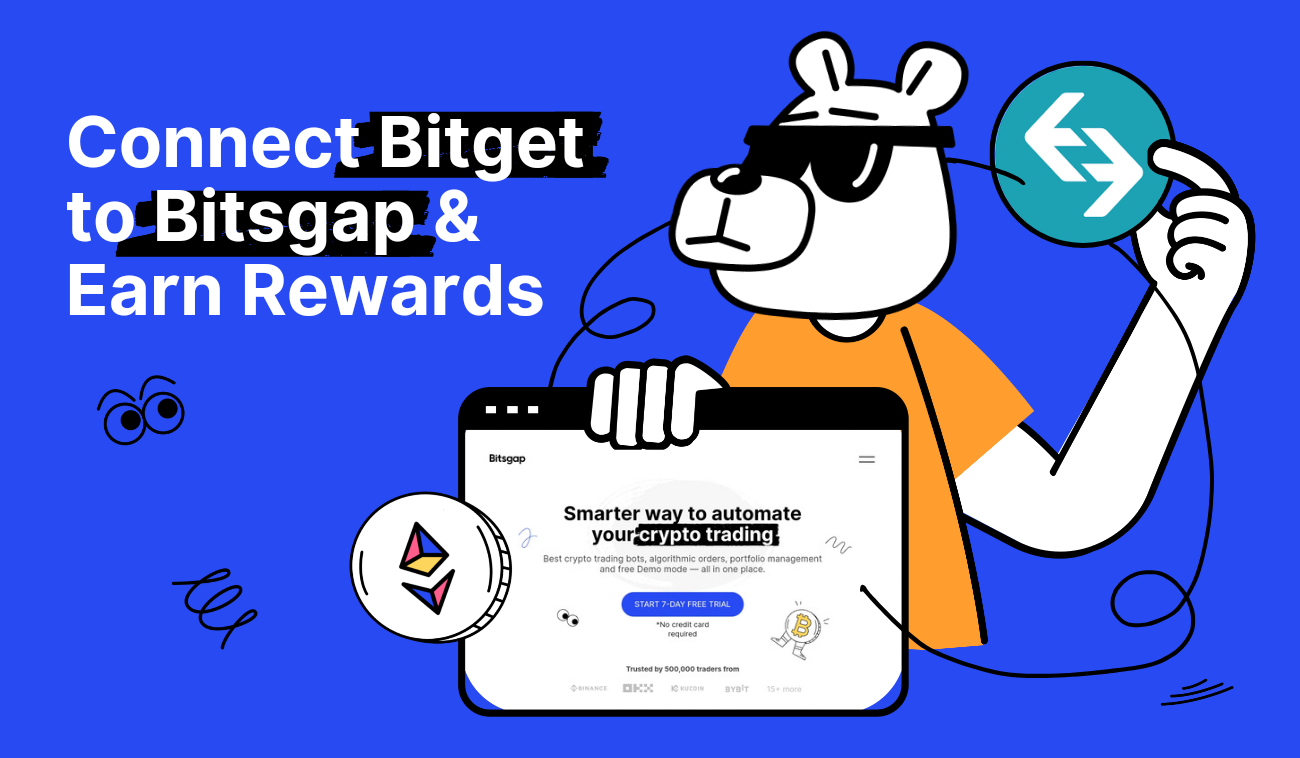 Bitsgap and Bitget Join Forces: Learn How to Connect Bitget & Win Freebies
Bitsgap has just expanded its trading universe by partnering with Bitget! Discover the benefits and rewards of connecting your Bitget account with Bitsgap and learn how you can get started today!
Thrilling news, folks! Bitsgap has now broadened its horizon to include Bitget exchange as well! But wait, there's more! Link the two platforms within a month, and you're in for a spectacular surprise. Learn what's in store!
We're over the moon to announce our latest partnership with yet another grand exchange, Bitget! This means you're now empowered to trade across a whopping 16 TOP crypto exchanges using Bitsgap.
But that's not all! Follow our referral link to connect the two platforms and a treasure trove of rewards await — cash bonuses, cashbacks, and even a shot at a free subscription! Curious? Well, buckle up and read on to delve deeper into Bitget exchange, discover how to tether it to Bitsgap, and uncover the delightful surprises if you do that within a month!
What Is Bitget?
As the leading centralized crypto exchange, Bitget proudly serves an impressive community of more than eight million users. Since its inception in 2018, Bitget has bloomed into a formidable enterprise backed by a robust team of over 1300 specialists from across 60 countries.
Here are some fascinating facts about Bitget that will get your pulse racing:
A bustling average daily trading volume of $10 billion
All-encompassing crypto trading services, including copy trading, spot and futures trading, and crypto trading bots
Over 500 trading pairs
More than 500 assets, including native Bitget Token (BGB)
Support for 40+ fiat currencies and 70+ payment methods
A global customer base of 8 million registered users
More than 100% of user assets in BTC, ETH, USDT, and USDC with a dedicated user protection fund currently valued at $300 million
Dedicated iOS and Android apps
An impressive array of stellar partners such as Lionel Messi and PGL Arlington Major
Yay, cheers to Bitget! This partnership is so exciting because Bitget offers an absolutely stellar trading experience. With a rich variety of crypto assets, deep liquidity across markets, ultra-secure systems, low fees, and unique staking opportunities to earn more coins — Bitget has it all!
👉 And if that wasn't enough, they're also partners with the legendary Messi himself! Because who doesn't get excited by Messi, right?
Why Link Bitget to Bitsgap?
By linking Bitsgap, you unlock access to amazing smart trading tools, further bolstered by trailing and hedging features.
But the real gem is our brilliant trading bots, ready to work tirelessly around the clock so you never skip a beat in the profit-making game. Whether you're a fan of GRID, DCA, or any other strategy, Bitsgap has got your back on the spot market.
Stuck? Bitsgap's here for you, every step of the way! Our dedicated support team is available 24/7 and fluent in five languages. We're committed to providing you with the help you need when you need it in a language that feels like home.
Extra Rewards, you say?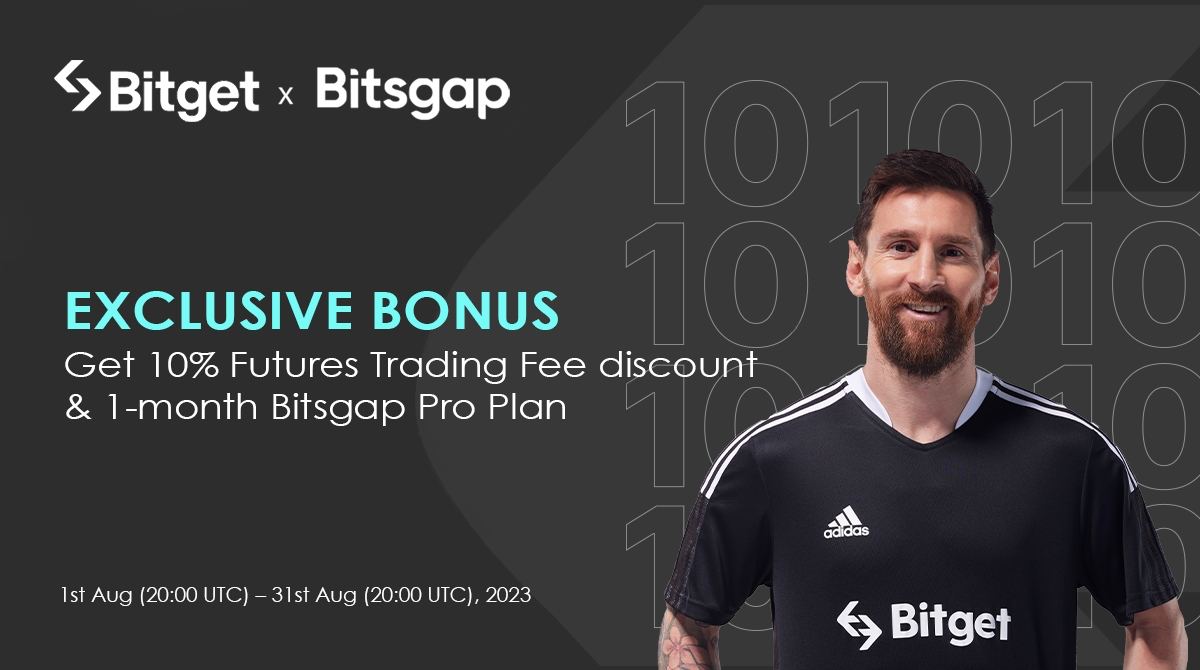 Exactly! Linking Bitsgap to Bitget is not just a breeze and ultra-secure — all it requires is an encrypted API key — but it also showers you with additional perks.
Here's the action you need to take versus the rewards you're going to rake in!
From August 1 (20:00 UTC) till August 31 (20:00 UTC) 2023:
Register + KYC = $10 Trading Bonus!
Be among the first 150 users to register on Bitget via our referral link, clear the KYC level 1, and voila! A cool $10 welcome bonus is yours!
Trade and Bag a 10% Future Trading Fee Discount!
In the heat of the promo period, sign up through the Bitsgap referral link and seize a whopping 10% discount on all futures trading fees.
Deposit and Cash in on 10% Cashback!
Be one of the first 100 users to deposit a minimum of 100 USDT and you'll nab a 10% cashback as a trading bonus on your deposit, plus an extra bonus of up to 100 USDT!
Trade and Triumph with Bitsgap Pro Plan!
The top three traders by trading volume made with Bitsgap bots will walk away with a free one-month Bitsgap PRO plan. Show your trading prowess and claim the prize!
All of the above — exclusively for Bitsgap users who used the referral link.
Now, isn't that something to look forward to? Why wait? Take the leap now! Link your Bitget account with Bitsgap or sign up at Bitget via our referral link (if you're not a member yet) and immerse yourself in a sea of benefits!
How to Connect Bitget to Bitsgap
Connecting Bitget is a total cinch too. We've made it crazy simple to start using Bitsgap's awesome features in no time flat. Just follow our short step-by-step guide, and you'll be good to go:
Kick-off by logging into your Bitget account and heading to [API management] (Pic. 1).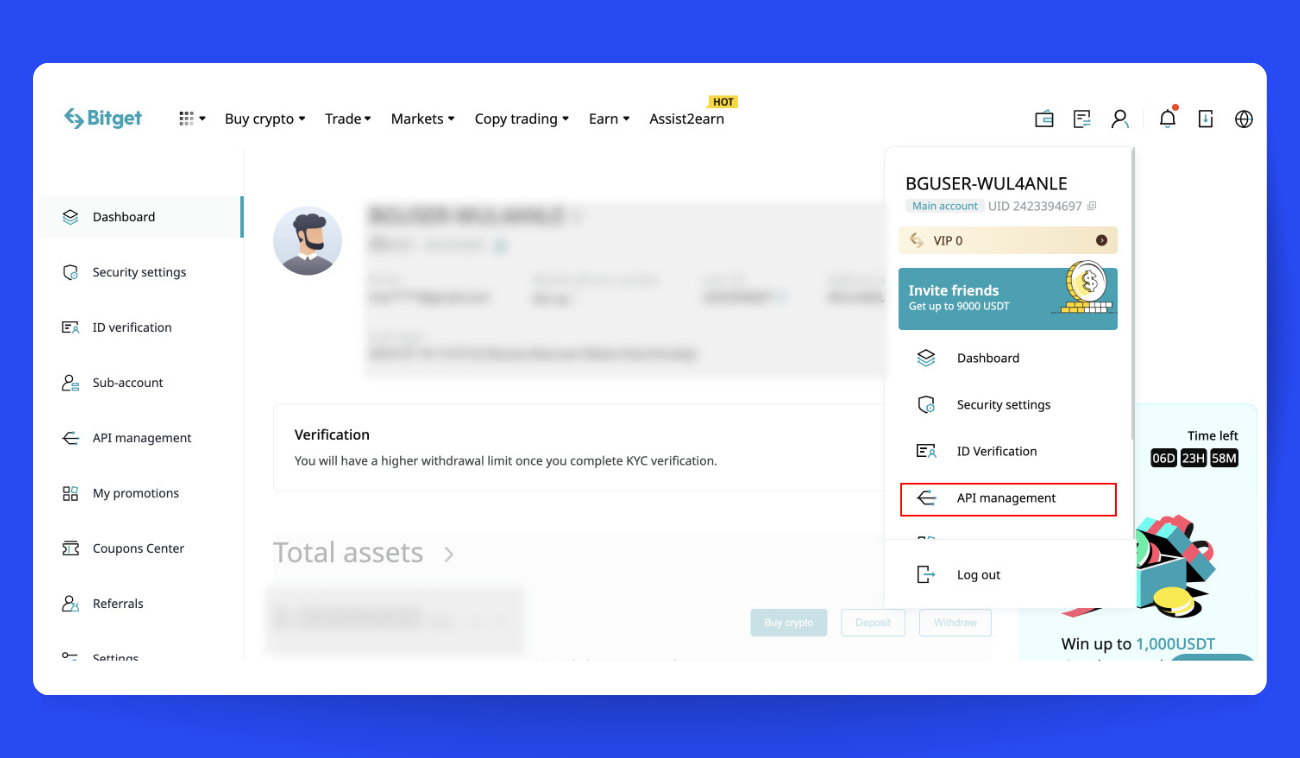 To generate an API key, you'll need to enable 2FA. If you haven't yet, head over to [Security settings] to activate it. Next, return to the [API management] page and click [Generate API] (Pic. 2):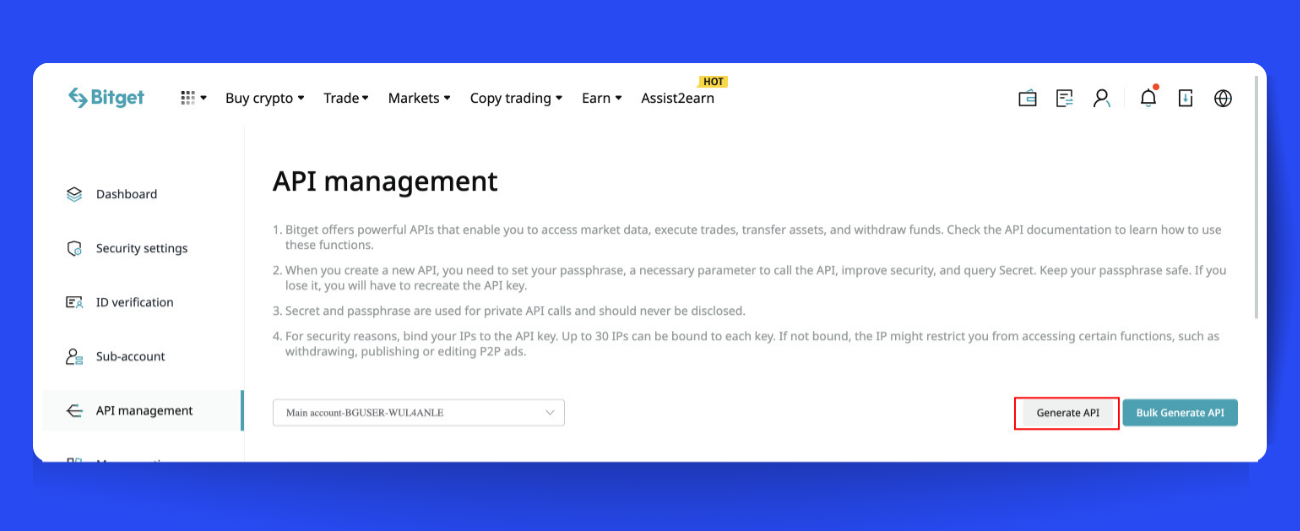 Fill out the form (Pic. 3), including 2FA codes when prompted. Check-mark [Trade] in [Permissions] and leave out the rest: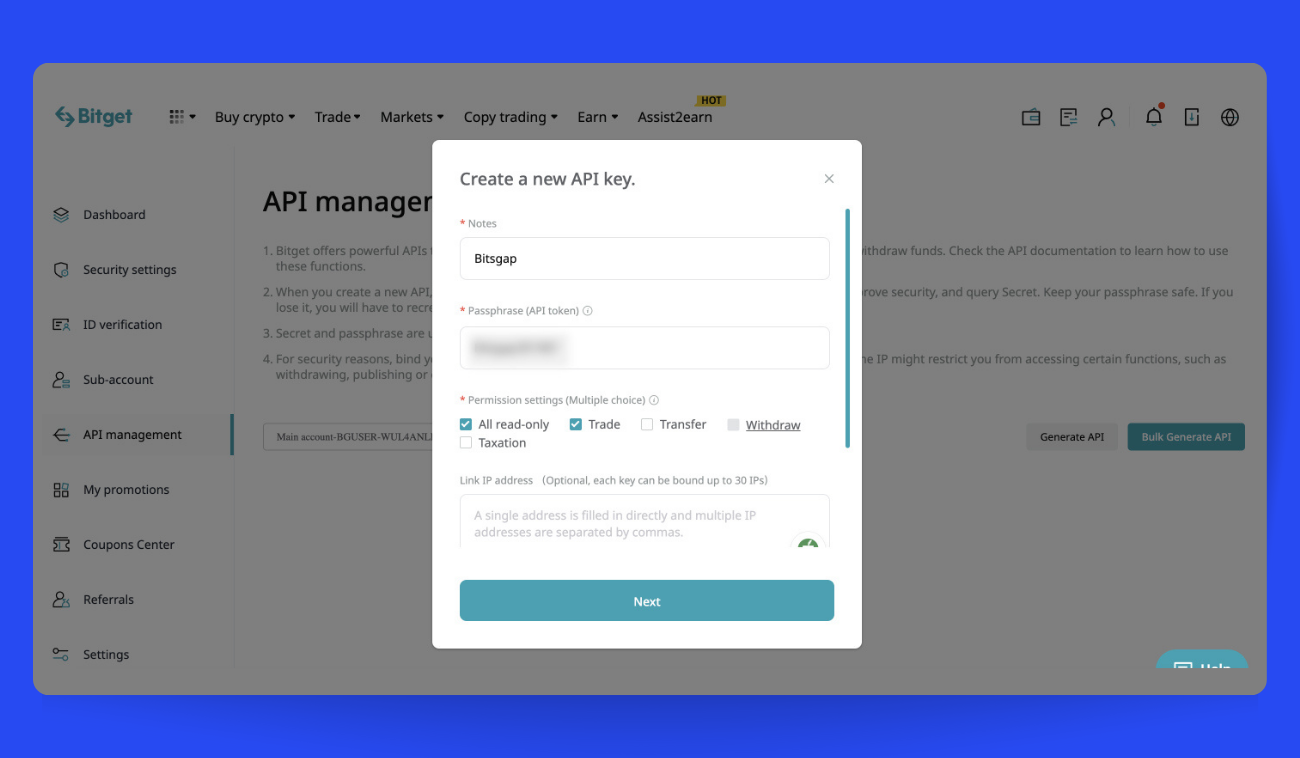 Once you're done, click [Next]. Make sure to copy both the API key and Secret key (Pic. 4):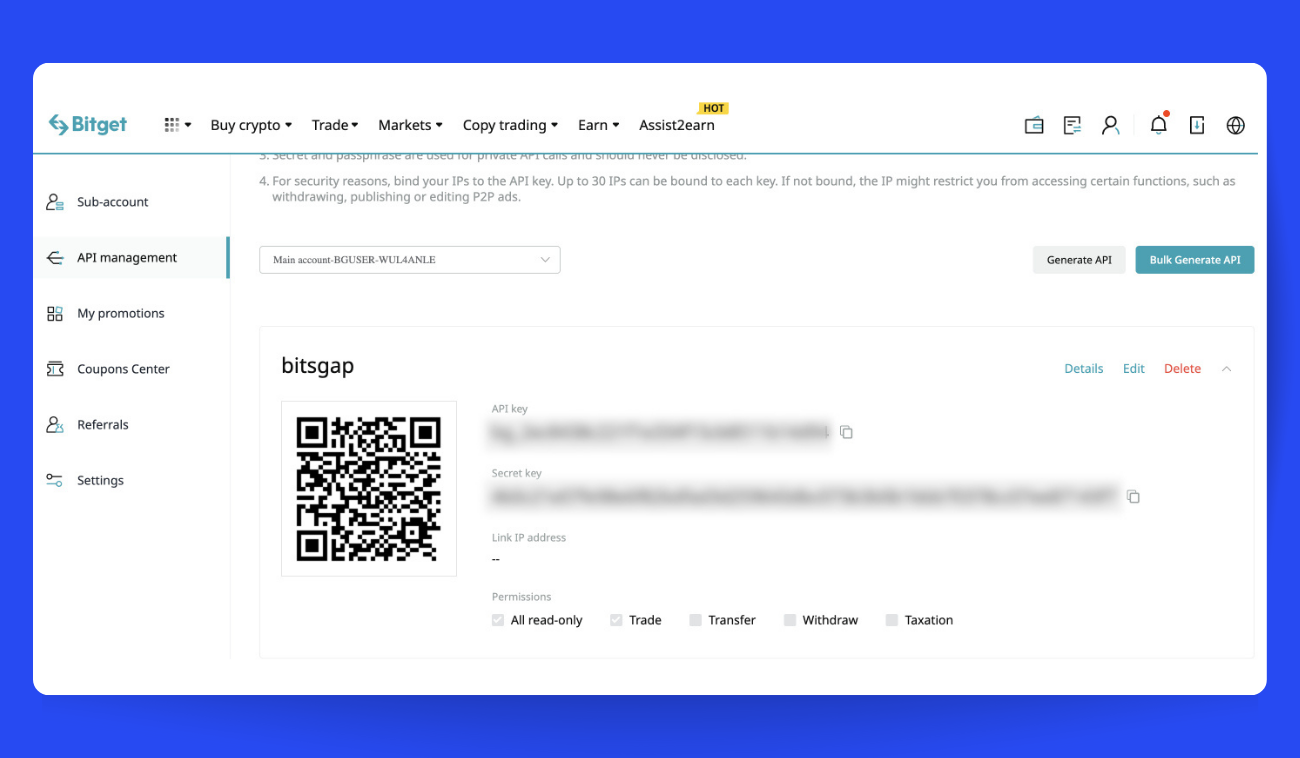 Now, shift over to Bitsgap. Head to the [My Exchanges] page and click [Add new exchange]. From the list of available exchanges, select Bitget, enter your API information (the API key and Secret key), and click "Connect."
If the information is correct, Bitget will show up on the [My exchanges] page with the [Connected] status.
Or maybe you prefer cool videos? 🎥 Dive into our Video Explainer below—It's quite short but packed with step-by-step visuals to get you connected in no time!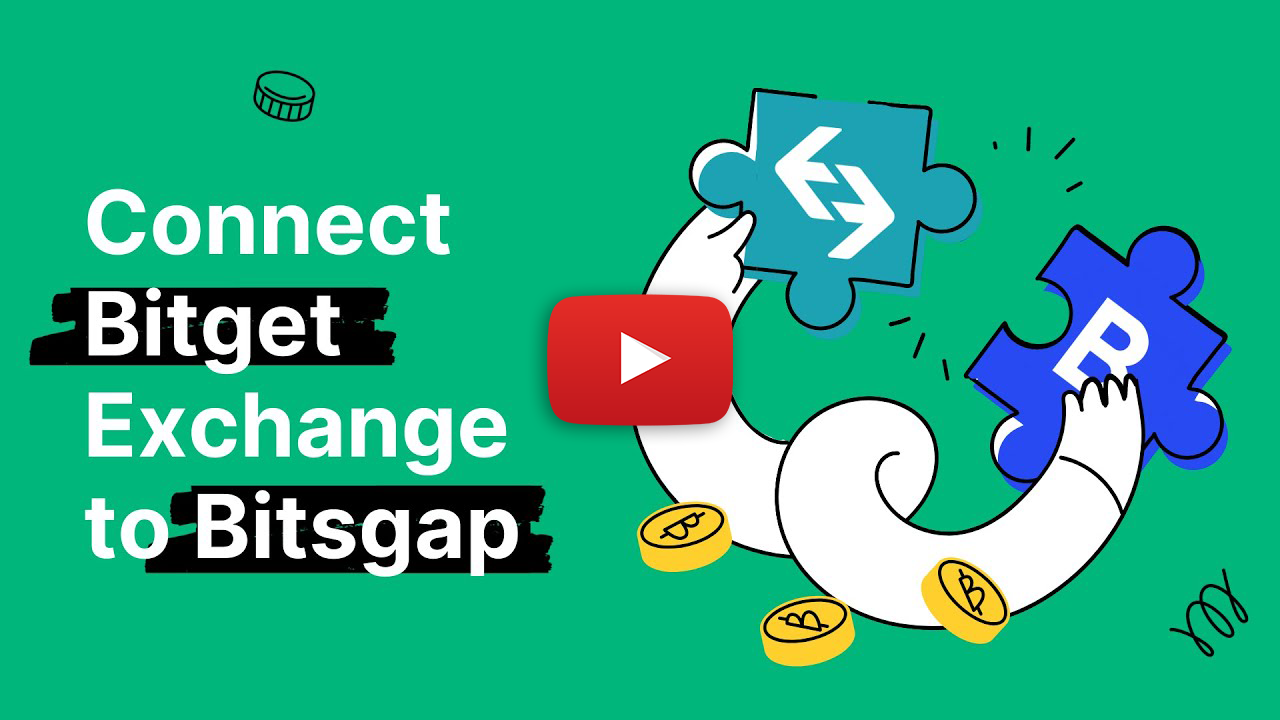 Bingo! You're all done and ready to roll!
Bottom line: Bitsgap Hearts Bitget
Bitsgap is jazzed to join forces with Bitget, rolling out a host of thrilling events like AMA and promotions where you can grab rewards galore while stocks last! Keep an eye on our social media channels and dive right in as soon as the news hits!
So, what's the hold-up? Click that link to tether Bitget to Bitsgap pronto and begin reaping rewards with our trading bots. Follow the referral link to pocket some bonus dosh too!