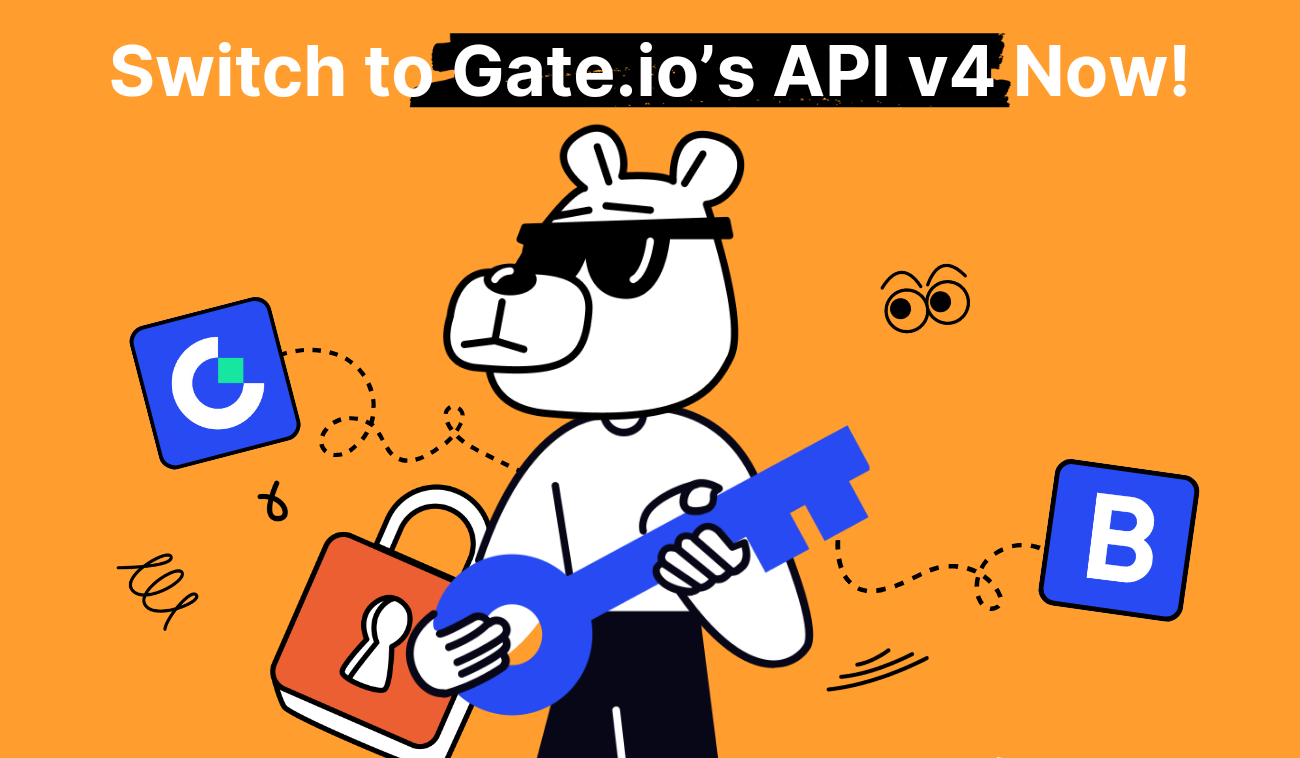 Switch to New APIs with Gate.io to Continue Using Bitsgap
Make the easy switch from Gate.io's API v2 to v4 keys today and ensure uninterrupted, top-notch trading!
As of September 1, 2023, Bitsgap is leveling up to exclusively support Gate.io's version 4 API keys. As the v2 API keys will no longer be in play, update your keys ASAP to continue to enjoy the full benefits of Bitsgap.
Starting September 1, 2023, Bitsgap is upgrading its system to exclusively support Gate.io's version 4 API keys. This switch signals both platform's commitment to improved security and functionality, and we're thrilled to share this advancement with you.
However, please note that this means the v2 API keys will no longer be compatible. We understand that change can be a bit daunting, but we assure you that the transition will be well worth it. We strongly encourage you to update your API keys as soon as possible to continue enjoying the seamless integration of Gate.io with Bitsgap.
Dive into our quick guide on how to smoothly update your keys, ensuring uninterrupted access to the perks of both platforms. No downtime, just seamless transitions!
👉 TL;DR: As of September 1, 2023, API v2 will cease to function. To prevent your bots and manual orders from being cancelled, transition to Gate API v4 immediately. You can generate new API keys on Gate.io and choose v4 in the API key types.
Why Change My API Keys?
As part of Bitsgap's relentless pursuit of innovation and improvement, we have embraced a new level of synergy with Gate.io through the transition to API version v4 as of late August. This signifies that, starting September 1, our platform will exclusively support the version 4 API keys. Why this choice? Simply because APIv4 offers comprehensive trading operations, robust security authentication, and adherence to the renowned OpenAPI Specification industry standard.
Peeling away complex technical jargon, the key takeaway is that this upgrade is a game-changer. It's not just about being more secure but also being … well … better! ;)
A timely change of your API keys ensures you continue enjoying the synergy of both platforms without skipping a beat. The exchange API key, unique to every user, is your reliable companion in this process. Don't worry, it's still super safe, safeguarding your personal data and preventing any funds management, including withdrawals and deposits.
How to Update My Gate.io Keys?
Good question, because to keep enjoying the seamless experience with Bitsgap and Gate.io, you'll need to update your API keys to version 4 as soon as possible. And here's how:
Start at Gate.io and navigate to the API Keys page:
Log in to your existing Gate.io account (or create a new one), click on your profile icon (top-right corner) and proceed to the "Profile" page. From the "Sub-accounts and APIs" tab on the left, move to the "API Management" page (Pic. 1)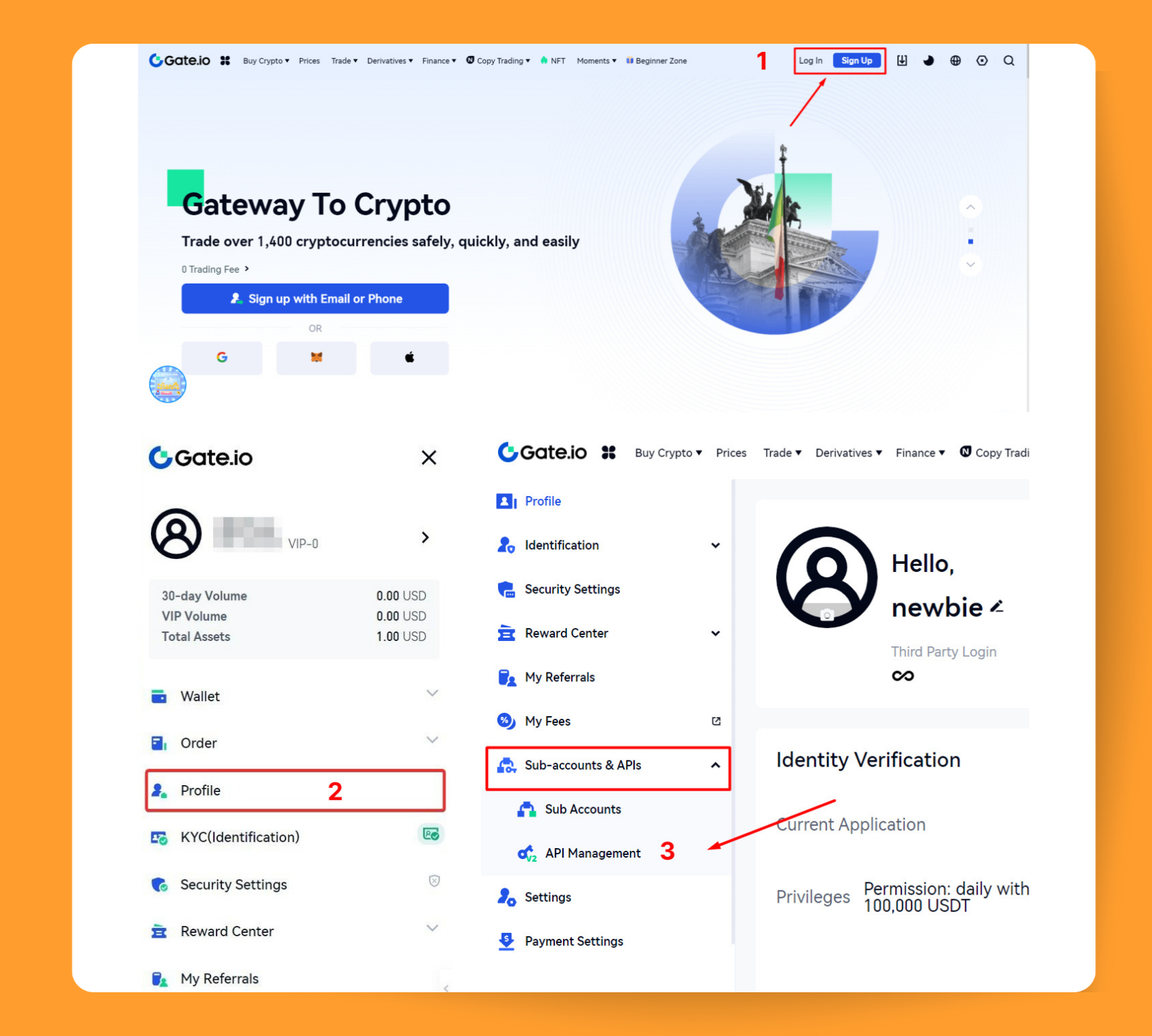 Click the [Create API Key] button to bring your new API key to life.
Set your API key permissions
Edit your permissions as shown in the example below (Pic. 2). These permissions enable us to access your history, current balance, and execute trades on your exchange account.
Here's what you need:
IP permissions: Later
API key Type: API v4 Key, Read and Write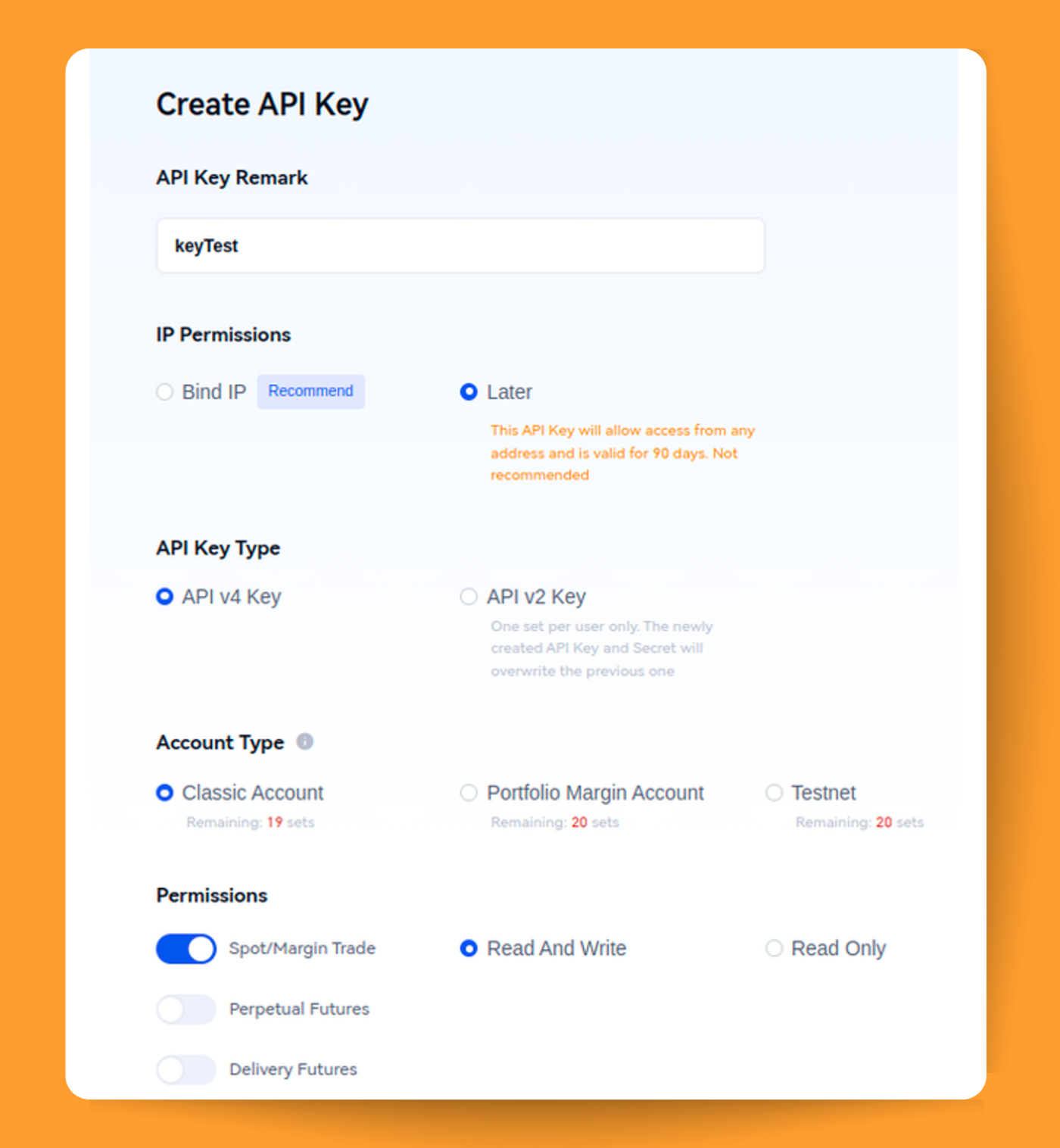 Once ready, hit [Submit].
Enter your security code
Complete the security verification by filling in your 2FA code and Fund Password.
Secure your API key and Secret key
Congratulations! Your new Gate.io trading key is live and ready to roll (Pic. 3). Please, safely store your API key and Secret key before adding them to Bitsgap.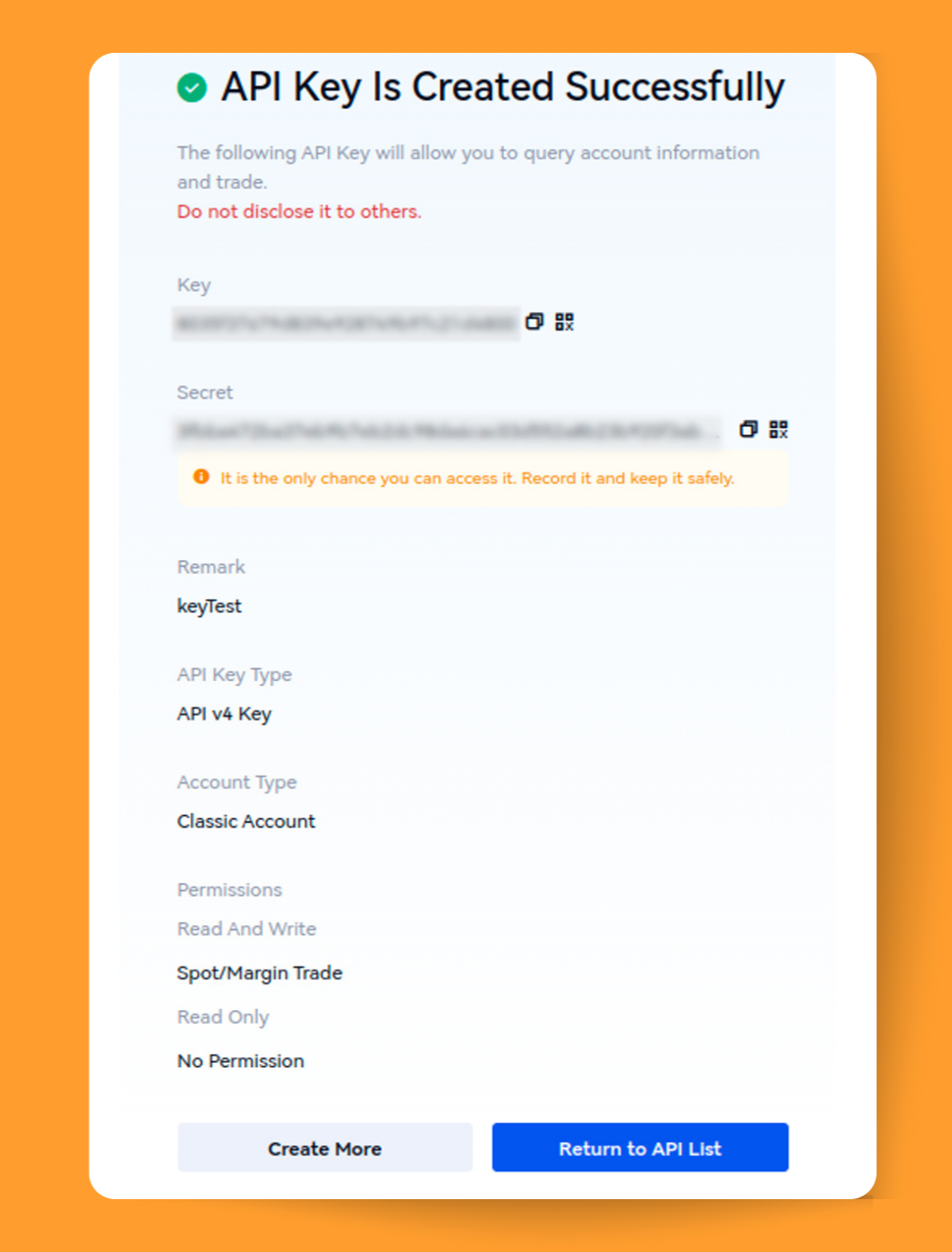 Head to Bitsgap > My Exchanges
Log in to your Bitsgap account and proceed to the "My Exchanges" page. Here, you'll find an option to connect your Gate.io account. Click [Add Exchange].
Select Gate.io exchange from the list
In the pop-up window, choose Gate.io. You'll then be prompted to add your API key and Secret key. After entering these, click [Connect] (Pic. 4).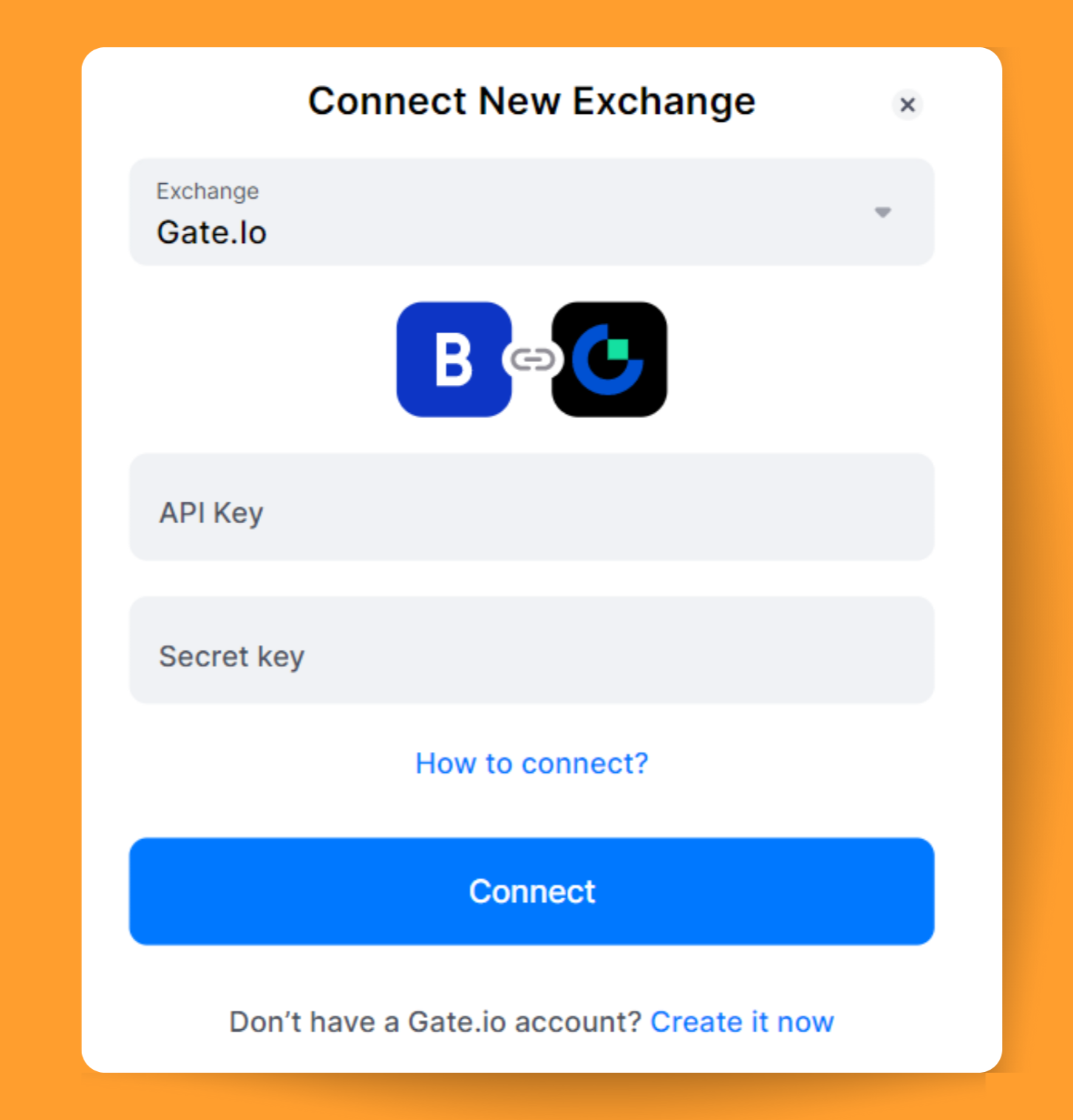 If all steps have been correctly followed, Gate.io will appear in your list of connected exchanges with the "Connected" status and the trading balance available on your account.
Running out of time to master all the nitty-gritty details? Here's a pro tip: Watch this awesome, short video tutorial below. You'll be a whizz at Gate.io API v4 before you even know it. Challenge accepted?
Bottom Line
In a nutshell, make the switch to APIv4 today and continue to enjoy seamless trading with our top-notch tools and Gate.io's exceptional access to a diverse range of crypto assets. The process is a breeze — simply generate your new API 4 keys and link them to Bitsgap. And remember, we're just an email away at support@bitsgap.com — always at your service.
Happy trading!