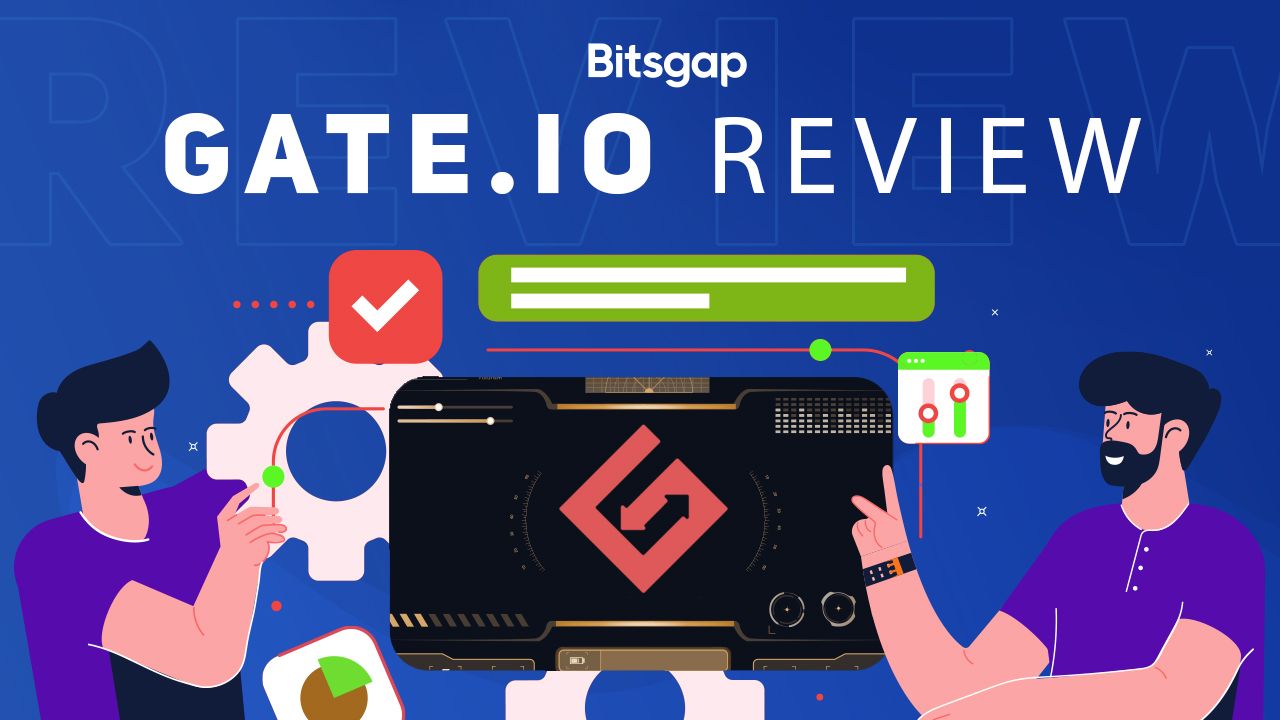 Deep Dive Into Gate.io Exchange and Automated Trading Enabled
Within a few years, the exchange had acquired worldwide recognition and is currently available in almost every country across the globe. The official site supports over 500 cryptocurrencies, with over 1,000 trading pairs, and allows for spot and margin trading.
Gate.io is a crypto exchange platform that allows users to trade BTC, litecoin (LTC), ether (ETH), qtum (QTUM), and other crypto assets. Within a few years, the exchange had acquired worldwide recognition and is currently available in almost every country across the globe.
The official site supports over 500 cryptocurrencies, with over 1,000 trading pairs, and allows for spot and margin trading. Gate.io has also expanded its services to exchange traded funds (ETFs), options, futures, and derivatives. It is primarily a platform for professional traders.
Background and History of Gate.io
Gate.io, founded in 2013 by CEO Lin Han, is one of the earliest Chinese crypto exchanges. Bter.com was the name of the exchange until 2017. When the Chinese government outlawed fiat-to-crypto trade in 2017, it was compelled to rebrand as Gate.io.
It deleted the previous domain, stopped offering fiat cryptocurrency trading pairs, and shifted its focus to crypto-to-crypto and the Chinese yuan over-the-counter (OTC) transactions.
The exchange was formerly recognized as a Chinese platform, but it now appears to be based in the United States, with a registered address in Virginia. Gate.io, which relaunched in 2017, is one of the most rapidly expanding cryptocurrency exchanges, featuring a leading initial exchange offering (IEO) platform, a diverse portfolio of cryptocurrencies, leveraged margin trading, and other cutting-edge financial services, including margin lending and borrowing.
Despite having a strong trading engine, the platform interface is cluttered and is not the greatest location for new investors to start.
In 2015, the exchange was hacked, which resulted in a loss of 7,000 BTC. The coins were taken from the company's frozen wallets.
Trading Interface
For a complex exchange like Gate.io, simplicity and ease of use for its clients are essential. As a result, the platform's user interface resembles those of its main rivals, such as Binance, KuCoin, and others.
Even though the diversity of options might be daunting at first, navigating different site areas is very simple. Users can navigate through crypto markets, spot and margin trading, lending, borrowing, perpetual contracts trading, financial services, the IEO platform, or wallets overview from the main menu.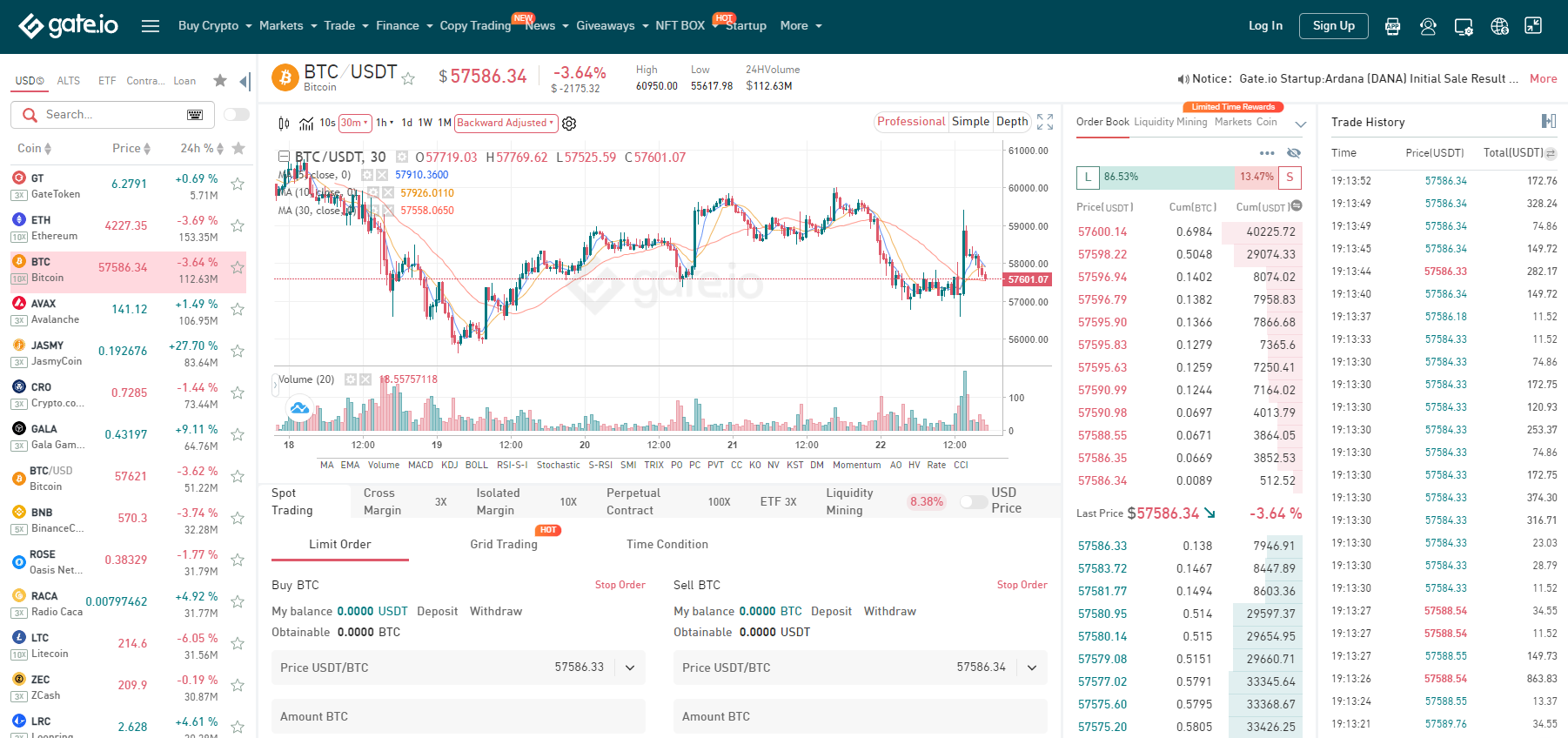 Using the search feature or browsing via the main menu, the marketplaces are very straightforward to discover. Switching from market to market is also simple, since you can do so by scrolling down the left side of the screen to the markets tab.
The trading charts will be in the center of the screen. You may pick between a standard and a professional chart view on the platform. On the right side of the screen are the order books, while placing orders is located on the bottom. You can now put Iceberg and Immediate-or-Cancel (IOC) orders, in addition to normal orders.
Nonetheless, Gate.io trading gives the appearance of being a bit crowded and disorganized. Too many things are going on at once, and the window modification choices are fairly restricted.
On the plus side, the background may be set to one of three distinct night settings. Furthermore, the Gate.io Startup IEO platform is a top-notch operation that allows you to rapidly invest in the hottest cryptocurrency projects.
Gate.io Startup is a lucrative IEO platform. At Gate.io, the average ROI per IEO is greater than 300%. It also makes it quite simple for anybody to engage in IEOs, as there are no additional criteria for investors beyond a basic know-your-customer (KYC) check.
If you like trading on the move, you should check out the Gate.io mobile apps. They're compatible with both Android and iOS devices.
Trading Volume
Gate.io is ranked 10th out of over 150 crypto exchanges, with a 24-hour trading volume of $4.4 billion. The Gate.io exchange offers over 1,000 market trading pairs and 540 cryptocurrencies are listed.
Gate Technology Inc. manages Gate.io. It features a secure SSL link and Offline Bitcoin Wallet Technology, and instant deposit and withdrawal options for cryptocurrencies.
Before trading for real money, new traders can practice on the Gate.io perpetual contract testnet. If you have any problems with Gate.io, a customer service live chat is always available. To understand more about Gate.io features and procedures, you may send a ticket or explore the Support Center.
Gate IO's Trading fees
Gate.io, like other crypto-to-crypto exchanges, charges reasonable fees. If you want to trade on the platform, you will pay no deposit fees, a 0.2% spot and margin trading charge for both makers and takers, and a modest withdrawal fee that varies depending on the cryptocurrency being withdrawn. Other than that, Gate.io offers helpful trading fee savings to its most active traders.
When it comes to individual currencies like tether (USDT), ETH, or tron (TRX), Gate.io might be the cheapest exchange, but it is somewhat more costly when withdrawing monero (XMR), XRP, or BTC.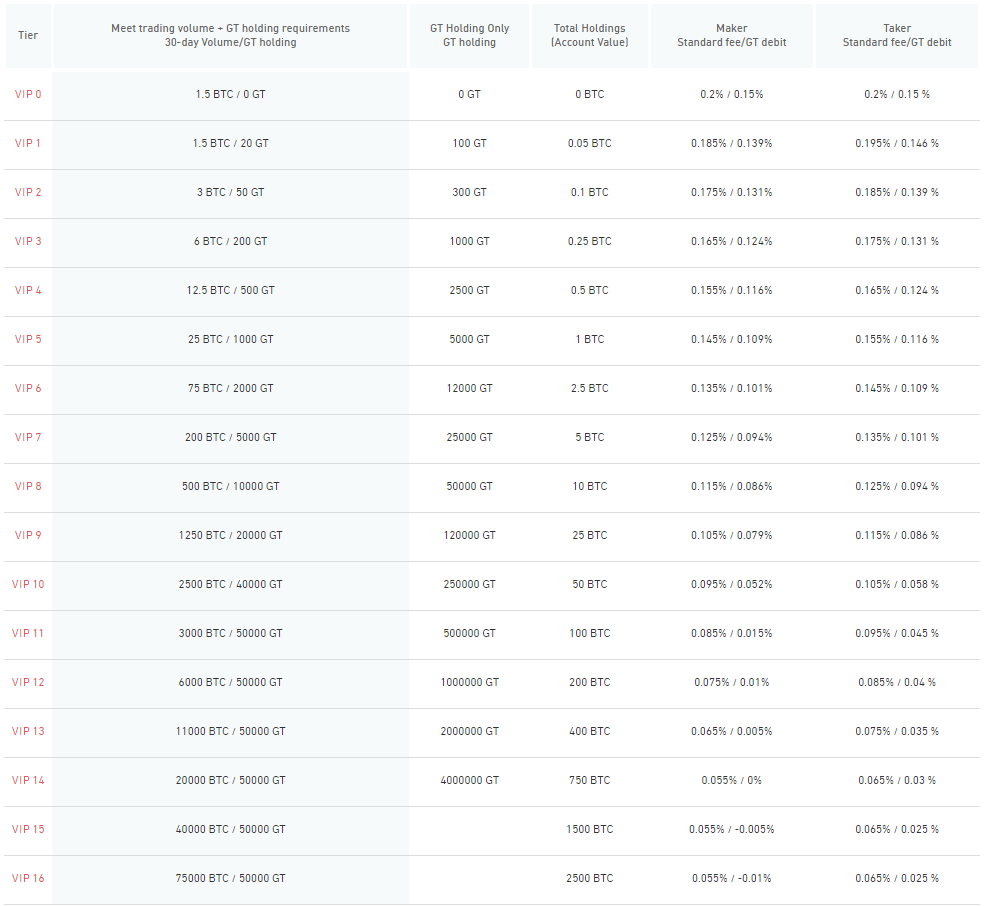 Gate.io is one of the most costly crypto-to-crypto exchanges in terms of taker and maker fees. For trading a high volume of bitcoin and altcoins, exchanges like HitBTC, Binance, and KuCoin may be less expensive. It is, however, still less expensive than trading on a platform like Bittrex.
Gate.io now provides a Point plan discount for trading costs in addition to the volume-tier discount. For every point you own, you can earn a 1 USDT trading cost reduction. The points may be acquired using USDT tokens via the user's Gate.io wallet area.
Perpetual contract trades on Gate.io have different costs. Gate.io encourages market-creating by charging a negative -0.025% Maker fee (which is paid in BTC) and a 0.075% Taker fee. Points can also be used to offset the charges.
When a user withdraws a bitcoin asset from the Gate.io exchange, a standard blockchain network charge is triggered, automatically modified based on market conditions.
KYC on Gate.io
At Gate.io, you must complete the KYC process to authenticate your identity. A picture ID issued by the government, such as a passport, driver's license, or identification card, can be used to authenticate your account. The KYC or identity verification processing time may range from half an hour to 12 hours.
Once your account has been confirmed, you can request a higher withdrawal limit for a specific currency if the existing limit is insufficient.
You'll be able to make deposits and withdrawals faster and more smoothly if you have a verified account. Another important step in protecting the security of your account is to verify it.
Automated Trading on Gate.io
Through its application programming interface (API) keys, Gate.io allows bots to be used. This method is consistent with other reputable exchanges, which enable third-party apps to connect with their backend interface, without exposing sensitive information like account passwords.
These API keys enable a wide range of development firms and teams to construct their crypto bots that can interact with Gate.io. When there are several alternatives, you must ensure that your program is from a trustworthy source, contains all necessary features, and, most importantly, stays safe while connecting to your exchange account.
How do I connect Gate.io API Keys to Bitsgap?
Create a new Gate IO account or log in to your existing one.
Navigate to the API Keys page from your Settings (top-right corner).
Activate the permissions that will allow you to use specific Bitsgap functionalities. Due to security concerns, Bitsgap won't allow you to connect API key with withdrawal permission enabled.
Before you add your API key and Secret key to Bitsgap, please copy them somewhere safe.
Log in to your Bitsgap account and go to the "My Exchanges" page to connect your Gate.io account. Click "Add Exchange".
Select Gate.io from the pop-up window.
Click "Connect" after pasting your Gate.io API key and Secret key.
Your Gate.io account has now been properly linked, and you are ready to go!