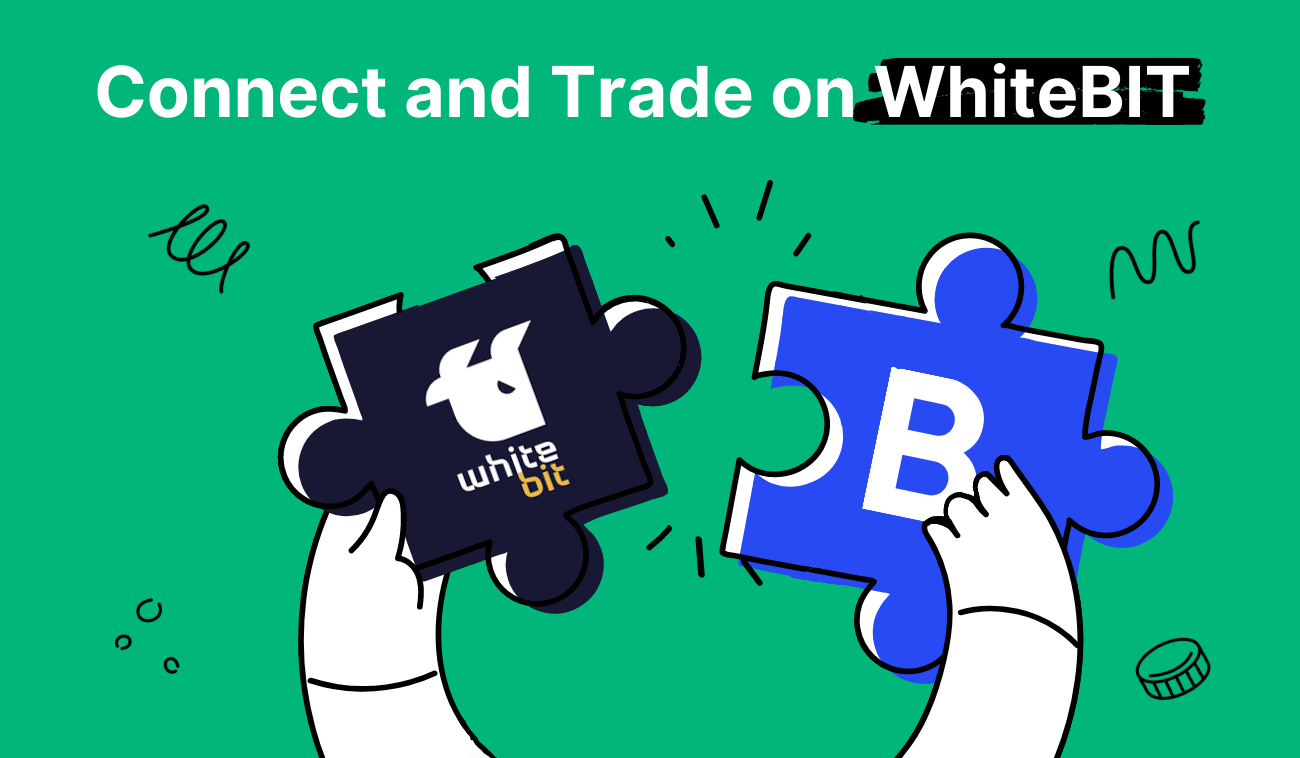 WhiteBIT on Bitsgap: Add Your Account and Trade Using Our Bots
Learn how to connect WhiteBIT exchange to Bitsgap and earn with the help of highly efficient crypto trading bots.
Bitsgap has recently added support for the WhiteBIT exchange. Learn how to connect your WhiteBIT account to Bitsgap today.
Good news, everyone! We've partnered with one more exchange – WhiteBIT, so now you can trade with Bitsgap on as many as 15+ TOP crypto exchanges.
In this article, we'll tell you about the WhiteBIT exchange and the benefits you can expect from coupling your WhiteBIT account with Bitsgap. Finally, we'll review a list of steps to connect WhiteBIT to the Bitsgap platform.
Without further ado, let's get started.
What Is WhiteBIT?
WhiteBIT is the largest European centralized crypto exchange that caters to more than three million users from over 190 countries. Founded in 2018 in Ukrainian Kharkiv, WhiteBIT has grown into an impressive enterprise with more than 700 specialists.
Check out WhiteBIT's first-rate fact sheet:
350+ trading pairs;
270+ assets;
10 fiat currencies (USD, UAH, EUR, KZT, TRY, GEL, GBP, PLN, CZK, BGN);
$2.5 billion average daily trading volume;
3.5 million registered customers worldwide;
96% of digital assets are stored in cold wallets.
The WhiteBIT ecosystem also includes the following components:
WhiteBIT Сodes — instant & free transfers between wallets on the exchange;
Whitepay — a crypto-processing platform (that supports currency exchange, donations, POS terminals, invoicing, and crypto acquiring);
Bitcoin Global — P2P exchange platform;
WhiteBIT Earn — an ecosystem of unique passive income tools;
WhiteSwap (AMM DEX) — a decentralized exchange running on the Ethereum and Tron blockchains;
WhiteEX physical cards to top up your balance on the WhiteBIT exchange.
WhiteMarket — an innovative marketplace for trading CS:GO skins.
Gagarin Show — the world's first show about the cryptocurrency industry.
According to the CER.live cybersecurity rating, WhiteBIT is among the top three most trustworthy exchanges with the highest AAA rating.
Unsurprisingly, security and compliance are among WhiteBIT's top priorities:
Besides storing 96% of digital assets in cold storage, WhiteBIT uses a Web Application Firewall (WAF) to detect and block hacker attacks.
WhiteBIT was audited by Hacken.io in 2022 and was deemed as meeting the highest security requirements.
WhiteBIT complies with the International Anti-Money Laundering Group (FATF) standards.
WhiteBIT has a Bug Bounty program, where you can earn rewards for finding bugs.
So, what do we like best about WhiteBIT? It's the variety of crypto assets, high liquidity, multi-level security system, and low trading fees.
Benefits of Connecting WhiteBIT to Bitsgap
Bitsgap is a crypto aggregator that lets you connect as many as 15 exchanges (now, including WhiteBIT) to a single, intuitive interface with access to additional features and advanced trading tools that most exchanges lack. There are multiple advantages of connecting WhiteBIT to Bitsgap.
Super easy and safe
An encrypted API key is the only thing you need to couple WhiteBIT with Bitsgap. It's safe and secure because it doesn't give Bitsgap access to anything but balance view and trading. Moreover, Bitsgap has many other security features that buttress your trading and ensure the safety of your funds, including 2048-bit encryption.
State-of-the-art trading bots
Bitsgap has a range of automated trading tools for WhiteBIT that can take advantage of every favorable market opportunity even while you sleep. Whatever trading strategy you follow, you'll find a bot that works for you — Think DCA and GRID and multiple variations of the two!
24/7 support
We're always there for you: our support team is available 24/7 and speaks five languages. This ensures you have the support when you need it and in the language you understand.
How to Connect WhiteBIT to Bitsgap
Below is a list of steps to connect your WhiteBIT account to Bitsgap.
1. WhiteBIT
First, log into your WhiteBIT account. To generate an API key, you should enable 2FA. If you haven't yet, go to the Security page to enable it. Then navigate to the API page in your account's settings.
Click the "Generate a new API key" button on the API page. When prompted, enter the 2FA code. Copy both the API key and Secret key, then click on the "Endpoint access restrictions" that will allow you to edit access permissions, which you should set as follows:
Trade balance and order history On
Wallet balance and history On
Order management On
Deposit Off
Withdrawal Off
Balance transfer Off
Codes Off
Click "Apply changes" when ready and confirm with a 2FA code.
2. Bitsgap
Next, go to Bitsgap, navigate to the My Exchanges page, and click "Add new exchange." Select WhiteBIT from the list of available exchanges, enter your API information, i.e., your API key and Secret key, and click "Connect."
WhiteBIT will appear on the "My exchanges" page with the "Connected" status if the information is correct.
We also recommend you follow detailed instructions on connecting WhiteBIT to Bitsgap in our Help Center.
Bitsgap + WhiteBIT = Win-Win Partnership
Bitsgap is actively cooperating with WhiteBIT and is planning various exciting activities where you can earn freebies or learn something new!
For example, at the beginning of March, we'll hold an AMA session with a WhiteBIT representative where you can ask questions and win prizes! Are you excited? Because we are! So, stay tuned and check our social media to know exactly when and how this AMA session will take place.
Ready to start trading? Then, follow the link to connect to WhiteBIT right now and begin to profit using our WhiteBIT trading bots.