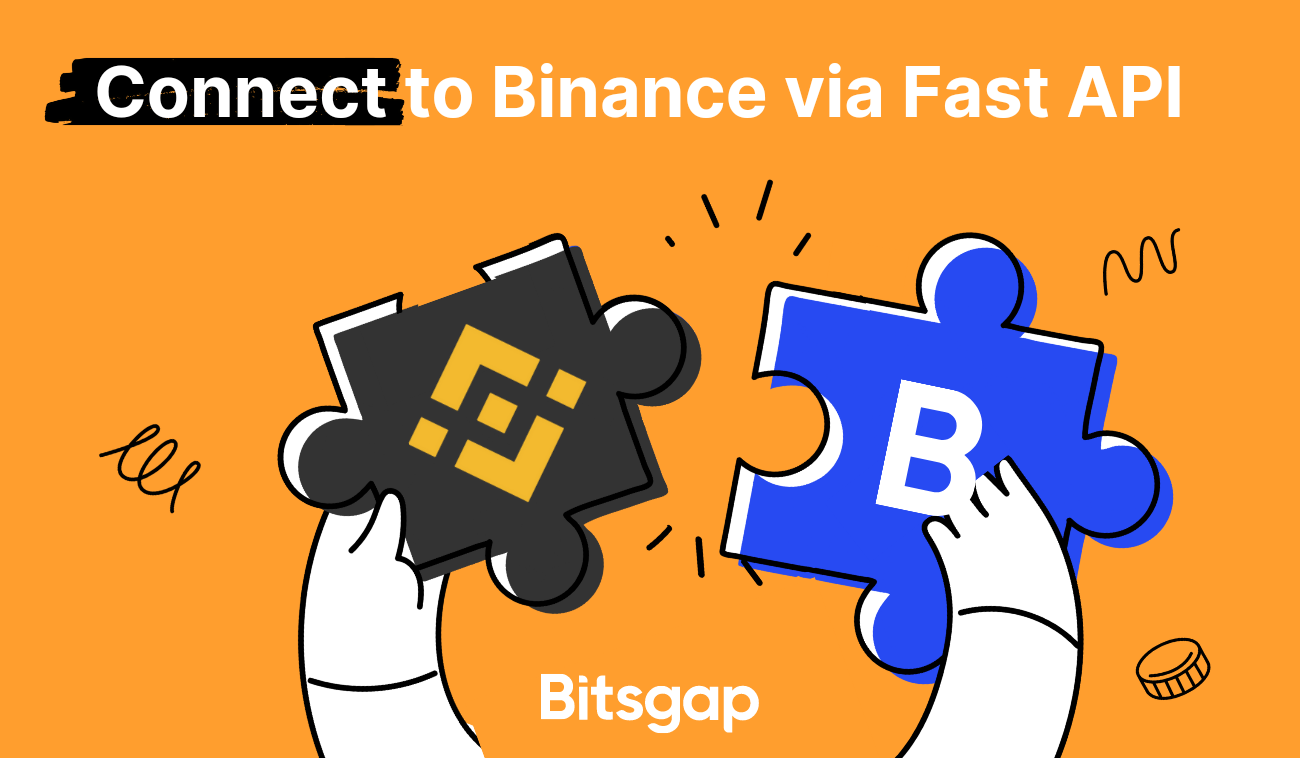 Binance Fast Connect: Get Rid of Problems With API Keys
Binance Fast Connect allows you to add Binance to Bitsgap most simply and securely. No more renewing the API connection every 90 days.
Bitsgap was created to give you more accessible and straightforward crypto trading while getting you more wins (and probably even a few YOLO moments).
This latest update we're releasing revolves around a Fast API Connect to Binance. It should make your trading experience more seamless and trouble-free.
Quick Takeaway
If you're interested in quickly and safely connecting your account on Binance to Bitsgap, you're probably not a fan of long-reads either. So here is a quick recap for our fast and furious readers:
To get started with Bitsgap, you need to allow it to manage your trades.
For that, you connect the platform through an API to your exchanges (f.e. Binance).
Before we added the Fast Connect function, you had to spend up to 10 minutes manually adding data.
Now, it's over in less than 10 seconds and 3 mouse clicks: just choose "Fast Connect" while connecting to Bitsgap and confirm it on the exchange side.
Add your IPs to the Binance trusted IP list if you want more security.
But for more enthusiastic readers, here is an article that might explain everything in detail.
Introducing Bitsgap Fast Connect
Companies like Binance are doing colossal work to ease life for their users. At the same time, they are taking all security issues very seriously.
That's why they sometimes make a lot of particular conditions and restrictions for connecting third-party apps and services to their platform. However, Bitsgap is a trusted partner of Binance, so now you can take advantage of this benefit using Binance Fast API Connect.
If you ever allowed Google or Facebook to authorize you automatically, you know how this system works. You send and confirm a request to Binance to give Bitsgap their encrypted API keys by clicking a couple of buttons, and you're done! No more renewing the API connection every 90 days.
Get Ready for the Fast Start
Fast-API-ing, in fact, is so simple that maybe, it'll take you less time to go here and follow instructions (the interface pretty much works itself). But, just in case, let us go through this process step by step.
1. Go to the "My exchanges" section on the platform
2. Choose "Connect Binance."
3. Click "Connect Binance" and authorize Bitsgap on the exchange's side.
4. Done (in less than 10 seconds).
Sometimes, there can be a technical problem, and you'll get a notification about the failed connection. In most cases, you just need to wait a bit and then try (successfully) to connect again. But if the issue persists, you can always contact our support.
Binance IP Whitelisting Conditions
For more security, you can also add Bitsgap's IPs to the Binance trusted IP list. To do that, you need to copy these IPs from the connection pop-up (see above), choose "Restrict access to trusted IP only" in API settings on Binance, and put them there.
But if you're still keen on manual API connection, this IP whitelisting becomes almost mandatory. Otherwise, you'll have to renew your API connection every 90 days, according to the Binance rules:
"If your API Key does not have whitelisted IP address(es), i.e. this API Key allows access to any IP address, your selected "Enable Spot & Margin Trading" permission will be valid for 90 days from the activation time. The system will automatically uncheck the permission after the expiration date."
Basically, if you don't go to Binance and confirm that everything is going as it should by checking the "Enable Spot & Margin Trading" box, Binance will uncheck it for you in 90 days.
With Fast Connect and IP Allowlisting, that will never happen because Binance will trust Bitsgap to take care of your keys right. Forever and always.
What if I Still Want to Connect Manually and Without Trusted IPs?
Of course, you can do that if you want. And if your API key expires in that scenario, go to the API Management page on Binance, then Edit restrictions, and enable the required permissions, especially "Spot & Margin Trading." It will give you another 90 days of Binance trading on Bitsgap.

But our advice is to take full advantage of the Binance Fast Connect right now to make your DCA or GRID bots work smoothly and earn for you without interruption.
Learn more technical details about the Binance to Bitsgap connection in our Help Center.