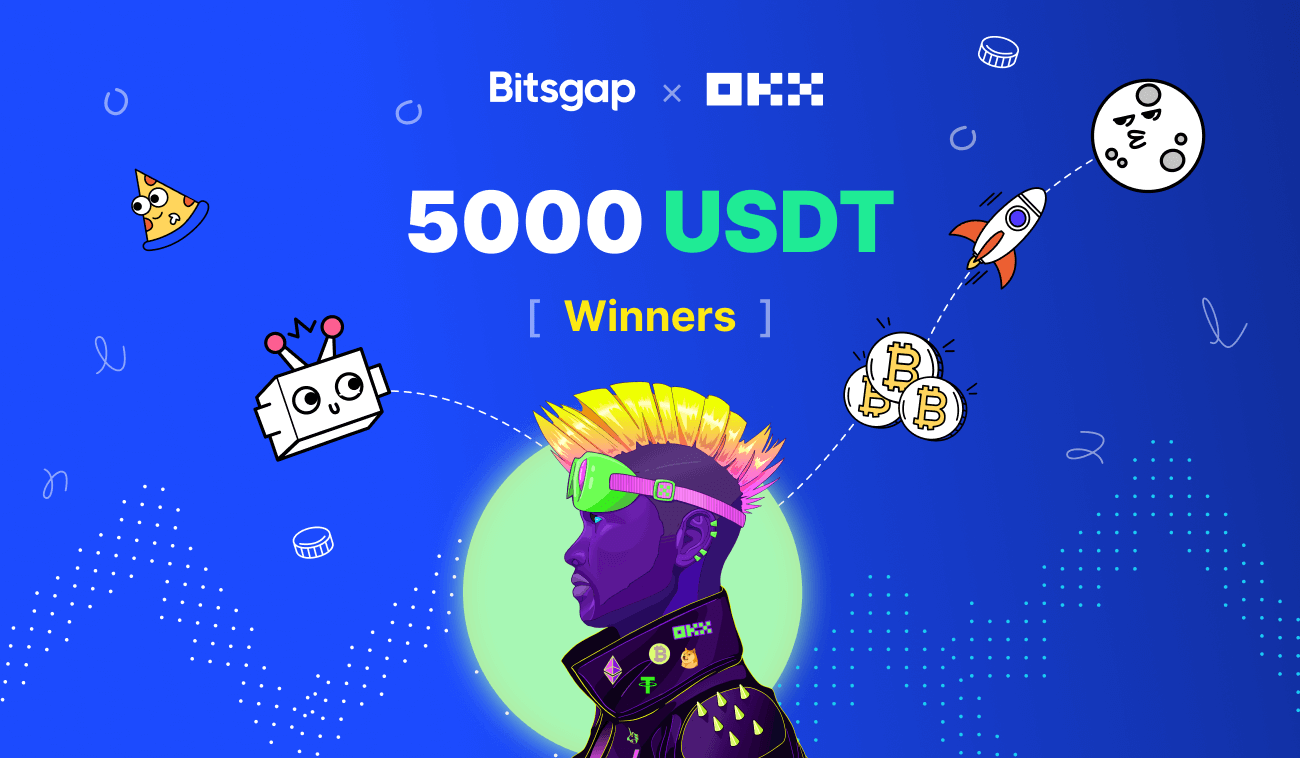 Winners of the 5000 USDT exclusive OKX Exchange trading competition
Today we are happy to announce 100 lucky winners of the OKX competition, that will get a share of 5000 USDT.
We have a huge announcement and you're going to like it! If you have been following us, you would already know we recently launched an exclusive trading competition on the OKX Exchange.
Participants were given the opportunity to win a share of 5,000 USDT. We had participants from all over the world competing with each other in this contest!
Today is a special day. Let's find out who are our 100 lucky winners that have won a share of the 5000 USDT prize pool.
All the prizes are already awarded directly to winners affiliate balance
Follow Bitsgap across social media to get updates on future promotions.
Telegram | Youtube | Facebook | Twitter
Here is the list of the winners:
| Winner's emails | Rank | Prize, USDT |
| --- | --- | --- |
| mk***s@***il.com | 1 | 1000 |
| ch***r@***il.com | 2 | 750 |
| mi***u@***ex.ru | 3 | 500 |
| 51***5@***qq.com | 4 | 350 |
| ci***o@***il.com | 5 | 300 |
| yu***i@***il.com | 6 | 250 |
| 61***1@***qq.com | 7 | 200 |
| nv***q@***pm.me | 8 | 150 |
| bj***e@***il.com | 9 | 100 |
| cr***a@***ail.com | 10 | 50 |
| bt***l@***il.com | 11 | 40 |
| ge***@***il.com | 12 | 40 |
| sp***1@***il.com | 13 | 40 |
| la***b@***il.com | 14 | 40 |
| ok***2@***il.com | 15 | 40 |
| ge***a@***il.com | 16 | 40 |
| 10***6@***qq.com | 17 | 40 |
| tb***3@***nc.com | 18 | 40 |
| pi***3@***ex.ru | 19 | 40 |
| fo***d@***il.com | 20 | 40 |
| gi***t@***il.com | 21 | 40 |
| no***1@***oo.com | 22 | 40 |
| vt***o@***il.com | 23 | 40 |
| ch***g@***il.com | 24 | 40 |
| cl***n@***il.com | 25 | 40 |
| cr***y@***il.com | 26 | 20 |
| wi***n@***il.com | 27 | 20 |
| et***z@***il.com | 28 | 20 |
| fe***o@***il.com | 29 | 20 |
| z9***3@***il.com | 30 | 20 |
| sh***w@***il.com | 31 | 20 |
| cp***t@***ail.com | 32 | 20 |
| at***7@***ail.com | 33 | 20 |
| kab@gil.com | 34 | 20 |
| di***1@***il.com | 35 | 20 |
| ev***@***il.com | 36 | 20 |
| se***n@***il.com | 37 | 20 |
| de***2@***il.com | 38 | 20 |
| jo***i@***il.com | 39 | 20 |
| ma***i@***il.com | 40 | 20 |
| pi***5@***il.com | 41 | 20 |
| j0***s@***pm.me | 42 | 20 |
| ho***l@***sn.com | 43 | 20 |
| ma***4@***il.com | 44 | 20 |
| sv***7@***il.ru | 45 | 20 |
| ad***k@***il.com | 46 | 20 |
| wo***2@***il.com | 47 | 20 |
| ma***i@***il.com | 48 | 20 |
| dr***w@***il.com | 49 | 20 |
| ge***5@***il.com | 50 | 5 |
| gp***2@***il.com | 51 | 5 |
| jo***r@***mx.de | 52 | 5 |
| pi***1@***il.com | 53 | 5 |
| ta***0@***il.com | 54 | 5 |
| da***e@***il.com | 55 | 5 |
| an***6@***il.com | 56 | 5 |
| on***7@***il.com | 57 | 5 |
| te***p@***il.com | 58 | 5 |
| zi***a@***li.it | 59 | 5 |
| ra***x@***on.me | 60 | 5 |
| ca***a@***il.com | 61 | 5 |
| ed***k@***il.com | 62 | 5 |
| bu***b@***il.com | 63 | 5 |
| hr***v@***se.com | 64 | 5 |
| lu***1@***il.it | 65 | 5 |
| te***a@***il.com | 66 | 5 |
| la***z@***il.com | 67 | 5 |
| ii***y@***se.com | 68 | 5 |
| ma***7@***il.com | 69 | 5 |
| sh***1@***il.com | 70 | 5 |
| ra***6@***il.com | 71 | 5 |
| sa***i@***il.com | 72 | 5 |
| st***s@***et.com | 73 | 5 |
| ha***8@***il.com | 74 | 5 |
| st***3@***nd.com | 75 | 5 |
| re***5@***il.com | 76 | 5 |
| yo***3@***il.com | 77 | 5 |
| pi***1@***il.com | 78 | 5 |
| fa***o@***il.it | 79 | 5 |
| z***8@***ex.ru | 80 | 5 |
| cr***x@***il.com | 81 | 5 |
| ok***n@***se.com | 82 | 5 |
| ys***3@***il.com | 83 | 5 |
| in***o@***er.com | 84 | 5 |
| dr***l@***ta.com | 85 | 5 |
| as***t@***il.com | 86 | 5 |
| mo***c@***il.com | 87 | 5 |
| yl***7@***il.com | 88 | 5 |
| ye***2@***ox.ru | 89 | 5 |
| sy***b@***il.com | 90 | 5 |
| th***i@***il.com | 91 | 5 |
| al***v@***oo.com | 92 | 5 |
| al***d@***il.fr | 93 | 5 |
| mr***o@***il.com | 94 | 5 |
| aa***5@***il.com | 95 | 5 |
| ka***@***ail.com | 96 | 5 |
| mr***s@***ok.com | 97 | 5 |
| zh***n@***il.com | 98 | 5 |
| ki***s@***il.com | 99 | 5 |
| st***r@***il.com | 100 | 5 |