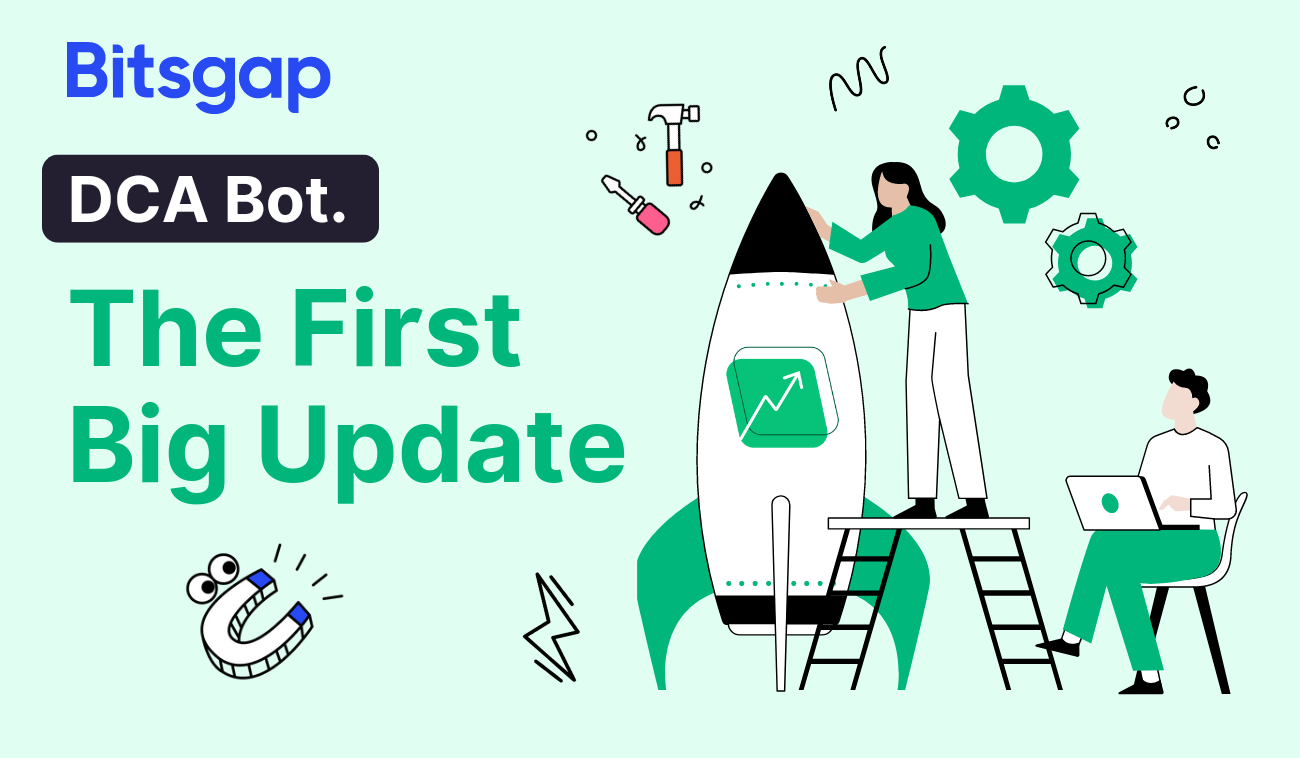 Introducing the First DCA Bot Update: the Modify and Multiplier Features
The Bitsgap DCA Bot has got a big update, including the possibility to modify its settings on the run and proactively average trading positions.
Many of you are already using the Beta Version of our DCA bot. We continuously work on its development, and now, at your request, we are happy to announce the addition of two new features: the Modify function and the Multiplier function!
The Modify feature allows you to edit DCA bot settings. At the same time, the Multiplier function lets you set the averaging of positions by steps or volume of trades (averaging by volume is also called martingale strategy).
What is the Modify Feature?
Previously, you had to stop running the DCA bot and start a new one to change bot settings. Now with the Modify feature, you can do this without wasting time while the bot is running. The Modify feature also allows traders to restart a bot from history with new settings.
So what parameters can you modify on your DCA bot? It's possible to fine-tune settings for Stop Loss (the percentage at which your bot will sell), Take Profit (the percentage at which your bot will buy), First Buy Order (Instant to Indicators and vice versa), and others.
👉 Learn more about Modify in our Help Center.
What Is the Multiplier Feature?
Multiplier allows an aggressive averaging by increasing the volumes invested in DCA orders (in the case of Amount Multiplier), as well as increasing the range between the DCA orders (Step Multiplier). The higher in both cases Multiplier value, the greater the profit if your trade is successful.
The feature is available for each currency pair supported by DCA Strategy. Other benefits of the Multiplier function include easy averaging setup with a factor of up to x2 and automatic calculation of all basic parameters after setting the coefficient.
👉 Learn more about Multiplier in our Help Center.
Please note: Increasing the volume and/or step using Multiplier also carries a potentially high risk of significant losses.
Why Is This Useful?
These features will give you more control over your investments and adjust your bot's operation. You can make necessary changes, allowing you to quickly adapt your trading to the highly dynamic crypto market conditions and requirements.
Each bot has its own settings, so you can choose whether or not you want to invest in a cryptocurrency when it enters into new support or resistance levels, for example. This gives you more flexibility and lets quickly react to any changes in your portfolio.
We will continue to listen to your requests and integrate new features that will make trading on DCA Bot even more user-friendly. Stay tuned and remember: keep calm and DCA on!