Black Friday 2022: Save 35% on Any Bitsgap Annual Plan!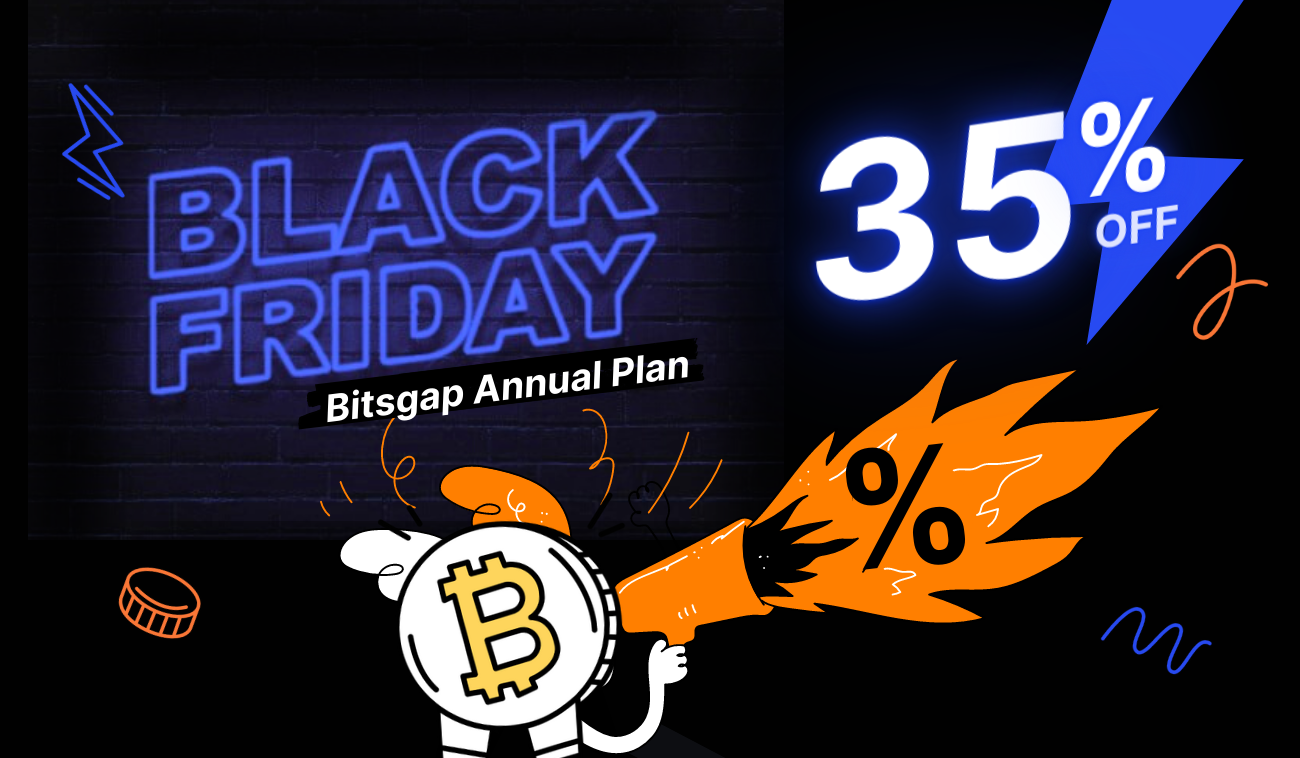 Here's your unique opportunity to save: For four days only, you can subscribe to Bitsgap at 35% off — The only Black Friday campaign where you can save to earn more!
Join us on Cyber Weekend from Nov 25 to Nov 28 as we celebrate the approaching HODL season with a feel-good sale campaign!
Drown out the noise of discount coupon codes and just hit "Subscribe" to instantly get a 35% discount on any annual subscription.
When?
Our joint Black Friday & Cyber Monday (BFCM) campaign starts on November 25 at 10:00 UTC and ends on November 28 at 18:00 UTC. For four days only, you can subscribe to any of Bitsgap annual plans at 35% off. This is the first big subscription sale this year and your unique chance to save!
Who?
Anyone can participate — If you're already a subscriber, extend or upgrade your annual subscription and save 35%!
Looking for the most efficient crypto trading bots? There are already 500K users using the platform to make money, now it's your turn! Subscribe during the BFCM sale and instantly get 35% off any annual plan.
Why?
By subscribing to Advanced or PRO plans, you're purchasing the best possible trading tariffs online and squeezing the maximum value from the price.
Both Advanced and PRO plans give you access to the following:
This year, our traders have earned over $ 250 million with the help of Bitsgap trading bots. Every second bot closes with a profit, and your chances to win even in the currently bearish crypto market increase tenfold.
And last but not least: Thanks to multiple layers of encryption and protection, Bitsgap is perhaps the most secure trading platform among its competitors today.
Subscribe with a 35% discount to trade better now and forever!
Where?
Taking advantage of a discount is pretty straightforward.
Are you a Bitsgap trader? Just head to the platform, click on the "My Account" icon on the top right of the interface, and select "Manage plans" to upgrade or extend your subscription at 35% off.
New to Bitsgap? Purchase your plan at 35% off during the BFCM sale here: https://bitsgap.com/pricing
What else?
Note that the discount applies only to your first payment. Any recurrent payments will happen at full price. So pay for a one-year subscription today to trade safely through 2024!
Ready to join the action? Then hit the button below and get a 35% discount on any Bitsgap annual plan of your choice!