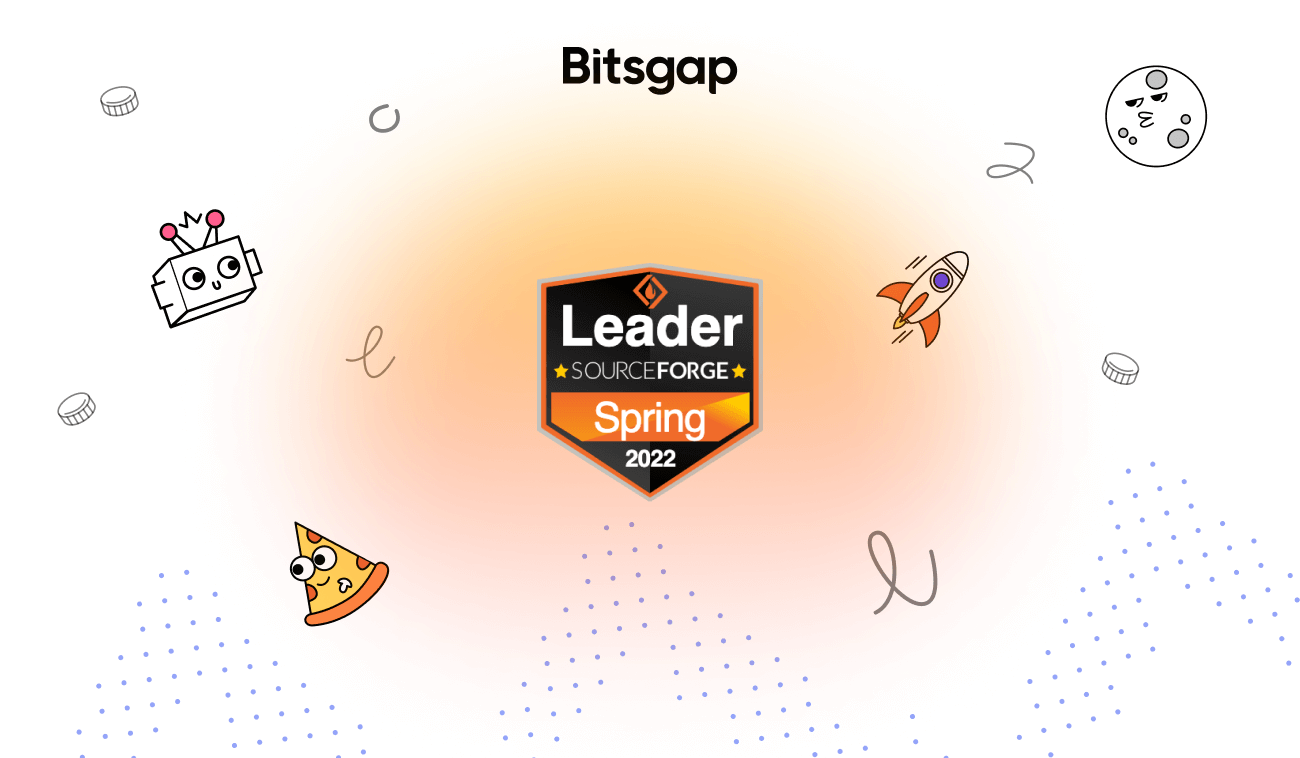 Bitsgap Recognized as a 2022 Leader in Bitcoin and Cryptocurrency trading by SourceForge.
SourceForge, the world's largest software review website, announced that Bitsgap has been awarded a Spring 2022 Leader in cryptocurrency trading.
Bitsgap, the trusted platform in cryptocurrency trading, has just been recognized as the Spring 2022 category leader by SourceForge. This award recognizes exceptional companies and products with outstanding user reviews that puts them in the top fifth percentile of highly reviewed products on SourceForge.
To win the Spring 2022 Leader award, each winner had to receive enough high-rated user reviews to place the winning product in the top 5% of favorably reviewed products on SourceForge, which demonstrates the utmost quality that Bitsgap delivers to customers.
"We are all thrilled here at Bitsgap to receive such a prestigious recognition from SourceForge, it validates all of our hard work to make Bitsgap a reliable, convenient and most importantly, the best cryptocurrency trading platform for users. We could not have achieved that without our dedicated community of traders who continue to support us every day. In that vein, we want to personally thank each one of you who has contributed your thoughts or ideas on how we can improve Bitsgap; together we will keep working towards becoming one of blockchain's industry leaders!" says, CEO Max Kalmykov.
About Bitsgap
Bitsgap is a new cryptocurrency management service that will take the effort out of managing your portfolio, and allow you to trade on multiple exchanges from one portal. Our specially-designed trading bots will make sure you profit even if there are fluctuations in the market!
Users can launch a combination of the Grid and DCA trading strategy bots to capture a profit on every phase the market is going through. During a sideways period the Grid trading bot will generate max profit while the DCA bot will actively join the game if the market leaves the flat range and starts a new trend.
Grid Bot reverse mode aka "Buy the Dip" accumulates BTC during downtrends. When the market makes a new rapid upward leap, the bot reverse mode will close all sell positions and lock profits in BTC acquired at the best price. From this moment user can just relax, HODL and enjoy observing how the market conquers new heights. Alternatively, user can switch on DCA bot to actively make more and more base currency.
About SourceForge
SourceForge.net is the world's largest software comparison directory, serving nearly 30 million users every month and featuring user reviews, product comparisons, software guides, and more. SourceForge's mission is to help businesses find the best software to fit their needs and their budget. There are a variety of software tools available to businesses, and there are tools in almost every category and niche, each serving a slightly different purpose. SourceForge also powers the Slashdot business software and services directory.