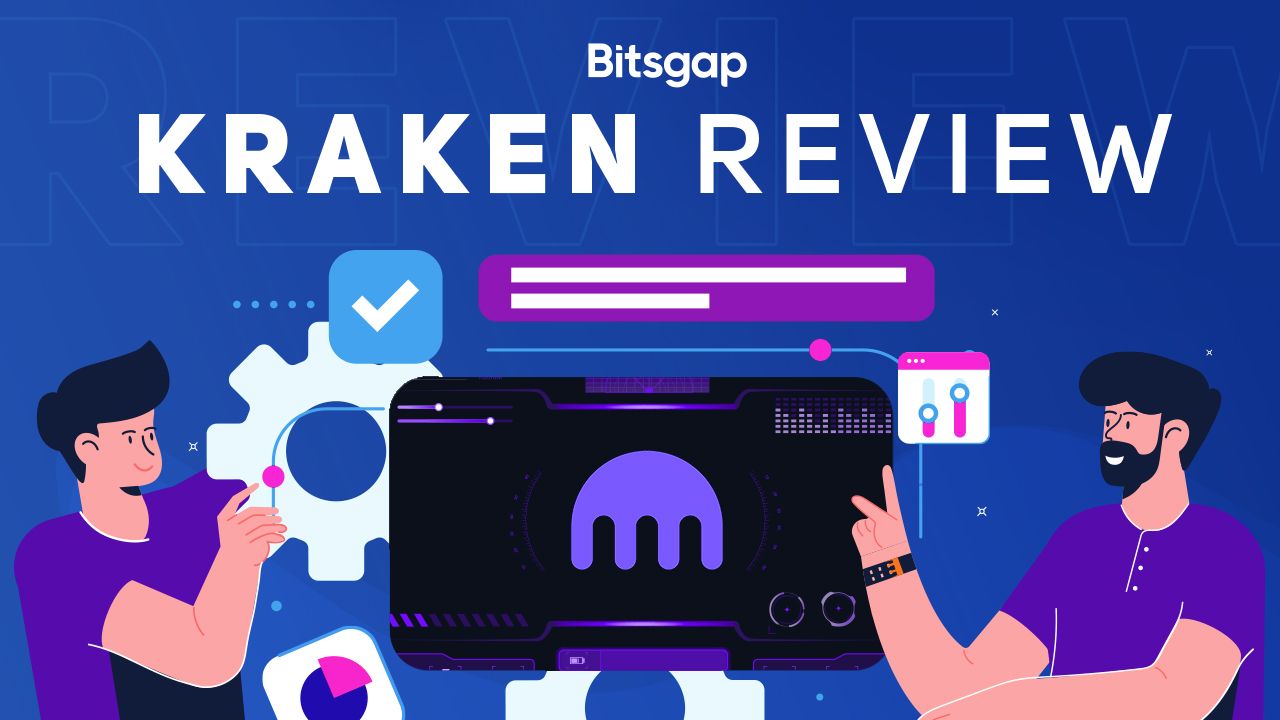 Automated Trading With Crypto and Fiat Currencies on Kraken
Kraken is consistently named one of the best places to buy and sell crypto online, owing to its excellent service, low fees, diverse funding options, and stringent security standards. Since 2011, the exchange has been at the forefront of the blockchain revolution.
Kraken is consistently named one of the best places to buy and sell crypto online, owing to its excellent service, low fees, diverse funding options, and stringent security standards. Since 2011, the exchange has been at the forefront of the blockchain revolution.
The platform empowers investors, both experienced and new ones, to chart the course of their finances. Institutions are not left out as Kraken provides them with premier cryptocurrency solutions to meet their investment goals quickly and confidently.
Brief History
Kraken was founded with the mission of hastening cryptocurrency adoption globally to achieve financial freedom and inclusion. It was established in 2011 by Jesse Powell, who wanted to provide people with a quick and secure way to invest in the crypto ecosystem.
Many factors have contributed to Kraken's success over the years. Alongside Coinbase, Kraken got selected to provide market data for bitcoin trading to the Bloomberg terminal. It also partnered with TradingView while adding more cryptocurrencies to its trading platform, including lumen. It also enabled funding and trading in fiat currencies such as the USD, GBP, and JPY.
In 2014, while still serving a predominantly European clientele, Kraken got chosen to investigate Mt. Gox. The crypto powerhouse at the time had filed for bankruptcy amidst crippling debt and a missing 850,000 Bitcoins. Kranken, selected for this task due to its careful approach and compliance with regulations, required all creditors in the Mt. Gox saga to open accounts with them to reclaim their lost Bitcoins. The episode led to a surge in the popularity of the exchange as Trading volume skyrocketed.
New features introduced in early 2015 boosted Krakens growth. These products made cryptocurrency trading popular among the general public and the professional trading community- Margin trading and dark pool services.
Kraken has encountered a few obstacles along the way. In May 2017, Kraken and Poloniex exchange were targets of Distributed Denial of Service (DDoS) attacks. The situation resulted in a massive loss for market participants with a class-action lawsuit filed against Kraken. This represented a significant setback for the platform, foremostly regarded for its safety.
Since its inception, however, Kraken has expanded rapidly. It has its headquarters in San Francisco, the USA, with diverse employees spread globally. The team are committed to making cryptocurrency available and accessible to the world and allowing people from all walks of life to invest in their independence.
Trading Volume And Liquidity
Kraken is ranked the 4th largest cryptocurrency exchange in traffic, liquidity, trading volumes, and trust in the legitimacy of reported trading volumes, according to Coinmarketcap. At press time, the platform has a total 24-h trading volume of $1.63 billion and a market share of 1.10%
The top three markets on Kraken exchange based on the highest 24h trading volume, with their current prices, are; BTC/USD ($218 million), BTC/EUR ($184.29 million), and USDT/USD ($110.6 million).
Crypto Assets On Offer
At the press time, Kraken lists 90 cryptocurrencies that are tradable across 395 markets available for both retail and institutional investors. It is pertinent to note that restrictions exist on the availability of some trading options for specific locations. Examples of available assets include; Bitcoin, Ethereum, Algo, Cardano, etc.
Available Products
Kraken provides an extensive range of trading options, including limit orders and stop-loss orders, as well as a dark pool and margin trading. It allows trades between cryptocurrency pairs and fiat currencies, making it an excellent fiat-to-crypto gateway. It has made a name for itself in the crypto ecosystem for the following key features:
High liquidity fiat-to-crypto onramp with 140 markets open for trading cryptos against six fiat currencies: US dollar (USD), Euro (EUR), Canadian dollar (CAD), Japanese yen (JPY), British pound (GBP), and Swiss franc (CHF).
Dark pool is an invisible order book, where traders in the dark pool only know their orders and can trade anonymously without disclosing their interests to other users.
Over-the-counter (OTC) service which is ideal for high-volume traders.
Futures and margin trading allow you to trade with borrowed funds using up to 5x leverage.
Forex trading for trading fiat against fiat, which is something you won't expect from a crypto exchange.
Trading Interface
Traders knowledgeable in the use of trade orders will find the platform easy to use. However, new traders may find the available interface challenging as there are no charts to show the recent and current prices. Users will need to switch over to Kraken Pro to access more features.
The Kraken Pro user interface is split into multiple panels customizable to meet various trading needs. It is set so that critical exchange functionality is only a click away. The trading dashboard contains user-friendly tooltips to make trading easy.
The Market Details component is found on the right side of the screen in the same container as the Order Book in the default layout. An intuitive Price chart is centralized, and the Order Form component is to the right. This order form allows the placement of various order types available.
Kraken trading fee structure
One of Kraken's main draws is its low fees. Except for the deposit and withdrawal fees, all fees charged are per trade. Kraken employs a standard maker-taker fee structure based on the cryptocurrencies traded and the volume traded by a user in the previous 30 days.
Kraken also offers different trading fees for the various products it has available on it. This ensures that all categories of users get the competitive pricing that fits their trading needs. The fees charged are below Industry standards making Kraken a good choice for trading.
The exchange features different fee schedules for futures and margin trading, as well as crypto-to-crypto and crypto-to-fiat/stablecoins trading on the spot market. Users may reduce their trading to as low as 0% fees by increasing 30-day trading volume. For instance, if you trade against fiat or stablecoins and the sum of your monthly trades increases $1 million you may enjoy zero fees whether you are maker or taker.
Users who are new to Kraken are offered to fund their account with crypto using the Instant Buy feature. However, new users must take into account that their first purchase will be subjected to a slew of commissions charged on top of the exchange's regular fees.
Security and privacy
Kraken takes security seriously and has never experienced a hack in its existence. Several security features provided ensure the safety of crypto assets on the platform. 95% of all crypto assets are stored in cold wallets offline in different locations around the world. The exchange regularly undergoes proof-of-reserves checks conducted by a third party.
All sensitive data is encrypted and all attempts to access this data are strictly monitored. Kraken has a dedicated team of security personnel constantly testing the platform against every known vector attack. The exchange offers a bug bounty program for ethical hackers allowing them to get rewarded for detecting issues in the system.
Aside from the aforementioned, Kraken deploys the standard 2-factor authentication to all accounts created. With Email confirmation for withdrawals and self-serve account lock.
Such strict security policy goes hand-in-hand with what Bitsgap offers to its users. Whether it is trading bot for Kraken or any other trading platform, all data between the exchange and crypto trading bots cloud platform is transmitted via encrypted channels while all funds are constantly remain in possession of users.
Know your customer (KYC) policy
Kraken is a regulatory compliant platform and requires its users to complete a mandatory KYC to use it. The exchange offers four categories of verification- Starter, Express, Intermediate, and Pro.
The various levels usually require varying documents and information, including but not limited to:
name
date of birth
phone number
bank details
proof of residence
valid government-issued ID
face photo
The KYC procedure is pretty fast and straightforward and normally doesn't take much time.
Automated Trading on Kraken
Kraken provides a level of flexibility uncommon in other exchanges and is suitable for both new and experienced traders looking for a place to perform automated trading. Kraken offers full support for trading bots via its Application Programming Interface (API).
This makes it easy for traders and programmers to develop trading bots or deploy one from a third party like Bitsgap. Bitsgap, which is considered to be the best trading bot for Kraken, offers several proprietary automated trading solutions that can give traders an edge in the market. These bots are developed in line with the requirements for seamless use via Kraken's API.
Whether you are deploying bitcoin bot on Kraken or seeking to sharpen your skills with risk-free demo auto-trader mode, Bitsgap is the number one choice for automated trading on Kraken.
Connecting Kraken with Bitsgap
As stated previously, users would require an API key to use the third party automated trading services on Kraken. The API keys are the equivalent of a username and password and are one of the components of API authentication.
The API keys get created on Kraken before linking it with Bitsgap through the following steps;
Log in to your Kraken account.
In the upper-right corner of the page, click on the display name.
Select Security, then API.
Select the Add key option.
Follow the prompt, and the end store the new API pair securely.
Connecting the API keys to Bitsgap by;
Login to your Bitsgap account.
Click the My exchange tap and select Add Exchange.
Select Kraken.
Input your API key and secret passphrase.
Click connect.