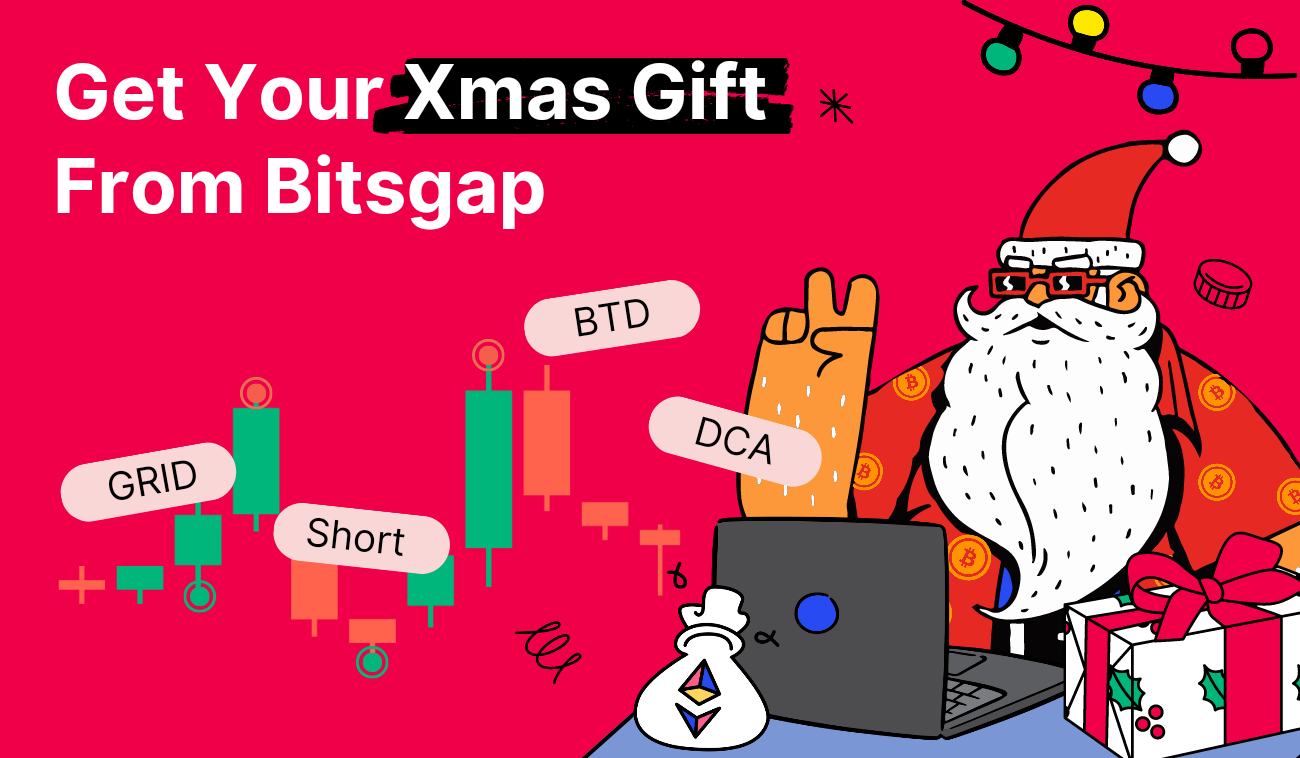 Your Xmas Gift: Save 30% on an Annual Plan of Your Choice
Subscribe to any Bitsgap annual plan of your choice at 30% off and secure another year of profitable trading with our state-of-the-art trading bots.
Hurry up to save up to 30% on any annual plan with a special Christmas deal from Bitsgap, the last major sale campaign this year!
Gift-giving feels good any time of year, particularly at Christmas. But it's easy to forget about oneself in the whirlpool of the holiday frenzy.
Thankfully, we made it easier than ever for you to find a perfect gift for yourself — an annual subscription to Bitsgap with a 30% discount, including the three fully revamped crypto trading bots!
And while the clock is ticking, hurry up to find out how to shop now and save big!
What Is the Christmas Sale, and When Does It Start?
Christmas just got a whole lot closer. Luckily, you don't have to shop around anymore to be merry this season. Reason? Bitsgap has annual plans on sale! It's our way of saying Merry Christmas!
Bitsgap's Christmas sale is a fantastic opportunity to save 30% (or up to $540) on any yearly plan. All you got to do is subscribe during the ten days, from December 21 at 10:00 UTC to December 30 at 18:00 UTC, to instantly get 30% off and trade at a discounted price in the upcoming year.
What Can I Get for Christmas?
Your Christmas gift this year is any annual plan at a 30% discount plus three fully revamped automated trading bots from Bitsgap — DCA, GRID, and Buy the Dip – to add an extra sparkle this Christmas.
All three bots — wholly redesigned in time for the Christmas season! You can now start any with as few as three simple clicks or fully customize them to suit your specific trading goals.
What else has changed?
The DCA bot now has an excellent backtest feature that allows you to test your strategy on historical data and adjust your settings for better results.
Also, the DCA can now follow a shorting strategy — an invaluable tool in the current downturn! Shorting allows you to earn more coins as their price falls and sell them later when the market rebounds.
The GRID bot, a Swiss Army knife in a sideways market, now comes with a more intuitive interface with highly profitable default and customizable settings.
Finally, the Buy the Dip, Bitcoiners' favorite, has been fabulously revamped and now comes as a standalone bot with the most profitable premade strategy in the market!
While all these fully redesigned bots are available on any three annual plans at a 30% discount, the Advanced and Pro plans allow for a much better value at a price than the simple Basic plan.
👉 And there is even more great news — As another Xmas present, we've increased the number of available bots for each plan. From now on, 50 DCA Bots will be available to you if you subscribe to the Advanced plan. But the PRO subscription will get you to enjoy 25 GRID and an incredible 250 DCA Bots!
We don't even talk about Trailings and unlimited Smart Orders... So, you can see, Bitgap's annual Advanced and Pro plans are a real treasure trove for everything you'll need this upcoming year.
Why Subscribe to Bitsgap?
First, this holiday season, Bitsgap has made trading financially rewarding and extremely cost-effective!
30% off plus fully revamped trading bots are a good reason to subscribe to save now and earn in the future. But that's not all, of course ;)
Bitsgap is one of the most secure crypto trading platforms online. Encrypted API keys, Advanced API protection, OAuth, 2048-bit encryption, 2FA, countertrading protection, and lots of other security measures make your trading and private information unassailable to bad actors.
Bitsgap is a company you can trust. The company has garnered 500+ reviews on Trustpilot with an average rating of 4.4 and 100+ reviews on Google Reviews with an average rating of 4.7.
Bitsgap has a large community of 500K+ traders who earned over $250M in 2022.
The Bitsgap bots are profitable – 52% of bots close with a profit. In fact, your chances of profit with the Bitsgap bots increase ten times compared to manual trading.
Doesn't it begin to look a lot like Christmas? Hurry up before the season's magic is over and subscribe at 30% off.
Subscribe, save, trade, and make money! Easy, right?