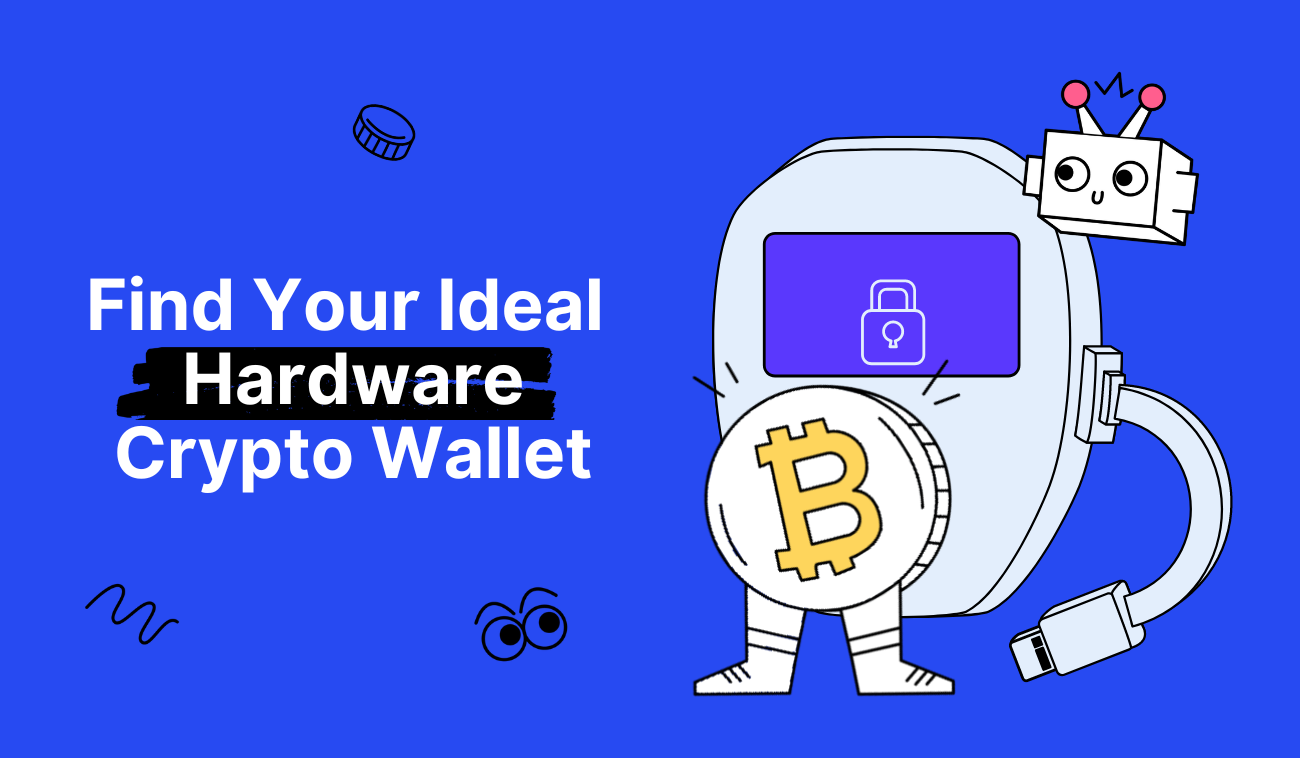 Top 5 Hardware Crypto Wallets in 2023: The Complete Guide
Looking for an ideal hardware crypto wallet? Look no more — here's our top 5 picks to choose from!
After the infamous collapses of the FTX, Celsius, and BlockFi, it has become perfectly clear that hardware wallets are your safest bet when it comes to storing crypto. Firms like Ledger and Trezor witnessed record sales in 2022. So, we're not surprised you're on the lookout for a reliable hardware crypto wallet too. Well, you've come to the right place. Below are your five finest hardware wallets for crypto.
If you just have a few hundred dollars locked up in your portfolio on a respected exchange, you may have nothing to worry about except, perhaps, additional security measures like 2FA. Indeed, the best exchanges spend a lot of money on security upkeep, making breaches rare.
However, as technology and hackers evolve, no security system can ever be completely foolproof.
With fairly recent incidents like the FTX collapse and the KuCoin hack, you may wonder how anybody can trust any centralized platform with their cash. Yet many still do. This is fine as long as you keep the majority of your crypto offline.
👉 In fact, you have three options when you decide to keep your coins off the exchange — hot, paper, and cold wallets.
Hot wallets are software wallets that are kept on a device that has access to the internet, such as a mobile phone, desktop computer, or web browser. You've probably already guessed their fundamental flaw: they keep sensitive information on internet-connected devices.
With a paper wallet, you will print off your private keys (in the form of a QR code) and save them somewhere safe. There are, of course, advantages to adopting this strategy, although we can't think of anything that would appeal to people born after the 1960s.
Finally, there's a hardware wallet, which concerns us today. A crypto hardware wallet is the best choice for those who HODL a decent amount of crypto and would like to keep it secure.
To help you search for an ideal option, here's our neat little guide to the top hard crypto wallets.
What Is a Hardware Crypto Wallet?
A hard crypto wallet is a USB-like physical device with a secure element that lets you store your private keys safely. Although you'll need to plug it into a computer or a mobile device to access your crypto, all validations and transactions take place locally on the device. Even if your device is infected with malware or otherwise hacked, your hardware wallet will still protect your private keys.
👉 It's easy to forget that your crypto is not actually held within a hardware or software wallet in the same way that cash would be. Crypto is simply data that lives on the blockchain, and you'll need your private keys to access it.
Your wallet has a pair of such keys — one public and one private. If your public key is the equivalent of your bank account number in that it may be freely shared with others, your private key must be kept secret. If someone gets your private key, you risk losing all your crypto.
How Do Bitcoin Hardware Wallets Work?
Your hardware wallet stores your private key for crypto that resides on a blockchain. That private key unlocks the door to your blockchain address, which is the physical location of your assets. You may access your tokens at any time and from any location, so long as you have your crypto wallet hardware with you.
When you create a transaction, you're really creating or signing a unique message. Your signature verifies your ownership of a private key. No one else may act on your behalf in a transaction without the key since it is impossible to fabricate this signature without it. Your private keys in a hardware wallet are safeguarded by a personal identification number (or PIN) and a password.
👉 Most crypto hardware wallets have a protected microcontroller, where the private key is kept on a different chip from the one used to connect to the Internet. Separation from internet-connected devices reduces the risk of theft via hacking.
Cold wallets use standard hacker-proof EAL5+ chip technologies and feature extra security methods like passwords, two-factor authentication, biometrics, and so on.
There's also an operating system, and some are tailor-made to upgrade and integrate new features automatically.
Permission to sign and verify transactions offline safeguards against phishing, hijacking, and other forms of attacks that may result in an altered wallet address if the address is copied and pasted.
Any decent wallet needs to come with a backup feature or recovery seed phrases that you can use to recover your cryptocurrency in case your wallet is stolen, broken, or lost.
How to Choose the Best Crypto Wallet Hardware
It might be difficult to choose the best hardware crypto wallet among the many available. For this reason, we have compiled a list of our top five picks for your convenience.
When selecting an ideal option for your needs, pay attention to the following factors:
Security: Although hardware wallets are secure, their level of security varies widely.
Coins: All hardware wallets can store bitcoin, ether, and a large number of other cryptocurrencies. However, if you want to hold any lesser-known altcoins, it's best to check the project's website for compatible wallets.
Price: If you have a modest portfolio, you certainly won't want to spend a lot of money on a device. Well, don't worry, there are prices for everyone.
Origin: Always get hard crypto wallets straight from the manufacturer. There have been documented cases of some unscrupulous people purchasing a gadget, extracting the seed words, and then reselling it.
TOP 5 Cryptocurrency Hardware Wallets
Trezor Model T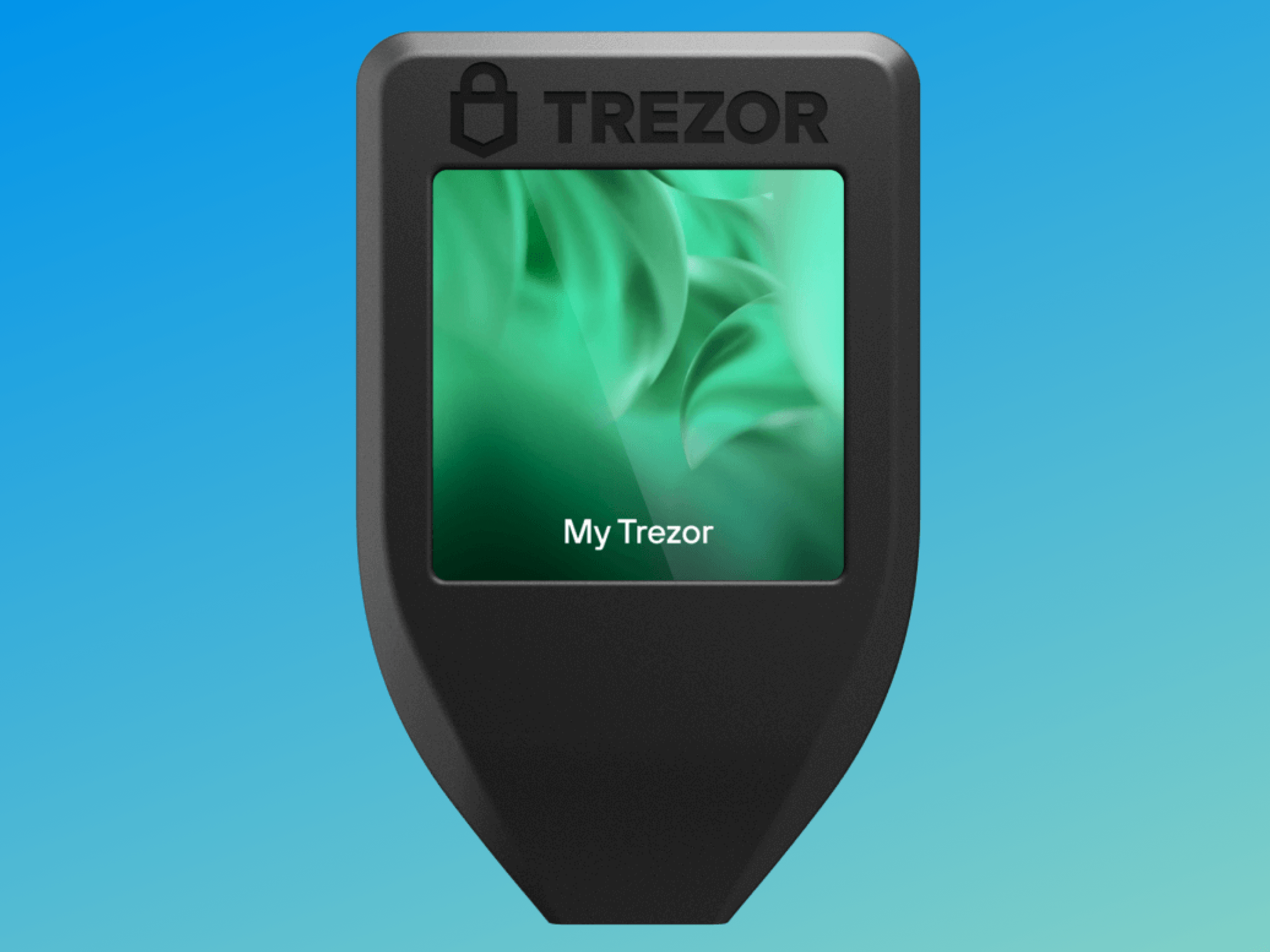 The first cryptographic hard wallet, known as a "Trezor," was released in 2013 by the Prague-based startup Satoshi Labs.
Trezor's flagship device, the Model T, is perhaps the best and most secure crypto hardware wallet available today.
Trezor is well-known for the reliability and safety of its digital wallets. Since the release of the Model T in 2018, there have been no documented instances of successful remote hacks leading to financial loss for the user.
👉 You may use Trezor via the Trezor web wallet on your computer or mobile device or via the Trezor suite software that you download on your computer.
A few years ago, Trezor formed a unique partnership and integration with the software wallet Exodus, combining the practical features and user interface of the Exodus software wallet with Trezor's security. Another web 3.0 wallets, such as Metamask, can also be integrated with Trezor.
Trezor has two hardware wallet options: the entry-level Trezor and the premium Model T. Unlike the Trezor One, which requires you to input sensitive information like your PIN number or recovery phrases into a computer, the Model T's touch screen handles all of this, making it an ideal option in terms of security. Moreover, Model T supports more coins.
---
Features:
Price: $219
1000+ supported assets
Compatible with different operating systems, including Windows (version 10 or newer), MacOS (version 10.11 and higher), Linux, and Android. The Chrome OS, Apple's iOS, and Windows mobile are not yet supported.
Although Trezor's Model T is the company's top-tier offering, not all customers agree that it's worth paying more than twice as much as for a Trezor One.
Ledger Nano X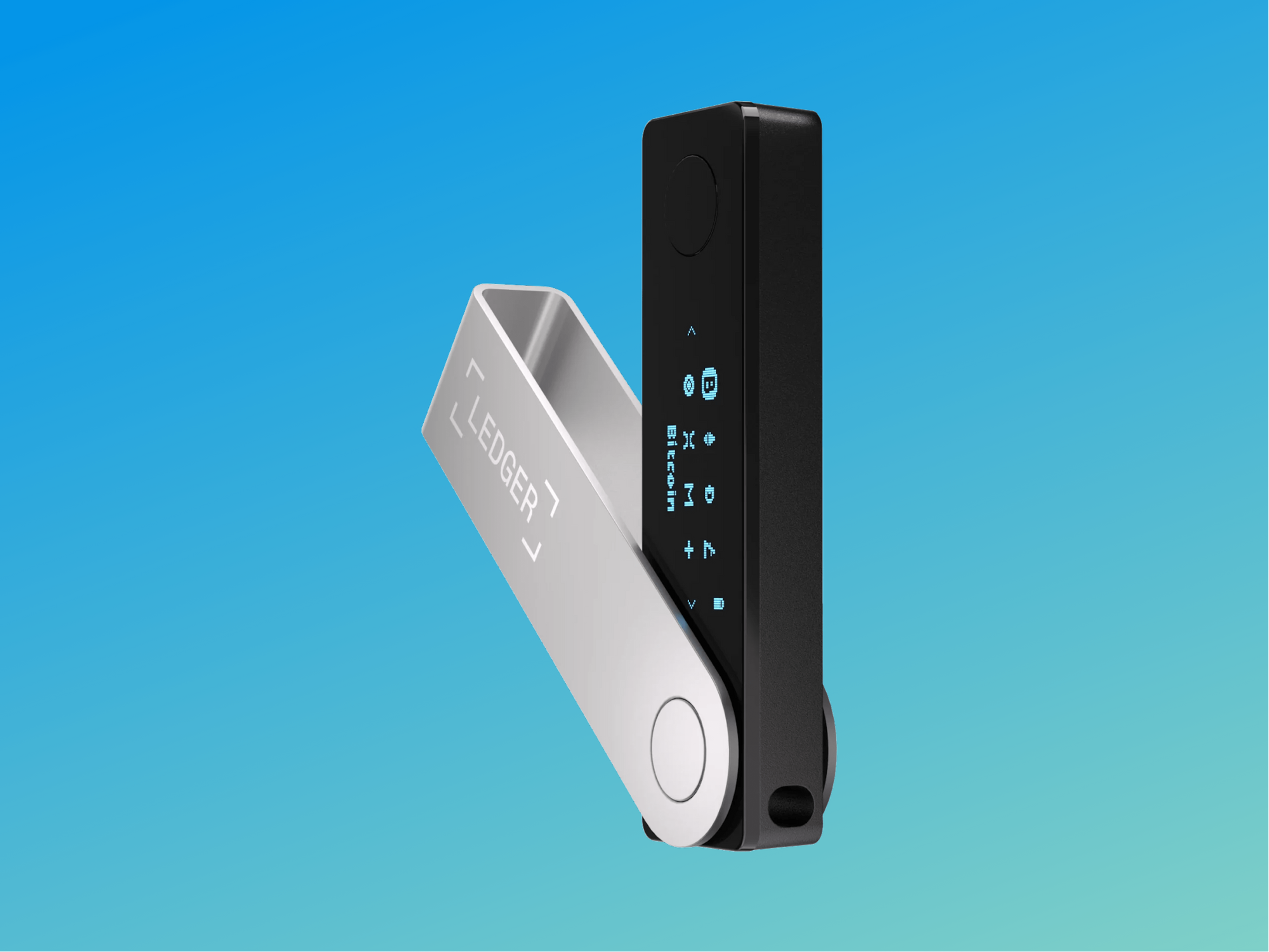 Trezor and Ledger are the best crypto hardware wallet makers currently available. So, unsurprisingly, Ledger comes in at number two on our list.
While Ledger is a French firm that has established itself as the industry standard for hardware wallets, the Ledger Nano X is its latest premium product.
The Nano X is packed with state-of-the-art security features, including an EAL5+ certified secure element chip and support for over 1,800 coins. The Ledger can connect to a desktop computer via a USB cable or to a computer or mobile device through Bluetooth.
👉 Ledger Live allows customers to keep track of their cryptocurrency holdings from the convenience of their desktop or mobile device, making it ideal for mobile commerce. This is safer than using a regular mobile wallet.
However, despite Ledger's reputation as one of the safest hardware wallets, there was one unpleasant security incident in mid-2020 that's worth noting. More than 270 thousand consumers' personal information (like emails, phone numbers, home addresses, etc.) was compromised as a result of the data breach and the team's apparent lack of due diligence. While customers' crypto was not at risk, hackers still tried to phish for customers' private keys and recovery phrases through email.
While Ledger Live supports a vast majority of cryptocurrencies, there are still a few assets whose native wallets are not yet compatible. However, several have already integrated with Ledger to enable users to store their keys safely.
Being more expensive than the Nano S, the Nano X has all of the same features plus Bluetooth connectivity, a slightly larger screen, and the ability to store 100 apps as opposed to the Nano S's three to six apps. Both can connect to third-party wallets like Metamask, giving users access to a wide range of DeFi services.
---
Features:
Price: $149
1000+ supported assets
Compatible with different operating systems, including Windows (at least 64-bit Windows 8.1), MacOS (version 10.10 and higher), 64-bit Linux, iOS (version 9 or higher), and Android (at least 7).
Ellipal Titan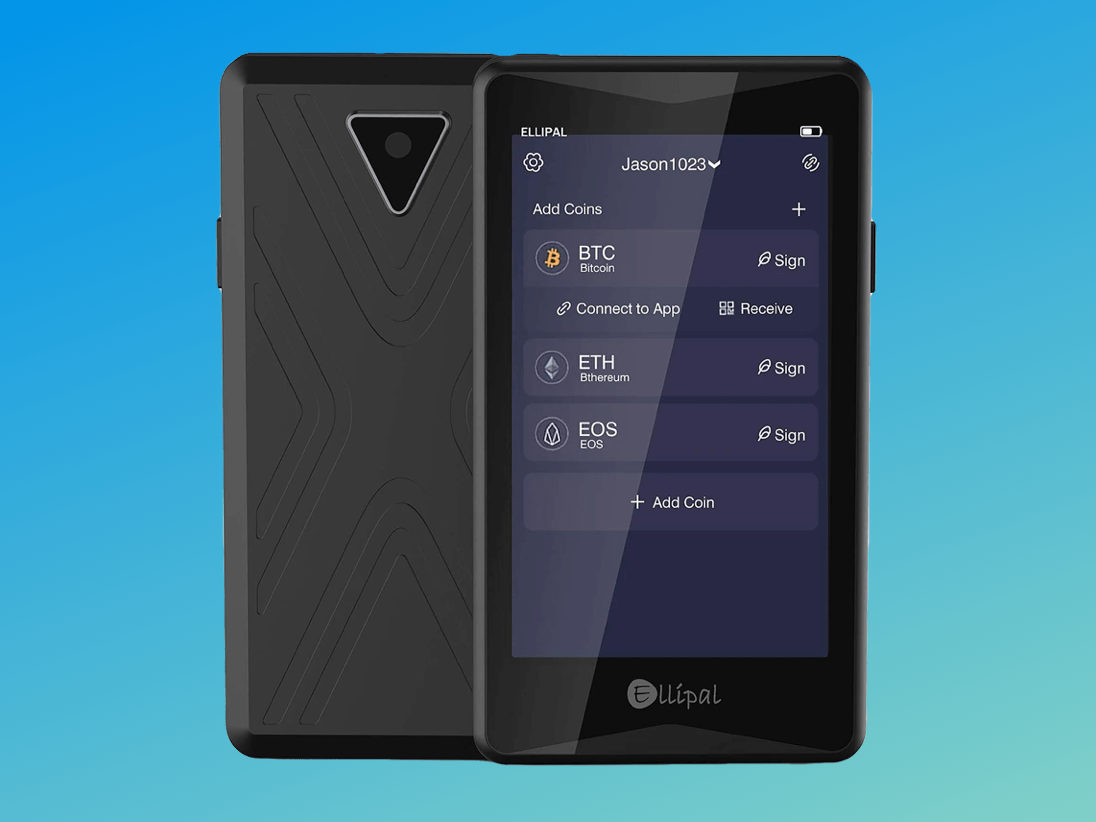 The high level of protection offered by Ellipal's crypto wallet earns it another top spot on our list. If you're looking for a secure bitcoin hardware wallet, then Ellipal Titan is a good solution for a few good reasons.
For starters, the Titan is air-gapped, meaning it's an offline wallet that doesn't need the internet to function. The device's use of QR codes acts as an additional safeguard. This implies that your wallet and its contents are protected 24/7 against unauthorized access or malware of any type.
👉 Although the Ellipal Titan costs more than the basic Trezor One and Ledger Nano S, for certain cryptocurrency users, the high price may be justified. After all, it supports more coins, is sealed to prevent dust and water damage, and includes an anti-tamper function that wipes all private keys if the device is physically broken into.
Ellipal's amazing feature set includes support for 46 blockchains and 10,000+ crypto assets, with more currencies being added each month. It also enables users to stake assets, earn interest, and buy and sell cryptocurrency using the wallet's downloadable applications. The Ellipal hardware wallet is compatible with the Ellipal app, which can be downloaded for free on iOS and Android devices.
---
Features:
Price: $139
10000+ supported assets
iOS/Android apps

NGRAVE ZERO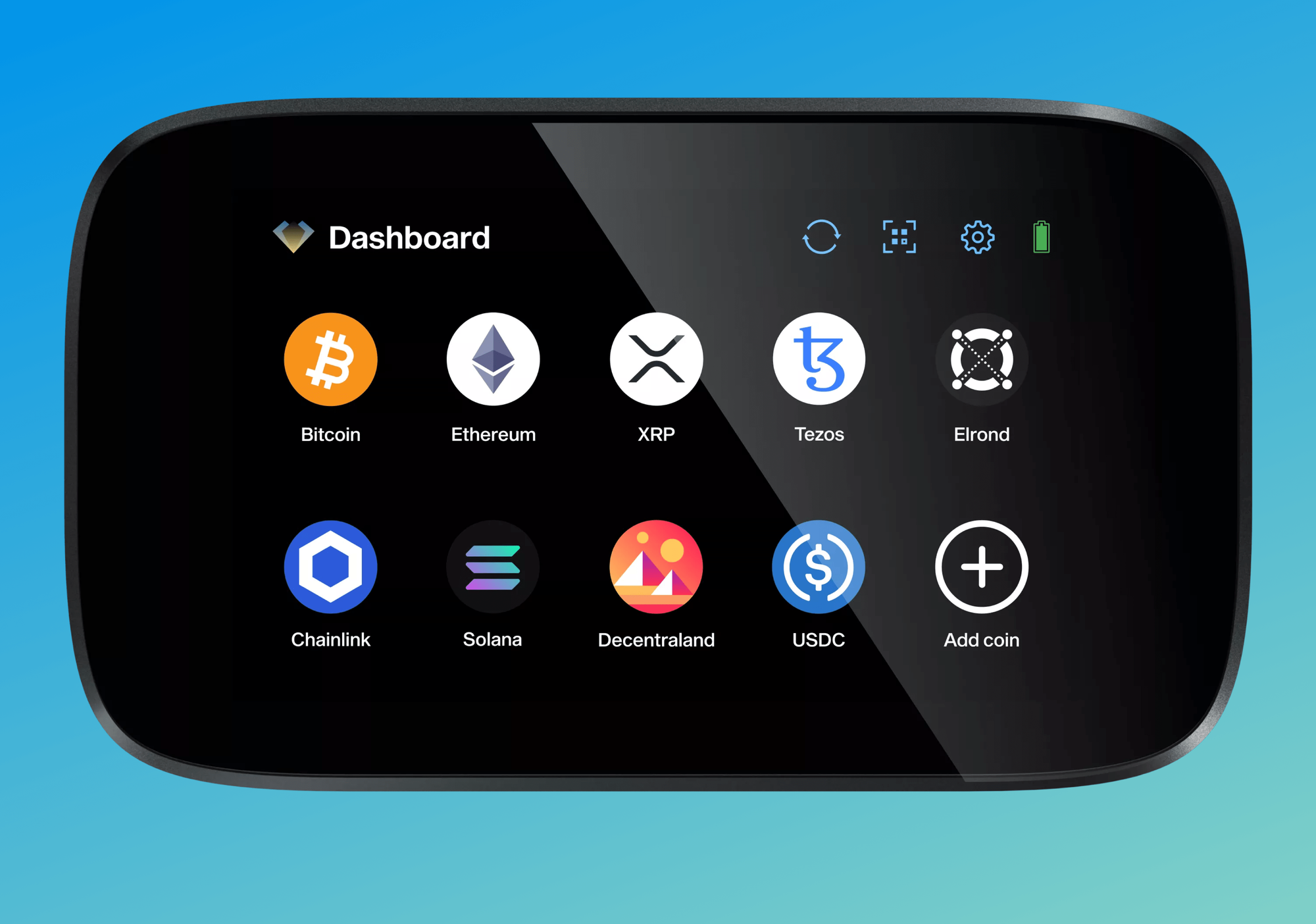 NGRAVE has done an excellent job with branding and marketing, creating a lot of buzz for the product on crowdfunding platforms like Indiegogo and Kickstarter in 2020 and garnering $6 million in early capital from investors like Morning Star Ventures, Woodstock Fund, DFG Group, and others.
What's more important, however, is NGRAVE's collaboration with Jean-Jacques Quisquater and world-leading institutions in cryptography to ensure top-notch security. The partnership with Jean-Jacques Quisquater, in particular, deserves a special mention, primarily due to Jean-Jacques's excellent reputation in the industry and the fact that he was mentioned in Satoshi's Bitcoin White Paper.
👉 Together with Jean-Jacques, NGRAVE developed a game-changing method for generating, recovering, and securing private keys, which they called the "Perfect Key" — the most secure private key on the planet today. Unlike other devices, NGRAVE generates a private key in real-time during setup.
NGRAVE is also 100% air-gapped and has passed the most stringent security certification tests (EAL7 compared with Ledger's EAL5), and is ROHS and CE certified. NGRAVE's high-tech device features a light sensor, biometric scanners, and pin protection and is tamper-proof. Moreover, its metal case is made from military-grade premium materials, making it far more durable than plastic hardware wallets.
You'd think a gadget with that many advanced features would be difficult to use, but the NGRAVE team did a great job with the user interface and experience.
---
Features:
Price: $434
Supports Bitcoin, Bitcoin Cash, Ethereum, Dash, Zcash, Litecoin, Binance Coin, XRP, Dogecoin, Tezos, MultiversX (Previously Elrond), Groestlcoin, Solana and Stellar, and more are coming.
iOS/Android apps
KeepKey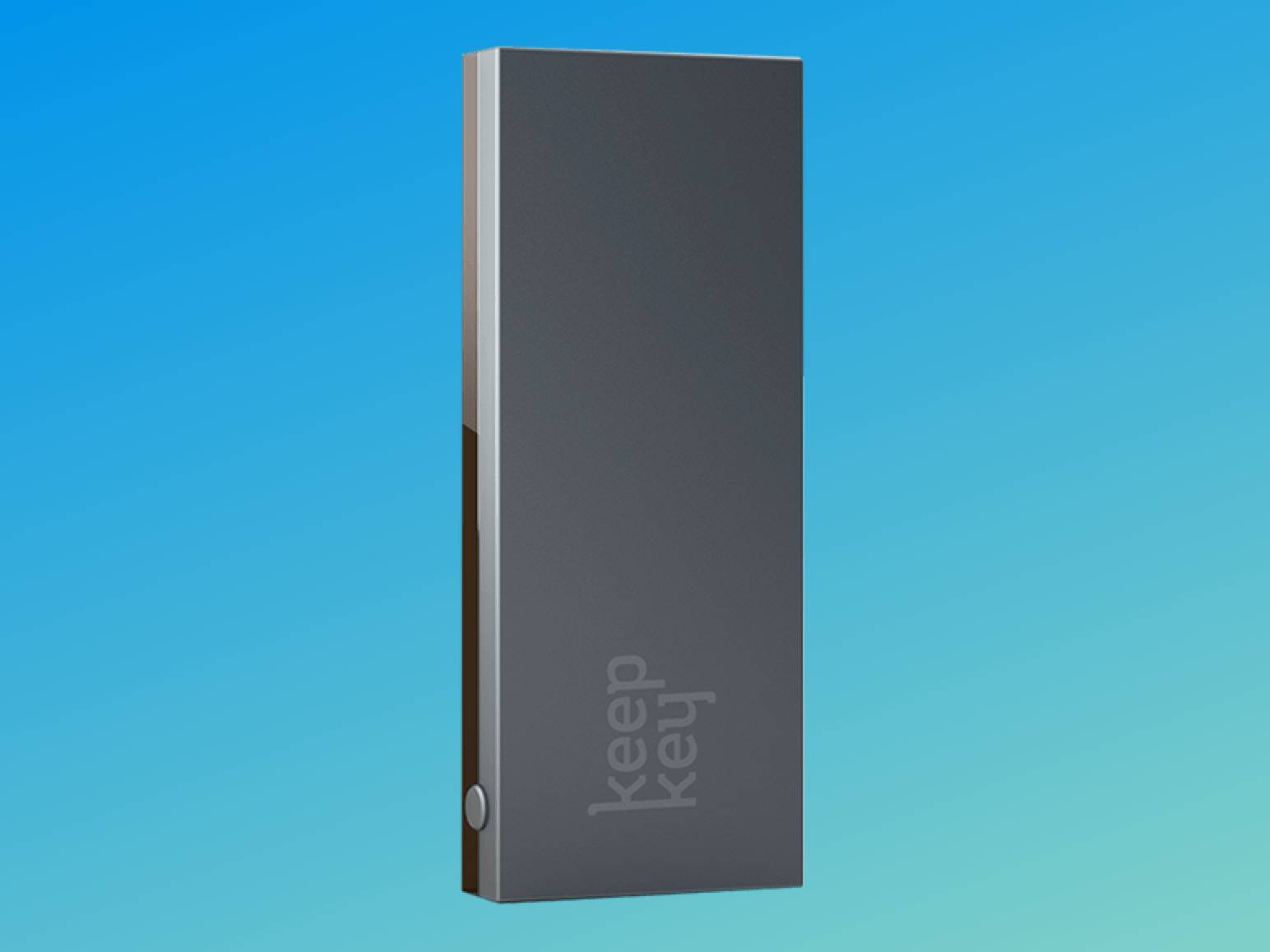 In terms of value for money, you can't beat KeepKey. For $50, you'll even get a larger screen than some of its competitors. The wallet is also seamlessly integrated with the Shapeshift platform, whose former employees own KeepKey independently of the Shapeshift DAO.
👉 KeepKey can only generate a 12-word recovery phrase, and you'll need to manage your funds via the Shapeshift platform and USB.
The biggest problem with KeepKey is that it doesn't support as many coins as the other options above. Also, KeepKey can't integrate with other web 3 wallets, so you won't be able to interact with many DeFi apps.
---
Features:
Price: $49
Supports Bitcoin, Bitcoin Cash, Ethereum, Litecoin, Dogecoin, Dash, and 46 ERC-20 tokens.
KeepKey requires a USB connection to KeepKey Desktop and is only compatible with Windows/MacOS/Linux and not mobile OS.
Bottom Line: Your Keys, Your Coins.
We hope our comprehensive crypto wallet hardware tutorial has helped you choose the ideal cold wallet for your needs. From the TOP 5 we've covered above, Trezor and Ledger are considered the best, and many investors find solace in these wallets' long track records of success and stellar reputations.
However, new wallets like NGRAVE and Titan are quickly catching up, so who knows what will make it to the top of our list in 2024. But that's a different story. For now, when selecting a hardware wallet for crypto, pay attention to security, support for coins, reviews, compatibility, and, of course, the price.
Looking for ways to grow your holdings? Well, look no further — top up your exchange, connect it to Bitsgap, choose an automated trading bot, and start making money today!
FAQs
Where Do I Get a Crypto Hardware Wallet?
It's always best to purchase a hardware wallet for crypto from the manufacturer's official website. Buying a used hardware wallet poses a significant security risk and should be avoided at all costs.
The same rule applies to mobile wallets — always download software from the company's website or via a direct download link provided there. Don't go to the app store directly because you never know if the app is genuine.
What Is the Best Hardware Wallet Bitcoin?
Everything mentioned above is suitable for storing bitcoin. The crypto cold wallets we've recommended in this article are also the ones that have received the highest ratings from security experts. So look no further. Trezor and Ledger are still the best options. If you're paranoid about security (and we don't blame you), the NGRAVE is your way to go. If you're short on budget, choose KeepKey.