Top Crypto Trading Bots in 2020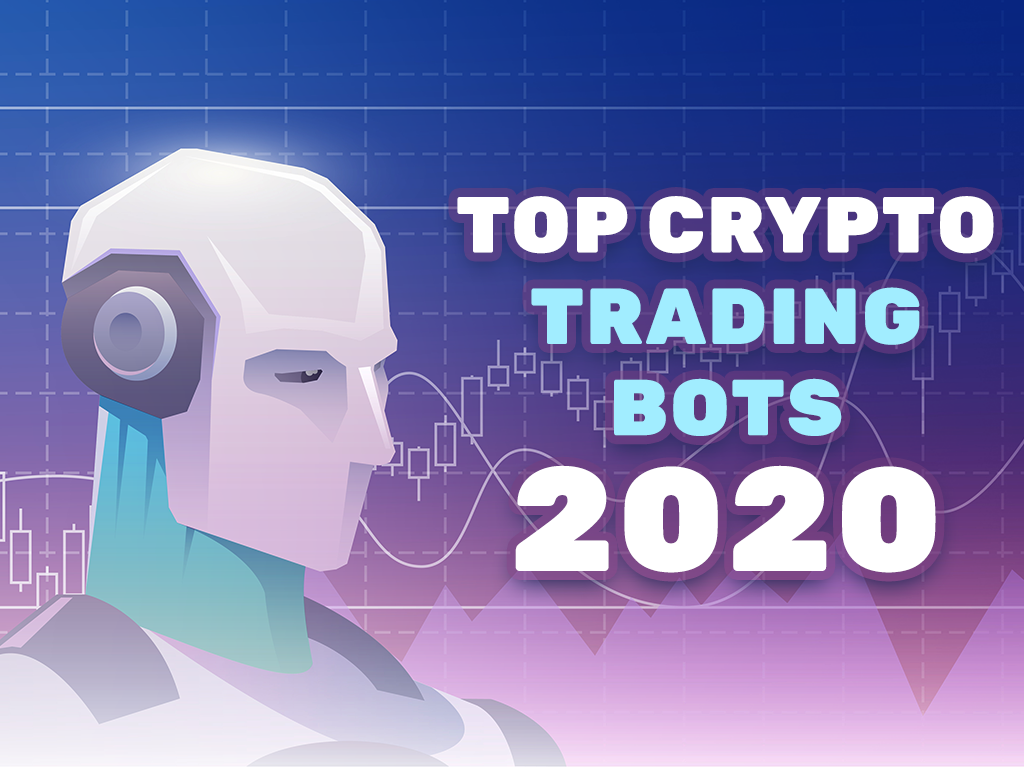 The expansion of the cryptocurrency market continues to soar over other industries, with over 6000 different assets each unique to their functionalities, features, and prices the market has led to the creation of millions of jobs, incomes, and businesses.
The infamously volatile nature of the crypto market keeps the crypto market alive each passing second of the day; this is why cryptocurrency trading bots are essential to monitor over 6000 different assets. Crypto trading bots play a crucial role in covering market conditions as seamless as possible.
Crypto trading bots continue to influence the crypto trading space by broadening the avenue of opportunities with their unique features. The rising robot integration has allowed traders to create calculated, data-driven, strategies to execute in correlation with the market condition.
Thanks to these crypto automated algorithms, traders established sophisticated portfolios, index construction and rebalanced their portfolios . In this article, we'll highlight the influence of Crypto trading bots in the crypto trading space, as well as mention some of the best crypto trading bots in the market.
⚙️ How do they work?
Crypto trading bots are primary software that operates based on sophisticated rules and parameters essentially defined by the user. Crypto trading bots link with popular exchanges through diverse APIs to make trades for the user based on the set number of rules and parameters.
Crypto trading bots automates the process of monitoring market movements and conditions and executing trades based on precise market conditions and algorithms defined by the user. Crypto trading bots are unique to their features, algorithms, and functionalities that would be impossible for traders to do without them.
---
🤔 Why traders use bots?
The Crypto market is infamous for its aggressive volatility. The notoriously volatile crypto market has avenues of opportunities that need careful, precise, and accurate decisions and each misplaced decision can be quite gruesome. While the crypto market's features may align and comply with traditional markets and conventional strategies; however, the market does not align with clockwork routines.
The crypto trading market requires an in-depth knowledge of the fundamentals of the strategies that take place in the crypto trading space. They should utilize several indexes, indicators, and hybrid trading strategies to gain the edge in the market; therefore, traders must establish an understanding of the market condition and fundamentals. This is where crypto trading bots can play a pivotal role.

Ultimate Time Savior
Crypto trading bots are exceptional at mitigating the hassles of time. The automated nature of the bots makes it easier for traders to utilize their time and invest their time into other important aspects that go into crypto trading.

While it may be humanly impossible for traders to spend their whole day and night monitoring a set of cryptocurrencies, Crypto trading bots can tirelessly track over thousands of cryptocurrencies.


Repetition Master
At the core of crypto trading bots lies the objective of duplicating tasks and repeating it. While repetitive tasks can be time-consuming and energy-depleting, crypto trading bots can tirelessly automate the process of duplicating and repeating it.

Crypto trading bots play an essential role in performing periodic rebalancing, allowing traders to balance their portfolio after set intervals. Traders actively utilise crypto trading bots to automate the whole process, which saves them quite a lot of time.


Income River
The sophisticated algorithmic strategies combined with complex computations and statistical models allow crypto bots to translate their efforts into a sustainable income river for traders worldwide.

Crypto trading bots are engineered to handle cryptocurrencies and generate passive income by executing trades based on data-driven calculations with precision and accuracy.

Consequently, Traders should note the income created by crypto trading bots may not be as concrete, crypto trading requires strength over fundamental strategies and functionalities of the crypto trading market.
The trades crypto trading bots execute are essentially piloted by talented, seasoned traders that form their decision based on a statistical analysis of different indicators, models, and indexes. Therefore, it requires patience, effort, and tolerance to find a perfect plan which can work sustainably.
---
🎃 What are the risks?
While Crypto trading bots offer a myriad of diverse opportunities to their users, it also comes with risks that users tend to look over such as
Lack of Knowledge. The lack of knowledge and understanding of the fundamentals that the market movements operate on maybe gruesome if mishandled.
Malicious users and scams may incur costly damages; therefore, it is best if you form your decision based on intensive research into the background of the team and reviewers of the market.
A bot is as good as the strategy, hence forming sound strategies based on a set of insightful analyses is essential for traders to utilize. A weak strategy could be costly for both the trader and investor.
Crypto trading bots are lines of code like every software, and like every software crypto trading, bots are vulnerable to bugs and discrepancies.
---
🛠 Common crypto trading bot strategies
Crypto trading bots are capable of integrating and utilizing any strategies the traders implement. From simple techniques to sophisticated and complex techniques, the bots can execute them all. Here are some of the more common strategies traders implement into trading bots:
Trend Following
Assets and commodities in any market follow a set of trends that help traders identify if the asset is profitable or not. There are a plethora of indicators available that are established on the fundamental operations of trends.

Trends play a pivotal role in identifying assets; however, it can be quite time-consuming, monitoring thousands of assets for trends. Therefore, crypto trading bots mitigate the hassles by filtering trends and movements of a set number of assets so traders can make split-second decisions with precision and accuracy.


Market Making
Market Making plays a crucial role in providing passive capital. This strategy involves the buying and selling of tokens non-stop.  It is a non-stop working strategy that allows the bots to capture the spread between buying and selling price.


Copy Trading
Copy trading is an innovative trading methodology that enables users worldwide to follow seasoned traders. Users connect their portfolio with that of seasoned traders who rely on sound strategies and complex computational statistics. Crypto trading bots allows users to copy other traders seamlessly.
---
🤖 Top 5 crypto trading bots in 2020:
1. Bitsgap

Launched in 2018, Bitsgap is a cloud-based platform that is capable of moderating and executing numerous trades across diverse trading accounts under a single ecosystem.
Some of the highlighted features of their crypto trading bots include compatibility with over 30 crypto exchanges through its native API, enabling traders with control over multiple trading accounts, trading above 10,000 crypto pairs within the platform, and more.

Features:
Can earn profits from various strategies simultaneously, which includes but not limited to, price movement, arbitrage, portfolio management, tracking open positions, smart trades.
Allows managing orders quickly from on-chart management.
The platform notifies users about the market anomalies.
Mobile and desktop compatibility.
Beginners can learn through demo mode without risking their assets.
Impenetrable 2FA security.
Educational webcasts.
Structured knowledge-base.
Friendly customer support service.
Supports Binance.com, Kraken.com, Livecoin.net, Poloniex.com, Exmo.com, Yobit.net, The rocktrading.com, Wex.mz, Bitfinex.com, Bitstamp.com, Bittrex.com, OKEX, Huobi, HitBTC, Kucoin, CEX.10, Poloniex, Coinbene, ZB.com, CoinEx, Gemini, Gate.10, Liquid, LBANK, Bibox, Bit-Z, DDEX BIGone, Bithumb
Bot explainer video:
Pros
Easy to set up and use
Pre-configured bots
Can perform arbitrage
Interactive dashboard to analyze market signals
Dozens of features under one roof.
Free package for low budget accounts.
Price
The platform is categorized into three packages, each unique with their perks, features, and performances.
Basic Package
$19 or €17 per month
Two active bots
$25K monthly volume limit

Advanced Package
$44 or €39 per month
Five active bots
$100K monthly volume limit
No arbitrage

Pro Package
$110 or €97 per month
15 active bots
Unlimited Trading
All features

⭐️ Try Bitsgap 14 days for FREE
---
2. Tradesanta
TradeSanta is a cryptocurrency trading automation software well-suited for beginners and professional traders. Without making trading your full-time job, you can take advantage of crypto market fluctuations 24/7.
The platform supports 7 major exchanges now and counting. TradeSanta's distinguishing feature is a simple but powerful user interface. It's mission is to make automated trading accessible to anyone.
Features
User-friendly interface to make automated trading as intuitive as it can get
Powerful Dashboard Analytics
Connected exchanges: Binance, Huobi, Okex, Bitfinex, UPbit,  Bittrex and HitBTC. More coming soon
DCA and Grid strategies
Long and Short trading
Trading View chart and TradeSanta analytics for a trading pair to help you make decision on bot's settings
Smart Order for selling or buying large amounts of crypto
Technical Indicators (Bollinger Bands, RSI, MACD)
Stop Loss and Trailing Stop Loss
Virtual trading to test various strategies
Trading Terminal to place orders right in TradeSanta Interface
Unlimited Number of Trading Pairs
Telegram Support
iOS and Android apps

Pros
Runs in the cloud
Easy to use Interface, great for novice traders
Traders can test their strategies
Essential trading tools for pro traders such as Stop Loss and Martingale
Cons
Is not yet integrated with TradingView signals
Plans

Minimum - up to 2 bots - free
Basic - up to 49 bots - $14/month
Advanced - up to 99 bots - $20 month
Maximum - unlimited number of bots, advanced trading tools - $30/month
*prices are indicated for annual purchase
---
3. Kryll.io
Kryll is a cloud-based platform that has a myriad of features for less tech-savvy traders. Implement any strategy into their trading bots with their Drag'n Drop builder, which mitigates the requirements of learning technical coding skills.
Kryll's cloud-based platform runs 24/7 with little to none downtime; it allows users to freely backtest their strategies as many times as they want without any hidden charges.

Features:
Its own ERC-20 token KRL which is used within the platform.
Tokens can be used to pay fees to run bots.
Allows users to create personal strategies or rent strategies of other traders using the token.
Features a marketplace where strategies can be rated, reviewed, and backtested.
Allows a unique income stream by lending strategies to others.
Its UI tool makes it easier to build strategies.
Various features like backtesting, TradingView integration, social trading, renting strategies are included.
Supports Binance, Binance US, Bittrex, Bitstamp, Liquid, KuCoin, Kraken, HitBTC

Pros
A next-generation platform with personalization
Traders can socialize through the platform
Offers its marketplace
Beginners can make profits by renting strategies
Many strategies can be implemented

Cons
No amount of fees specified
The platform uses its token
Limited in a few areas
---
4. HaasOnline

HaasOnline provides some of the best automated crypto trading bots in the market. Their crypto trading bots are highly diverse and compatible with any trading strategy you throw at it. One of the reasons for this is that an advanced crypto scripting language has been used to create HaasOnline. It is compatible with over 600 commands, and traders can mitigate their risks by backtesting and simulating their trades using their powerful engines.

Features:
Runs locally on Mac, Linux, and Windows.
Provides documentation to properly set up the platform and get it up and running.
Features 16 trading bots such as Accumulation Bot, Scalper Bot, Flash Crash Bot, and Market Making Bot.
Can take advantage of 50 technical indicators.
Bots written in C# can be integrated within the platform.
Features a customizable dashboard.
Allows traders to integrate it with discord and telegram.

Pros
Supported on all major platforms
Proper documentation
A lot of bots to choose from
Can add custom bots
Up to 50 technical indicators

Cons
Runs locally. However, they are soon to launch their cloud hosting services
Pricing can be a bit steep
---
5. Cryptohopper

Cryptohopper has a community of over 200,000 successful crypto traders that use their trading bots to execute their strategies. With an average score of 4.3 on Google Play Store, Cryptohopper allows users to benefit from various avenues such as Market Making, Exchange/Market Arbitrage, Interactive Strategy Designer, and Simulation of trades without any fear or money.

Features
Traders can use their tools to create their strategies.
Compatible with multiple instances of Copy Trading.
Can purchase a pre-made strategy from the marketplace.
Can choose up to 30 technical indicators and 90 candlestick patterns.
Offers a simulated trading environment to avoid risking capital.
Allows historical backtesting, stop-loss, stop-buy and stop-short, dollar-cost averaging.
Can perform trades on multiple exchanges.
Modify pre-made strategies to more complex ones.
A report detailing the performance of crypto signals and strategies.
Availability of video courses, tutorials and much more to properly learn how to utilise the platform.
Supports Binance, Binance US, BitFinex, Bittrex, Bitvava, Coinbase Pro, HitBTC, Huobi, Kraken, KuCoin, OKEx, Poloniex

Pros
A cloud-based trading platform
Offers free trial
Buy pre-made strategies and modify them
A wide range of technical indicators & candlestick patterns
A testing mode to test a strategy safely
Resources available to guide on the proper use of the platform

Cons
High price
Supports few exchanges
---
6. Cryptotrader

Founded in 2013, Cryptotrader has allowed thousands of traders to gain passive income and save up time. It is compatible with over 1500 coins across some of the top exchanges. Cryptotrader provides insightful EMA based and MACD based technical analysis with real-time charts for professional traders.

Features
Work on cloud since 2013 and can connect to over 15 exchanges through API for running trading strategies.
Serves as a marketplace for users to find and purchase bots made by seasoned traders.
Allows programmers to add personal strategies to the marketplace.
Traders selling bots provide details on the specific bot.
Supports Binance, Bitfinex, Bitstamp, Bittrex, Coinbase, Huobi, Kraken, Poloniex


---
📍 Conclusion
Crypto trading bots have an extended list of features and benefits. As technology and crypto trading industry emerges, Crypto trading bots become more sophisticated. Endless capabilities of trading bots make them a must-have for every crypto trader out there.
In the infamously volatile crypto market, a trading bot can extensively mitigate the hassles of crypto trading. There are numerous bots in the market, each unique to their functionalities, codes, ecosystems, and strategies. Therefore traders must research the features, the companies, and reviews before making a decision.