⚡ Scalper Bot Trading Competition is LIVE!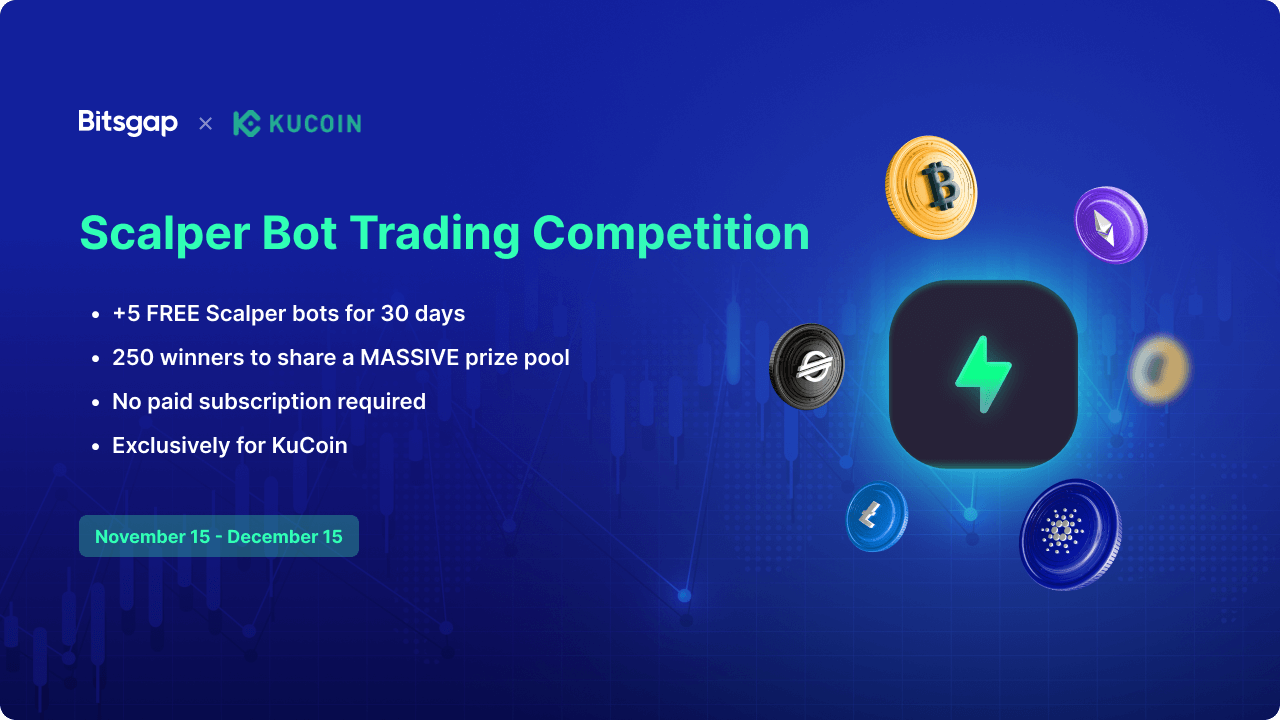 Today, the leading crypto trading bot provider Bitsgap is launching the Scalper bot - the fully-automated solution for high-frequency trading and generating steady yield from the slightest price fluctuations. High-frequency trading, or HFT, is a type of algorithmic trading with a high speed of trades execution.
This development is another step toward bringing our clients the best experience in automated crypto trading. To celebrate this event, Bitsgap has teamed up with KuCoin to launch an epic promotion for all users, regardless of their subscription status.
The Scalper bot trading competition is a month-long race for profits that starts on Nov.15 and will last till Dec. 15. The competition takes place exclusively on KuCoin, a top-5 crypto exchange, with a $4.5 billion daily trading volume and offers the following benefits:
Five FREE Scalper bots for all Bitsgap users in addition to their subscription plans for the whole period of the competition.
A massive prize pool that grows each time new participants enroll the competition.
250 winners to share the prize money!
No trading limits. No hidden fees. No paid subscription required.
If you are immune to the boredom of legal language, check out full terms and conditions on the upcoming competition. It declares our (and your) commitment to the rules of fair play, contains all the information on how we will select the winners, and pay the prizes.
Long story short, those users who generate the highest % in Total Yield calculated by the time of 23:59 (UTC) on Dec. 15 will be declared as winners. The prize money will be distributed according to the following schedule:
Now for the most sensitive part, the "DON'Ts." Breaking these rules will surely leave you without a prize:
First things first. You must be of a legal age to participate.
You cannot claim more than one prize if you enroll with more than one Bitsgap account.
Any kind of abuse or fraudulent activities are strictly prohibited. This includes manipulation with pricing and/or quotes.
You cannot participate in this competition if you live in a country/territory where KuCoin is not eligible to operate.
We've got a bunch of new stuff on the Scalper bot, as well as on the upcoming trading competition.
To learn more about the Scalper bot, hit the Knowledge base article.
Also, check out this article on how to create an API key on KuCoin and link it with your Bitsgap account.