HitBTC Trading Bot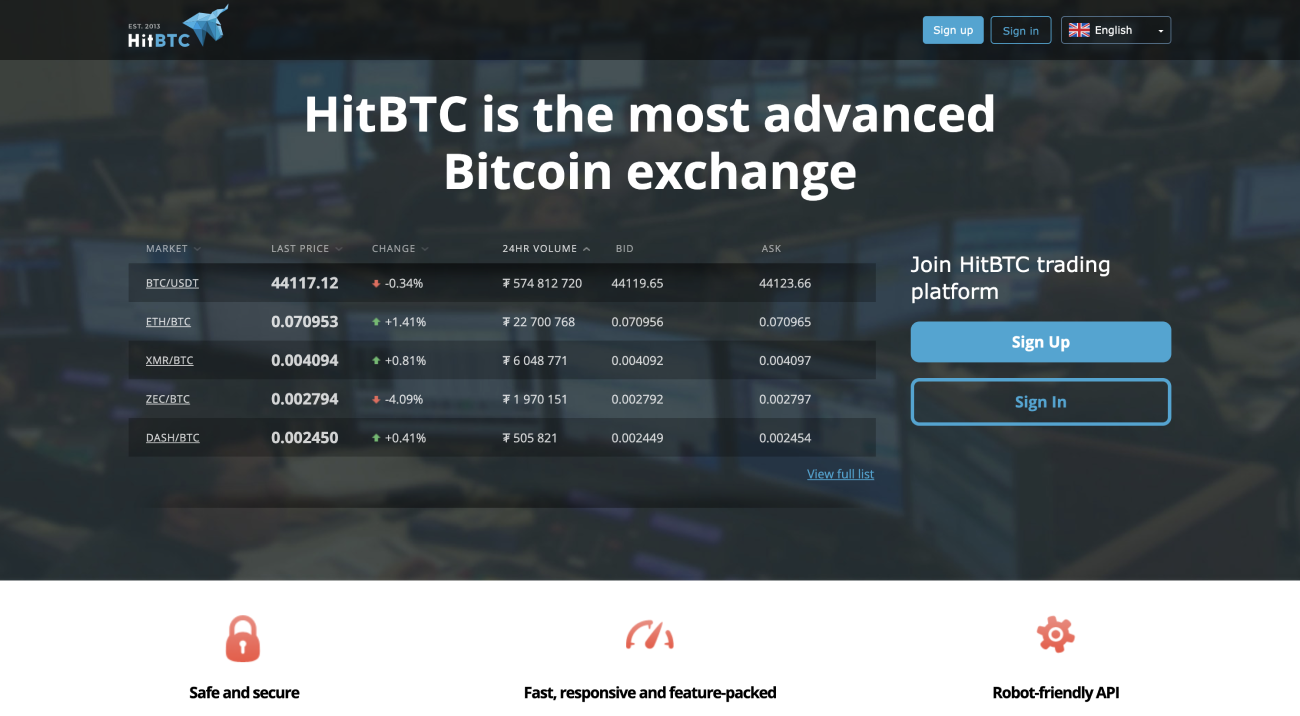 Bitcoin, and almost all coins, demonstrate a chance to start a new uptrend.
However, no one can be 100% sure.
That is why the Bitsgap team has released a new automated trading robot - HitBTC trading bot.
Why HitBTC Trading Bot is unique?
The uniqueness of this standalone fully automated crypto trading EA is defined by its ability to earn both on the rise and fall of BTC.
Just switch to the Buy the Dip strategy when the price of BTC is high enough, and EA will automatically build a wise orders grid and trail it down after the price.
The robot will independently operate, placing orders and fixing profits on every trade while the price of BTC is moving down. In this way, you will accumulate profits in BTC all the way down.
The moment the market turns around for a new upsurge, EA will close all positions by locking in the accumulated BTC. BTC will remain on the trading account. Next, you can either just HODL and enjoy the BTC rise, or launch the normal trading mode - for an uptrend or a sideways trend. The choice is up to you!
In addition to the new "Buy The Dip" feature, this unique cryptocurrency trading robot has powerful technical analysis algorithms and recognizes the optimal moments for placing an orders grid.
Risk management settings are verified by statistical analysis and automated. Such automation eliminates the human psychology factor, and hence the mistakes inherent in people.
That is why the market performance of HitBTC crypto trader by Bitsgap surpasses the results of manual trading even by professional traders.
This trading EA is ideal to run simultaneously with other Bitsgap robots on the HitBTC exchange.
Why choose HitBTC crypto exchange?
HitBTC is the most advanced Bitcoin exchange - this is the motto on the official website of this crypto exchange. In reality, this crypto exchange offers one of the widest range of trading products. In addition to coins, OTC contracts are also presented here. This trading spot was founded in 2013 and is still developing by leaps and bounds.
The main value of HitBTC is deep liquidity on a wide tier of cryptocurrency assets. Liquidity is maintained by inviting more and more market makers and providing them favorable terms and conditions.
The Rebate System was designed specially to attract and reward market makers for providing deep liquidity. It is very important!
Trade saturation and liquidity mean that even with a sharp change in the price of an asset, a trader will be able to find a counterparty. Therefore, when you need to sell, you can sell, or vice versa.
That is why this crypto exchange is suitable for trading with EA, since the probability that the placed orders grid will be correctly executed according to market prices is very high.
Therefore, the HitBTC cryptocurrency trading robot-friendly API is useful for Bitsgapians, since this is the best way to connect automated cryptocurrency trading algorithms.
What is HitBTC API?
HitBTC crypto exchange trading robot API is a special protocol to connect a trading robot or other third-party services. The Bitsgap platform provides a detailed manual on how to connect to the HitBTC automated trading API. It will take no more than 10 minutes and does not require any additional programs. Just follow the instructions.
Is it secure?
Bitsgap trading platform was created as a single entry point to all the most popular crypto exchanges at once. Access point means that a trader can trade manually or run a trading robot on any crypto exchange just via Bitsgap platform. The user independently sets the access restrictions of the trading API. Therefore, only the trader controls the funds on the exchange's trading account. Bitsgap does not have the ability to withdraw money from the exchange's trading account.
Subscription plans
There are several subscriptions offers. The simplest and cheapest one allows you to run 2 trading robots simultaneously and enjoy unlimited smart order placing.
The most expensive one allows you to run 20 trading robots including futures trading robots. In addition, trailing up/down features for the orders grid is also available to improve EA performance.
The price of subscriptions varies from 29 to 149 USD per month. However, if you buy a subscription for 6 months, a discount 17% will be applied.
Bot launching is easy
Register on Bitsgap official website and get a 7-days free trial period. You will be able to get used to the interface and functionality of the platform and explore cryptocurrency trading robots.
Enable Demo Mode to launch EA under current market conditions and monitor performance.
We also recommend you choose the strategy and run the backtesting feature to assess the statistical probability of profit in the future.