Bybit Trading Bot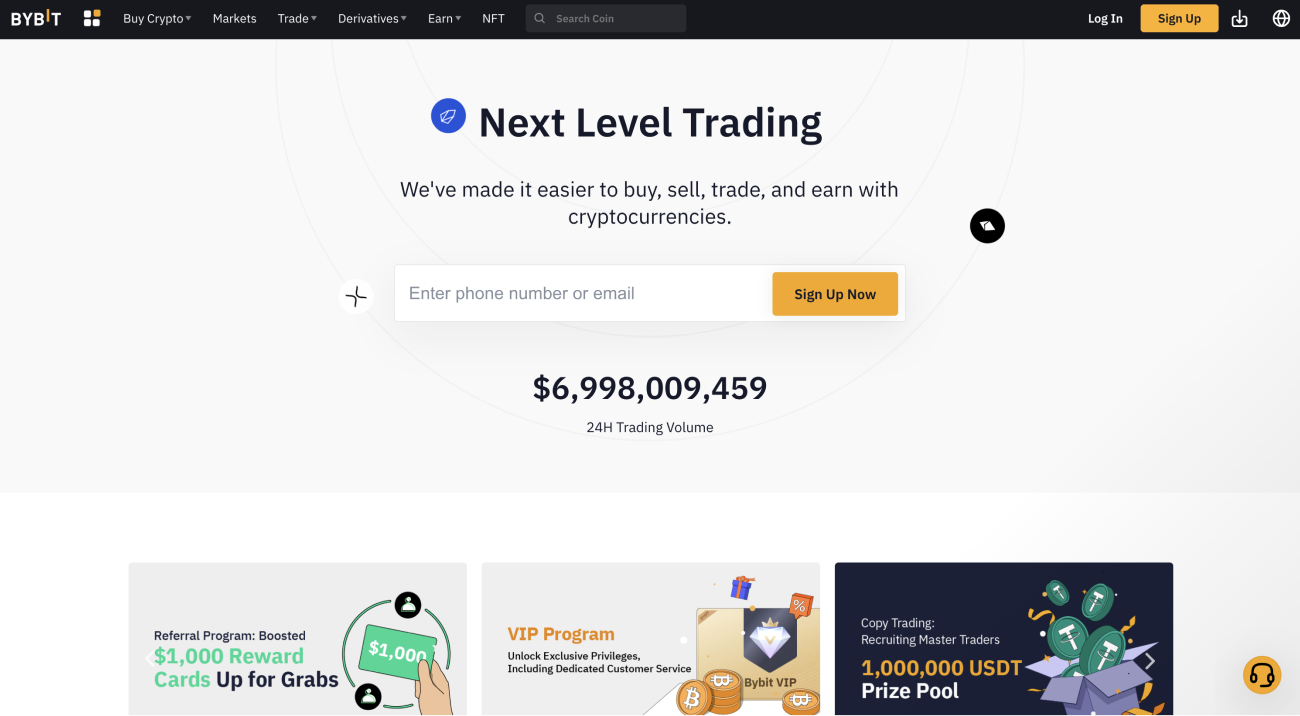 Bybit Trading Bot is an automated algorithm that allows you to maximize the efficiency of your cryptocurrency trading operations.
This is a fully autonomous trading robot that can buy and sell cryptocurrencies and profit from these operations.
This crypto trading EA manages trading positions 24/7 without your participation and makes effective trading decisions on the Bybit crypto exchange.
There are several modifications to this robot. All of them can be launched and configured through Bitsgap's universal platform.
About Bybit Trading Bot
Depending on the state of the market, a trader can launch a Grid Bybit trading robot or a DCA Bybit trading robot.
The Grid modification is ideal for trading in a long price range.
According to statistics, up to 75% of the time markets can be in a sideways range and only 25-30% of the time in a bullish or bearish trend phase. The cryptocurrency market is a cyclical market in nature and therefore, this rule is effectively used by experienced traders.
In addition, there is a special Grid bot reverse mode, aka "Buy the Dip".
This mode is specially designed for those situations when the market moves down in the correction phase.
However, if you believe that the upside potential will prevail, you should seize this chance and turn on "Buy the Dip" mode.
DCA modification of Bybit crypto trading Bot most effectively earns profit on a trend movement, even if it has its own temporary corrections. Powerful technical analysis algorithms recognize the optimal moments for placing an orders grid and will trail it up following the price.
Risk management tools have a special place in all Bitsgap products. In addition to the standard Stop Loss and Trailing Stop Loss orders, there is also a Trailing Take Profit order.
To enhance risk control, a special Draw Down Limit is integrated, which operates either in relative or absolute mode. The relative mode limits the risk based on the initial investment size. Absolute mode limits risk based on maximum equity. Users are free to switch modes as they wish.
What is Bybit exchange?
Bybit is a cryptocurrency exchange founded in 2018 and headquartered in Singapore. Official registration of the business enterprise - British Virgin Islands.
The exchange allows traders to operate with leverage up to 100x and offers a wide range of crypto assets and digital products.
Bybit is a fairly popular marketplace worldwide and has deep liquidity.
Notably, Bybit is one of the key players in the crypto derivatives market.
Bybit API
You can connect Bitsgap robots to your trading account on the Bybit exchange using the API. The steps to connect to the exchange are very simple and will not take more than 10 minutes. Detailed connection instructions can be found in the Trader's Cabinet on the Bitsgap official website.
Is it secure?
The API settings allow the user to independently set limits and include the inability to withdraw funds from the trading account. Bitsgap does not have access to the deposit/withdrawal feature on a user's trading account.
Pricing plans
Depending on what bot functionality the user needs, there are 3 subscriptions plans: Basic, Advanced, and Pro.
Plans differ in the number of robots, as well as additional features that enhance the efficiency of trading cryptocurrency pairs.
How to start?
Just register on the Bitsgap official website and get a 7-day free trial period.
Run Demo mode to get acquainted with the functionality of the platform and products. Run backtesting for any strategy you like, as well as testing in real-time and compare the statistics with the results of Demo trading in real-time. After making sure that the results of trading suit you, you can proceed to pay for the subscription to start Live trading.