Bittrex Trading Bot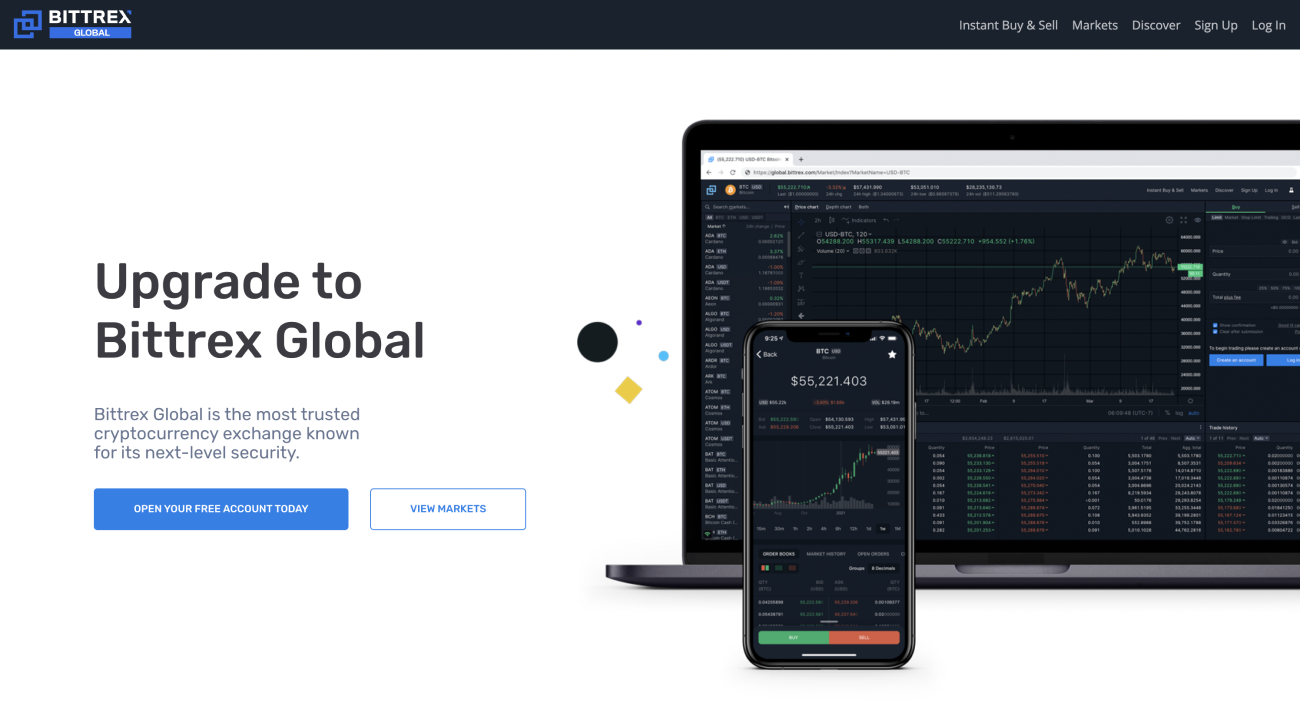 Trading statistics on the Bittrex crypto exchange show stable growth in transactions carried out by automated trading software.

Bitsgap has developed one of the most efficient cryptocurrency AI robots - Bittrex Trading Bot.

Reliable market entry algorithms and risk management are the hallmarks of this unique automated trading software integrated through the Bitsgap platform directly with Bittrex.
How does Bittrex Trading Bot make a profit?
Depending on the phase of the cryptocurrency market, this fully autonomous trading bot can function in both trend mode and long sideways mode.

Since the market has recently gravitated toward long-term consolidations between previous extreme points, traders have to constantly monitor price levels and place orders.
Sometimes this needs to be done very quickly and only a robot can compete with other market participants at such speeds. Therefore, the trading results of this algorithm are superior to the results of manual trading by professionals.
This AI cryptocurrency trading robot independently places orders for both entering a position and fixing profits.

The robot reacts even to minor price movements and the grid structure flexibly generates profits and protects against losses, even in case of sharp price fluctuations.

The risk management algorithms underlying this robot exclude the factor of human psychology and in many ways exceed human capabilities. Trading results are proved by statistics of this unique trading EA by Bitsgap.
What is Bittrex?
Bittrex is a cryptocurrency exchange with an ever-increasing membership pool and trading volumes.

This trading platform vigilantly monitors all changes in the world of digital assets and is sensitive to the requests of traders.

Due to the large diversification of both institutional and retail traders, the liquidity of this cryptocurrency exchange is consistently high, which ensures excellent order execution.

Bittrex's clearing mechanisms are adept at maintaining high transaction speeds and liquidity, even for coins with particularly high volatility.

Trading EAs can be connected to the exchange through the Bittrex API trading.
How does Bittrex API work?
Bittrex trade API is a universal mechanism for connecting external services. Bitsgap platform can be easily connected to Bittrex API trading.

Set your security limits and run a whole line of trading robots. This safe and reliable technical solution allows Bitsgap trading software to place orders directly from the cabinet on the company's official website to any exchange.

The process of connecting trading EA to the exchange API will take no more than 10 minutes.
Is trading via Bitsgap secure?
All operations through the Bitsgap platform are actions for placing trading orders on the exchange.

The platform allows you to place orders manually or through robots - in automatic mode. The platform does not provide other functions other than trading and analytics, and therefore it is impossible to request a withdrawal of funds from your trading account on the exchange via this software.

Funds deposited in your trading account are controlled by you only.
What about pricing?
Free of charge, you can use the free trial period and feel the full power of AI cryptocurrency trading by Bitsgap.

Flexible pricing plans become more profitable if a trader chooses a long-term subscription, but a monthly subscription only costs about $29.

There are discounts and promo actions for loyal subscribers.
Easy to start
The best start is to actively explore the possibilities of the platform and backtest trading strategies!

The free trial period allows you to get acquainted with the functionality of the platform and evaluate the effectiveness of AI algorithms both in real-time and in retrospect.

Several types of trading robots can be run simultaneously to compare their effectiveness in different periods of market activity.