Bitfinex and Automated Trading: Pros and Cons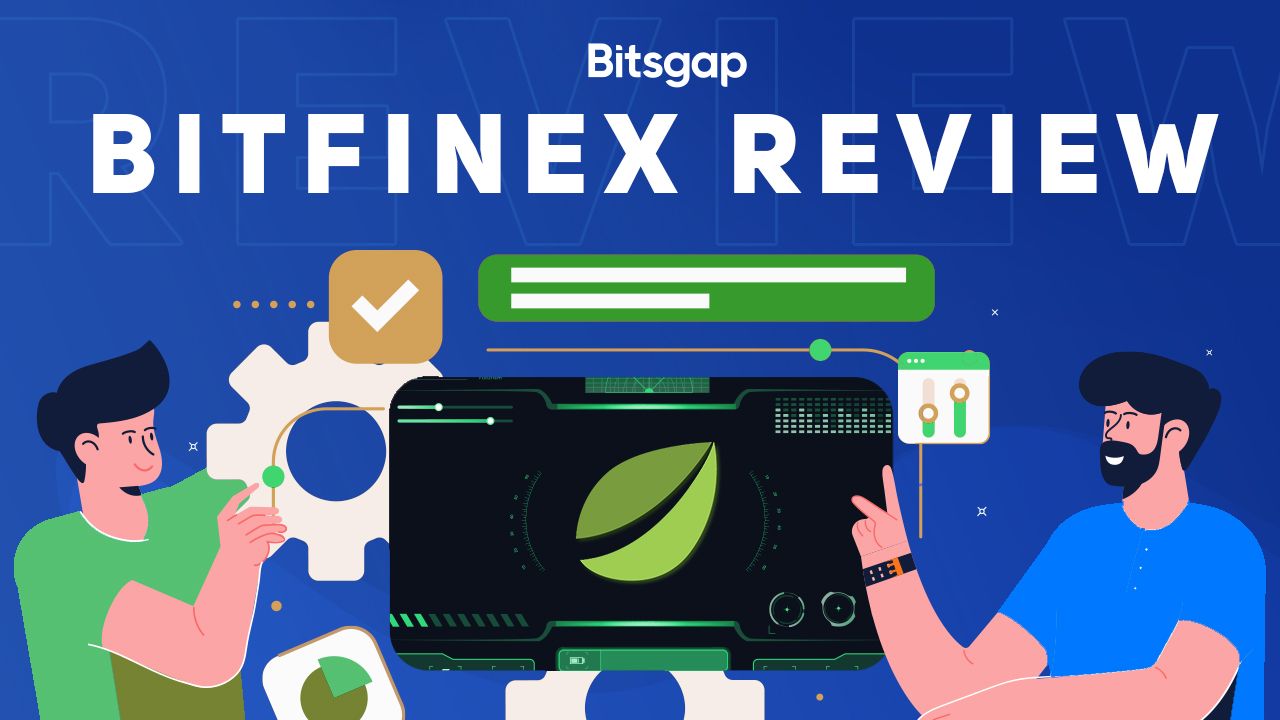 Bitfinex came into the crypto industry as early as 2012 when cryptocurrency adoption was still at the nascent stage. It originally launched as a peer-to-peer margin lending platform for just Bitcoin. Since onboarding other services and cryptocurrencies, it has gone ahead to become one of the leading cryptocurrency exchanges around the world.
Bitfinex is now a crypto exchange that provides a wide range of trading services to its large user base in the UK, Japan, and Europe. Its services are not limited to margin trading, but also include a sophisticated trading platform, Over-the-Counter services, margin funding, derivatives trading, staking, and lending. Although other exchanges provide a few of these services, there are distinguishing factors. Bitfinex's advanced trading interface is one of such.
Liquidity is sometimes a challenge for most exchanges, which is why their trading volumes fluctuate daily and they are likely to lose their rank in the pecking order of cryptocurrency exchanges. However, Bitfinex is different in this regard such that it operates the most liquid order book, which has attracted millions of users to its platform. High liquidity or volume is always a major attraction for traders around the world, given that it means they have to pay less spread when trying to buy or sell crypto assets.
Owing to its sophisticated interface, Bitfinex may be only suitable for experienced traders including those who prefer having access to unlimited options. With its multiple order types and other services, Bitfinex is a crypto exchange that professional traders will enjoy. However, traders without much experience are likely to find it difficult in navigating the platform.
Bitfinex's Trading Volumes
Trading volume is a function of the frequency of trading activities by users on an exchange. However, an exchange can only attract traffic if its features appeal to investors and traders well enough. According to CoinMarketCap, Bitfinex's daily trading volume averages at $2.8 billion with a share of bitcoin around 17% of all generated volume.
Among other exchanges, Bitfinex ranks as high as 8th. This makes it a good choice for automated trading even with high volumes given that traders would not have to worry about liquidity being available as they activate trading bots.
Bitfinex's Trading Pairs
Cryptocurrencies available on Bitfinex include Bitcoin (BTC), Ethereum (ETH), Ethereum Classic (ETC), Dash (DASH), Monero (XMR), and 250 more. Bitfinex also features several trading pairs for each of these crypto assets. They can all be traded across the existing markets on the platform, whether spots, margin or derivatives.
The fiat options available on Bitfinex are limited. Users of the exchange can deposit in USD, EUR, GBP, and JPY. Users can make deposits and withdrawals through the following options- wire transfer, credit cards, debit cards, and crypto as well. Despite the fact Bitfinex allows USD deposits, the exchange is not accessible from the territory of the United States.
Bitfinex's Trading Interface
The Bitfinex platform parades an array of features including a sophisticated trading interface. There are 318 crypto trading pairs available for trading and a slew of order types such as:
Limit;
Market;
Stop;
Stop-limit;
Trailing stop;
Fill or Kill;
Scale Orders;
Immediate or Cancel.
At most, you would only find between three to four of these order types on other exchanges. Thus, this is where Bitfinex stands out from the competition and provides traders with a wide range of options. At the spot trading area, users always have access to neatly arranged instruments like Scale Orders that can help their trading journey.
Once placed, a Scale Order splits a large position into multiple orders to protect him against excessive slippage. The scale order allows a trader to focus more on strategy rather than expending energy on setting multiple orders. However, it cannot be called a fully automated solution and still requires the trader's attention.
There is also an opportunity to switch between Bitfinex's charts and the charts with real-time data on TradingView, similar to those on Bitsgap Trading bots.
Bitfinex's Tradable Products
Bitfinex offers spots, margin, derivatives trading across all the assets available on the platform. Bitfinex margin trading services is unique in the sense that it tries to limit the risk traders undertake by providing only 3.3x (one of the lowest in the market) as the highest leverage. Bitfinex aims to protect investors, especially newcomers from taking on too much risk, however, traders with a high-risk appetite would likely to stick with other exchanges that allow more freedom in terms of margin trading.
Conversely, margin funding on Bitfinex enables users to lend their crypto assets out such that they can accumulate interest on them. They also have the opportunity to determine what rate and for how long they are willing to lend their assets out.
Traders can access advanced charts on third-party platforms like TradingView while trading. Bitfinex also gives API access to connect trading bots like those of Bitsgap. There is no limit as to where Bitfinex's trading automation can be employed.
Bitfinex's Trading Fees
Bitfinex's fee structure is divided into maker and taker fees, whereby those providing liquidity (also known as makers) are charged lower fees and while takers pay a bit higher fee. For makers, fees begin at 0.1% and 0.2% for takers.
The fees vary according to each market. In addition, those who hold some amount of Bitfinex's token in their accounts have their trading fees reduced. This token is known as UNUS SED LEO. Any user that holds at least 1 Tether USDt LEO qualifies for a 15% discount on their trading fees. Fees are also reduced after a period of trading, usually 30 days.
Bitfinex's Derivatives Fee
Fees for the derivatives market are also determined by whatever side of the market you fall on; maker or taker. Makers are likewise given rebates for buy via limit order and takers are charged the normal fee since they only take the liquidity provided by executing their trades via market orders.
KYC on Bitfinex
Know Your Customer policies are considered the best way to address challenges like money laundering and terrorism financing. Although almost all exchanges have their own KYC policies, not all of them make it compulsory. Bitfinex is not any different. Its KYC verification process is divided into three levels with different requirements for each level.
Opening an account for the first time on Bitfinex places you at the Basic level, and where you are restricted a few privileges. Accounts at the Basic level will only be able to do the following:
Deposit and withdraw a limited number of cryptocurrencies;
Execute spot and margin trading on the exchange;
Provide margin funding;
Access Over The Counter (OTC) market.
To perform other activities like depositing or withdrawing in fiat, access utility and stablecoins, use advanced trading options, the Intermediate level must be completed.
Opening an account on Bitfinex requires a user to be at least 18 years old. Other requirements include:
Personal information;
Government issued ID;
Bank statement;
Proof of residential address;
Declaration to the effect that the information submitted is accurate.
Bitfinex's Jurisdiction
Bitfinex offers its services to traders across over 100 countries including Australia, Thailand, Canada, United Kingdom, South Africa, Singapore, Hong Kong, India, France, Germany, Norway, Sweden, Italy, Denmark, United Arab Emirates, Saudi Arabia, Kuwait, Luxembourg, Qatar, and most other countries.
Bitfinex services are unavailable from the United States and all subjected territories, as well as from Bosnia And Herzegovina, North Korea, Iran, Iraq, Syria, Uganda, Vanuatu, Yemen, Ethiopia. The exchange used to be available to US traders, however, it switched its base to Hong Kong in pursuit of a less strict regulatory climate.
Automated Trading on Bitfinex
Some traders do not enjoy trading manually because of the input involved. Bitfinex lacks built-in trading automation like grid trading bots, it offers a robust API key management system allowing to connect a wide range of third-party trading software.  
Traders can utilize Bitsgap trading bots on your Bitfinex account to gain complete access to automated trading services. Bitsgap also allows you to access several opportunities including arbitrage, demo trading, and portfolio management across 25 supported crypto exchanges, including Bitfinex.
Bitfinex charges no fee for automated trading on Bitsgap. The only fee you may be required to pay is the normal trading fee, still dependent on whether you are a maker or a taker. Bitsgap also doesn't charge any additional commissions apart from a monthly subscription fee for accessing its premium services. Without subscribing, traders can use the demo account to sharpen their trading skills and test Bitsgap trading bots.
How to Connect Bitsgap Trading Bots to Bitfinex?
First things first. Create a Bitfinex account or login to an existing one. The signup procedure is pretty straightforward and will require to enter a username, e-mail, and password. Make sure you choose both secure AND memorable password.
Don't forget to set up 2FA - this is an extra protection measure that cannot be ignored these days.
After creating, click the top-right corner on your Bitfinex dashboard. Then tap on the API icon and fill in the details. Remember to copy your secret API key and store it in a safe place.
Activate the necessary permissions for an API key such as read and trade. Ensure that the withdrawal option is disabled as this exposes your Bitfinex trading account.
Now open your Bitsgap account and go to the "My Exchanges" directory.
Click "Add Exchange" and choose Bitfinex from the list.
Insert API keys in the requested fields.
Tap the "Connect" button.
Done! Your Bitfinex account is connected to Bitsgap.
In case you encounter any problems with creating Bitfinex API keys or connecting them to Bitsgap, read the Knowledge base article or address our Customer care directly via support@bitsgap.com.