Binance Trading Bot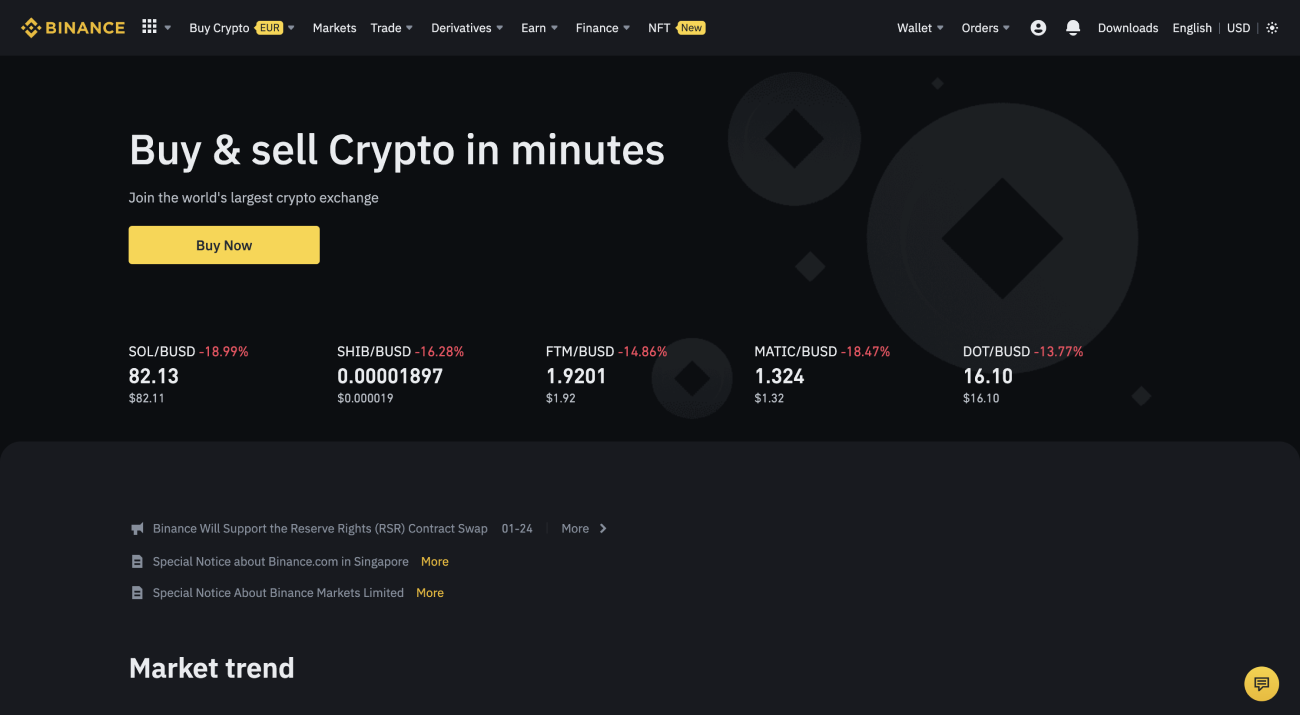 The Binance Trading Bot presented by Bitsgap has played a significant role in popularizing automated cryptocurrency trading worldwide. It was the Bitsgap automated trading solutions that changed the perception of cryptocurrency trading among a whole generation of investors so, that such concepts as auto trade bot, exchange bot, automated trading and similar terms do not sound like exotic any more, but rather like common technologies in the service of traders, both amateurs and professionals.

What is Bitsgap trading bot?
The Binance Trading Bot by Bitsgap embodies the outstanding combination of powerful trading signals, professional risk management principles and the latest achievements of artificial intelligence science. It was developed and tested by professional investment managers in collaboration with IT specialists with thorough fin tech background. This trading EA is specifically tailored for Binance API trading and has a proven track of records in various tournaments supported by Binance exchange.
What is Binance Crypto Exchange?
Binance exchange is one of the most popular and influential crypto trading spot with deep liquidity, the highest security standards and broad range of trading products. We can call them Pioneers of decentralized currencies exchange business. Bitsgap team aspired to design automated trader specifically for this crypto exchange and made this product as flagman among other services and features.
The strategies employed by Bitsgap platform via Binance bot API, brought to retail investors over 1000% profits in less than 12 months. The most striking and amazing fact is that most of the users of Binance platform were newbie crypto traders or had no experience at all! Can you imagine such brilliant results for a passive financial assets holder on any other classical exchange? It is almost impossible. However, crypto currency trading still has the immense potential to generate solid profits. Moreover, even in the case of «crypto winter», there are still certain opportunities for professional automated trading algorithms like Binance Trading Bot. Bitsgap platform is the right choice to capture all these chances even for inexperienced crypto investors!
Binance API connection
API settings and simple instructions on how to connect platform with Binance are placed right in the Bitsgap cabinet.
All you need is to connect the platform with the Binance exchange via API key. API is the application programming interface that allows Bitsgap trading platform exchange data with Binance exchange and run trading robot orders.
What Advantages does Bitsgap platform provide traders with?
The core competitive advantage of the Binance Trading Robot by Bitsgap shines in its ability to protect profits during sharp down swings on the market. Not only making money is crucial for successful automated trading, but also securing financial achievements and hedging capital. For example, running several Bitsgap auto trade EA simultaneously, one of which is a Short EA will guarantee that during tough downwards corrections, investors will still enjoy deriving profits from new market conditions, while the rest of investors must close all positions or suffer losses.
Fees
There are flexible subscription plans starting from only $ 29 per month with substantial discounts for longer term purchases. Everyone can register a free trial account on Bitsgap website to familiarize with automated cryptocurrency trading and to explore diverse analytical tools and backtesting opportunities supported by this unique trading platform.

Trading via Bitsgap platform is totally secure since all the trader's funds are located on a personal client's Binance exchange account and Bitsgap has no access to withdrawal or transfer functions.
Easy to start
We are forced to conclude that Bitsgap team made a great break through in the field of automated cryptocurrency trading! The company's Binance Trading Bot is definitely the paramount of AI trading solutions in cryptocurrency world.

Register your free 7 days trial account and explore the world of automated trading with Bitsgap!

The basic setup of any trading algo in Bitsgap takes only a couple of minutes and you can start making money just with a few clicks!